**Archive. Originally posted November 29, 2007.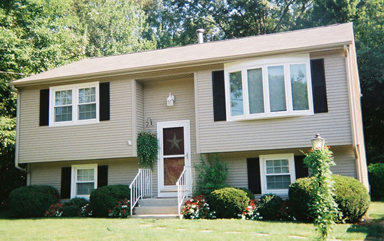 Call it what you want. Raised Ranch. Split Level. Bi-Level. Splanch. Nothing is going to make this type of architecture any less hideous. I mean, who thought this was a good idea?
Actually, historians credit Frank Lloyd Wright as the inventor of the split level. No doubt Mr. Wright has been turning in his grave since vinyl siding and shutters started showing up on these homes.
As if the cookie cutter exterior isn't fugly enough, the interior layout is useless. Ok, there's a cozy kitchen and nice sized living room. Then you go up a few stairs where there's a master bedroom and….oops….what the hell happened to the other bedrooms? Can you even fit a bed in there? Useless!
I know, I know. They were built as affordable homes. That's great. Much like the Fedders Homes of today. And I think affordability is a great thing. But now 15-30 years later, are we stuck with a bunch of tear downs?
For awhile now I've been thinking about the next project. No, I can't afford another house, I'm just thinking. After 2 historic restorations, I just want to have fun! I want to take the ugliest house and see what I can do with it. So, for my virtual daydream, I went on a(n internet) quest to find decent splanch renovations.
I only found three. Linked photos below.
Has anyone ever done a raised ranch update?
PS: No offense meant to anyone who lives in a splanch. I'm sure yours is lovely.
Modernizing Raised Ranch Exteriors