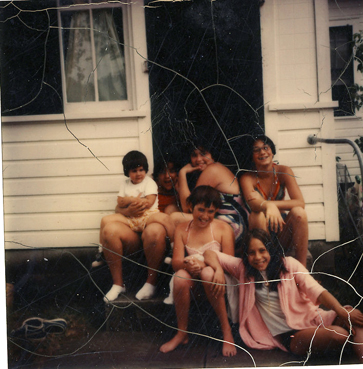 This memory was triggered recently and thought I'd share…
The year was 1970something. A ramshackle bungalow colony named "Greenview" in Spring Glen, NY was the summer getaway for a cluster of cousins coming up from points south. The colony was on it's last legs. The pool water had a dirty greenish tint and the paint was peeling on every bungalow.
We did have some good times at that dying colony. It was nearly 40 years ago, but I remember the ice cream truck being a highlight of the day. I recall saving at least one frog from that pool. And hikes up the mountain with Bubbie, who wasn't my bubbie but everyone called her that. We shot pool at the local arcade and went to The Homowack for pinball and bowling. That's about all there was to Spring Glen, apart from the general store and post office.
Oh yeah, there were the other bungalow colonies.
One night we got word that "Rosenblum's" was coming to beat us up. If I recall correctly, it was just a girl named Tammy and maybe her demonic brother Keith. We didn't know them. Tammy was just somewhat of a bully and she happened to get bored one day so she thought she would threaten us. Well, my older cousin Lisa (she was already a teen!) rose to the challenge and scared Tammy off.
Yeah, that was the big rumble. A substantial drama in the life of us 10ish year olds.
Well, wouldn't you know it, the following summer Greenview finally shuttered its doors. And can you guess where we ended up? Yep, Rosenblum's. It was a much nicer colony that's still in existence today. Turns out Tammy wasn't so bad after all. The first time I hung out with her in her bungalow, she smoked a cigarette and then her mom walked in, smelled it and started to question ME about her daughter's habit. I wanted to die, but I didn't crack. Before her mom walked in, she told me about her boyfriend "Toughie" and we bonded over…nah, we didn't really bond, but she didn't beat me up, which was cool.
Her brother Keith was totally nuts, but kind of cute. He's probably in jail now.
*Names have not been changed to protect the bullies. If these people read this, I'm so dead.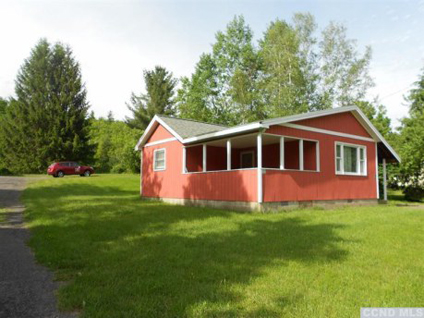 Yesterday we looked at some fixer uppers in The Catskills in the under $70k price range. Now let's see what $70k-99k will buy you. As mentioned in Part I, I'm holding broker links back because I may have interest in looking at these for myself. So, contact me if you're interested and I might or might not hook you up…depending on how I feel. Kidding. I'll be nice. Maybe.
That cute red house above is really not that old. The 1 BR, 1 bath home was built in 1980. It doesn't look so small in the picture, but it's actually tiny at 498 square feet. It sits on less than 1/2 acre in Hunter, back a bit from the road (Rt. 23-A). $75k.
Another red house! This one has been vacant for years and probably needs everything, maybe including well and septic. The 1890 house is a decent size compared to the first one and yesterday's. It's 1320 square feet on 3 acres. Here's the beautiful thing… It's in Gardiner. That's top notch, yo. Just take the New Paltz exit off the Thruway and you're there in about an hour and a half. $82,500.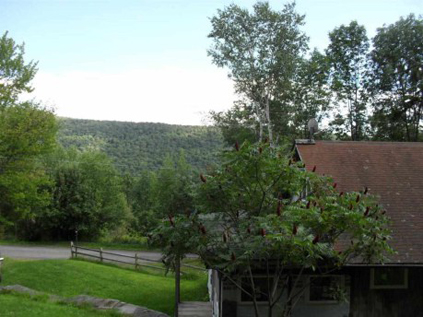 This lovely view comes with a 1593 square foot house on 1.2 acres in Pine Hill. Where's Pine Hill? Near Belleayre and Phoenicia. The view is more impressive than the 1961 house which looks half renovated. That's a plus, since the work was already started. It needs siding as there is currently exposed insulation (looks new) and there are some new plywood subfloors inside. Actually, maybe it needs more of an update than a renovation. $99k.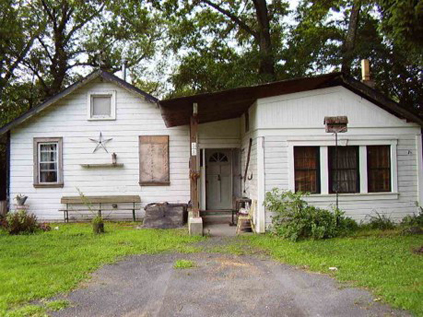 For 99k, this house is habitable and can be worked on over time unlike some of the others. It's a whopping 2120 square feet on about half an acre with a dilapidated garage. Built in 1951, it's located in Lake Katrine, which is actually pretty beautiful. The house is right near the Esopus Creek. That is awesome 90% of the time. The other 10%, means this house is located in a flood zone. Oh, and there's a trailer park across the street. $99k.
Hey, this one is actually NOT a fixer upper! Well, that's no fun for me. Located in Chichester, which is also in the Phoenicia vicinity, it's 831 sq ft on a quarter of an acre. There's a wood stove for those winter ski trips and taxes are under 1000! $99,900.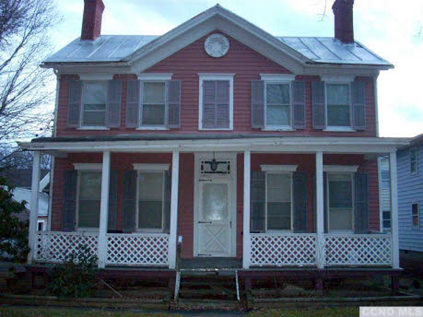 Yes, they exist. Five digit homes in Ulster and Greene Counties for under $100k. And I'm not talking slightly under. I mean like starting at $50k. Of course these are all handyperson specials. Some of them are beautiful waterfront locations. That used to mean it was desirable but after Hurricane Irene swept through those areas, it's actually a drawback to be near water. Oh well, did I mention how inexpensive these homes are?
Here's the deal. I'm not posting listing broker links. You know why? Because I'm interested in seeing a few of these babies for myself. You can either contact me and I may swing up there with you as a buyer's agent whilst checking it out for moi as well….or you can do your own research. Hint: You can do a Google search by image now.
The one above is my favorite (that I chose to actually share. Yeah, that's right…I'm keeping a few for myself. MMMWWWWHHHAAAHHHAAA!!!!) It's the ultimate farmhouse restoration project. Located in the village of Catskill within walking distance to shops and restaurants. Nearly a quarter of an acre on the main drag (as in small town main drag). Priced at $70k.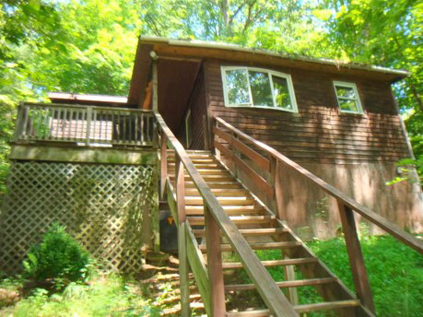 Under 1000 square feet on 0.8 acres in desirable Rosendale. I know "desirable" is realtor's speak, but guess what? This realtor actually DOES lust after Rosendale! It says the owner is willing to consider all offers. Oh yeah, I almost forgot…The asking price? 49k.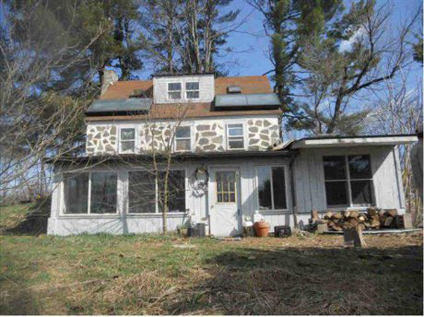 Again, a small house, coming in at 720 square feet. This one sits on nearly 2 private acres in Accord with creek and waterfall! The 1938 home is in need of total rehab (as they all are) and is going up for auction. It will probably have to be all cash. $63,700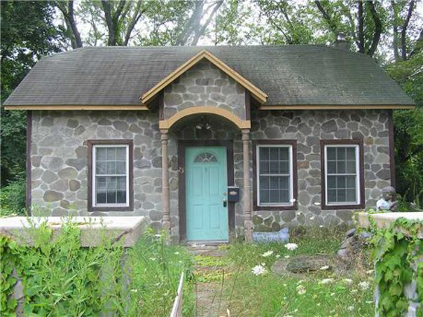 1953 Cape on .32 acres in Saugerties. 2 bedrooms in 855 square feet priced at $69,500.
There were more! In the $70-$99k price range. Ah, I'll get to them tomorrow.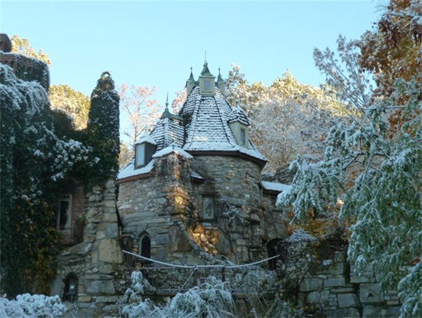 Ooh, I just came across some suh-weet news. You know the fabulous Wings Castle in Millbrook? Yeah, the quirky fairytale castle built out of reclaimed materials. The one I wanted to buy back when it was for sale a few years ago. No, of course I couldn't afford it.
But perhaps I can afford to stay the night. Y-ah! It's now a B&B! The choice of rooms include the tower room or the dungeon in the actual castle or an entire cottage can be rented.
Drawback? No pets and not even kids. They are very strict about cancellations. Also, in keeping with olden days technology of people who live in castles, you cannot book a room online. You must call. A land line! The prices aren't listed online.
I know, I know, it sounds like a pain in the arse, but that castle is so effin cool! Plus, you can get sloshed at the Millbrook Winery down the road and walk home. What could be better?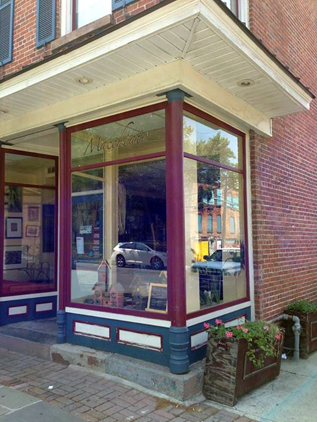 Two of my favorite restaurants north of the city are changing hands. That's a helluva lot better than closing their doors.
Caffe Macchiato in Newburgh is under new ownership as the original owners, Barbara and Edwine are starting up a farm in Haiti. Kalite Farm is an "Eco Agritourism" endeavor that the couple has been planning for the past few years. It's now in the process of being built.
Macchiato's new owner is Claudio Pantoja and it sounds like he's swinging into action big time on the cafe. The restaurant will be opening early for breakfast and serving dinner as soon as they get their act together and -get this!- there will be more vegan options on the menu according to Newburgh Restoration.
Tivoli's vegetarian Luna 61 (formerly in Red Hook) is also under new ownership. Original owners Deb and Peter have opened what sounds like an equally fabulous place in Burlington, Vermont, called Revolution Kitchen. Luna will be reopening for lunch in mid September and they should have their dinner schedule up and running by the end of September.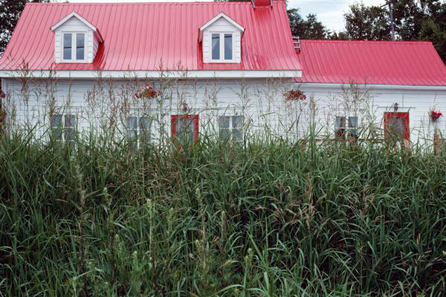 With housing prices out of control in the boroughs, will home ownership be out of reach for the middle class now? Not necessarily, depending on which neighborhoods are deemed acceptable. But let's say you're happy with your rental and still have a hankering to own some property. Some folks forgo the primary residence and purchase an affordable second home instead.
So, what are the pros and cons of owning a vacation property rather than renting it? Having been there done that myself, I came up with a list. Feel free to add your own opinion.
Pros
1. It's yours. Bring pets, leave it messy, do what you want with it!
2. It's there whenever you want it. Feel like getting away last minute? No worries about booking a place.
3. Entertain. Invite friends. Have a party.
4. It's free. When all is said and done, if you sell, you can hopefully get your money back, plus more.
5. Rent it out when you're not using it. See #4 about it being free.
6. Disaster strikes? Y2k, terrorist attack, NYC blackout, gotta live off the land? You have a place to run.
Cons
1. Winterize. Gotta turn off water or keep some heat going so pipes don't freeze when not in use.
2. Maintenance. Grass, exterior paint, shoveling snow. If you're not around to see it, doesn't mean it's not happening. These things need to be taken care of.
3. Will you use it? Don't go out and buy a country house if your schedule doesn't allow maximum usage. Better off renting if you won't be able to enjoy it.
4. Same place. All the time. That's it. No more exploring.
5. Mortgage all year round. Whether it's a first or second mortgage, you'll be paying for that baby even if you never use it.
6. Double set of everything. Furniture, dishes, linens, coffee maker, you name it.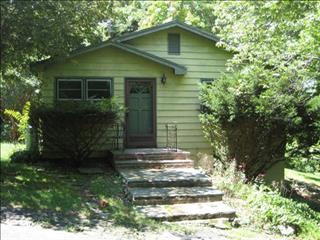 Yesterday we looked at what you can pick up in Dutchess County for under $100k. Cash deals that would cost double the initial investment to make them habitable. So, what can you get if you had double the dough? These places look a little less scary.
I think I actually looked at the house above over a year ago before I decided on Rockaway instead of upstate. If it's the same house, it was a nice piece of property, although a bit out of the way. Location is Red Hook, but it's about 8 miles into the town of Red Hook or Tivoli. Very rural.
I was under the impression that it was difficult to show because of the tenant at the time. The house is now vacant and it's priced to sell, as they say. $129k for a 2 BR, 2 bath fixer upper on 4.24 acres. Taxes are $2975. There's a shed on the property that could make a nice little art studio.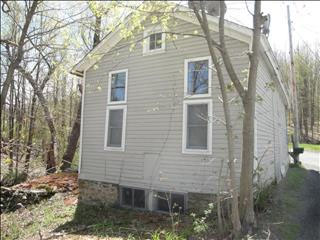 Ok, so this looks like a vinyl sided new construction, but it's actually an old barn conversion. Not that you can tell from the new interiors either but the loft-like space is a good thing. The 900 square foot 1900 structure sits on .33 of an acre on a not-so-busy road. Taxes are listed at $1013, although I'd verify that if I were you. Can't imagine they are actually that low.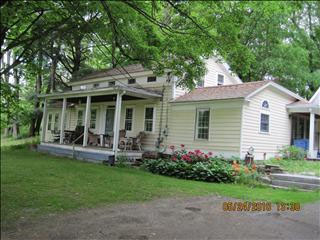 This is my favorite. A great looking farm house on .86 acres in Pine Plains. Don't ask me anything about Pine Plains because I don't know, but I like the house. $165k. Taxes are $3298. Here's what makes it a better deal than the others…it's a 12 room house @ 2572 square feet. Built in 1840. Sweet.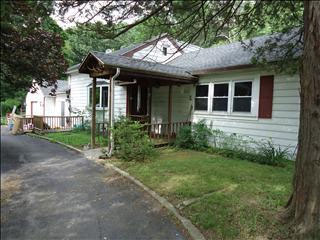 This house belongs to my friend's family and it's her listing. A mid-century sprawling ranch on over 3 acres in Red Hook for $179.9k. There's lots of potential here, including the convenient location. That's actually the drawback though. It's right on Rt. 9-G. The house does sit back from the road. That's the driveway you see in the picture. With a decent 6 foot privacy fence, you would hardly notice the road. Taxes are $6937.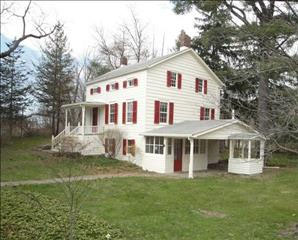 This one is great! An 1829 post and beam Colonial in Rhinebeck WITH details! House is on 2.79 acres. Why so inexpensive at $199,900? Well, it's only a 2 BR @ 1050 square feet. Taxes are $7541. I still think it's a good deal. Situated between Rhinebeck and Red Hook. Rhinebeck is always going to fetch higher prices, so "location, location, location".
I didn't include links to individual list agents as any agent can show all of these houses. Contact me if you're interested in looking and I'll hook you up with someone.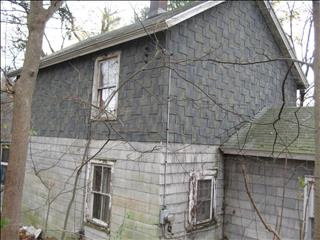 Now that I have some time on my hands, I'm back to bugging Upstate Broker and checking out his MLS. Got some change to spare? There are homes to be had for under $100k. They probably need another $100k in renovations but that's beside the point.
These are mostly short sales that must be paid for in cash. I left out the ones that stated "tear down".
The Diamond in the Rough above is located in Staatsburg. That's the area that's not quite Hyde Park and not quite Rhinebeck but somewhere in between. For $35,900 you get a home on .17 acres that is in need of a lot of TLC. According to Google Maps, it looks as if the house is right near the train tracks, which up beyond Poughkeepsie, would be Amtrack.
Built in 1920, the 1248 square foot house has 2 bedrooms and 1 bath, forced air oil heat and 100 amps. Taxes are $2314.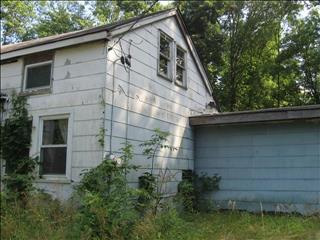 This lovely fixer upper is in Fishkill. There is not much information given on the MLS sheet but it's been on the market for awhile at $58k. Built in 1925, 2 bedrooms, 1 bath on 0.3 acre. 1200 square feet. Taxes: $2726.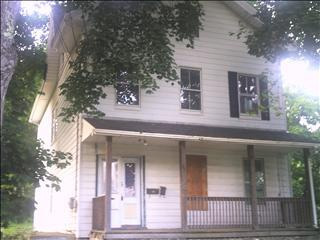 This is what you get in Pawling for $69,375. An 1885 2600 square foot farm house on .54 acre. Not bad. Of course it needs work. They all do! Walk to town and Metro North station. Sounds great? Before you run up there to have a look, here's the bad news… taxes are $9319.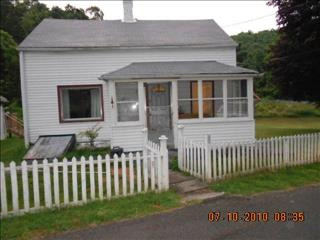 Back to Fishkill. This one looks like it would make a decent country house for someone who may want to commute as well. Convenient, yet on an entire acre of private land bordering state land. Built in 1910. The house has 2 bedrooms and 1 bath, oil heat and 100 amps. Been on the market for over a year. Original list was $237k. Now priced at $92k. A bargain! Taxes are $3936.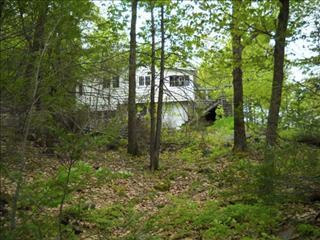 I saved the best and of course, most expensive for last. $98,500 sounds steep now, doesn't it? Ok, so it doesn't look like much from the picture, but this house sits on a 3 acre property with foot bridges, a brook, granite cliffs and a waterfall. The house is only 3 season, but if it's a gut renovation anyway, not a big deal to heat and insulate that baby. Built in 1950, it's only 672 square feet. Located in Fishkill, south of 84, which I've always considered close-ish Cold Spring. Taxes are $2874.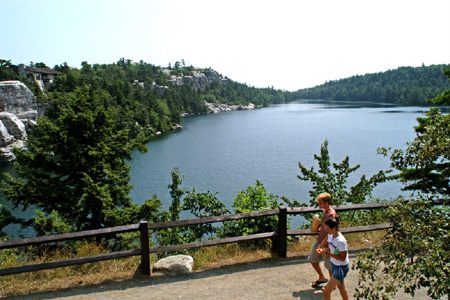 Why have just a house when you can get something spectacular for the same price? Here's what popped up during a 5 minute search on Craigslist. Imagine what I could have found had I spent 10 minutes doing a proper broker's search.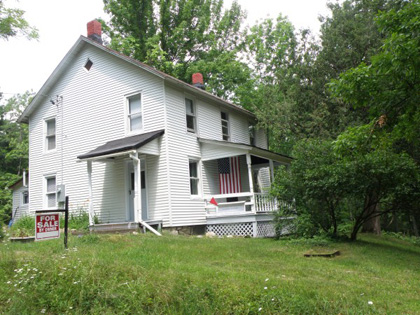 Have you ever hiked Minnewaska? You know when you can see those private properties from the trail and you wonder who lives there? Then you get jealous and you're all like "Well, what makes them so special that they get to have a backyard like this?" Well, here's your chance to own a house with a Minnewaska backyard.
No, you won't own the Minnewaska trail but the house does sit on 5.6 private acres and the lovely farmhouse itself is not too shabby. There is also a barn situated on the property. All this for $399k. I want.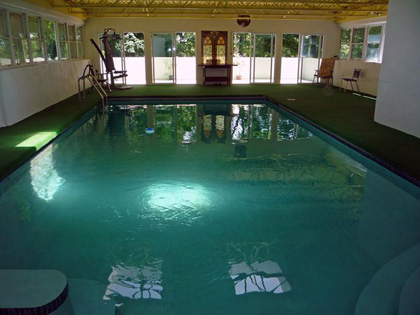 A nothing special house in a nothing special -yet convenient- area, but the indoor pool is priceless. The house itself was built in 1930 and the exterior is cute, but interior is a generic renovation. That's ok. It's easy enough to make it fabulous. Located in Bloomingburg, which is a sleepy town, but fairly close to Middletown big box shopping. It's just about commutable and the bus to the city does stop in Bloomingburg. $257k.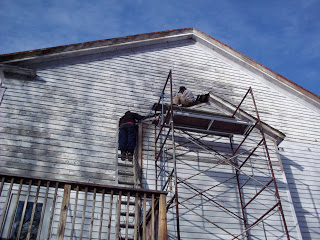 According to the Craigslist ad, this historic church is located in central Columbia County. It's 2100 square feet and needs work (drool). $190k. That's all the info there is, apart from the blog which has a few photos but nothing else.
Still amazing what can be bought upstate for the price of a studio in the armpits of Brooklyn.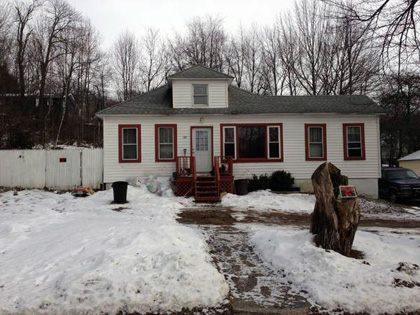 It's been awhile since we looked into real estate here. That's simply because the temptation to actually buy is too strong. But since there are no funds anyway, what does it hurt to look, eh? So, you should buy something instead. Deal?
The Monticello house above is pretty cute. It sits on 3/4 acre near town. If you're not familiar with Monticello, it's actually pretty run down. The area is naturally beautiful though, so if you just ignore the derelicts, it could be a nice place. For only 65 grand, what do you expect?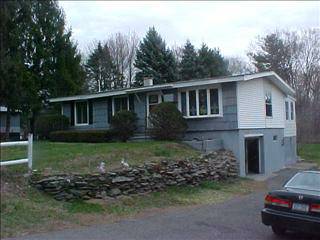 This 3 bedroom ranch in Pine Plains is going for $69.9k. Don't know much about Pine Plains except that it's east of The Taconic about as north as Red Hook. It's also horse country. Looks like this house is in a cul-de-sac-ey area.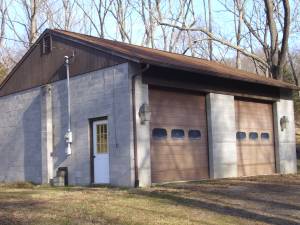 I'm going to sound like a realtor here and say "Bring your vision!". Yes, this is a garage. With electric and a well. It's 1000 square feet and sits on an acre of land in Esopus. That's some nice weekender country right there. For $79k, that would make a nice home conversion. Turn that garage into a "carriage house"!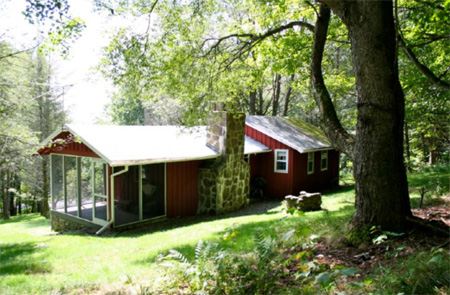 Ooh, this sweet little cottage on a dead end road comes in at $99k. It's located in Claryville, a beautiful hamlet in the town Neversink, Sullivan County. Here's the thing…It's a dry town. We rented a cottage in Claryville once and it was a 30 minute drive to the closest liquor shop. Not saying this house is as far out as the house we rented, but just letting you know…it's dry.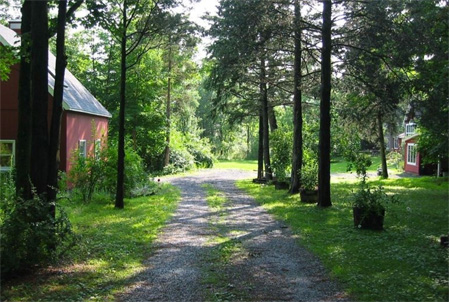 It's easy enough to find a vacation rental that accepts dogs. I've passed the info along in previous posts. What is not easy to find is a house that allows a neurotic, helicopter dog mom like me to sit back and relax while letting her dogs run wild. It's always either too close to the road, too close to the neighbors or too close to the woods where they can run off chasing wildlife.
Well, I think I've finally found the perfect doggy vacation rental! It's in Woodstock and it stood up to my own doggy test. Three and a half acres of fenced in land to roam free. I walked the perimeter and every inch of it is secure. There is deer fencing that I'm pretty sure the deer can hop over but when my dog tried to chase something into the woods, she couldn't get beyond the boundary.
So, it's safe for dogs. What else?
It has a pool. Unfortunately, we experienced winter temperatures this summer weekend, so I can't tell you much about the pool. It looked nice. I thought I might try to book the place again in August since I'm totally bummed about missing out on the pool, but I see that it's booked out for the dog days of summer.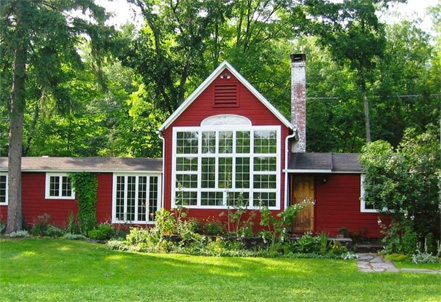 Still, the house is lovely. It's a converted 1920 horse stable. Just up our alley. There's a mix of old and new and it's completely clean and airy. They have wifi and a DVD player, but no DVD's.
In nice weather, the home would have been a decent walk into Woodstock. Not something I'd want to walk at night on the dark, country road, but the drive is short enough that you can have a drink with dinner out and not worry about falling asleep on the way home.
So, that's my doggy retreat story for this year. It's pricey because of the pool, but sleeps up to six, so it can be split, which is what we did. Just a shame it's all booked up for July and August.
I met Sal a few years ago as a fellow Brooklyn Flea vendor. We stayed in touch via the Interwebs and I kept meaning to visit his shop in Callicoon, NY. Sal is now in the process of moving Tin Can Trading Post to a multi-dealer store up the road. What finally got me up there to see the store was his massive moving sale.
Because I was focused on house materials, I only made out with three lights (four if you count the pair of sconces as two). But oh, how I wished I was there shopping for myself! Scary dolls and clown paintings, old wicker subway seats, a dessert cart from Grossingers. Grossingers!! It would make a fabulous kitchen island.
Sal closed up his shop for a bit to give us a tour of his home that's on the market for $189k in nearby Cochecton. What a treat for an old home lover! The restoration reveals layers of history. Original wallpaper was cleaned with wonder bread. Did you know about that technique? I did not. The plaster in some areas was left unpainted. You know how much people pay to faux this look? Here, it's the real deal.
Worth the trip up to Sullivan County. Check out the shop. Buy the house. Turn it into a B&B so I can stay there in the future.
Taxi cab hotel room in London. It's just temporary for the Olympics but how cool would it be to have an entire "hotel" on a lot with bathroom facilities? Kind of like camping. Hmm….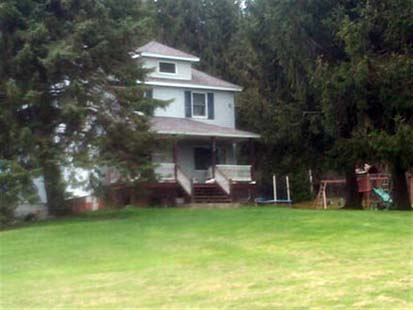 Not being too familiar with Sullivan County, I contacted buyer's agent Joe Addeo at The Rural Connection to show me around yesterday. What a luxury not having to set up appointments, navigate and drive from house to house!
We saw a bunch of homes that were in pretty decent shape. None of them would have worked for my flip purposes, but it's definitely a buyer's market over there. That part of Sullivan County near the Delaware River is beautiful but quiet. Don't go expecting a scene, man.
Anyway, on to the houses! Find info on all of them here.
The farmhouse pictured above is a steal at $175k. Great piece of property on 5 acres with a pond near Jeffersonville. The house doesn't need much work at all, which is why it didn't suit my own purposes. One can just move in and enjoy. I saw some unfinished molding. That was about the extent of the work IMHO.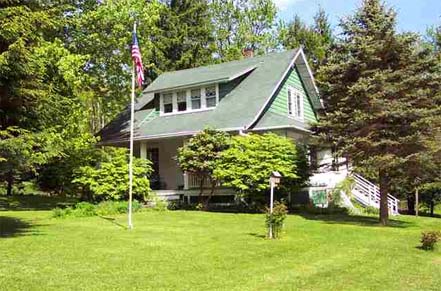 This lovely cape was in decent shape also. It's very close to Jeffersonville and the Villa Roma Resort, which is like an Italian version of a Borscht Belt resort. A sausage belt resort, if you will. The house could use some updating or you can overlook the drop ceilings and dated kitchen and just enjoy your summer. Not bad for $139k.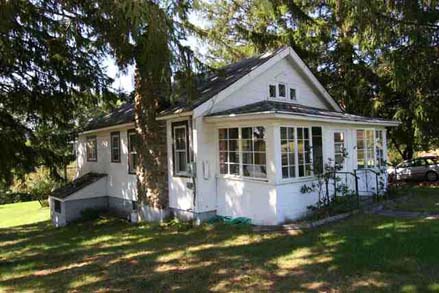 This Cochecton house was pretty sweet for $89k and would have worked for me had the neighboring house not been so close (close by country standards). On the plus side, the neighbors have horses. Unfortunately, that's a negative when you have dogs. Anyhoo, great bones, good location. Price is unbeatable!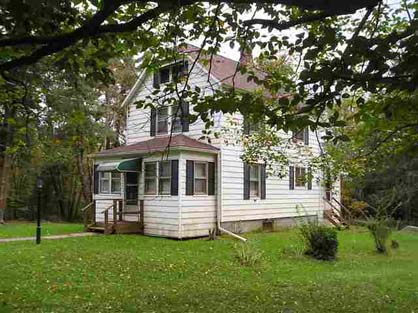 Oh, this was a good one too! Another not-much-to-do house. The exterior looks worse than the interior. I remember that this one had a great kitchen with aluminum cabinets and an old drainboard/sink and the floors were in perfect shape. $139k in Cochecton.
The city girl in me appreciated this one simply because it was within walking distance to civilization. The village of Kauneonga Lake isn't very big but has 4-5 good restaurants that overlook the lake. This is the perfect retreat for lake lovers, even though the public access is some ways from the house. There's a hot tub in the back. Who doesn't like a weekend place with a hot tub? $109,900.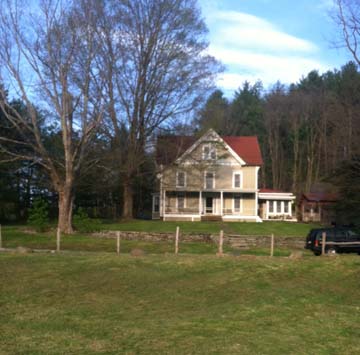 Finally, this lovely Cochecton farm house belongs to my buddy Sal, an antiques dealer in Callicoon. The house is about to hit the market at under $200k. When it does, I'll let you know all about it…as well as the cool vintage trailers he's selling. But for now, consider this your head's up.
While driving around down 209 in Ulster County last week, I spotted all of these Nevele signs. I was all like "What? The Nevele is back?" Not so fast. There was a meeting on April 12th to talk about plans to convert the resort into a casino. Don't know what happened at that meeting but the signs were not put there by residents of the area, rather developers and business owners who want to see this happen.
Although I don't wish for The Catskills to look like Atlantic City, the old Borscht Belt has hit rock bottom and there's nowhere to go but up. Yeah, gambling is bad habit, but casinos will bring jobs and tourists to the area. And let's face it. As much as I loved my 1970′s Catskills growing up, it wasn't the classiest place in the world anyway. I mean, really, have you ever seen a bunch of Jews at an all you can eat meal? My family would pass around the Mylanta after dinner. That is not a joke. So, what I'm saying is, the people these casinos would bring in can't be any worse than my family.
Speaking of Catskill resorts, the fire at Grandview Palace looks pretty bad. It's been nice to think these places still exist and they just need to be rediscovered but the finality of the fires and tear downs rips away at our childhood.
But there is hope! Right?