Who's old enough to remember the "What's the story, Jerry?" ads? Can't find the original appliance commercials, but it seems that Jerry opened up a disco in Fresh Meadows, Queens. That's the story!
The Rockaway upstairs apartment is now ready for it's (not so) close up! The original goal was to start showing by the end of May. (The original original goal was to have the house sold by the end of 2012, but we all know how that worked out.) Ok, so this new deadline was somewhat delayed due to the fact that I mistakenly decided to have a life and go away for Memorial Day weekend. But whatev. I'm back up to speed.
I wish every room could be as interesting as doing a bathroom or kitchen. Remember my original pink bathroom that I was determined to keep? Well, it has been resurrected! Still on the to do list: vanity pulls, scrape paint off door glass, lock set, stain saddle and a few other things that don't show up in the photo.
The decision to do a Mexican kitchen was born when I found the ceramic "terracotta" tiles at a Habitat Restore. The upper cabinets were there when I bought the house. Because of my not-so-great planning skills, the fridge, which was originally for the downstairs kitchen, was moved up here because it was too wide. It was meant to go on the opposite wall but proved too big for that also. I ended up tearing down some more cabinets to fit it in that corner. It works so much better there, but now I have to move an outlet. To do list: Move outlet, cabinet pulls, replace broken stove knob, switch plates.
This is the living room. I stuck the chair in the photo because it looked so empty, but now it looks even more sad. To do list: Hang crystals from light fixture, re-coat window trim and inner white, switch plates.
This is actually the small front room, but it looks bigger than the living room in this photo. It can be a second junior bedroom, an office or child's room.
The main bedroom is Manhattan sized also, but it has a room off of it with a closet that can act as a dressing room. Nothing at all interesting about this corner photo. I just wanted to show off yet another vintage light fixture.
Related: Apartment One
Here are some "before" shots…
Front Room
Living Room
Kitchen
Pink Bathroom
The same pink bathroom that sold me on this house was the very thing I had to say goodbye to during demolition. I vowed that I would keep that bathroom pink by any means necessary and I'm keeping my promise.
As you can see from the photo, the tub has been saved. It was touch and go for awhile because I wanted to move the shower body over to the far side of the toilet, getting rid of a wall that blocked the window. That means the drain is on the opposite end of the faucet. Since one side of the tub is against the wall, there was no turning the tub around. I started to search for right side (or is it left side?) pink tubs but then I said "Fek it. So the drain is on the wrong side." That cast iron is too heavy.
The only pink floor tiles I found were pink and white and since I wanted a pink and black bathroom, I decided to pick up these Home Depot black and white mosaics which will make the pink pop. BTW, Weisman's Home Outlets carries retro pink and white floor tiles as well as 4×4 wall tiles.
I cleaned Build it Green out of their pink 4×4 vintage wall tiles. Got about 300+ tiles and still have about 250+ more to go. Astoria and Gowanus tiles have slight color variations so I'ma gonna have to mix and match. Now I can't buy new pink or black to match because of the thickness.
The pink toilet that was salvaged from this bathroom will be installed once the grout is applied.
Looking for a vintage dresser today to act as the sink vanity. This bathroom will be screaming 1950′s when I'm done. A far cry from the Victorian bathroom downstairs. The one that has been too messy to take pics because it's actually in use.
On the road again. Looking to pick up the last of the building materials this week as Passover week is going to be a non-stop work fest bringing us closer to Renovation's End.
Have ye ever been to United House Wrecking? If not, you shouldn't be waiting. This is the kind of place that makes me so sad that I live in a silly little brownstone and not a mansion or huge loft. I mean, check out the carousel above. Who wouldn't want a carousel in their living room?
UHW has some top of the line architectural salvage. Stained glass, mantels, newell posts, doors. They have been sifted through and all are in good shape. This is where you go when you don't feel like spending hours restoring the inexpensive stuff. That's not to say the prices are outrageous here. They are not shocking at all. I saw some decent sized stained glass windows for $150 and a really nice antique chandelier on sale for $500.
United House Wrecking isn't just salvage. They do antique and reproduction furniture and design as well. Everything is staged so perfectly. A card table with a poker game already laid out, a bar, a child's room, a mid-century living room that's to die for. It's kind of like ABC Carpet but without the cray-cray prices.
The Housatonic Habitat ReStore (Danbury) is 20 miles or so north of UHW. As with all restores, it's hit or miss on what is needed that day. Yesterday I was in search of tiles because I remembered them having a bunch of awesome Waterworks ceramic. They did have the Waterworks and it was a lovely blue, except I need pink as I'm determined to keep the pink bathroom in the house as it was originally (well, when I bought it, anyway).
While I was there, an estate of some great Chinese furniture was coming in. Some real antique pieces mixed in with a few modern day made in China.
I loved this credenza that houses a stereo system. The side with closed door has room for a bar or record collection. The price was around $150 until the engineer comes around to get that system working and then it goes up.
Today I hit New Joisey.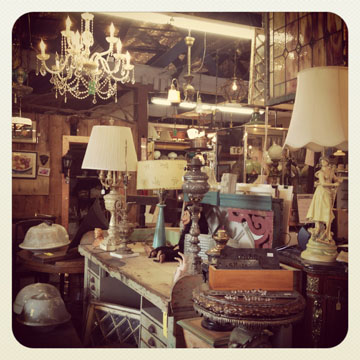 A few years ago when I lived upstate, I would take frequent salvage trips up to Albany. It was the motherload salvage. Three huge places in Albany proper plus some great shops in Ravena, Coxsackie and Troy.
Having some difficulty getting everything I need locally, I thought it would be worth the 3 hour drive to load up my car with some awesome inexpensive materials.
The first stop was Silver Fox, a massive building that you can get lost in. Not only does Silver Fox have salvage and antiques but they do a decent business making tables and furniture out of reclaimed wood, upcycling light fixtures and such.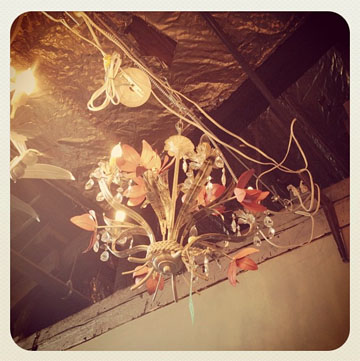 Alas, because of my very tight budget, I only walked away with one light fixture. It IS perfect for a retro beachy house though.
Next up was the Re-Store. It looked like it had been picked clean. They had materials, but it was all cheesy stuff. Worth going if you need windows, electrical and plumbing or building as opposed to finishing materials.
Last stop in Albany was the Architectural Parts Warehouse, a place I remembered being completely fabulous. Oh, it was fabulous alright, but they didn't have anything for me. And I could swear they raised their prices. I don't know if everyone has raised their prices or it's that everything seems so expensive to me now that my budget is crazy-tight.
The Ravena Barn Flea Market proved unsuccessful. If you need dishes, glasses or old adding machines, this is the place to go.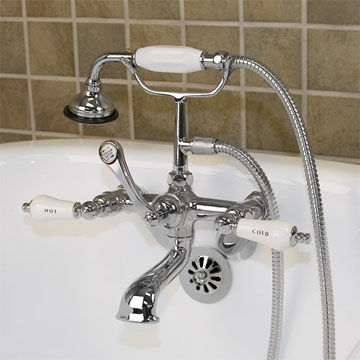 Finally, a bit of success at the Coxsackie Antiques Center where I picked up an English telephone faucet for 48 bucks. They had some great stuff and the prices were good but unfortunately, I was shopping for the renovation and not my own house.
With only two purchases and mega gas and toll expenses, I wanted to hightail it to Zaborski's in Kingston. Guess what? That didn't happen when I got pulled over for speeding.
So all in all, my day was fun but a negative drain on the finances.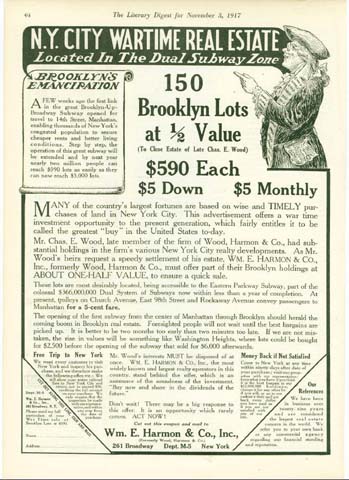 If past-life me knew then what I know now. $590 for a Brooklyn lot. Five bucks down and five bucks per month. Bet that was a lot of money back then. The only thing affordable about these vintage properties now are the ads. Click on the images to purchase or gain more info.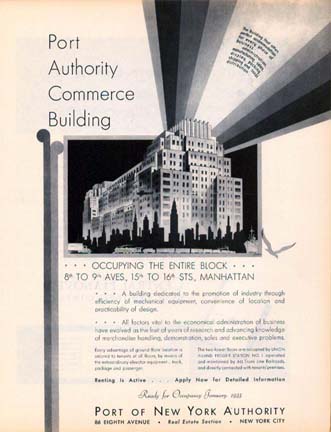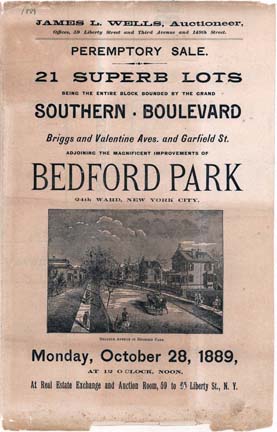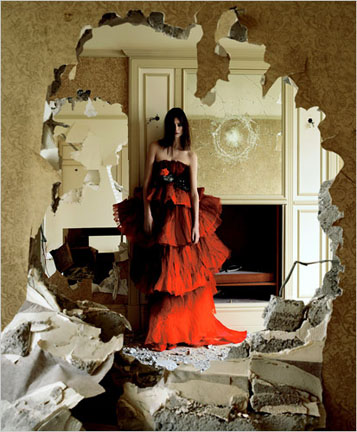 If your renovation is costing more than you paid for your house, something is wrong. You shouldn't have to sell your first born to update a home. Sure, there are certain large ticket items you wouldn't want to skimp on….roof, windows, facade, boiler, structural. But semi-skilled work? Come on.
As you know, I'm a big advocate for DIY. If you put in the sweat equity, you can be save yourself in the vicinity of $40k. I came up with that estimate by comparing DIY input to that of an unskilled day laborer at $125 per day over the course of a year. My own skills are superior to a guy you pick up at Home Depot, so my own estimate is probably double that. Obviously you wouldn't quit your $200k per year job to do it, but as a freelancer earning bupkas, I was able to put in the time. My husband who put in a lot less time because he actually has a full time job and does earn something, probably saved us even more while only working on the house on weekends. That's because he has mad skills.
Before I go into materials, just a few thoughts on other ways to save on labor. Painting and demolition parties, barters, hiring apprentices to high end contractors and of course picking up day laborers.
Materials range from free to high end. Since this has the words "tight budget" in the post title, guess where I'm going with this?
FREE
It would be a fun experiment to try to do an entire renovation free of cost. But nothing is ever free. It would take tons of time and probably cost more in fuel than trying to buy locally. But here goes…..
1. Craigs List. Go directly to the "free" section. You may find anything from sheetrock scraps to clawfoot tubs. People measure wrong, decide to use something else or may want to recycle what they are ripping out.
2. Freecyle.org Sign up for the group to gain access to a nationwide network of recycled goodies. IMO, it sounds a whole lot better than it is. When I signed up, I couldn't believe the audacity of some people. One of the requests I saw was for a minivan for someone with 8 kids. Hello, maybe you should stop having kids if you can't afford a van! But I digress. You can post your own needs, search for what's out there and offer up what you no longer want.
3. Dumpster Diving. Oh yeah! I'm talking dumpsters parked outside of a renovation, obviously. Better still, find the fixer uppers that have just closed, contact contractors and demolition guys to see if they'll give you the head's up. No, they won't be happy, but one or two of them might not think it's great to stick everything in the landfill. You know, those sensitive contractors.
Almost Free
1. Craigslist. This time search "materials".
2. ReStores. Located throughout the US and Canada. Run by Habitat for Humanity, these shops take donations from the public and sell the items at a fraction of the cost. They have everything including the kitchen sink. Paints, cabinets, light fixtures, furniture….
3. Build it Green. I saw a coffin in here once. If you live in NYC, this place is just as good as any Restore since the closest ReStore is in Mt. Vernon. BIG is a huuuuge warehouse in Queens. They have new and used studs, wiring, cabinets, doors, windows, appliances and more. Do keep in mind that items like plywood, sheetrock and studs go quickly as these are basic to any renovation.
4. Salvage! There are antique architectural salvage yards all over the planet. Although you might sometimes find a bargain at Olde Good Things or Demolition Depot, they are not for the shallow pocketed. My two local faves: Eddie Hibbert in Clinton Hill and Vaccaro's in Gowanus. I'm talking antique french doors for 20 bucks and marble mantels for less than $400. *They may need work.
5. Overstock and Closeouts. Every now and then, manufacturers need to get rid of some clutter. There are samples, irregulars and dead stock taking up space. They don't always post it online, but I'll give you a for instance. I once found the mother load of concrete tiles, countertops and sinks on Craigslist. Get Real Surfaces in Poughkeepsie was having a sale to get rid of dead inventory. I made out with enormous boxes of tile for $10 per box. They were probably worth about $20 per square foot.
6. Ebay. Did you know that you can buy faucets, toilets and tools on Ebay? Yep, it's all there!
7. Overstock.com. Sometimes good for faucets, shower and light fixtures, tiles…it kind of depends on what they have that week. Hit or miss.
Upscale. Low Budget
Green Demolitions. Buy what the millionaires got tired of looking at. Top shelf appliances (think Viking, Sub Zero) and cabinets for a ton less than what you would pay new. These aren't completely inexpensive, but it's a good deal for what it is!
PS: Side effects may include saving the planet while saving your pocketbook.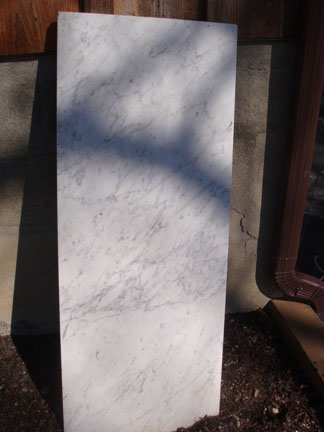 Never underestimate the value of Craigslist when it comes to renovating your home. You can find anything from free studs to $1 Italian ceramic tile to reclaimed flooring at half the cost of outlets.
People often have leftover material from projects or they recycle the stuff they rip out. A short list of things I found on Craigs include…
1. Claw foot tub. Free
2. Glass mosaic tile counter and backsplash. $50
3. Finished walnut flooring for BR and hallway. $400
4. Like new cherry kitchen cabinets for entire kitchen. $500
How much does a marble kitchen countertop cost? $2000-$3000? $125 bucks for that 18×48 slab above. Yeah, you still have to cut it, but if you want a marble counter and it's beyond your budget, this is one way to do it. I may actually give them a call as I'm looking for marble to use as window sills.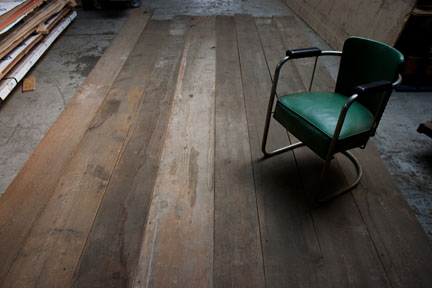 Reclaimed 1700′s pine wide plank flooring. No price and it looks to be a factory or lumber yard, so don't know if it's a bargain. Retailers charge $6 and up (way up) per square foot for this stuff. I think we paid around $10 many years ago, plus shipping.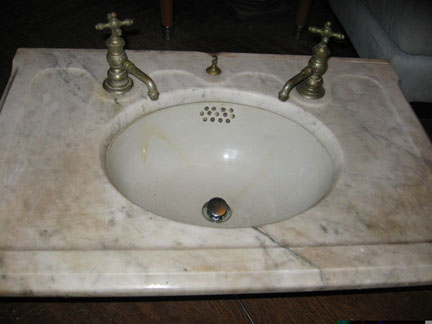 This antique sink top includes the faucets and undermount sink for $200. Is that a fabulous bargain? Eh. But it's one stop shopping since you don't have to go out and find the fittings for the counter. You can sit it on top of an old dresser or antique wrought iron sewing machine base, as I've done in the past.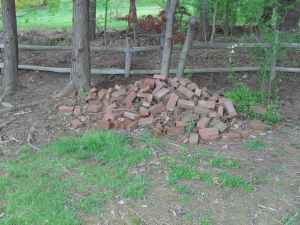 Retailers will charge something like $.65-$2.00 per used brick, but you can always find someone giving 'em up for nothing. This pile of used bricks is located in Poughkeepsie, NY. There are 250-300 of them. Sometimes you have to travel a bit to get something for nothing, so make sure it's a whole bunch of something!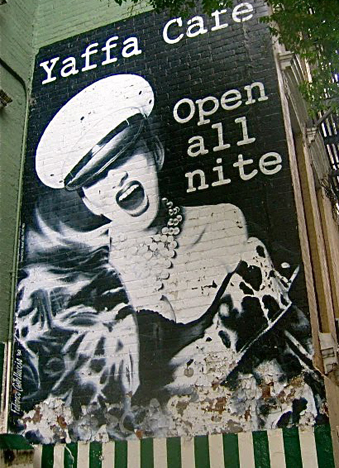 Yaffa Cafe! An old haunt. Vanishing New York
DIY Couch Fix. Brick City Love
The Wedding Planner of Crown Heights. City Room
Rest in Fleece. Wool Coffins. Time
Salvage Worth the Trip to Philly. Casa Cara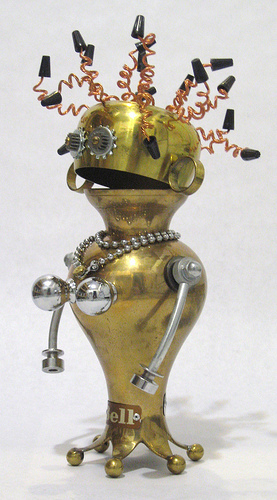 You know I loves me some upcycled robots! Here's my latest find. Ottawa based Dan Ausin is the guy behind Rivethead Robotics. He started tinkering a couple of years ago with all the junk he was bringing home from thrift stores and dumpsters and the robots started to take shape.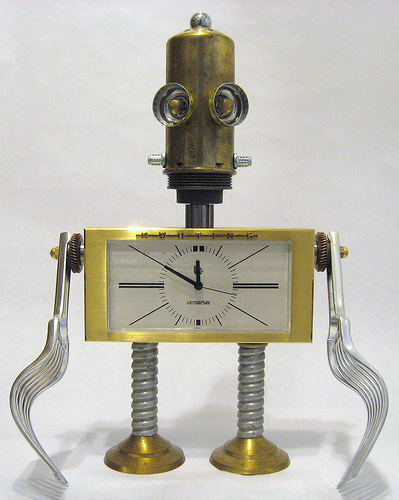 They're usually made from completely recycled/salvaged parts. He's been in a couple art shows and a local (to him) boutique, but no online store just yet. If you're interested in purchasing one , you can contact Dan through his Flickr site.
Via Neatorama.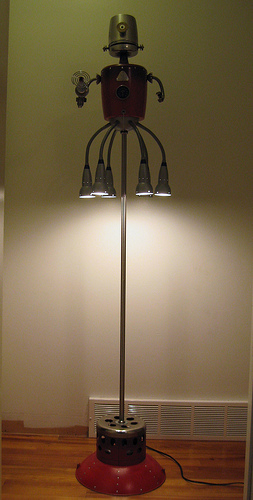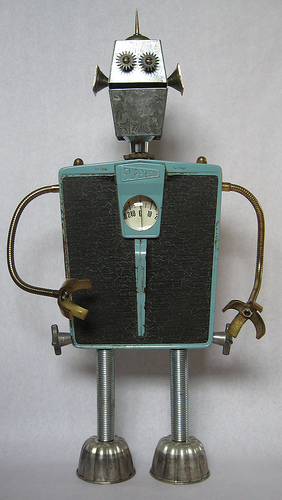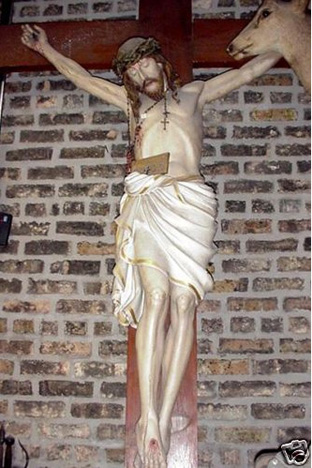 What's creepier (to this Jew) than a dead Jesus on a cross? That dead deer next to him is giving him some competition. Starting bid on this larger than life guy is $180k or you can buy it now for $1.3 mil. Read the description. That is priceless.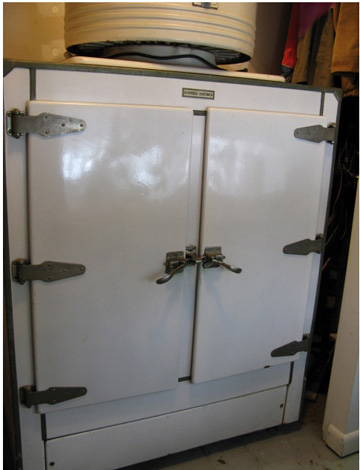 Whose kitchen is big enough for this? Not mine. But it sure is cool (no pun intended). Located somewhere in Pennsylvania.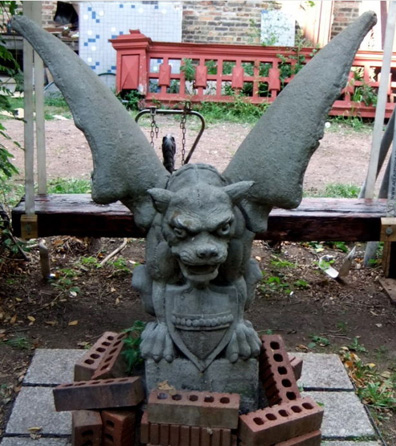 Ok, so this gargoyle is $3125 and you'll have to schlep it back from Chicago. That doesn't make it any less awesome. Standing at 55″ high and born in the early 20th century, it's the real deal.
Remember the clown-water-balloon game at Coney Island? Well, this clown head is from that game.
All photos are linked to the items so you can buy them for me.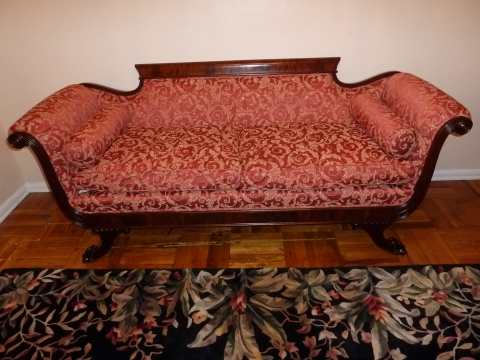 My Blue Sofa is a new online marketplace for anything home related. In fact, it's so new that it's still in beta.
The website is easy to work with and pleasing to the eye. Images spring up along with the categorized listings. It's more like shopping with Etsy than Craigslist. You can even pay via PayPal and get info on the seller if they supply it.  So really, it's not like Craigs at all. I should stop with the comparisons now.
These are a few of the listings I spotted.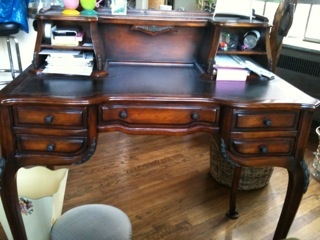 Theodore Alexander desk. $2000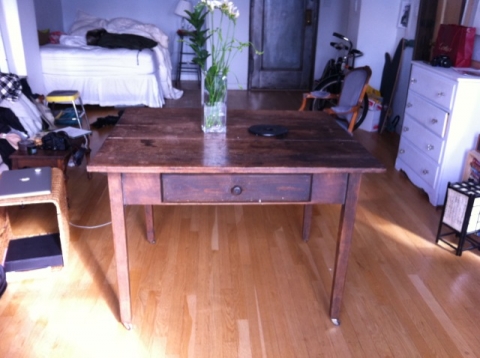 Early 1900′s Farm Table. $275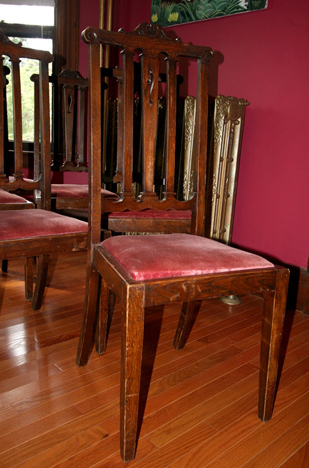 Oh, look at that! How did those chairs get in there? Yeah, they're mine. They never really matched my Eastlake dining room table, so I'd like to get rid of them. 1800′s from Britain. I'm asking $600 for the set of 6 but will take best offer. Come on Monty, let's make a deal!
Top photo is a fully restored Empire Duncan sofa for $3500.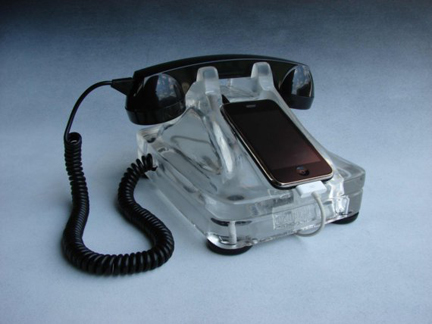 Are you one of those folks who's given up your land line? Do you miss holding a real phone to your ear instead of a hot, radiation transmitting cell? Well, despair no more! iRetrofone is here!
The hand-sculpted base by artist Scott Freeland is a fully-functional, stationary iPhone dock with a USB cable and working handset.  It's made of heavy-duty, half-inch thick urethane and designed to be compatible with all iPhones.
The clear and the pink are my favorites and they are also the least expensive at $195. Prices climb to $350 for the steampunk version.
If they only played music too, they would be perrrrrfect.