When is a door not a door? When it's a table, a headboard, a seat, a coat stand….you get the picture. Here are some ideas for those doors you have laying around. Don't tell me I'm the only one.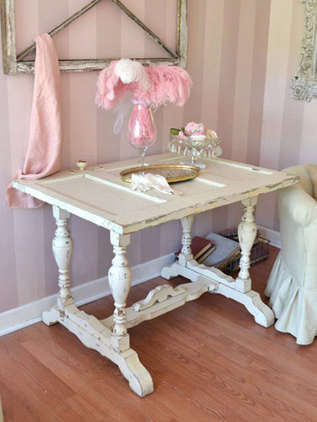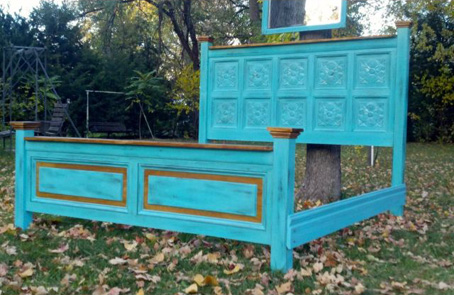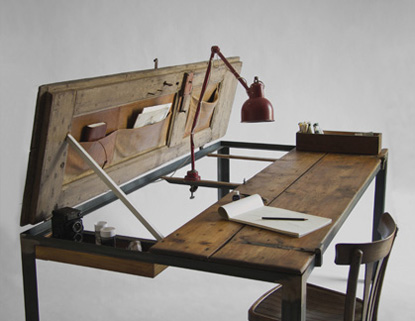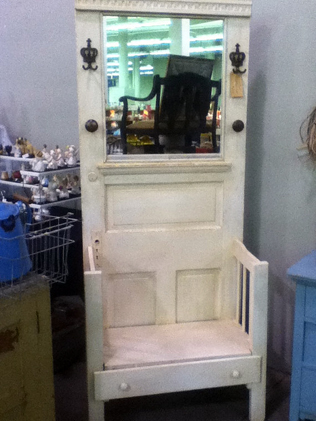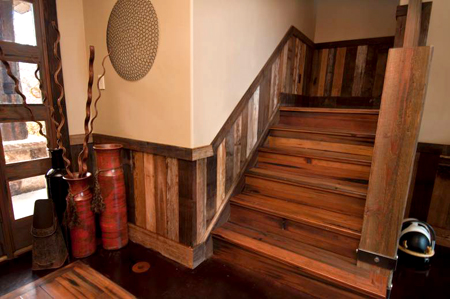 Wainscoting breaks up a room and adds dimension to otherwise flat walls. Who says you have to buy wainscoting at your local big box shop or even use "wainscot" at all? There are plenty of materials that can be used to liven up those walls.
Good ole' reclaimed boards will do the trick. Sure, tongue and groove would be more solid but you gotta work with what you've got. If what you've got are a bunch of old boards, go for it!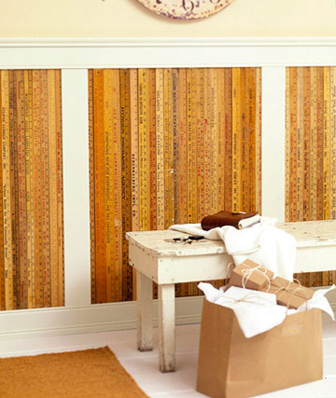 Probably a tedious job, but the end result pays off. These vintage yard sticks are pretty ingenious.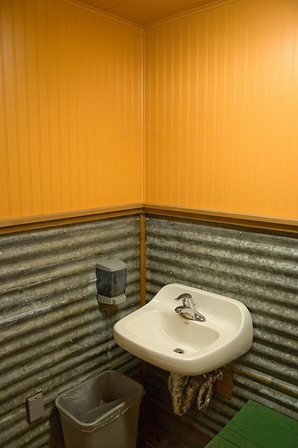 Corrugated metal is THE way to go for an industrial look. Perfect for damp basements where one worries about mold. Rust isn't as deadly.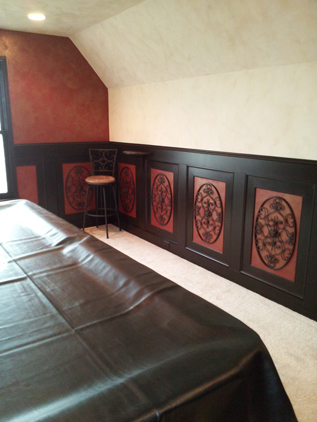 Ok, so this wainscoting idea is made from new materials but you get the picture. Let's say those iron scrolly objects can be any found material. They don't have to be the same object either. What if each frame included a unique three dimensional object? What if it wasn't three dimensional at all? Just frame different images or paint techniques? Maps? Collage? The possibilities are endless.
Don't throw away those drywall scraps. If you keep what you cut you can reuse it in an art project. Shown here are very levelheaded colors for an office building. There are so many options with this. Go bold! Do photo transfers! Use textures! Caulk the seams!
It's easy enough to do. Just glue the pieces to a board. You can even paint them before laying them out if you suck at painting.
PS: Of course you can do it with your wood scraps too.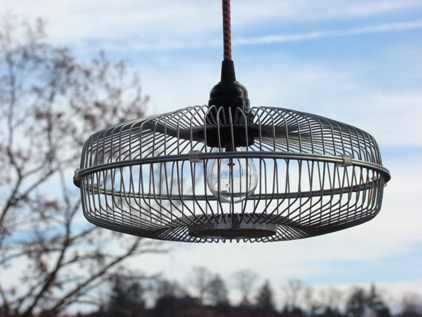 Fan Light. $100 from Glow 828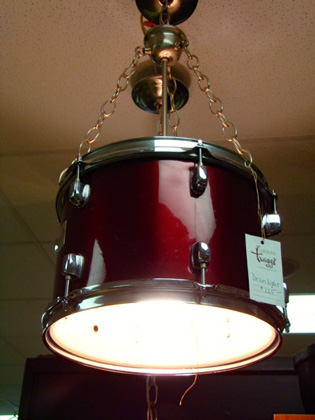 Drum Light from Urban Twiggs, $225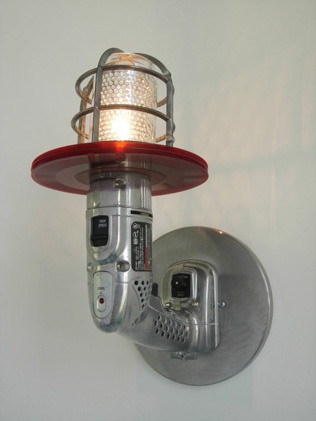 Cordless Drill by RecycloJoe. $325
Coffee Filter fixture. $245 by Lampada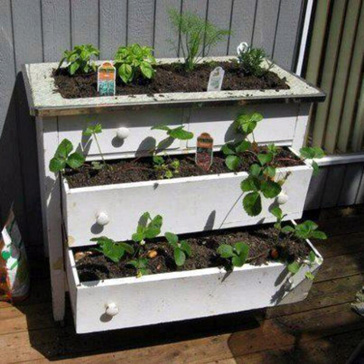 DIY for the gardener who's too lazy to throw away that that dresser or that car.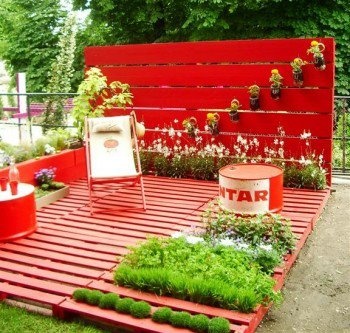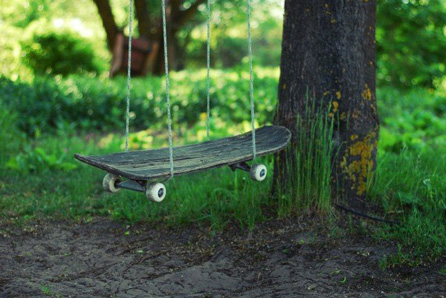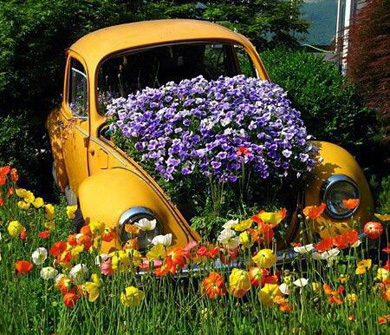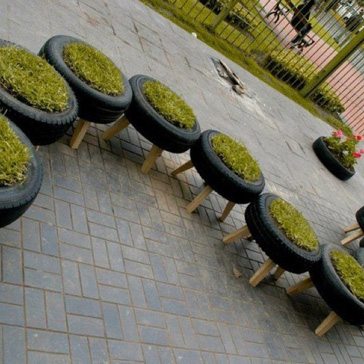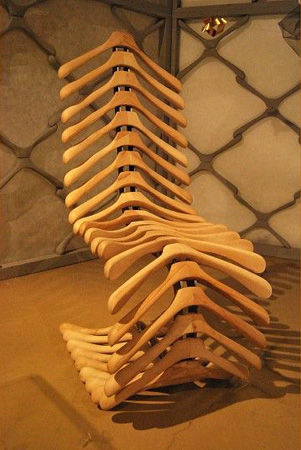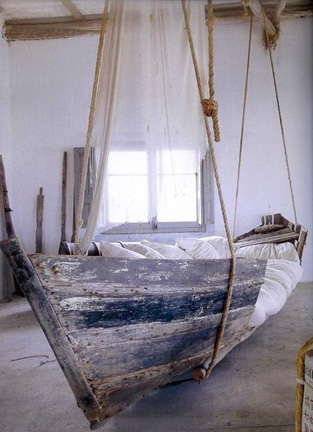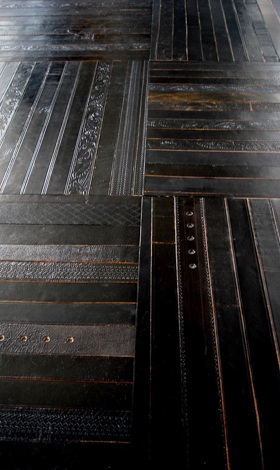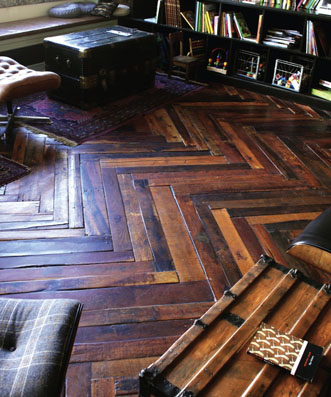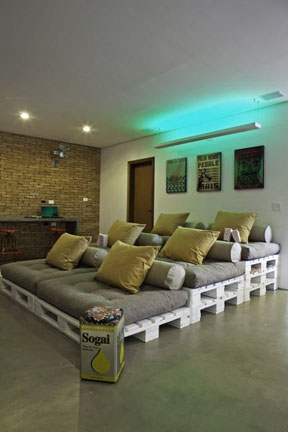 Shipping Pallet Kitchen Island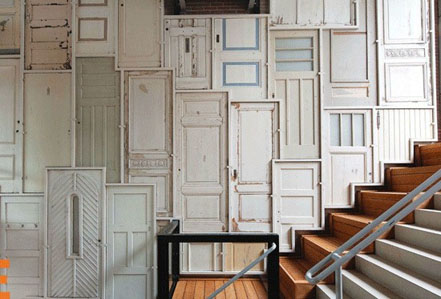 Sheetrocking too expensive and time consuming? Answer = Yes. One alternative is to build a wall with doors. Much more interesting than sheetrock and takes a minimal amount of skills.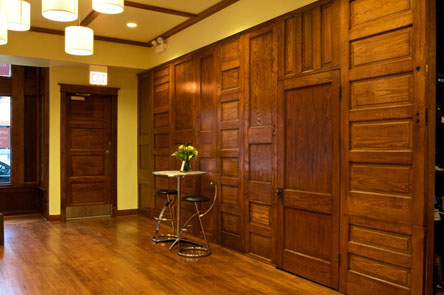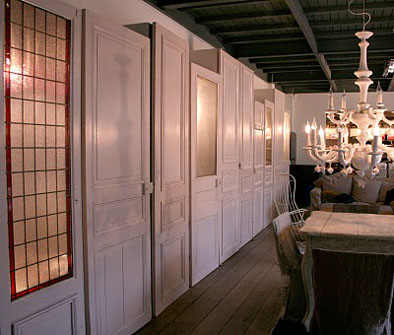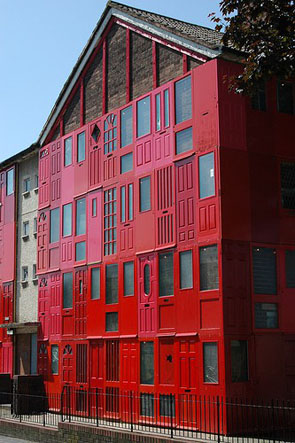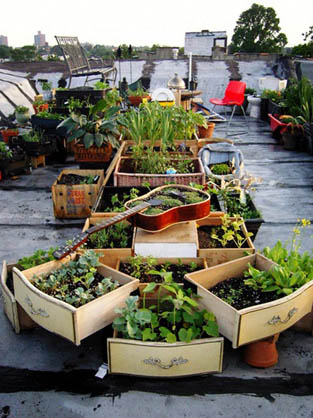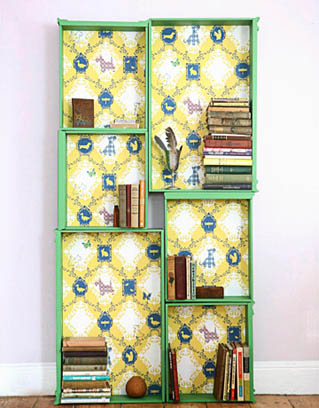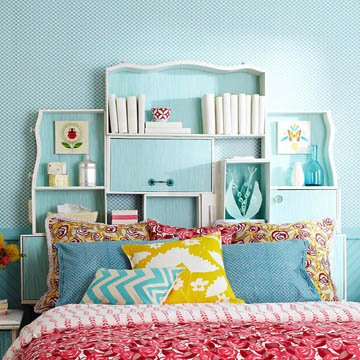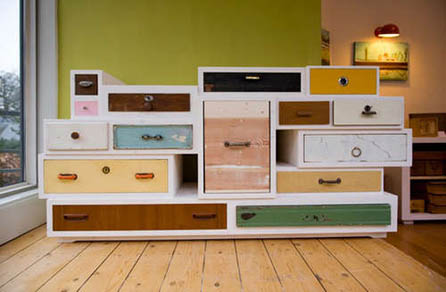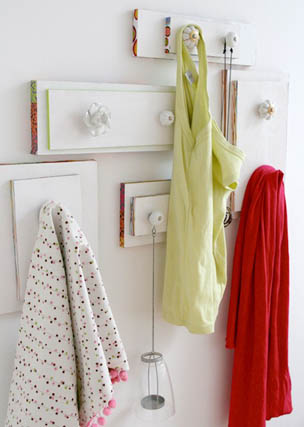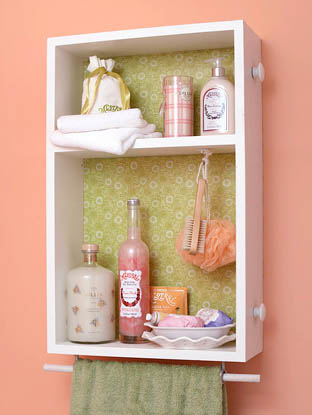 Thanks to Charles and Hudson's old pallet shed post for reminding me about this video. The shed looks like crap but it's a great concept and cool song.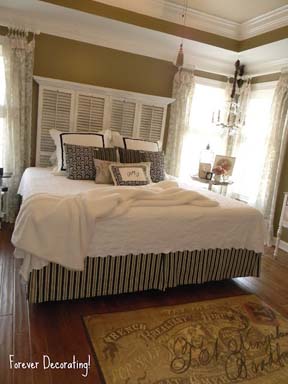 Shutter upcycling mania! All found via Pinterest. Please click on images for sources as the Pinterest embed code doesn't work with this blog. (Is it me?)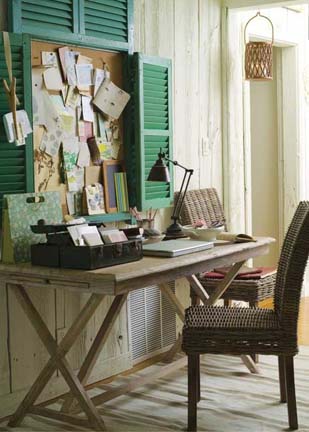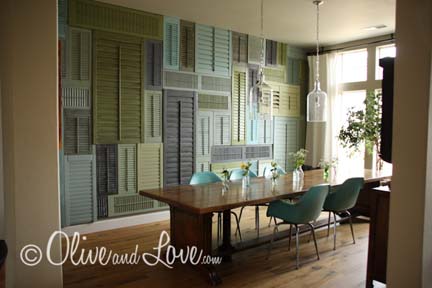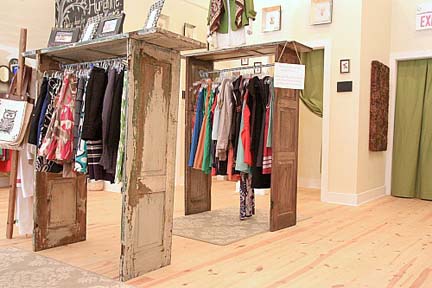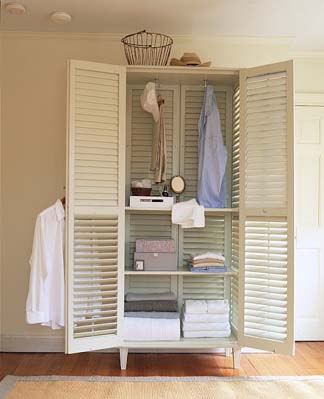 You didn't really think I was going to post 101, did you?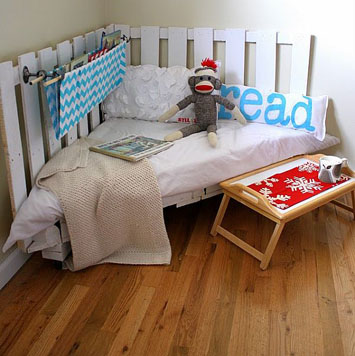 This is a guest post by Jeremy who loves writing about living green, saving money and DIY. He is from EasyApplianceParts, a DIY resource and retailer of appliance replacement parts.
We spend almost one third of our life in the bedroom. The bedroom is our space to relax, unwind and leave the stress of the world behind. Creating a bedroom that is your own sanctuary can be done without having to spend a fortune redecorating. How?  The answer is upcycling. This means taking existing items and repurposing them to build the bedroom of your dreams. The recipe for an upcycling designer is a layer of personal design style, followed by a cup of creativity, two cups of the materials you'll need and a sprinkle patience, topped off by a do-it-yourself attitude.
Create your own furniture
Buying a brand new bedroom set can be expensive. Most of the bedroom sets currently available from furniture stores are made from particle-board based wood.  Create your own durable and stronger bedroom set by using previously used wood such as boards, planks and wood pallets. Solid wood pieces can be found in antique stores, yard sales, estate auctions or old barns.
Making your own bed – Wood pallets used to transport goods can be obtained from nurseries or home stores. They can be transformed into just about anything – desks, chairs, end tables, benches and beds.  Homedit has developed a stylish and easy to build platform bed made from wood pallets. The best part of this idea is that it costs next to nothing to build.  The only materials that are needed are wood pallets, hinges and casters. Add your mattress, paint and you're done. An extra added benefit to a wood pallet platform bed is it can be enlarged or reduced as required.
Extra seating – If your bedroom is large try adding in a bench at the edge of the bed or by the window for a window seat.  Old coffee tables or a small garden bench can be used to make your own bench – just add some paint, cushion and the bench is ready.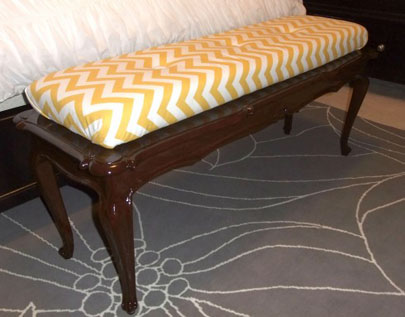 There are only 53 days left until Christmas! And Hannukah starts even before that! Here are some lovely upcycled Etsy pieces for the home.
The garden faucet wine stopper from All Things Reconsidered is less than 15 bucks ($14.99 to be exact).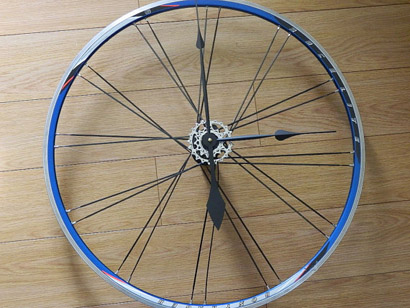 Howzabout a wall clock for that cyclist in your life? $149.99 from Upcycled Bicycle. Say that 10 times fast.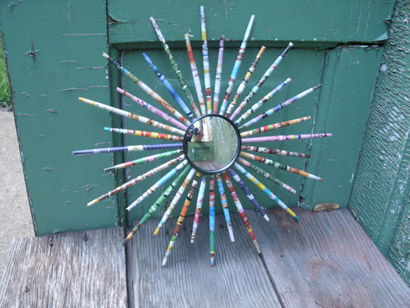 Swimming Deep created this starburst mirror out of recycled magazines. $25.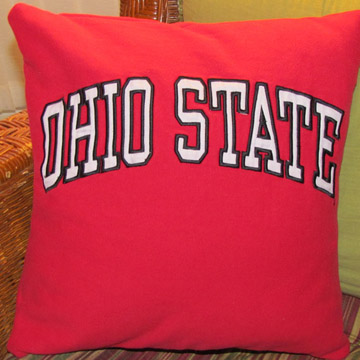 Chic Retro makes pillows out of old sweatshirts. You can send her your favorite old shirt and voila…a pillow! $19.99
Sukkot begins tonight. For those of us unfamiliar with this Jewish holiday, it just means that alternate side parking rules are suspended this Thursday and Friday (Woot!). Sukkot is the shed holiday. Yeah, NOW you know what I'm talking about!
According to Rabbinical code, the sukkah (shed) cannot be located under trees, Stars must be visible from the roof, which  must be made of material that is cut from the earth. For a better explanation, please visit the Babak Bryan website. They are the guys who created the Fractured Bubble sukkah above. The bubble is not really made from recycled materials, but rather invasive species that were picked from local wetlands. The design won People's Choice in 2010′s Sukkah City and I love it too much not to include it.
Each image links to more info on that particular sukkah.
Past Sukkah post.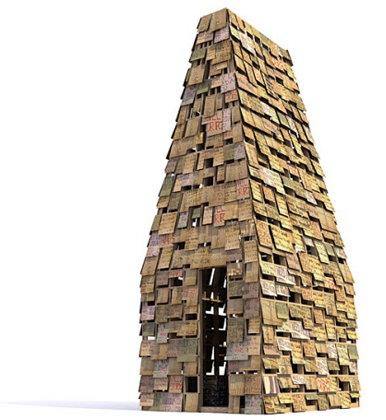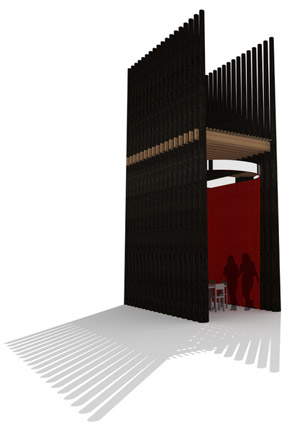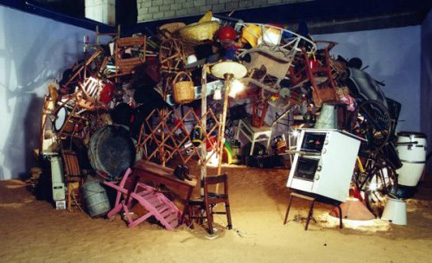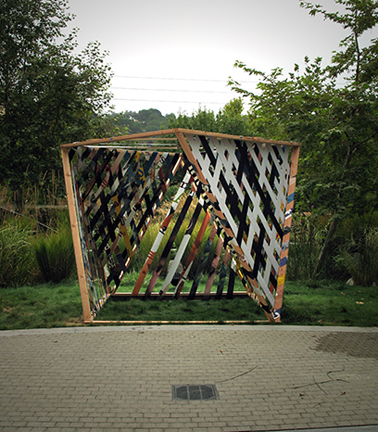 Yesterday we covered some plastic DIY projects you can do around the house. Today it's wood! Inspirations from the Solar Decathlon.
Isn't that inscription on the deck a lovely idea? It can be done on decks, siding or just about any old piece of wood you have around your house.
There are a couple of ways to go about the writing. You can burn it in. Remember those wood burning instruments we all had as kids? (If you're over the age of say, 35?) Well, that technique is called pyrography. Thing is…do you really want to go out and buy that tool now? Perhaps you have a Dremel or router around the house. If so, then you can carve the letters out then stain them any color you want.
First you'll want to line it up properly with a straight edge. Tape a stencil down and trace the outline. No, you don't want to leave the plastic stencil there to be burnt or cut. The rest of it ain't rocket science. You can figure it out.
Check out that cool shower base. You know what? I'm not even telling you to make it yourself. You can probably buy shit like that at Ikea and plop it right down. I just like it, is all.
I'm not quite sure if this is recycled shipping pallets or a piece made from scratch. Either way, it gave me the idea to do it with shipping pallets. A while back, I thought I'd be really cool and build a bunch of stuff made from the reclaimed wood of pallets. Well, it was crazy trying to take all the slats apart. So why bother? Just cut them down and build stuff out of them that way.
I'm feeling the love towards the bark! Ok, so bark siding is pretty pricey to purchase if you can't find a tree that it's coming off of. But I'm not talking about residing your whole home with it. Perhaps a 4×4 framed square to use as a cork board? Or as a backsplash in the your kitchen? An entire wall behind the bathroom sink? A line of bark shingles instead of chair railing? The possibilities are endless.