Here's a simple and inexpensive way to hang your curtains.
First, a little history as to how I ended up buying my curtain rods at a plumbing supply place.
After rebuilding the rotted window frames, there wasn't much space inside the molding to hang blinds. There was no way I wanted to cover the window trim.  Having spent a fortune on it, I wanted to show it off.  So, it had to be inside the molding and the I only had about a 1/2 inch to work with. The other thing was that this is a long window, measuring 88″ across, so most of the non-custom rods were too short.
First choice was the Ikea window panels. Love them! But alas, they would have been too pricey for this project.
I did find some cute curtains at Dee and Dee for like six bucks. Now to hang them.
Rope? I like to use rope to hang shower curtains. I figured why not curtains? Well, because there is still no bar. The rope would just sag in the middle. Tension rod would have been another solution, but I didn't try that.
When I saw an extra piece of copper pipe in the basement, the light bulb went off. I went to the plumbing supply place to see if they had narrow flanges I can use to hang it, much like a closet rod flange. They did not, so I said "Screw it. Let's use that punchy hole thing that is used to secure pipes." Then I saw the price of the copper and decided on electrical conduit instead.
And so here we are. For under twenty bucks, I have some curtains and the rod. It took about 10 minutes to install, including the time it took to cut the rod down to size. If you don't like the way it looks, rest assured, it's mostly covered by the fabric anyway. Plus, there's always spray paint.
Just some pics of the renovation process. Although the downstairs apartment is ready to show, I've decided to wait until upstairs is finished before inviting the public over to have a look. Now I'm pushing the date back to AFTER Memorial Day weekend. And no, I will not be working that 3 day weekend.
The door to the bathroom (above) was under $40 (maybe even $20?) and came with multiple layers of paint. I should have realized because of the weight of the thing that it was a decent wood, but I was delighted to find whatever-species-this-is when I stripped it down.
Please refer to the paint stripping post for DIY tips!
Antique marble was originally used for the baseboard in the upstairs bathroom. It didn't really match the new tiles that were installed so I cut this piece down to use as a saddle for the downstairs bathroom.
Same downstairs bathroom. After months of keeping roisin paper on the window, I finally discovered frosted window film. What a concept!
Picked this up at a vintage shop in Newburgh for 25 bucks. Forgot the name of the place, but it's owned by Barbara of Caffe Macchiato on Liberty Street.
The piece is currently undergoing transformation to make it into a sink vanity for the pink bathroom upstairs. This is 2 coats of paint. Will need one more at least.
This chunky old wood will be the countertop for the "Mexican" kitchen upstairs. That's a before and after sanding shot, in case you haven't guessed. Love the grain!
And that's it. Can't wait to show the finished pictures! All in good time, my friends. All in good time.
Before there were Ikeas and Targets in NYC, National Wholesale Liquidators was the place to go for inexpensive home goods. Right there on Broadway just a touch north of Soho ("Noho" my ass) was a three level megastore of savings.
NWL still exists in three boroughs and out in the suburbs. Hey, it's the type of place where a car comes in handy to schlep all that merch anyway.
Although not quite as stylish as Ikea, it's a great place to hit if decorating on a budget. They carry a decent selection of table linens, bath accessories, curtains, rugs and bedding.  They also stock kitchenware and small appliances as well as large furniture.
Don't need home goods? The New Jersey store even has a full supermarket and wine shop.
On the road again. Looking to pick up the last of the building materials this week as Passover week is going to be a non-stop work fest bringing us closer to Renovation's End.
Have ye ever been to United House Wrecking? If not, you shouldn't be waiting. This is the kind of place that makes me so sad that I live in a silly little brownstone and not a mansion or huge loft. I mean, check out the carousel above. Who wouldn't want a carousel in their living room?
UHW has some top of the line architectural salvage. Stained glass, mantels, newell posts, doors. They have been sifted through and all are in good shape. This is where you go when you don't feel like spending hours restoring the inexpensive stuff. That's not to say the prices are outrageous here. They are not shocking at all. I saw some decent sized stained glass windows for $150 and a really nice antique chandelier on sale for $500.
United House Wrecking isn't just salvage. They do antique and reproduction furniture and design as well. Everything is staged so perfectly. A card table with a poker game already laid out, a bar, a child's room, a mid-century living room that's to die for. It's kind of like ABC Carpet but without the cray-cray prices.
The Housatonic Habitat ReStore (Danbury) is 20 miles or so north of UHW. As with all restores, it's hit or miss on what is needed that day. Yesterday I was in search of tiles because I remembered them having a bunch of awesome Waterworks ceramic. They did have the Waterworks and it was a lovely blue, except I need pink as I'm determined to keep the pink bathroom in the house as it was originally (well, when I bought it, anyway).
While I was there, an estate of some great Chinese furniture was coming in. Some real antique pieces mixed in with a few modern day made in China.
I loved this credenza that houses a stereo system. The side with closed door has room for a bar or record collection. The price was around $150 until the engineer comes around to get that system working and then it goes up.
Today I hit New Joisey.
Van Dyke's Restorers is one of those go-to places when you can't find original hardware. As with most restoration catalogs, they can get pricey. But here's a tip. They always have great sales.
Case in point are the cabinet pulls above. The current sale is 80% off, bringing the price down to $4.99 for a set of six. The black and gold is the actual pull but while taking them apart to cut the screws which are too long for my cabinets, I discovered that I preferred the back side and they match the cabinets better too. So I reversed them. The "flower" you are seeing on the reverse is the area that wasn't painted and glazed. I sealed it up so it should be fine. Hey, if not, I can always switch it to the correct side.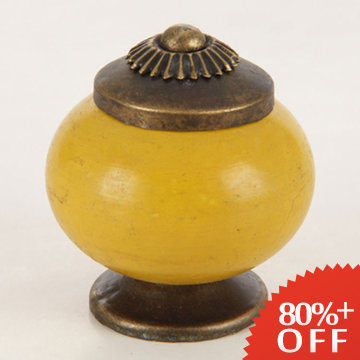 I also purchased the yellow ones for the upstairs kitchen which will be a bright Mexican theme.
For more antique reproduction hardware sources, check out the post from the year this blog was born.
Ah, it was only a few weeks ago that I was saying it wasn't worth it to schlep for miles to shop for salvage. Well, then I lost a bunch of stuff due to the storm. Now that I have to shop all over again, I seem to have forgotten my own advice.
And so I was off to southern NJ and Philadelphia yesterday.
My first stop was Recycling the Past in Barnegat, NJ. The town is chock full of antique shops and when I pulled up to this particular architectural salvage oasis, it did not disappoint. It was like being a kid in a candy shop (see photos)! Only when I found out the prices I realized that mommy didn't give me enough money to buy any candy. That's not to say they are overpriced, but their prices are more on par with some of the larger Manhattan places rather than the salvage guys I'm used to in Brooklyn.
Light fixtures were in the $200′s-$1000′s. Some were really beautiful and well worth it, but when you're working with a negative $15k budget, you ain't buying thousand dollar light fixtures. Not that I do anyway because I am a bargain diva. Claw foot tubs in bad shape were $400. You can get one for half that at Vaccaro's and even less at Eddie's.
So why do I travel? Because those guys don't have some of the newer crap that I need. Tiles and molding in semi decent shape. Kitchen cabinets. I have yet to luck out at Build it Green on those items. BTW, I'm not too impressed with BIG Gowanus prices, so I usually stick to Astoria.
In Philly, I went to a ReStore and the Urban Artifacts Warehouse which looked closed. I walked in and a couple of guys moving furniture said I probably shouldn't be there. I didn't argue since I realized it was one of the higher priced salvage shops anyway.
It was actually the Bucks County Restore where I hit the kitchen cabinet jackpot. Well, as much of a jackpot that I could fit into my Rav 4. So, all in all, I came back with 2 base cabinets for $55 and spent about $65 in gas and tolls.
You do the math. Yeah, I know.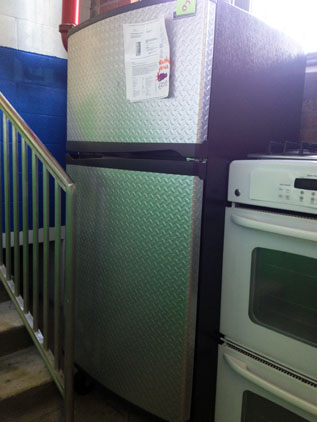 After having hit every Habitat Restore in the Tri-State area and beyond, I've come to a conclusion. Ready for it? They suck. No they don't. But perhaps they aren't worth the travel time and expense.
Here's the thing. Local used building material shops are a great thing. You can hit them everyday and they may or may not have new inventory, but what have you got to lose? Traveling to multiple second hand shops miles away because you want to build green is the antithesis of green building.
Case in point. Yesterday I hit two Restores in Westchester. The Mount Vernon one was pretty good. The SOLD $600 fridge mocked me as I walked in the door. I so would have grabbed that. Also, check out the pinball machine that I wouldn't have bought anyway. That was already sold too.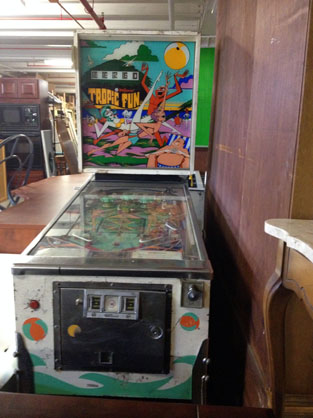 All that was left was crap. Meh. So, I hit the one in New Rochelle. That was just like a Salvation Army with clothing and small housewares. Determined not to let my shopping day end without a purchase, I set off to the Danbury shop. It was ok, but nothing for me. Well since I was up there, I went to Newburgh's Restore where I found sconces for $5 that the woman didn't want to take down for me. U Might Find It, a favorite antiques shop, didn't have anything I needed either.
So, the day ended with an empty tank of gas and an empty car. I used a tank of gas in an attempt to salvage a few pieces of material. Doesn't make sense.
Don't get me wrong. Habitat Restores ARE a great resource for materials. If I was focused on the next project, I would be collecting electrical and plumbing supplies when I see them so I don't have to purchase those new, but I'm not much of a multi-tasker. Restores are great for windows, doors and toilets, but the lovely antique details are more readily found at proper architectural salvage shops.
So my choice today is to buy inexpensive yucky Home Depot tile for the bathrooms or spend money I don't have on nice tile. Decisions. Decisions.
Wanna see what I've been buying with my tight, tight budget? This is shopping week as I'm banished from the house during floor week. Tuesday I stayed local in Brooklyn. Yesterday I hit New Jersey and today I'm trekking Upstate.
The marble bathroom countertop will fit a copper sink I have in the basement. I just need to find a base. Guarantee that the faucet will cost more than the entire set up. Marble piece purchased at Eddie's for the sick low price of $25 when these things normally go for $80-$125. He has more, but I'm special, so don't even THINK about getting it for that price.
The medicine cabinet is very similar to the one I got from Checklist Home Service, only it needs more work. Like stripping….arrrghhh! Anyway, 30 bucks at Vaccaro's.
The Jersey trip started out at Appliance Warehouse on Rt. 17 North in Paramus. Miles of used appliances and yet nothing for me. I'm beginning to think it only makes sense to buy used when it's high end because that's where the savings are. New low end appliances that look good aren't that much more expensive than second hand.
I lucked out with my upstairs kitchen tile at the Habitat Re-Store in Wayne. They had some great stuff and I probably found my cabinets there also but will have to return for them as I couldn't fit them in my car. We're talking $30-$40 for a row of base cabinets. The tiles? I'll be tiling my entire kitchen for $25.
I should also mention that I finally stopped by Green Demolitions. The place is massive and wildly impressive. Again, it's out of my price range as this house has to be affordable for the buyer but if you are looking for your own home, it's well worth the trip! They do carry mostly new materials and I'd say it's about 80% high end with good deals to be had.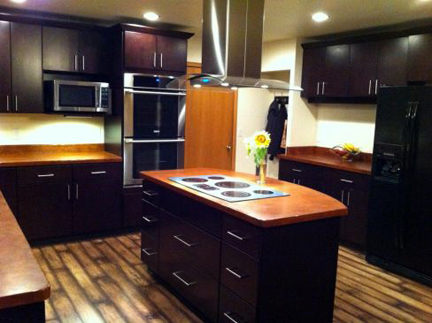 First a disclosure. Kitchen Cabinet Kings is a paid advertiser.
Ok, now we can talk.
Kitchen Cabinet Kings is based in NYC although they are strictly online. No showroom means low overhead which mean lower prices.
The website is easy to navigate, but what I like best about it is that the pricing AND estimated shipping charges are right there for all to see. Ah, how I remember buying my first new kitchen cabinets years ago. I thought it would be a few hundred bucks. How naive. After sitting down with the designer at the first of many showrooms I visited, I nearly had a heart attack. The cabinets I wanted would cost $20k! Needless to say, I didnít go with those. But the point of my story is that this sticker shock is probably something that happens to every first time kitchen renovator. Cabinets or your kidís college fund?
So, Kitchen Cabinet Kings is affordable. Nice. Now, how about their designs? All of their cabinets are plywood construction, no nasty MDF or particle board. Iím kind of fond of ìThe Tribecaî style pictured above with ìMocha Shakerî coming in a close second. The door styles are listed on the site with prices. The company also partners with Kraftmade which cannot be bought online. Oddly enough, Kraftmade was my affordable cabinet of choice all those years ago for that less than $20k kitchen I mentioned. It came in at under $3000.
So, peruse the website my friends. Support someone who supports this blog! Check out the design center and the Kitchen Cabinet Kings Blog that gives tips right on down to choosing your dinnerware.
Oh, PS: They do bathrooms too.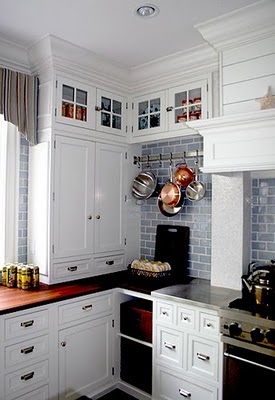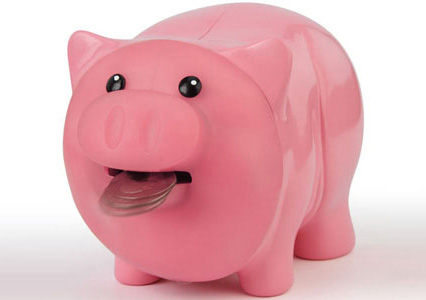 If you've been reading this blog everyday since it's inception, you know all this like the back of your hand. It's "Reclaimed Renovation 101″. But here's a list of tips again just in case you've missed a few.
1. GC your own job. If you have the time and organizational skills, you can hire sub-contractors and oversee the project yourself.
2. Sweat Equity. Even if you don't have mad skills, there's gotta be something you can do to save some bucks. Demolition? Painting? Stripping paint? It's called "grunt work".
3. Re-used Materials. Buy second hand cabinets, appliances and building materials at places like Build it Green and Green Demolitions.
4. Architectural Salvage. Need doors? A fireplace mantel? Medallions? Light fixtures? Forget Home Depot! Yuck! Check out the salvage yards in Brooklyn, upstate and Pennsylvania.
5. Recycle your own Materials. Maybe you can re-use that wide plank sub floor. Those kitchen cabinets might not be so bad if you painted them. Many materials in your home may not need to trashed, only re-worked.
6. Craigs List! Check out the "free" and "materials" categories. You may find some company liquidations or overages on other renovations. Tile, flooring, maybe even sheetrock.
7. "Oops" Paint. If you only have a small room to do, look at the opened paint shelves at Home Depot or other paint stores. You can pick up a gallon for five bucks or so. Colors are already mixed though.
8. Day Laborers. Yeah, I know…illegal and risky. I shouldn't recommend this, but…
9. Liquidation Stores. There's one on McDonald Avenue in Brooklyn that sells everything from flooring to toilets. There's also Lumber Liquidators.
10. Friends. Cheaper and more legal than day laborers. Just get them pizza and beer.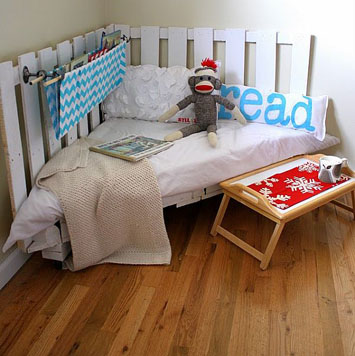 This is a guest post by Jeremy who loves writing about living green, saving money and DIY. He is from EasyApplianceParts, a DIY resource and retailer of appliance replacement parts.
We spend almost one third of our life in the bedroom. The bedroom is our space to relax, unwind and leave the stress of the world behind. Creating a bedroom that is your own sanctuary can be done without having to spend a fortune redecorating. How?  The answer is upcycling. This means taking existing items and repurposing them to build the bedroom of your dreams. The recipe for an upcycling designer is a layer of personal design style, followed by a cup of creativity, two cups of the materials you'll need and a sprinkle patience, topped off by a do-it-yourself attitude.
Create your own furniture
Buying a brand new bedroom set can be expensive. Most of the bedroom sets currently available from furniture stores are made from particle-board based wood.  Create your own durable and stronger bedroom set by using previously used wood such as boards, planks and wood pallets. Solid wood pieces can be found in antique stores, yard sales, estate auctions or old barns.
Making your own bed – Wood pallets used to transport goods can be obtained from nurseries or home stores. They can be transformed into just about anything – desks, chairs, end tables, benches and beds.  Homedit has developed a stylish and easy to build platform bed made from wood pallets. The best part of this idea is that it costs next to nothing to build.  The only materials that are needed are wood pallets, hinges and casters. Add your mattress, paint and you're done. An extra added benefit to a wood pallet platform bed is it can be enlarged or reduced as required.
Extra seating – If your bedroom is large try adding in a bench at the edge of the bed or by the window for a window seat.  Old coffee tables or a small garden bench can be used to make your own bench – just add some paint, cushion and the bench is ready.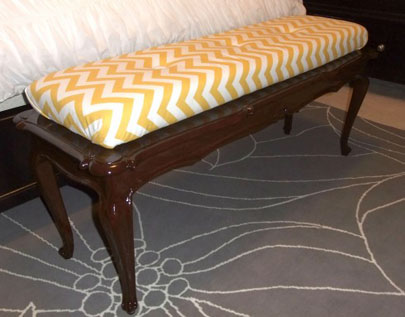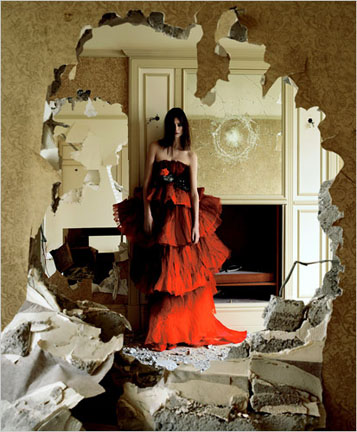 If your renovation is costing more than you paid for your house, something is wrong. You shouldn't have to sell your first born to update a home. Sure, there are certain large ticket items you wouldn't want to skimp on….roof, windows, facade, boiler, structural. But semi-skilled work? Come on.
As you know, I'm a big advocate for DIY. If you put in the sweat equity, you can be save yourself in the vicinity of $40k. I came up with that estimate by comparing DIY input to that of an unskilled day laborer at $125 per day over the course of a year. My own skills are superior to a guy you pick up at Home Depot, so my own estimate is probably double that. Obviously you wouldn't quit your $200k per year job to do it, but as a freelancer earning bupkas, I was able to put in the time. My husband who put in a lot less time because he actually has a full time job and does earn something, probably saved us even more while only working on the house on weekends. That's because he has mad skills.
Before I go into materials, just a few thoughts on other ways to save on labor. Painting and demolition parties, barters, hiring apprentices to high end contractors and of course picking up day laborers.
Materials range from free to high end. Since this has the words "tight budget" in the post title, guess where I'm going with this?
FREE
It would be a fun experiment to try to do an entire renovation free of cost. But nothing is ever free. It would take tons of time and probably cost more in fuel than trying to buy locally. But here goes…..
1. Craigs List. Go directly to the "free" section. You may find anything from sheetrock scraps to clawfoot tubs. People measure wrong, decide to use something else or may want to recycle what they are ripping out.
2. Freecyle.org Sign up for the group to gain access to a nationwide network of recycled goodies. IMO, it sounds a whole lot better than it is. When I signed up, I couldn't believe the audacity of some people. One of the requests I saw was for a minivan for someone with 8 kids. Hello, maybe you should stop having kids if you can't afford a van! But I digress. You can post your own needs, search for what's out there and offer up what you no longer want.
3. Dumpster Diving. Oh yeah! I'm talking dumpsters parked outside of a renovation, obviously. Better still, find the fixer uppers that have just closed, contact contractors and demolition guys to see if they'll give you the head's up. No, they won't be happy, but one or two of them might not think it's great to stick everything in the landfill. You know, those sensitive contractors.
Almost Free
1. Craigslist. This time search "materials".
2. ReStores. Located throughout the US and Canada. Run by Habitat for Humanity, these shops take donations from the public and sell the items at a fraction of the cost. They have everything including the kitchen sink. Paints, cabinets, light fixtures, furniture….
3. Build it Green. I saw a coffin in here once. If you live in NYC, this place is just as good as any Restore since the closest ReStore is in Mt. Vernon. BIG is a huuuuge warehouse in Queens. They have new and used studs, wiring, cabinets, doors, windows, appliances and more. Do keep in mind that items like plywood, sheetrock and studs go quickly as these are basic to any renovation.
4. Salvage! There are antique architectural salvage yards all over the planet. Although you might sometimes find a bargain at Olde Good Things or Demolition Depot, they are not for the shallow pocketed. My two local faves: Eddie Hibbert in Clinton Hill and Vaccaro's in Gowanus. I'm talking antique french doors for 20 bucks and marble mantels for less than $400. *They may need work.
5. Overstock and Closeouts. Every now and then, manufacturers need to get rid of some clutter. There are samples, irregulars and dead stock taking up space. They don't always post it online, but I'll give you a for instance. I once found the mother load of concrete tiles, countertops and sinks on Craigslist. Get Real Surfaces in Poughkeepsie was having a sale to get rid of dead inventory. I made out with enormous boxes of tile for $10 per box. They were probably worth about $20 per square foot.
6. Ebay. Did you know that you can buy faucets, toilets and tools on Ebay? Yep, it's all there!
7. Overstock.com. Sometimes good for faucets, shower and light fixtures, tiles…it kind of depends on what they have that week. Hit or miss.
Upscale. Low Budget
Green Demolitions. Buy what the millionaires got tired of looking at. Top shelf appliances (think Viking, Sub Zero) and cabinets for a ton less than what you would pay new. These aren't completely inexpensive, but it's a good deal for what it is!
PS: Side effects may include saving the planet while saving your pocketbook.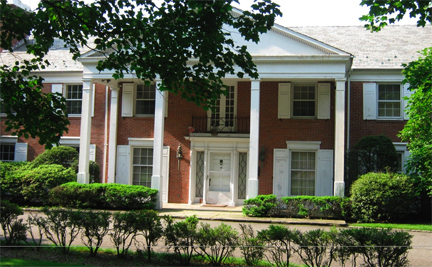 I was contacted by a gentleman in Short Hills, NJ who wants to recycle all building material from a 12,000 sq ft house that's being torn down. The major players are coming to have a look: Olde Good Things, Green Demolitions and Build it Green. There may be items they won't take or you may be able to get there first. In any case, here are some photos of what's on offer. Email lgsfecuaAThotmailDOTcom if interested.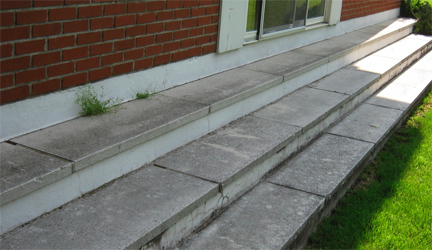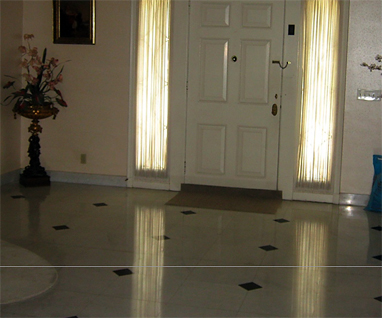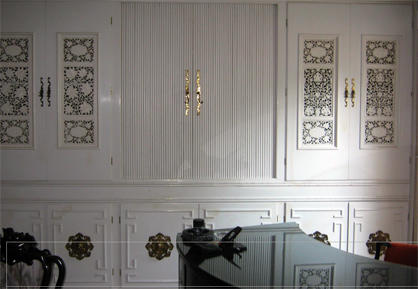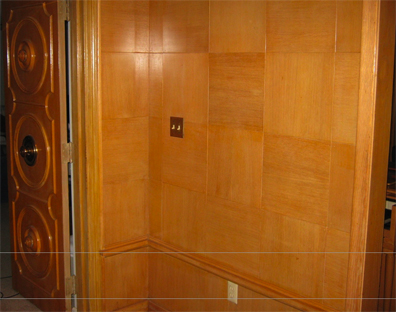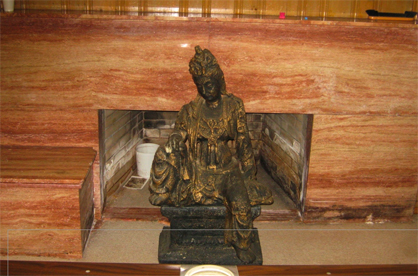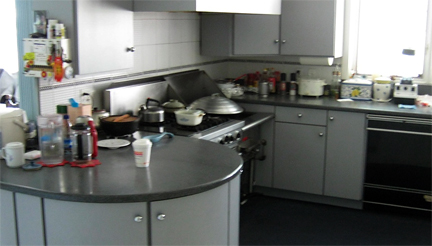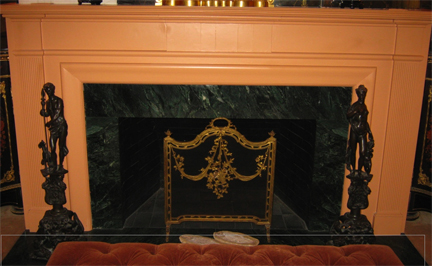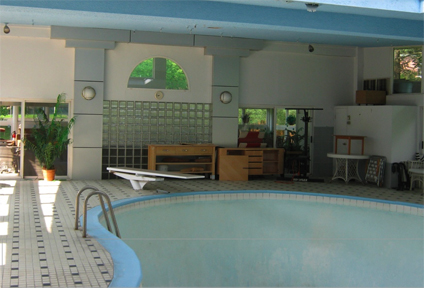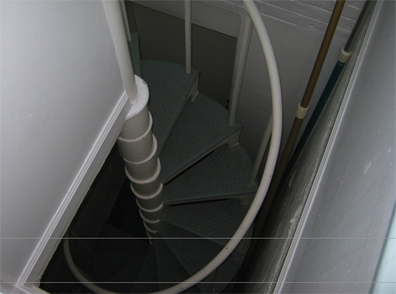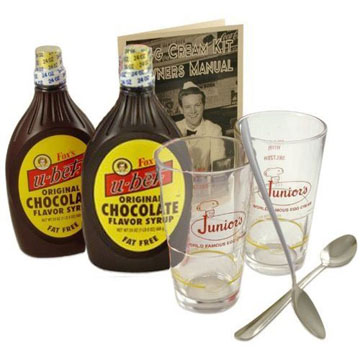 Know how to make a proper egg cream? Fear not. Junior's has glasses with the recipe inscribed right on them. And they are cu-ute!
The glasses have been around forever, but I just noticed them last weekend when I went for my latkes. Unfortunately, they are not on the Junior's website. You can find the glasses or an egg cream kit (as above) online, but if you're in Brooklyn, pick them up directly from Junior's for 5 bucks.
Yes, 5 bucks. They each come in their own Junior's box too. Can't beat that!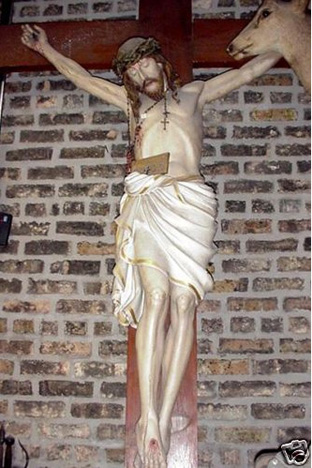 What's creepier (to this Jew) than a dead Jesus on a cross? That dead deer next to him is giving him some competition. Starting bid on this larger than life guy is $180k or you can buy it now for $1.3 mil. Read the description. That is priceless.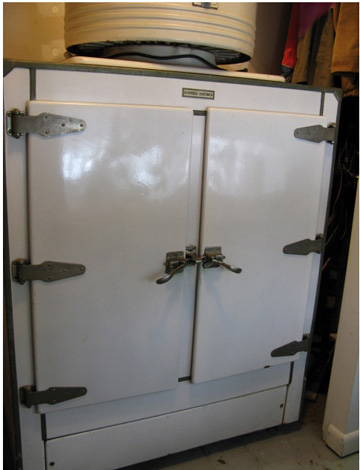 Whose kitchen is big enough for this? Not mine. But it sure is cool (no pun intended). Located somewhere in Pennsylvania.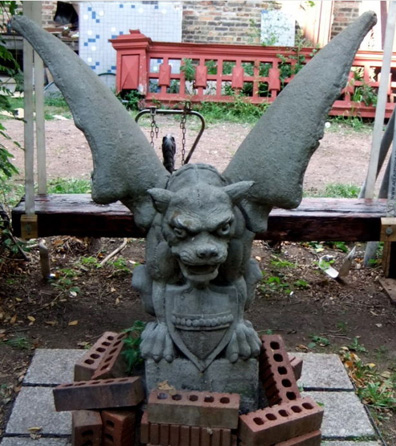 Ok, so this gargoyle is $3125 and you'll have to schlep it back from Chicago. That doesn't make it any less awesome. Standing at 55″ high and born in the early 20th century, it's the real deal.
Remember the clown-water-balloon game at Coney Island? Well, this clown head is from that game.
All photos are linked to the items so you can buy them for me.