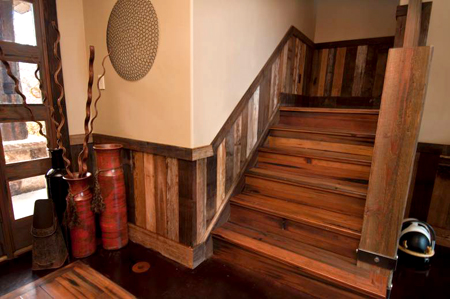 Wainscoting breaks up a room and adds dimension to otherwise flat walls. Who says you have to buy wainscoting at your local big box shop or even use "wainscot" at all? There are plenty of materials that can be used to liven up those walls.
Good ole' reclaimed boards will do the trick. Sure, tongue and groove would be more solid but you gotta work with what you've got. If what you've got are a bunch of old boards, go for it!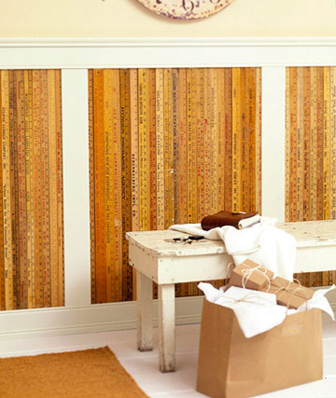 Probably a tedious job, but the end result pays off. These vintage yard sticks are pretty ingenious.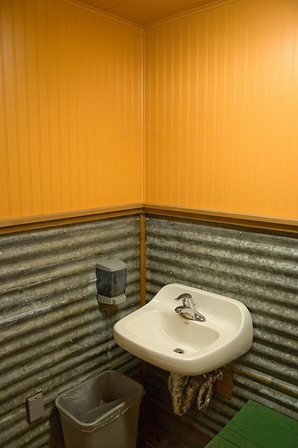 Corrugated metal is THE way to go for an industrial look. Perfect for damp basements where one worries about mold. Rust isn't as deadly.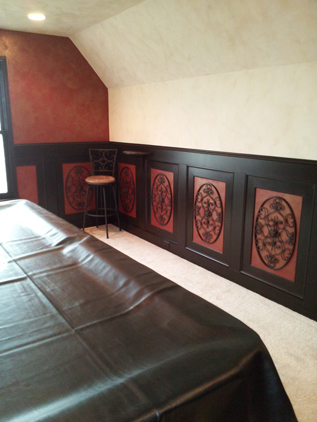 Ok, so this wainscoting idea is made from new materials but you get the picture. Let's say those iron scrolly objects can be any found material. They don't have to be the same object either. What if each frame included a unique three dimensional object? What if it wasn't three dimensional at all? Just frame different images or paint techniques? Maps? Collage? The possibilities are endless.
Don't throw away those drywall scraps. If you keep what you cut you can reuse it in an art project. Shown here are very levelheaded colors for an office building. There are so many options with this. Go bold! Do photo transfers! Use textures! Caulk the seams!
It's easy enough to do. Just glue the pieces to a board. You can even paint them before laying them out if you suck at painting.
PS: Of course you can do it with your wood scraps too.
It's become quite common to see upcycled projects on Pinterest and various blogs, but how often do we get to see creative recycling solutions in real homes? These are just a few of the phone snappies I shot on the Crown Heights North house tour on Saturday.
The old wine box backsplash is a great idea! This one was behind a counter that was not located near the sink, but since wood and water don't mix, it would be advisable to seal wood with a good marine varnish if it is near a faucet. Heck, seal it anyway if you're working with food.
This homeowner picked up some reclaimed wood at a salvage supplier and bought the piping at Home Depot. Cost of materials and skill level not that high. I've seen similar on Etsy going for $1800. My friends, THAT is why you need to DIY!
Can't decide what to do with those old wine bottles? Very cool looking garden trim that wouldn't last 5 minutes with my dogs, but if you have a pet free, child free home…awesome!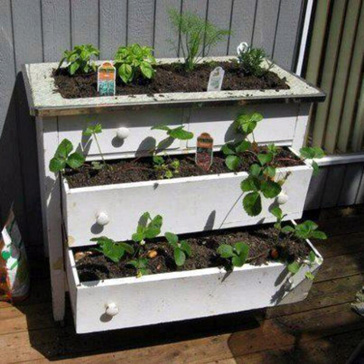 DIY for the gardener who's too lazy to throw away that that dresser or that car.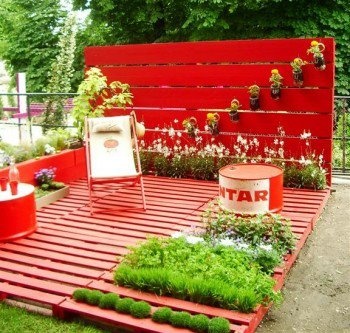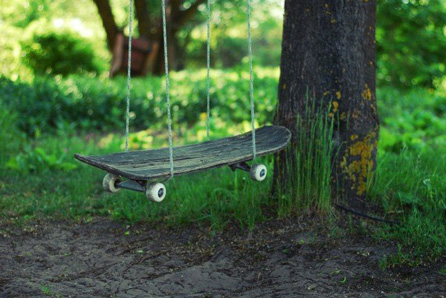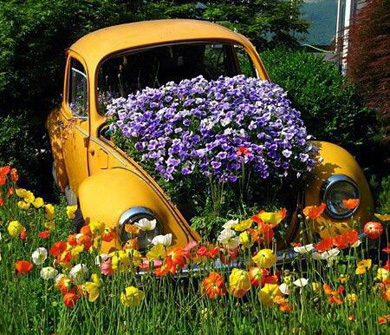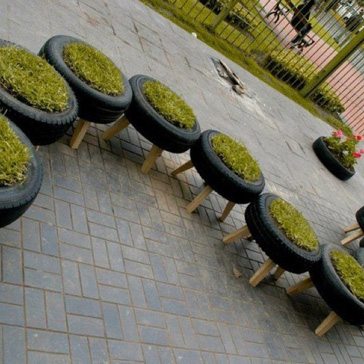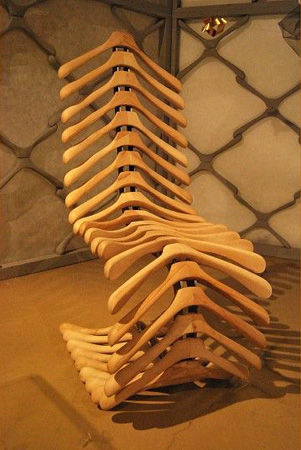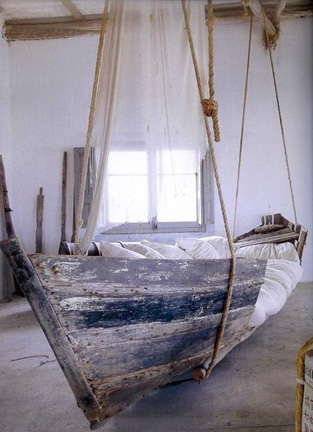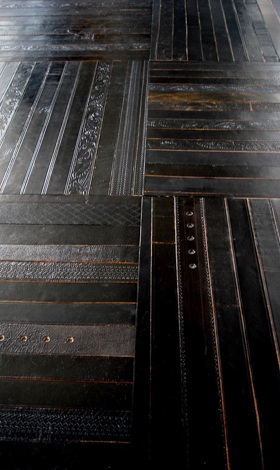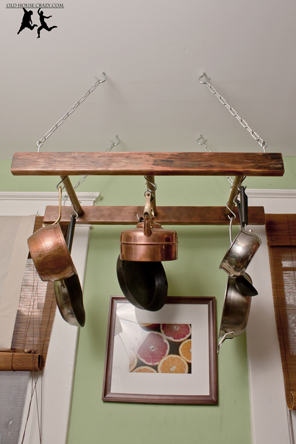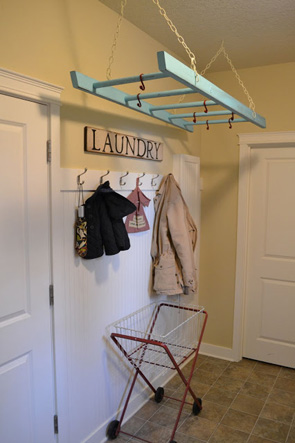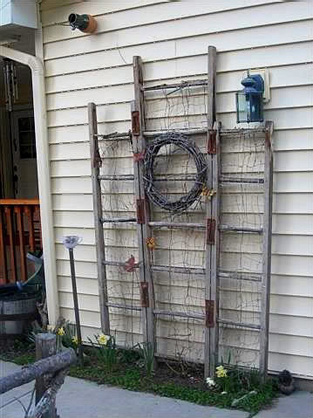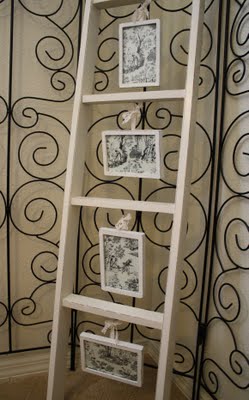 It's true. I have an addiction to light fixtures. I buy light fixtures like women buy shoes. They go with many designs, they are easy to carry and they won't make you look fat. Plus, if it's a bargain, who can resist?
Granted, I'm pretty sure I had enough lighting to cover the whole house, but I picked up three more fixtures yesterday at Vaccaro's. Although the entire renovation is a potpourri of salvaged styles, the lighting is decidedly tole. I suppose I'm trying to achieve a kitsch bungalow look. I did buy some deco sconces and gothic chandeliers for good measure. Can't be too consistent! It would get boring.
All lights need to be cleaned, painted and rewired. What fun would it be if I couldn't work on them?
I didn't come up with the name "Reclaimed Home" for nothing. I love salvaging old materials and restoring neglected homes that were once full of life. Yesterday I was reminded why I torture myself with endless renovations.
You may look at the photo above and say "Meh, it's a rotten old sign." Indeed, you would be correct, but this find had me jumping up and down. I discovered it as I took up the rotten bathroom floor. (We'll chat more about that later.) The previous owners or someone before them used it as subflooring. The writing was not facing up so I didn't know it was there until I actually started taking up the floor.
Unfortunately, the sign is in bad shape as the bathtub and toilet were leaking for years causing rot all the way through to the joists. Yes, the hole in the second photo was what the bathroom fixtures were sitting on. At any given time, someone could have ended up in the kitchen below while bathing or taking a dump. BTW, this is NOT the first old house I found such rot. Live in an old home? Pray they did the right thing when "renovating" as they often just cover things up. Enjoy your bath.
Anyway, back to the cool find. It seems to be more than one sign because I see "Library" and I also see "Club". Actually, I'm guessing that perhaps they were the destination signs on the boardwalk? Anyone have a clue?
Whatever the case, even though they crumble in my hands, they will most definitely stay with the house as part of the reclaiming process. Right now, I'm thinking of embedding the edges in a plaster or concrete wall.
But it was nice to see that folks were reusing salvaged material even back then!
Similar: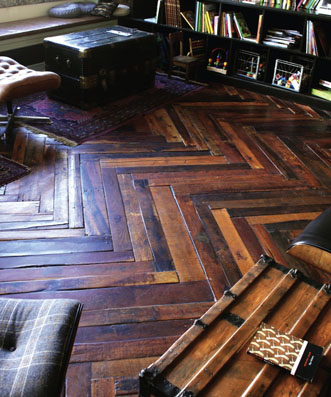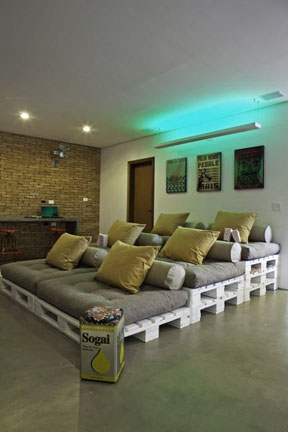 Shipping Pallet Kitchen Island
Ah, it was only a few weeks ago that I was saying it wasn't worth it to schlep for miles to shop for salvage. Well, then I lost a bunch of stuff due to the storm. Now that I have to shop all over again, I seem to have forgotten my own advice.
And so I was off to southern NJ and Philadelphia yesterday.
My first stop was Recycling the Past in Barnegat, NJ. The town is chock full of antique shops and when I pulled up to this particular architectural salvage oasis, it did not disappoint. It was like being a kid in a candy shop (see photos)! Only when I found out the prices I realized that mommy didn't give me enough money to buy any candy. That's not to say they are overpriced, but their prices are more on par with some of the larger Manhattan places rather than the salvage guys I'm used to in Brooklyn.
Light fixtures were in the $200′s-$1000′s. Some were really beautiful and well worth it, but when you're working with a negative $15k budget, you ain't buying thousand dollar light fixtures. Not that I do anyway because I am a bargain diva. Claw foot tubs in bad shape were $400. You can get one for half that at Vaccaro's and even less at Eddie's.
So why do I travel? Because those guys don't have some of the newer crap that I need. Tiles and molding in semi decent shape. Kitchen cabinets. I have yet to luck out at Build it Green on those items. BTW, I'm not too impressed with BIG Gowanus prices, so I usually stick to Astoria.
In Philly, I went to a ReStore and the Urban Artifacts Warehouse which looked closed. I walked in and a couple of guys moving furniture said I probably shouldn't be there. I didn't argue since I realized it was one of the higher priced salvage shops anyway.
It was actually the Bucks County Restore where I hit the kitchen cabinet jackpot. Well, as much of a jackpot that I could fit into my Rav 4. So, all in all, I came back with 2 base cabinets for $55 and spent about $65 in gas and tolls.
You do the math. Yeah, I know.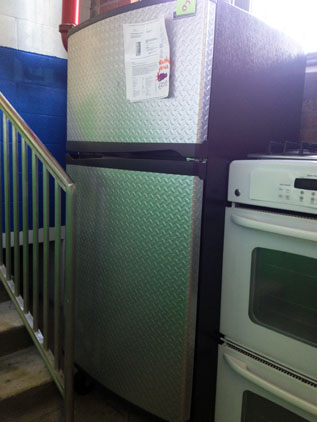 After having hit every Habitat Restore in the Tri-State area and beyond, I've come to a conclusion. Ready for it? They suck. No they don't. But perhaps they aren't worth the travel time and expense.
Here's the thing. Local used building material shops are a great thing. You can hit them everyday and they may or may not have new inventory, but what have you got to lose? Traveling to multiple second hand shops miles away because you want to build green is the antithesis of green building.
Case in point. Yesterday I hit two Restores in Westchester. The Mount Vernon one was pretty good. The SOLD $600 fridge mocked me as I walked in the door. I so would have grabbed that. Also, check out the pinball machine that I wouldn't have bought anyway. That was already sold too.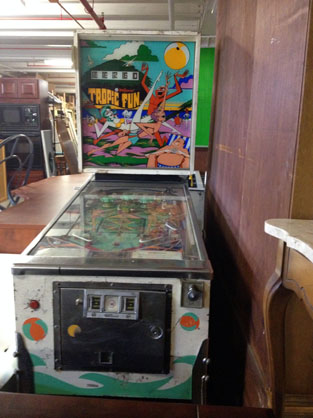 All that was left was crap. Meh. So, I hit the one in New Rochelle. That was just like a Salvation Army with clothing and small housewares. Determined not to let my shopping day end without a purchase, I set off to the Danbury shop. It was ok, but nothing for me. Well since I was up there, I went to Newburgh's Restore where I found sconces for $5 that the woman didn't want to take down for me. U Might Find It, a favorite antiques shop, didn't have anything I needed either.
So, the day ended with an empty tank of gas and an empty car. I used a tank of gas in an attempt to salvage a few pieces of material. Doesn't make sense.
Don't get me wrong. Habitat Restores ARE a great resource for materials. If I was focused on the next project, I would be collecting electrical and plumbing supplies when I see them so I don't have to purchase those new, but I'm not much of a multi-tasker. Restores are great for windows, doors and toilets, but the lovely antique details are more readily found at proper architectural salvage shops.
So my choice today is to buy inexpensive yucky Home Depot tile for the bathrooms or spend money I don't have on nice tile. Decisions. Decisions.
Wanna see what I've been buying with my tight, tight budget? This is shopping week as I'm banished from the house during floor week. Tuesday I stayed local in Brooklyn. Yesterday I hit New Jersey and today I'm trekking Upstate.
The marble bathroom countertop will fit a copper sink I have in the basement. I just need to find a base. Guarantee that the faucet will cost more than the entire set up. Marble piece purchased at Eddie's for the sick low price of $25 when these things normally go for $80-$125. He has more, but I'm special, so don't even THINK about getting it for that price.
The medicine cabinet is very similar to the one I got from Checklist Home Service, only it needs more work. Like stripping….arrrghhh! Anyway, 30 bucks at Vaccaro's.
The Jersey trip started out at Appliance Warehouse on Rt. 17 North in Paramus. Miles of used appliances and yet nothing for me. I'm beginning to think it only makes sense to buy used when it's high end because that's where the savings are. New low end appliances that look good aren't that much more expensive than second hand.
I lucked out with my upstairs kitchen tile at the Habitat Re-Store in Wayne. They had some great stuff and I probably found my cabinets there also but will have to return for them as I couldn't fit them in my car. We're talking $30-$40 for a row of base cabinets. The tiles? I'll be tiling my entire kitchen for $25.
I should also mention that I finally stopped by Green Demolitions. The place is massive and wildly impressive. Again, it's out of my price range as this house has to be affordable for the buyer but if you are looking for your own home, it's well worth the trip! They do carry mostly new materials and I'd say it's about 80% high end with good deals to be had.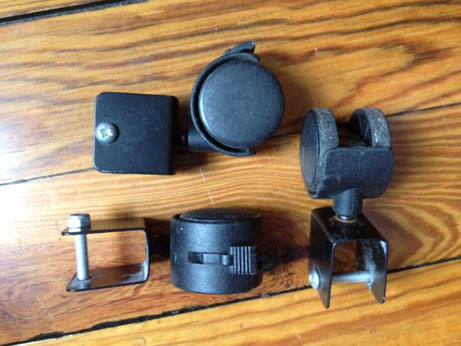 There was a time I could get clawfoot tubs and flooring on Craigslist for free. Now people are giving away stuff that even a fanatic recycler like myself considers trash. But hey, maybe it's useful to someone. You never know. At least they're not charging for it. If the links are dead, that means the item has been removed.
Misc. Items.  Three wheels. Two with "breaks" which probably means "brakes". But wait! There's more. If you act now, you can get Ikea Allen wrenches. The poster is throwing in some "Food and Wine" magazines, but would prefer if someone takes the whole package.
Manure of Chicken. "It's only free if you bring a bucket to trade. If you don't have a bucket, please bring $1.50 to cover the cost of my bucket. I'll return the money if you bring my bucket back.
Come get some every week! heck..every day… take all you want! They'll make more!"
Soccer Socks. Gently used. Some pilling on the foot. Why go through the effort? Put them in the big Goodwill bag that's been sitting there for a year. You know the one. Don't tell me I'm the only one who has that bag.
Baby Food Jars. Sorry, I just don't think I'd feel comfortable feeding my baby food I got on Craigslist. I'm sure it's fine, but it would freak me out.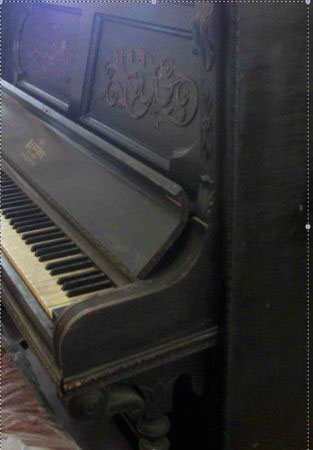 1901 Kroeger Piano. I'll end on a positive note. Oooh, this is actually nice!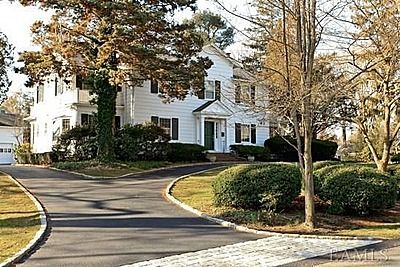 Last week found me dismantling a house that was not my own. I spied a tear down on Craigslist while searching for salvaged materials. The entire 1920′s beauty has to come down to make way for a brand new monstrosity. Although most of the great stuff has been taken, there's still plenty left.
My interest was the door and window trim. That can become pricey if buying new because you're talking about an entire house priced per board ft. The antique salvaged molding usually needs quite a bit of stripping and repair. Plus, where are you gonna find an entire matching house? So, with a bit of extra work and a trip to Westchester, I'm getting my molding for a few bucks.
The over $2m house was renovated recently so there isn't a ton of original details. What's there is in perfect condition and it's all high end, whether it's new or old. The kitchen was being dismantled while I was there and I'd say it was definitely upwards of $75k. Who knows what the resale price was but I'm sure the buyer got a bargain.
I'm going back tomorrow for more molding and some doors.
So, what else is left? Doors with glass knobs are $75. There are some French doors and exterior left as well. Windows, crown molding, wainscoting (newer), maybe one built in is left, shingles, bannister, bathtub. Once the building starts coming down, there will be plenty of lumber. The wood floors throughout are in perfect shape. It's a shame that they will be destroyed if pried up, but I wonder if sections were cut out, could they be placed together like tile? Just trying to think of a way to save them.
If you're in need of any of this stuff, come have a look! It's a tragedy that the house will be knocked down, but at least we can do our part to keep it alive elsewhere.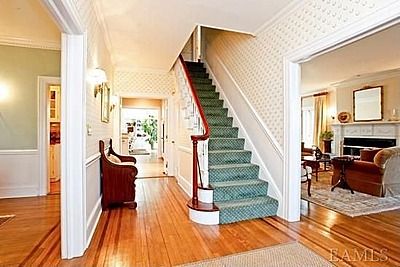 Of course I don't really believe that recycling old building materials can ever go out of style. It's just that….I'm having difficulty finding my own materials this time around!
I've been hitting up the usual suspects religiously and have come up with bupkas. Build it Green's inventory in both Brooklyn and Queens is low. Shite, in fact. Vaccaro's has some decent stuff, but none of it worked for me in regards to this reno. I only found some louver doors at Eddie's to make a wall out of. He told me that a lot of new restaurants and bars come by to shop.
Which brings me to the point that every new restaurant opening in Brooklyn is decorated with salvaged materials.
Enough already! Leave some for me.
Oh, even Upstate was a bust. Hoffman's Barn was packed when I was there on Saturday. No lie. Totally Hipsterville. WTF?
I used to do well on Craigslist too. Now? Nah.
The good news is that I'll be exploring new places to shop this week or next. I'll head over to CT, NJ and PA.
So take that, people stealing my reclaimed thunder!