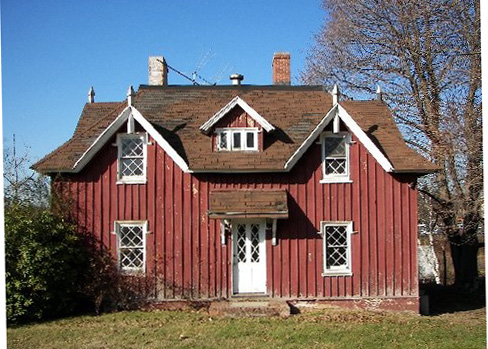 Maybe I just found my next project. The Husband will kill me! Ever see a great old house and say "Location, location, location sucks"? Well, there are ways around it. Just move the damn house.
Ok, so it's not that simple. Actually, it may be simple enough for you because someone else would be taking care of all the work. What I should have said is that it's not that cheap. Movers charge by the mile amongst other things so it's not like you'll want to move a house cross-country or even across state lines.
That being said, check out William Gould's Architectural Preservation site. He's located in CT. It's really not thaaat far. There are barns and homes for sale, previously dimantled buildings, rebuilding plans and contractor services all wrapped up in one single website.
Thanks to Old House Web for being so awesome and posting this.
Sadly, my Silent Paint Remover ended up under water during the flood. It's possible that it survived but I'm scared to try it, so I'm waiting for The Husband to fiddle around with it. I'll stand by to drive him to the emergency room if necessary because I'm a good wife.
Until he takes it apart, I'm stuck using chemical paint strippers. It's bringing back some bad memories of stripping 5 marble fireplaces and a house full of wood molding with Rock Miracle. Don't get me wrong, Rock Miracle is a great paint stripper, but since I discovered the SPR, I only use chemicals to smooth out the final (or rather, first) layer of paint instead of sanding.
The clawfoot tub I bought for $100 DELIVERED has at least eight coats of paint. It's so thick that someone plastered in a patch where the paint had peeled. First I tried Peel Away for 36 hours. I spent half the day yesterday going through layer by layer with the Rock Miracle until I finally said "WTF am I doing? This is the side that's going to be hidden against the wall."
Is it nuts that I'm "doing the right thing" where nobody is gonna see it?
Anyway, if you don't learn anything else from my DIY blog posts, listen to me now and hear me later. The Silent Paint Remover/Infrared Paint Stripper is the most friggin awesomest thing ever invented. It's like 400 bucks, which is why I'm willing to send Hubby to the hospital rather than buy a new one, but it's totally worth it! Multiple layers in a 12″x5″ area in one go. Saves tons of time and money spent on bullshit chemicals and make paint stripping a pleasure!
No, I'm not getting paid to say this. But then again, if the company wants to send me a new one, I would not turn it down.
I love you, Silent Paint Remover. And I miss you with all my heart.
The house had been sitting empty since the fire in 2003. It always seemed so crazy that a once majestic home was allowed to deteriorate while real estate in this pocket of Bed Stuy has remained tight.
I heard that it was going up for auction. First I saw the "suits" meeting out front. Then came the rubbish removal truck. I knew something was going down.
Today I weaseled my way into 91 Macon while my neighbor was waiting to let the water company in. He was put in charge for the day, flashlight and all. Since I'm a licensed real estate agent and it IS officially on the market, it wasn't verboten even though I felt like I was trespassing.
So here's how crazy real estate in Brooklyn is. They are asking $900k as is. Word on the street is that they intend to renovate but leave any detail that's there (Praise God) and that price will be $1.5m. Public record shows that they purchased it at auction for $600k a few months ago. That's a hefty profit although not quite the $300k it may look like. Perhaps there were other liens and taxes, clean up costs, legalizing "stuff", getting rid of squatters or dead bodies…
In any case, high for Bed Stuy? Homes in the area have been hitting over a million. Although $900k seems steep, $800′s seems almost fair. It's 4000 square feet. I'm gonna predict they either get $850k as is, $1.1 on a crappy flip or $1.3 on a nice restoration.
We visited one of the oldest houses in Brooklyn yesterday. The late 1700′s Lefferts House is located in Prospect Park, but did you know that the original location was six blocks away on Flatbush and Maple? And did you know that the 1783 structure was the second Lefferts home to be built after the original 1687 homestead was burned down during the British invasion of 1776?
It's all good now. The home was donated to the city back before it was moved and has been a museum ever since. It's a small house by today's standards so if you visit, don't expect a full day trip. Bring the kiddies as the Prospect Park Zoo and Carousel are within spittin' distance.
Suggested admission is a mere $3 for adults.
Bedford Stuyvesant is a huge area broken up into a few neighborhoods such as Stuyvesant Heights, Weeksville, Ocean Hill and Bedford.  No, Bedford Corners Historic District is not some new name the realtors just came up with. This part of Bed Stuy exhibits some of the finest architecture in the city but it does need to be preserved.
The Landmarks Preservation Commission will be answering questions and discussing the landmarking process of Bedford Corners Historic District this Wednesday, March 21st. This meeting is said to be the deciding factor as to whether or not the area will be receive landmark designation. The community is urged to come out and show it's support.
If you live in the south west end of Bed Stuy, please join us at the meeting on Wednesday at Restoration Plaza, 1368 Fulton Street, lower level. 6:30pm.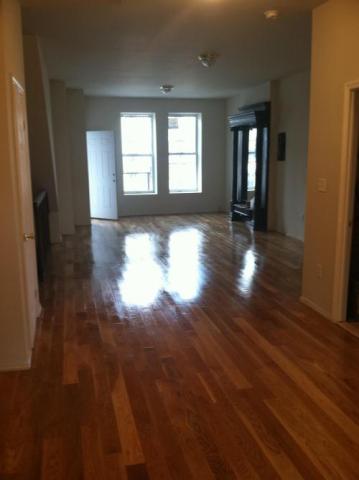 This home was listed as having "historic details" on the Craigslist ad. Perhaps they meant the one mirror.
This one goes out to all of the real estate investors, flippers and brokers. Stop the insanity in Bed Stuy! Yes, yes, I'm guilty of looking for an investment property to flip myself. What sets me apart from these bozos is that I aim to preserve the historic value of the home and respect the community. The state of the market in Bed Stuy isn't suitable for my needs right now because all I'm seeing is crap renovations.
Flashback to six years ago when I was looking for my own place to live here. The beautiful thing about these brownstones was that they had so much detail still intact. During the "do or die" years people weren't gutting their homes. Now that Bed Stuy is suddenly getting popular, it's hard to find a place that needs some tender lovin' care.
The prices aren't bad for these gut jobs and one can always add detail. The thing is, I would never trust these fast-n-cheap flippers to do the right thing. What do you think is lurking behind those new walls and floors? Do you think they replaced rotting wood and pointed the bricks properly? Maybe. But you never know. I kind of doubt their integrity.
Listen you guys, leave some homes left for those folks who don't want glossy oak floors and Home Depot light fixtures. Your cookie cutter shite doesn't cut it with everyone. Seriously, people will pay more for plaster detail than new sheetrock. They'll pay more for that gorgeous pier mirror and mantel that you're dumping in the trash. They'll pay more for the pocket doors that are lying in your dumpster out front.
I know they will. I'm one of those people.
Now run along and rape some other neighborhood with yucky housing stock. I hear that Long Islanders like shiny, new things.
Yes, that's right. A six unit bungalow colony is up for sale for $93,900. The buildings sit on 5.45 acres in Kerhonkson, which is actually more desirable than most colony locations. Kerhonkson is Ulster County, close to Minnewaska State Park and Stone Ridge/High Falls/Rosendale.
The 1940′s bungalows are listed to be in "fair condition". Sounds too good to be true? Well, yeah, it is. Maybe.
Most of the structures do not look to be in salvageable condition, so really, you're buying the property. My thoughts on empty property lot vs. tear down is as follows: I'm figuring that the electric, water, gas and sewage lines are already run with a preexisting colony. Many places we saw had propane and the lines may need updating, but am I wrong in thinking it's still easier than starting from scratch?
Pop some cute pre-fab cottages in or vintage air streams and you've got yourself a colony…right around the corner from the Hudson Valley Resort and Spa.
*Photo help from Miss Wit
Even though The Catskills were severely damaged by Hurricane Irene last year, some parts will bounce back. Areas like Woodstock and Phoenicia are year round vibrant communities that have always remained popular destinations for tourists. But exploring Sullivan County this week was rather shocking.
The Borscht Belt towns have seen more financial devastation and decay than any hurricane could have caused. This isn't news. I've blogged numerous times on photographers capturing images of the old resorts and bungalows, but I had to see it with my own eyes to consider the scope of it.
Main Streets died out with the advent of the malls and the resorts and colonies started losing popularity with the arrival of air travel. The Catskills as my generation knew it still existed well into the 1980′s, but it's a shell of it's former self these days.
There may be hope of a revitalization. Post baby boomers like myself have been very excited about the opening of Kutsher's Restaurant in Tribeca and the preview of the Kutsher's documentary film was sold out almost instantly. The newish Upstater blog is waxing nostalgic about the area and they've proven to be quite popular.
Does this mean The Catskills are coming back? Not quite. It just means there is hope. I'm not the only one whom has had the idea to bring back a modern day bungalow colony for this generation.
Kutsher's still exists, although it was closed the day we were there. I heard rumors that it's for sale, but cannot find any news on the current status.
I'll be posting some colonies that are on the market in the upcoming weeks. They are in bad disrepair, but prices are negotiable. Come on. Let's do it. Let's bring back The Catskills!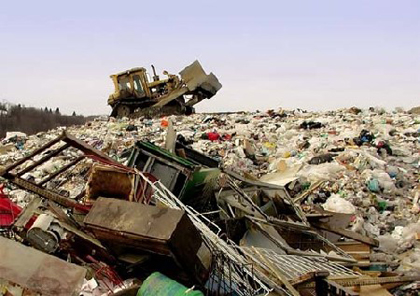 Reclaimed Home is going back to its roots! After moving back to Brooklyn, where space is an issue, we stopped collecting larger salvaged items for reuse. Well, it's time to expand again.
Starting a tiny home based business was a breeze. Starting a small business with a team is a bit more challenging. But you know what? It's important that we do this now for a variety of reasons.
Saving building materials from the landfills. Mother Earth is screaming for help. Tons of demolition rubbish goes into dumpsters every day.
Presenting restoration options for folks of all income levels. We're going through some rough economic times. Why shouldn't everyone have the same access to beautiful architectural details and furnishings for their dwellings?
Preserve our history! Old homes are being torn down to make way for new construction. Historic details are discarded of during renovations. The skilled craftspeople who created these materials are long gone. Let's give their work a second life.
Here's what you can do to help us achieve our goals. If it can be recycled, please don't throw it out! We'll take reusable materials off your hands. If you're doing a renovation or know of someone who is, contact us before you allow your contractor to destroy house parts and throw them in the dumpster. We'll carefully remove the items for you so someone else can make use of them.
It will save you demolition fees. It will save you disposal rates. Most importantly, it will save our planet from overflowing landfills.
You can email us by hitting the "contact" link at the top of the middle column. We thank you and Momma Earth thanks you.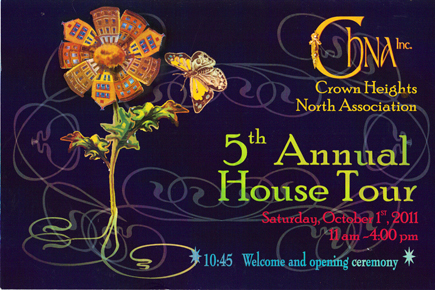 What's better than looking at internet house porn? Participating in house porn! Yes, all you house whores, it's time for the 5th Annual Crown Heights North House Tour!
When? Saturday, October 1. 11am-4pm
Where? The kick off ceremony and breakfast starts at 10:45 at St. Gregory the Great Catholic Church. Brooklyn Avenue and St. John's Place.
What? A self guided tour of nine homes, one church, one community garden and a nonprofit location.
Tix? $20 in advance, available at Barbara's Flowers, 615 Nostrand Avenue and Yanatiba,714 Washington Avenue or on-line from Crown Heights North Association. Tickets can be purchased for $25 at door on October 1st.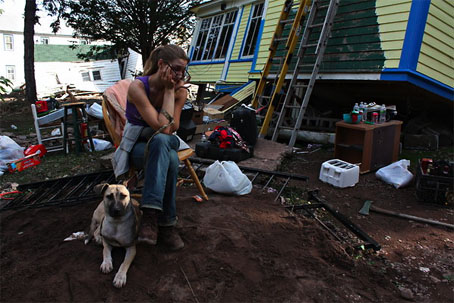 The death count for Hurricane Irene is now up to 40. We joked that it was non-event here in the boroughs, but looking at the damage she caused elsewhere, we should thank our lucky stars it wasn't worse.
This NY Times photo struck a chord. This poor woman was in the middle of restoring her 200+ year old house. You know she loved that house because she took the time to scrap the paint and brighten it up instead of slapping on some siding. I can sympathize with her loss because I know how I'd feel if I put in hours of work for nothing.
People's homes and businesses are damaged all the time in natural disasters. As long as everyone survives (pets included), it's just a building. And possessions. Hopefully, insurance covers enough so that people don't end up with nothing. But you can't replace the intangibles. The memories. The time spent working to make it yours.
Memories fade and time passes no matter what. Money comes back. It must hurt to have them stolen in a single day though.
Interiors still need to be stained.
After months of research, planning and estimates on replacement windows, we finally had them installed in July. Any window that's worth a damn is not cheap. (*Worth a damn=NOT vinyl replacements!!) At the end of the day we came in just shy of $30k for 14 windows. The front is custom wood as we have some odd shapes going on and the rear is fiberglass with wood veneer interior. They are historic windows even though this area is not yet landmarked.
So, here's how it went down.
For the front of the house, we wanted brick to brick as opposed to replacement. Meaning…everything comes out so they can insulate behind the frame. That's often where the drafts come in, not from the windows themselves. There are less air pockets in the rear of the house, so we got away with replacements there.
(more…)
Me and The Moms took a trip upstate for a couple of days last week. We drove the Old 17 Route so we could pass the Red Apple Rest Stop. The Red Apple was THE place to stop before the NY Thruway was built. Back when it took 5 hours to get to Sullivan County. It was still open up until 2007 when it became condemned.
While we stopped to get pictures, there was someone else swinging by to have a look, remembering the place from his childhood. I wonder how many people go out of their way to check out the old rest stop. Could be a great restoration project and business venture.
The number is on the "For Sale" sign below. Just sayin'.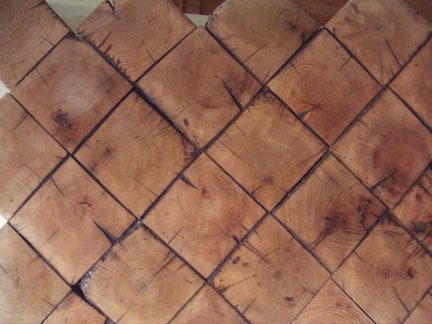 We've posted local reclaimed lumber resources here before, but the list keeps growing. Before checking out any of these pricey places, be sure to have a look at Craigslist first to see if anyone is giving away materials they don't need. It happens.
Need recycled bricks? Chief's in The Bronx sells used bricks and cobblestones.
Here are a few reclaimed wood and flooring companies to check out:
Antique and Vintage Woods. Upstate.
Restoration Timber @ NY Design Center
Cornerstone Salvage. NYC
And don't forget this Coney Island boardwalk wood!
I was just looking back on some old Flickr photos of my Bed Stuy renovation and realized that I never blogged about my fabulous parlor floor hallway. (Nor various other little projects)
That's the before shot you see above. The previous owners "renovated" the house. Oh please, don't get me started. Everything in the hallway was painted a glossy shit brown…the bannister, the newel post, the doors and the molding.
We took the double doors down and stripped and repaired them. They were in pretty bad shape and needed some fill in material. The back door with that badly home made transom was switched out for an antique door that actually fit into the frame.
Ah, but my pride and joy is that newel post! The one that was there when we bought the house consisted of four pieces of plywood boxed together with a Home Depot doodad on top. We found a gorgeous salvaged newel post that would have been original to a brownstone of this era and replaced it with that. The post was stripped and stained to match everything else.
The Victorian light fixture and ornate radiator were also salvaged finds.
This stuff doesn't really take much design skill. It's kind of just like putting back what was taken out.