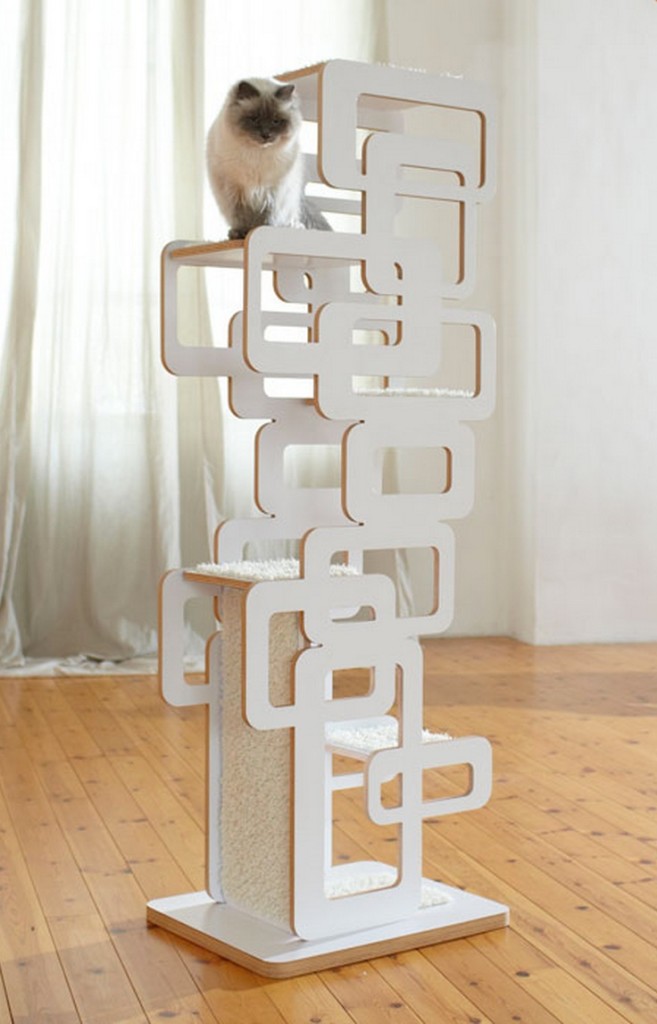 With so many lovely kitty condo and bedding options out there, it boggles the mind that all we see in local shops are those carpeted pieces of ….
Why would people buy those when there are much nicer alternatives available? Oh yeah, price. These things can cost a small fortune. And why spend that when your cat will claw it to pieces within months?
Click on each images for more info on kitty units.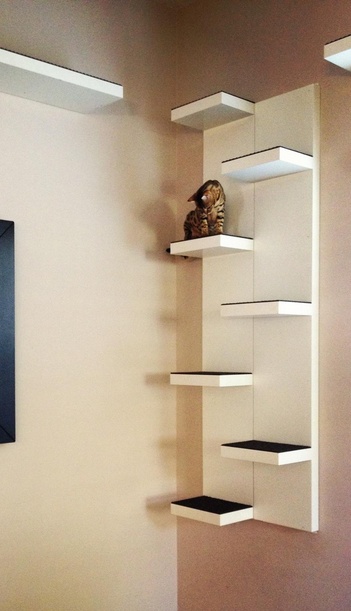 This one is made from Ikea shelves, so you know it's affordable.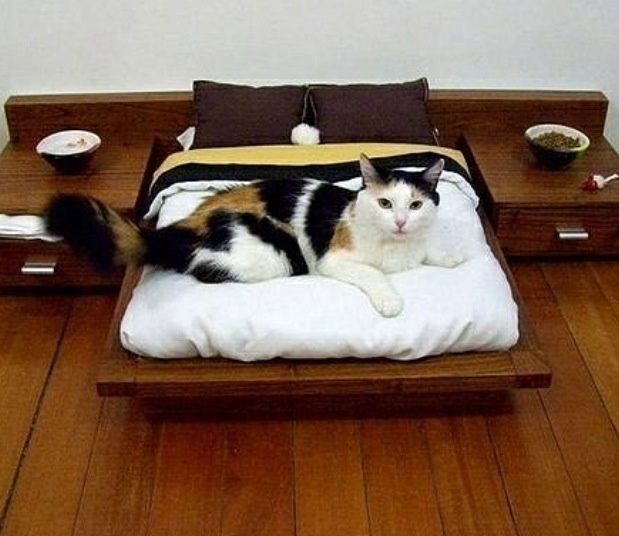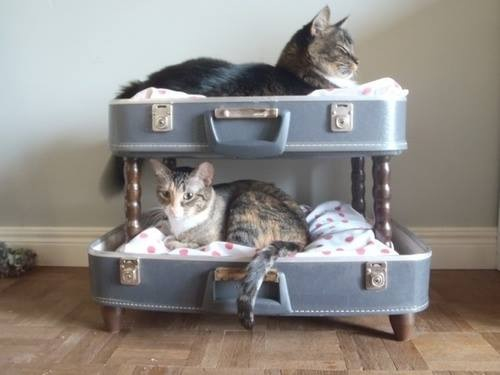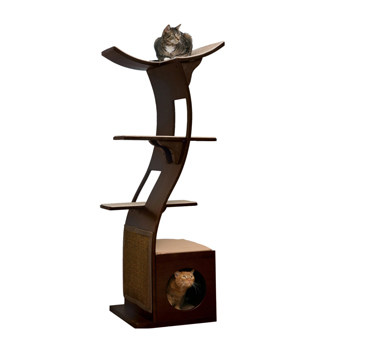 Why are all cat trees and condos made with carpet? That does not last very long in a multi-cat household! Carpet gets scratched to shreds, puked on, pissed on and don't get me started with the fur! Someone needs to invent a practical kitty condo with removable and washable parts. Yeah, I know it would be an easy DIY project, but I'm feeling lazy.
The Refined Lotus Cat Tower shown above is fairly practical. The carpet attaches with Velcro, thank you! The cushions are washable. That's what I'm talking about! The price is $326 including shipping at Amazon. Is that about average considering these things aren't cheap?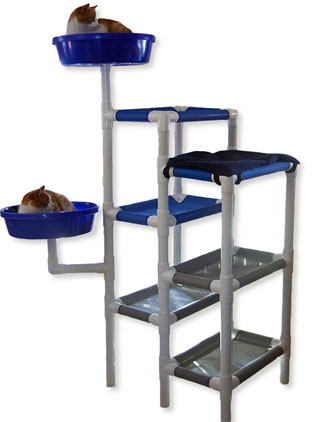 Be careful what you wish for. Ok, so the Feline Snoozer Climber Tower is completely washable. I'll give ya that. It lacks something though. A design, maybe? Someone said "Hey, let's put some PVC pipes together and throw trays on it. $240 for something that I'd be embarrassed to keep in my living room.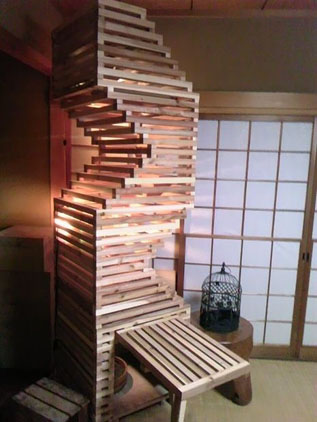 OMG. That is beautiful. Unfortunately, it wouldn't last a day in my house. Yeah, I could just imagine cleaning each slat.
Finally, this recycled drawer kitty condo seems to be the perfect fit. I'd paint the wooden posts though, so they'd last longer. It seems like an easy enough DIY job. I can't tell you if it's actually for sale since the site I found it on is in Italian. E la vita.
If you have cats, a litter box is just another object in your home that needs to be cleaned often. Perhaps you start to notice it more when you're expecting company. What you have learned to live with may not be so appealing to everyone. These are literally containers of poop and pee sitting around your house. If they are not covered and you don't clean that poop out immediately, a visitor will come face to face with a cat turd. Do you really want that?
I have a multi-cat household which means that I have several litter boxes. The poop thing isn't an issue since the dogs think of that as treats. No, it's certainly not good for them! Which is why it's time to put an end to their binge snacking.
These photos are merely ideas I'm grabbing for a DIY project. I'm torn between running out to Ikea today and just getting 'er done or finding the right vintage piece for each box. For now, I'm leaning towards the more disposable/less green Ikea option since it's something that's going to get smelly and be replaced in a couple of years anyway.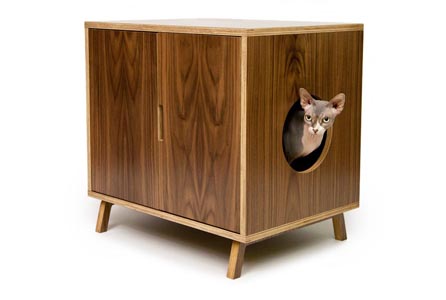 Modernist Cat has some great options. This would probably most resemble an Ikea hack and not a vintage piece. So, why don't I just order one from them? 600 bucks is why.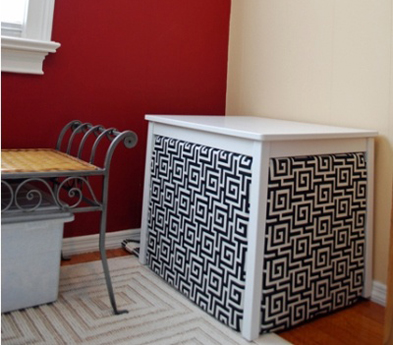 DIY option made out of a table and three fabric covered sides.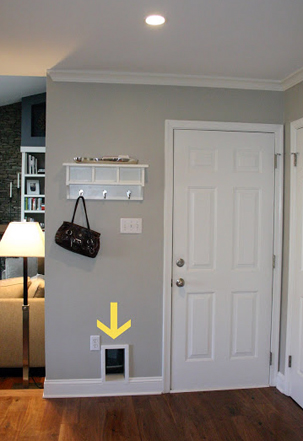 If you have the space and desire to start cutting into your walls, this is a great option! A litter box cubby hole.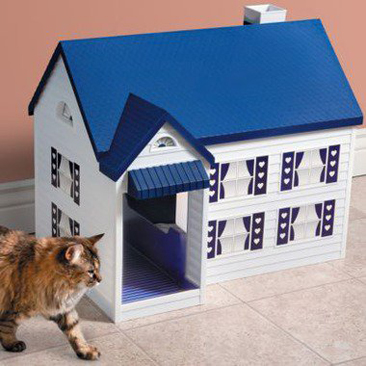 Ok, that's totally goofy but kind of awesome. A cat house.
This is a public service announcement!
Am I the only one who gets so annoyed with smoke alarms going off whenever I cook (which isn't often) or when the battery starts dying that I just take them out altogether? Yeah, bad idea.
The other night I received a text from my tenant after I went to bed that he smelled something burning. After I was all like "WTF, Dude? I'm trying to sleep!" I went to check out the house and lo and behold, as soon as I opened bedroom door I saw smoke everywhere!
The culprit was an outlet but the REAL culprit was a cat. Do I have to spell out what that cat did to the outlet to nearly kill us all? It was a GFI outlet near the sink but I guess those don't react too well to piss. By the time we got down there, we didn't see any flames and the outlet and circuit breaker had tripped, but the wall was hot and the smoke looked as if there was an actual fire.
So, a few precautions if you have bad peeing cats. Keep those outlets covered! Of course, being eternally mid renovation, we didn't even have an outlet cover to protect the wires. That's probably why it was so bad. Put something in front of outlets or use child safety plugs.
And the good news is that I went out and bought smoke alarms! The bad news is that I've yet to install them.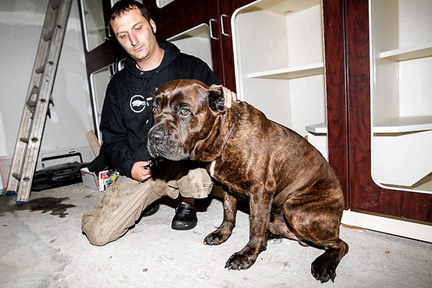 It was many and many a year ago in a kingdom by the park that a dog there lived whom you may know…. Ah, I'm talking about Brooklyn the Ghost Dog. A big, scary looking dark dog. Many dog walkers have encountered him. I've looked upon him with my very own eyes a number of times. He would just sit and stare. Sometimes he took interest in the other dogs. Sometimes he would just vanish. He was always behind the fence in the woods. Untouchable.
Legend has it that Brooklyn the Dog had been living in those park woods for years. He was reported to rescuers as early as 2008 but they had never been able to catch him. The mysterious canine looked well fed and happy enough. I liked to think that he had human companionship somewhere. Perhaps the owner was as elusive as him.
This is a true story and guess what? There's a happy ending! Local rescuer Sean Casey was finally able to capture Brooklyn last week. The massive Cane Corso was limping and had slowed down enough for people to get close to him. He's healing now and there's already a line of people waiting to adopt him. He also has Lyme Disease. Yes, from Prospect Park.
I'm looking forward to seeing Brooklyn in the park with his new family soon! On the other side of the fence.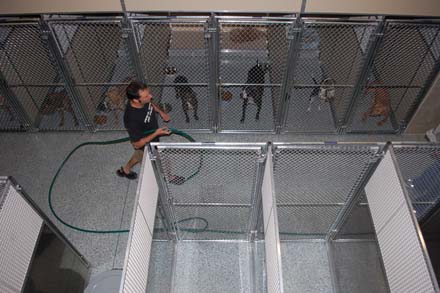 Sean Casey Animal Rescue acquired a 5000 square foot space in Sunset Park over a year ago and it's finally ready to house homeless pets. The grand opening should be announced in June.
Sean Casey is the go-to guy for pet adoption in central Brooklyn. Check out the hundreds of dogs in Prospect Park during off leash hours on a weekend and ask where these people got their dogs from. Sean Casey is Da Man.
The original Kensington storefront will remain open for adoptions and the Sunset location will shelter pets as they come in off the street or from kill shelters. The space can comfortably house up to 42 dogs and 50 cats with state of the art kennel cleaning facilities that I wish I had in my own house.
Casey would like to open a shelter like this in every borough and I have no doubt that he'll make it happen.
Check out the video below. Timmy is up for adoption. TIMMMMAAYYYY!!!!!!!

As some of you may know, the Reclaimed household reclaims not only homes, but cats. We have eight at the moment. They know our address. They ring our bell and run in as soon as we open the door, leaving their luggage for us to carry in. (No, we don't want any more, thank you.)
The situation is out of control and I thought we could use some help, so I emailed that guy I call "The Cat Whisperer" to see if he does private consultations in New York. You know, Jackson Galaxy. He's dude from Cat from Hell who carries a guitar case full of feline related items.
Casting got back to me. They want a tape, photos and application by this week, but it looks like we're not going to be able to get to it.
How about you? Got a bad cat? Or two? Or eight? Jackson can probably help. And best of all, you don't have to pay! In fact, they pay you to be on the show. The only thing is, you have to take a couple of hours to put together your audition material and then have the crew in your house for two or three visits.
The main page of the website has casting info. Go on, do it!
Related: When Cats Go Bad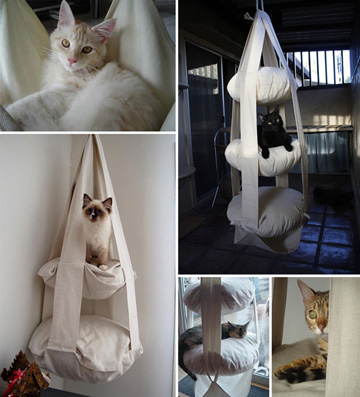 We are working on making our basement a cat den. The goal is to make it as comfy as possible for them so they can mess up their own room and not the human living quarters. Of course they will come hang out upstairs whenever they want. So far, we put in an epoxied concrete floor and sump pump so we can just hose it all down for cleaning. Now we need to furnish it.
The Cat Trapeze (above) is such an awesome idea! It's an alternative to climbing curtains, which we can never have because….the cats climb them. The real genius is the fact that it sits off the floor, making it easy to clean the area around it. Price range is $75-$115.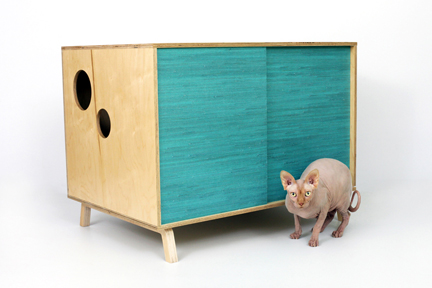 Love this kitty credenza! Modernist Cat specializes in mid century pieces that can take on the role of a studio apartment for a cat. Nice hiding spot for both the cat and the litter box. Yes, you can cut a hole in a vintage credenza, but the DIY method will probably cost as much as the $499 price tag. Not inexpensive, but then neither are credenzas.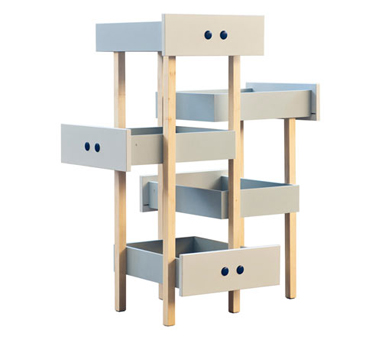 The drawer tower is a designer DIY job. What cat doesn't love to sleep in a drawer? Make sure to cushion it with things kitty isn't supposed to lie on.
All ideas (and there are more!) from Modern Cat.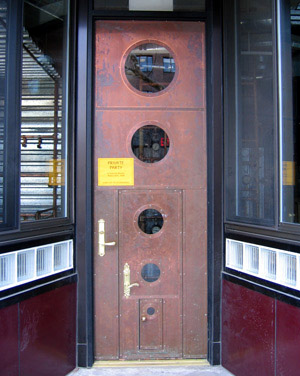 The Moxie Spot on Atlantic Avenue has the best door in the world. I've always thought of it as a door for adults, kids and dogs. Well, it being the holidays season and all, let's just say that baby entrance is for little elves. Have you ever noticed that door? It's da bomb!
We took our dog friendly vacation in Red Hook, NY this past week. After giving up our upstate home connection last year we reckoned it would be easier to rent a place whenever we felt the need to get out of the city. Dog friendly vacation rentals are plentiful enough. We just have to worry about the extra clean up and damage that our mutts may cause.
The dogs had an awesome time, of course. Long hikes and paddles in creeks. Chasing down invisible creatures. This vacation really WAS for them. I had a nice time too. At least I think I did. The fact is that, oddly enough, after 7 years of country living, I still feel completely out of my element there. I try though. And I do enjoy it to an extent. Really!!
When we first arrived at the house in the woods we were greeted by Sari of the management company. Her truck pulled into the driveway just before us…a big pick up with an American flag on the rear window. Hubby said "That must be her." I was like "No way. She has a 212 exchange on her cell phone." Sure enough, it was her and sure enough the truck was just a loaner while her Jeep was in the shop. After screeching and jumping from  frog, Sari explained that she was a born and bred Manhattanite who had only moved up there three months ago. We spoke about city-girl-life-in-the-country and my husband worried that my words might send her packing.
Anyway, here's what we did during the week. Click on links as they are recommendations or places to avoid….
The house was lovely. It's actually located in Gallatin, which is how we got the wooded seclusion. A bit remote, as it's about 10 minutes into Red Hook or Tivoli. It sits on about 4 wooded acres. There's a bit of a landing with some seats if you wanted to hang out in the woods, but we stayed on the deck. We were able to keep the dogs confined up there so they wouldn't run off chasing deer. There was a table and chairs and lounge chairs. And oh yeah, a hot tub!
The house is perfect for shares because the 2 bedrooms are set up on either side of the kitchen/living room and each has it's own bathroom. The driveway is shared with other neighbors who we saw from time to time.
On the way up we stopped in Beacon for lunch and a hike. Dennings Point is where we used to take our dogs all the time (Lyme Disease warning) when we lived there. It was an easy hike in which we knew the trail and we wanted the dogs to calm down before arriving at the house. While there, we also noticed that Long Dock is finally taking shape. They've built a kayak rental kiosk down at the riverfront. It's not up and running just yet but it looks like it won't be long. Also of note is the Roundhouse at the other end of town.
Two of the better hikes we took near Red Hook were the Stissing Mountain Fire Tower and Ferncliff Forest. The Walkway over the Hudson in Poughkeepsie is definitely worth doing. The dogs had to stay on leash for that one, but the humans enjoyed it. We missed our beloved Poet's Walk this time but we made it to Minnewaska which was pretty crowded. Hated Mills Norrie State Park in Staatsburg. Manicured lawns and paved road, but the few trails we found were not maintained and didn't go very far. Maybe we were missing something?
The most fabulous hike was up near the Berkshires (less than an hour from the house). Bash Bish Falls can be an all day affair even though we only spent a couple of hours. The park is great for picnicking, hiking, swimming and camping. The falls are amazing and even though swimming is no longer permitted because of several deaths, people do it anyway. The deaths were caused by stupid people diving off the rocks into the water, not just swimming in the hole.
We actually had some minor difficulty renting kayaks locally during the week. The kayak companies ran tours but didn't want to just rent them out. We ended up renting on the more laid back west side of the river. Kenco on Rt. 28 in Kingston rents kayaks for $55 apiece or $65 for a tandem. You're on your own from there. They'll give you a map and some suggestions but they don't bring it down to the water for you. We ended up with a tandem because that's all we could fit on our car. We put in on The Rondout in Kingston. It was an interesting urban trip where we saw old boat yards, shipping containers and other industrial ruins. Pretty cool. Only not so cool because shade was hard to find. My biggest complaint was the sun. There were several beaches to pull into for a picnic.
We spent our evenings more civilized like. Upstate Films has a second location in Woodstock now where we saw a great Oirish fil-im called "The Guard". American Don Cheadle was an executive producer and supporting actor. Go see it!
Dined at some good restaurants, both old and new to us…
Terrapin in Rhinebeck. Good vegetarian selections on menu.
Luna 61 in Tivoli. Completely vegetarian and always awesome.
Rosendale Cafe. Nowhere near Red Hook, but if you're in this neck of the woods, it's the best vegetarian place around. The backyard is very dog friendly too!
Red Hook Curry House. Popular Indian buffet.
Red Devon. In Bengall? Met friends for dinner here. It was really good and not all that far but it seemed like it was in the middle of nowhere. It was busy enough and yes, it was worth the trip.
Portofino. Another schlep! This one in Staatsburg. You drive through a completely rural area and then all of the sudden….hello…there's a restaurant! Family style Italian. It was good and the waitress was a hoot, but she and the kitchen gave me shit for trying to get a cheeseless eggplant dish, so I dunno.
That was the enjoyment part. Tomorrow I'll fill you in the real estate bit.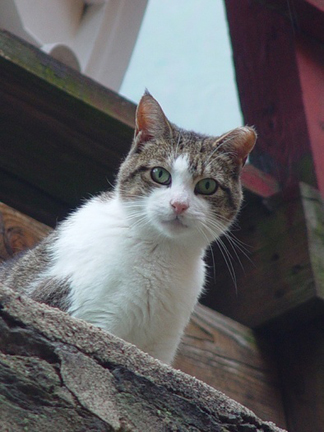 If you live in Crown Heights or Bed Stuy, you know that the feral cat situation is out of control. It's really sad, but I just have to look away or I'd have 200 cats in my house. I've not yet tried TNR (Trap, Neuter, Release) because I know that I wouldn't release them, no matter how wild they are.
That doesn't mean YOU shouldn't help the kitties in the community! There's a TNR workshop being offered this Saturday (June 11th) at the Crown Heights Branch Library. It's a free workshop, but you must register here.
Many cats are terrified of human interaction. Look at us. Can you blame them? The practice of trapping them, fixing them up and letting them go may not save every cat from a starvation or getting hit by a car, but it will lower the population of strays.
Go on. Take the course. For every stray you have neutered this summer, Reclaimed Home will donate $20 to Neighborhood Cats. Um, this is assuming you're not each rescuing hundreds.
**Ok, my limit is $400 total. That's 20 cats. Care to match that or chip in???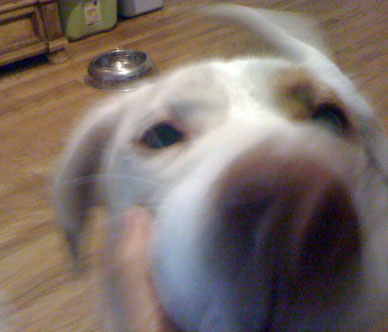 Shayna
After losing our beloved Lola to Lyme disease, we gave ourselves only  a week to mourn before looking for a companion for our depressed Pitbull, Greta.
On Sunday we wandered over to Sean Casey Animal Rescue after hearing they have about sixty dogs up for adoption. I don't know why I expected to walk in and see a bunch of happy dogs roaming around free. They were in cages, some happy but some looked as if they had given up on life.
The most impressive thing about Sean Casey's shelter is the volunteers. When we walked a few dogs around the area, neighbors knew each dog by name. People were lined up outside waiting to give walks. In this Windsor Terrace neighborhood that borders Kensington, it seems the shelter IS the community.
As much as I wanted to save a dog from death row, I just couldn't handle going into a kill shelter. The beautiful thing about this rescue group as well as many others, is that once a pet is adopted, it frees up a cage so they can pull animals out of Animal Care and Control.
And it's not just cats and dogs. There are exotic animals on hand for adoption as well. Huge turtles. Huge! Some crazy vocal parrot or macaw. Snakes.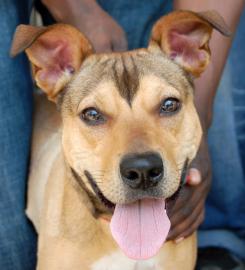 Casey likes to take on the "unadoptable" pets. There was one dog I liked who was full of scars. Frosty was hit by a car and left for dead on the street. The vet fixed her up and she's good to go now! She's full of life and you wouldn't even know it's her second chance.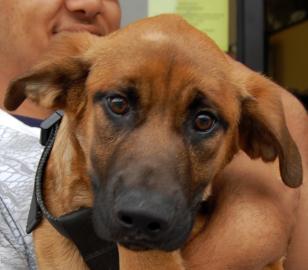 When I saw Tails flopping around as if he was drunk, I started to cry. He was born with Cerebellar Hypoplasia which causes him to have a lack of balance and coordination. When we asked about him they told us to bring him for a walk and see what we thought. He's happy and adorable alright, but unfortunately, he would have been too much for us to handle. He needs to be held up so he can walk without falling. I just imagined going on a hike with him and him flying off a cliff, maybe pulling us along with him. Tails would probably work best as a single dog with someone who has time and energy to give him the extra care. Everybody is in love with him, but it will take a special person to look after him.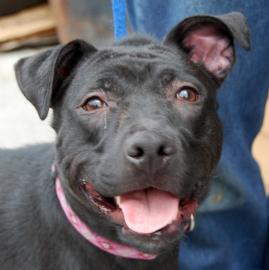 We thought Dana looked sad and sweet, sitting there quietly in her cage. We decided to walk her to see if we bonded. Oh. My. Gawd. Dana was a handful! She actually IS very sweet, but just needs some attention and training. Again, too much for us to handle. We saw a teenage volunteer running her and they were perfect together. She is a ball full of energy.
Finally, Charles, the shelter's people person, took Tina out. She was shivering with fear. Not really our type of dog. She is pretty and quiet and not an uncontrollable Pit, but maybe we need to balance Greta's crazy Pit energy. So we walked her and tested her with Greta and gave her a home. Tina is now Shayna and she's not so demure after all. The cats are keeping her in her place although Greta is a bit intimidated by her.
Adoptions and donations info on the SCAR website.
When our old dog Trevor got Lyme Disease some ten years ago, it was easy to spot the symptoms. He became lame and lethargic. We took him to the vet and he was put on antibiotics that helped immediately. In fact, our ex-vet upstate doesn't even run tests. He just prescribes antibiotics at the first sign of symptoms because the disease isn't that serious in dogs.
Or so we thought.
We never saw this one coming. Over the weekend we had to say goodbye to our seven year old girl, Lola. No limping. No lethargy. We noticed she was eating a bit slower until one day she just stopped eating. That was the same day we took her in. It was exactly one week from her initial vet visit to the day we had to put her down.
If diagnosed right away, Lyme Disease is not life threatening for dogs. Once it gets to their kidneys and the functions start failing, it is irreversible and the fatality rate is about 90%. This is what happened with Lola, although it is fairly rare. The hospitalization and the fluids didn't do a thing for her. We ended up bringing her home to spend her last night with us before meeting her fate the next morning.
What can you do to prevent your dog from getting bitten by Lyme carrying deer ticks? I wish I knew. We used Frontline drops and a flea and tick collar and we still had to pull ticks off of them whenever we walked in the country. We would spot them immediately on our tan dog Greta, but Lola was black and it was impossible to get them all.
There is some controversy concerning the Lyme vaccination. It may not work. There may be side effects. In retrospect, if someone told me that my dog would only live to see seven, I would have risked the vaccine.
Lola was a tough but timid chick. She sent two of our Pitbulls to the emergency room but she was terrified of getting a bath. She once stole a bagel right out of a stranger's hand in Prospect Park. She was a rebel.
When a pet dies, there's always the doubt. What could I have done differently? Is this my fault? Did I overlook something? I'm going through all of that at the moment. If we had remained in the city, she would still be sitting here by my side. On the other hand, she had six years of mountain hikes, huge backyards and river runs in the country. That's heaven for a dog. And hopefully, that's exactly where she is right now.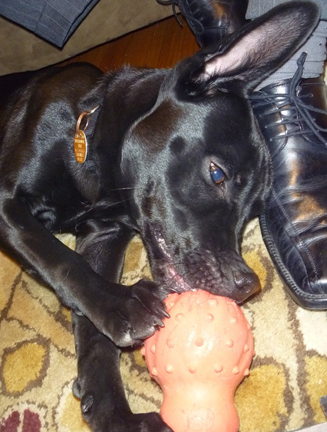 A friend of mine found this 6 month old puppy abandoned on the street. She's housebroken and verrry cute! Lilly needs a loving home as the friend who took her has a gazillion cats. Who's in?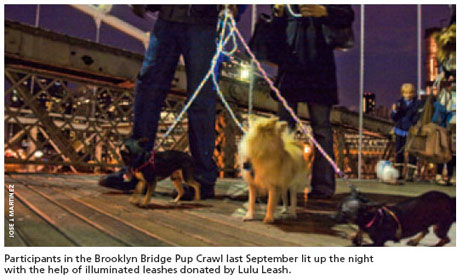 Well, it has finally happened to us. Our little Greta is one of the "bad" dogs in Prospect Park. After four fights, we can no longer let her off leash. The odd thing is that she's been fine with most dogs. She seems to attack only dogs with high-strung owners who continue to freak out after Greta is pulled off within a matter of seconds.
Anyway, it's been a blessing. Not for the dogs, because they have to stay on leash. But we've been exploring different dog friendly options around the city.
A walk across the Brooklyn Bridge seemed like a great idea. Usually a lovely place to be on an early Spring morn. It wasn't a very pleasant walk with 2 dogs. The pedestrian path is fairly narrow, with tourists stopping to take photos every three seconds. The cyclists are zooming by, so if you need to pass a tourist, you must look behind you in the fast lane. Kind of like the FDR.
We ended up turning around before Manhattan and went to the Main Street part of Brooklyn Bridge Park where we found the dog run empty. We let the girls run wild there for a bit.
The bridge walk wasn't horrific. We would do it again. On a scale of 1-10, I'd give it 5 paws.