Our final stop on the Irish castle tour was Fitzpatrick Castle in Dublin. After thinking each hotel got better as the trip when on, we went backwards with this one.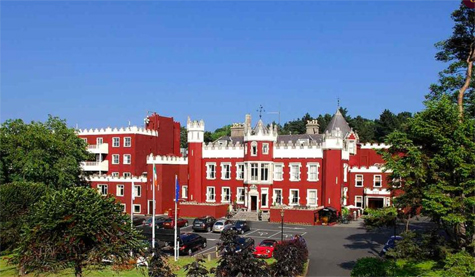 Fitzpatrick was probably once a grand hotel but it's my impression that it's seen better days. My thought is that Dublin has more competition that the other areas we stayed, so Fitzpatrick may have lost some business to the modern boutique hotels. That being said, they still do get business. It just seems like they are trying to save money.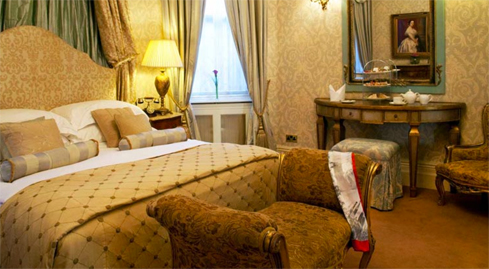 Our room was a bit run down. Nothing like the website photo above. More like something out of the 1980′s rather than 1880′s. My husband thought it was an old school hotel box room without any flow. He also insisted that this was the kind of place that Dublin businessmen used for affairs. Not sure if he meant a "by the hour" hotel as much as an impressive place to have a shag with one's mistress.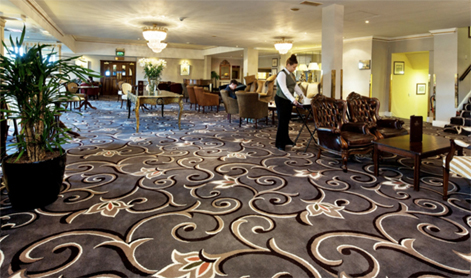 We were supplied coffee (yeah, instant) and tea in the room but we suspected that the "bottled" water was tap as it was refillable bottles. What's the point when we could go to the sink and fill a glass ourselves? No hair conditioner or moisturizer. I also had gotten used to the robes and slippers in the other hotels and was bummed to have to walk around butt naked until I had enough coffee to dress myself. There were crazy passwords and codes on the free wifi. Who do they think is going to come and steal their bandwidth?? Electrical U.S. adapters, supplied for free at other hotels, were being sold, but they were out of them at the time. The pool required a bathing cap that had to be purchased if you didn't have one.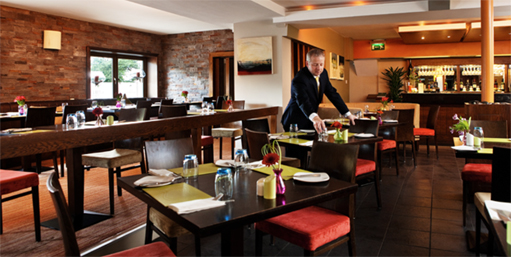 After being spoiled in EVERY hotel along our journey, the staff at this one couldn't be bothered. The dinner and breakfast servers kept us waiting to a point that we wondered if we should walk out. It was the only time I felt right about this non-tipping culture in Ireland. The chamber maid grunted when we said "Good morning". Hey, at least she didn't ignore us. We moved our own bags around without being asked if we needed help…which was fine for me! The front desk clerk was nice enough.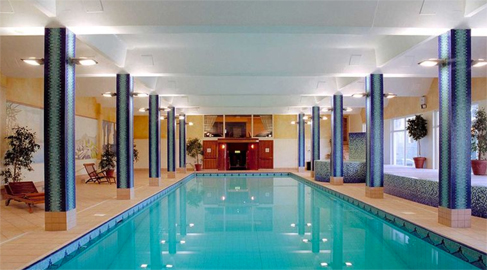 With exception of the first Shining photo that I took, all of these photos, like those of the other accommodations, are from the hotel's website. Looks like we got stuck with the only shoddy room in this joint. We didn't get to use the spa facilities so I can't comment on that. Looked nice from the window overlooking the pool.
Here's why Fitzpatrick can get away with it: Unlike the other castle hotels, this is located in a city where you wouldn't be hanging around the hotel anyway. We used it as a place to crash, that's all. It's located in one of the better "suburban" neighborhoods in Dublin, right next to a wonderful park where we hiked up the hill to get a fabulous view of the city. The Dart (train) is within walking distance to get into city center and explore Dublin. Taxis are about €30 to get to center so make sure to catch the last bus or train back or it can be pricey.
Here's my rundown of the entire Irish castle package tour: Would have been better if we flew directly to Shannon and skipped Dunboyne. Two nights at Glenlo, 2 nights in Dromoland, two nights somewhere else in city center of Dublin. You can't use the rental car in the city. Worse than Manhattan. Fly home from Dublin. Maybe I'll become a travel agent in my next life.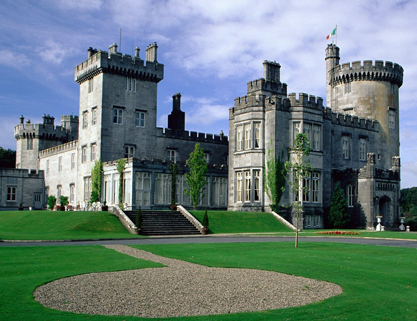 The Irish castle tour continues. It's as if each one gets better as they go along, although Dromoland Castle in County Clare will be a tough one to beat. It's clear that this one is da shit as you pull up to the gorgeous main entrance where not one, but two bell hops literally run out to greet you.
Sucker for the fine architecture that I am, I've gotta say that the quality of service here actually made me a bit uncomfortable. I'm not sure if it's something I could get used to. From the bellhops who wouldn't let me carry my own bag to the wait staff who had to pour my coffee for me in the dining room, this place is a challenge for the self reliant sort. Not that I'm complaining. I'm just not used to it.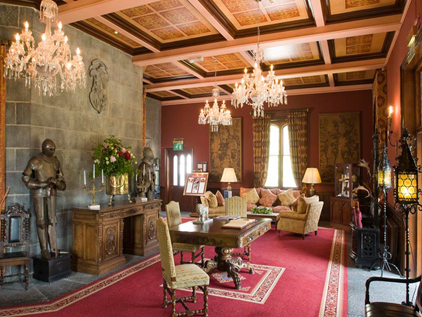 That being said, one night was not enough for this place. I could have put up with the discomfort of having people wait on me hand and foot for another day or oh, a week would have been nice. There's much to do at this hotel. There's an awesome looking spa that we didn't get to use. There are about 400 acres of property where we took a 30 minute walk before we left. Golf is a big thing here. The tennis courts would have been great during good weather.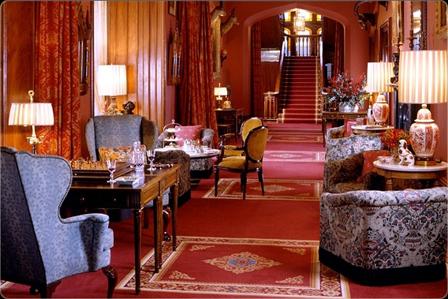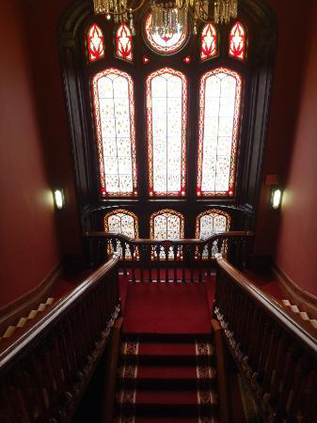 Staying indoors isn't the worst thing in the world. Much of the woodwork and paintings are reproductions but still amazing quality. Between the stained glass and vaulted ceilings and stone walls, I couldn't keep my jaw off the ground.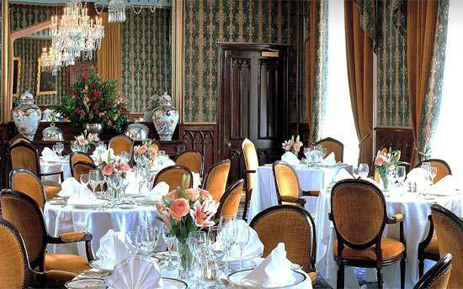 Dinner was worth the splurge. Not $2000 bottle of wine splurge but you can get away with cheapo bottles for around 50 bucks. The food was incredible and I was delighted to find a separate vegetarian menu. Again, service was over the top. We had about 4 servers on our table.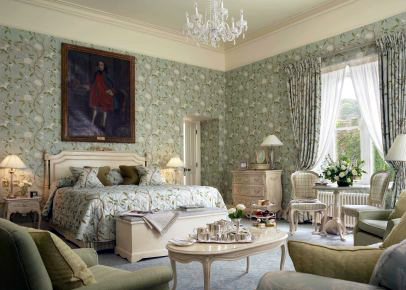 If it was up to me, the rooms would have been dark and antique. I can see that they don't want to depress people though. The decor reminded me of a tween girl's room with the painted white traditional style furniture. It was all very comfortable. They even had a US outlet near the desk. My one complaint is that there was no coffee or tea in the room…not even instant! I guess that's because they don't want their guests lifting a finger to do something for themselves, but I was too cheap to pay for the €6.50 room service charge so I suffered until everyone was ready for breakfast.
So here's the deal. If you ever find yourself on this side of Ireland, I suggest you make an effort to stay here. If you take one of these package tours, do an extra night extension for Dromoland. That place is stellar!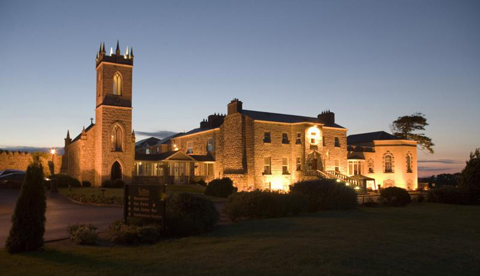 Firstly, I'd like to let it be known that I do not travel in style. A cheap motel is sufficient for me as it's an upgrade from my backpacking days of staying in crowded hostels.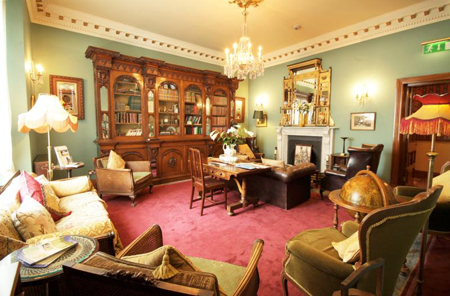 Common areas of the hotel above and below.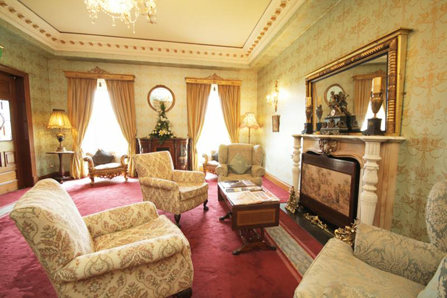 Last night we stayed at Glenlo Abbey in Galway, thanks to a discounted package deal. The 5 star hotel is a step up from County Meath's Dunboyne "Castle" of our first night…and not because it's got that one extra star but because it's actually a historic property.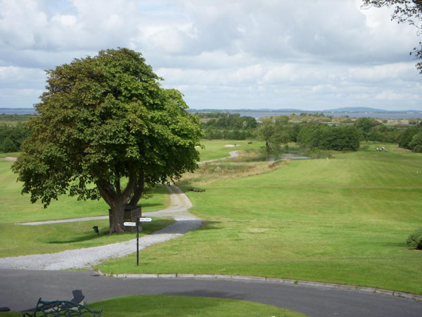 The view from our room (overlooking the parking lot) is the amazing grounds with the River Corrib in the distance. If golfing is your thang, this is a great place to be. Since we don't golf, a muddy walk down to the river and a run back before the next rain was sufficient.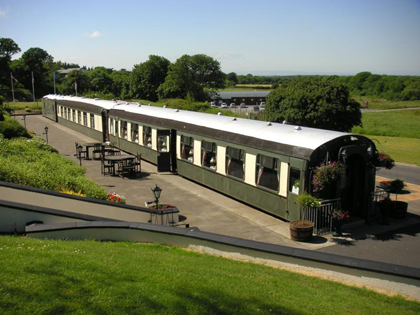 The biggest bummer was that the Pullman Restaurant is currently closed for the season. The antique train car restaurant doesn't have heat or air conditioning so it only opens when the weather is perfect…which is never in Ireland. I so wanted to eat here!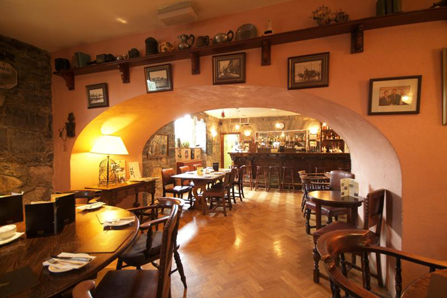 We went for a pre-dinner drink in the bar downstairs that looked like a dungeon. I mean "dungeon" in the best possible sense. I would live in a dungeon if I could!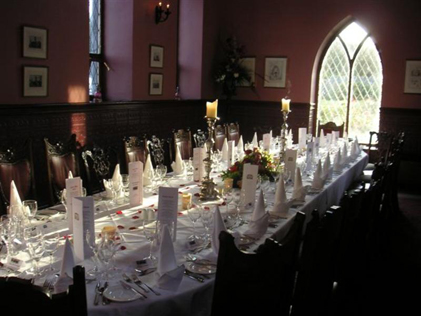 Dinner was in the abbey instead of the usual restaurant because of a private event. We thought this would be way cooler than dining in just the restaurant, but the wait staff must have been concentrating on the event and we ended up with the gardener or bell hop as our waiter. Whatever he was, he wasn't a waiter and this vegetarian ended up tasting some liver dish. Ugh! Smooth out the consistency and slap some fancy name on it, but this old Jew can still recognize chopped liver after 27 years. Anyhoo, this fella was nice enough and the food was ok once they got the dishes right.
So, this hotel gets a thumbs up from me. Decor kind of reminds me of Mohonk Mountain House. Very helpful staff too!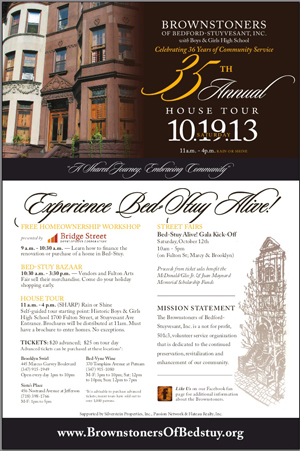 It's house tour season! This weekend, come check out my neighborhood. The Brownstoners of Bed Stuy have organized their 35th annual tour for this Saturday, October 19th. What makes Bed Stuy so unique in the old home department is that to date, the homeowners have not done extensive renovations, so all of the original details remain. But hurry up! With gentrification, dumpster diving may become more exciting than house touring for all of you lovers of historic materials.
Tickets are $20 in advance or $25 at the door. It is advised to go with the advance purchase as these events have sold out in the past.  No online purchase. Click on the image or link to see where you can purchase tix.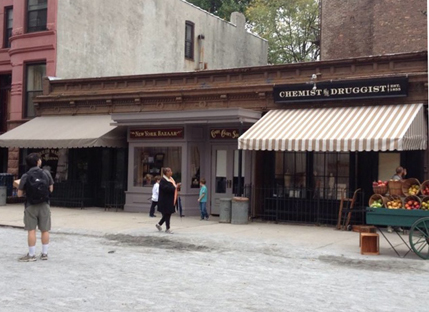 Image via Brownstoner
Steven Soderbergh and his talented crew have transported a Bed Stuy corner back in time for the filming of a show called "The Knick". They've been there for awhile now but this morning as I passed I thought it would be great if they could just leave the signage up forever. Walking through there makes me want to live in the past, man!
New York has been transformed over the years and change is good, blah, blah, blah, but I do miss some of those vintage shop fronts. Here are some that lasted longer than the rest.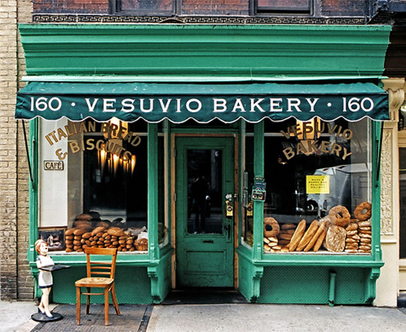 Starting with a fairly obvious one, Vesuvio in Soho. Image from News Gallery.
Zig Zag Records closed it's doors about two years ago, but will always be remembered by alt-rock Brooklynites growing up in the 80′s as the place that sold NME and rare UK records. Photo via Forgotten NY.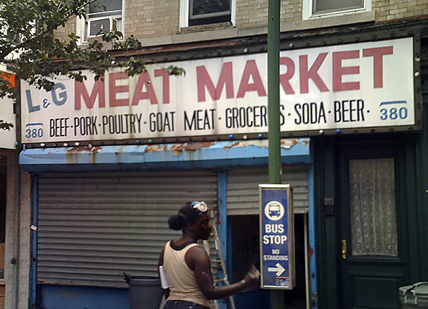 The Meat Market in Bed Stuy is now a vintage clothing shop, ironically called The Meat Market. Good for them. Vintage shop. Vintage signage.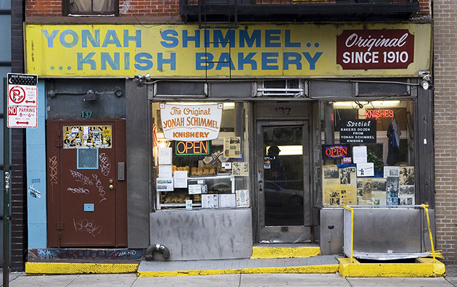 Yonah Shimmel has been around forever. Forever! Did you know that back in the 80′s they had a shop on the Upper East Side? I used to go in there every morning to pick up my breakfast. Not a knish. A poppy seed mohn. Photo via Forward.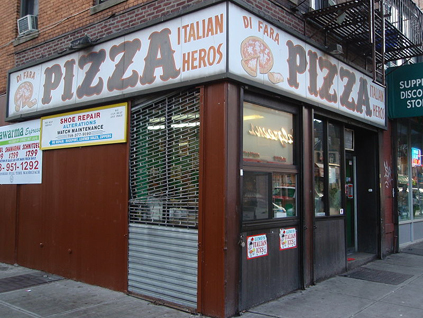 Bless DiFara Pizza. Honestly, I never considered this Midwood pizza shop to be anything special when I was growing up in the neighborhood, but look at them now…one of the highest rated pizzas in NYC. Same signage though.
Unfortunately, Walters Hardware closed a few years ago. Not sure what has happened to the storefront as I haven't been out to Astoria lately.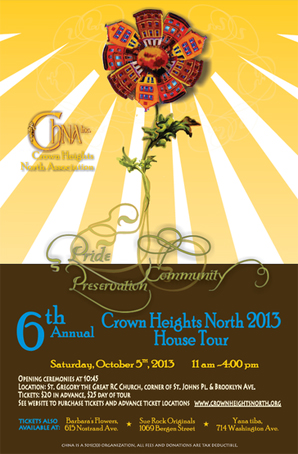 Whattcha doin' this Saturday? Come check out some of the lovely rowhouses in Crown Heights! Tickets are $20 in advance or $25 at the door. See you there!
Got some time to spare tomorrow, January 15th? Well, then come on down to the Landmarks Preservation hearing at One Centre Street in Manhattan. The meeting is to be held on the 9th floor from 10:30-12:00.
It should prove to be interesting as preacher Johnny Ray Youngblood is set to protest. Word around the neighborhood is that he'll be busing people in who do not live in Bed Stuy, just to make his voice heard.
Why protest something that is in the best interest of the neighborhood and the city? Money. There are some old timers who are under the impression that having to go by Landmarks rules and doing things in a historically correct manner will be unaffordable. Yeah, there are grants to be had from Landmarks. No, they don't force you to spend money you don't have. Perhaps these folks will actually listen to the truth at the meeting. Or perhaps they just want to stir the pot.
Anyway, Team Landmark can use your help. No, you do not have to live in Bed Stuy to show your support. If Johnny Ray can bring people in from other areas, we only want to keep it fair by doing the same.
So, see you tomorrow?
New York has lost a bunch of history over the past 20 years but the sad news about Life Cafe is a particularly tough one.
Just nine months after losing their East Village location due to greedy landlords, now the owners must close their doors in Bushwick for the same reason. Kathy and her husband David John will not seek to open up again in another area as they plan on semi-retiring.
I frequented Life Cafe on 10th and B in the 80′s and the only reason I ever find myself in Bushwick is if I'm craving Life's scrambled tofu for brunch. Always preferred the less cramped 10th Street space.
It should be noted that both locations opened in those neighborhoods pre-gentrification. Kathy was a pioneer on the business scene when others wouldn't take risks in those areas.
The risk paid off both times. Unfortunately, nothing lasts forever. Thank you for bringing us Life, Kathy. You will be missed.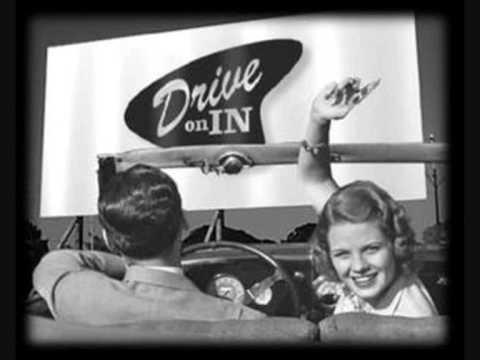 Check out the Google today. It's the anniversary of the drive-in theater! Raise your hand if you're old enough to remember going to drive-ins. Yeah, my hand is raised.
Although drive-ins are few are far between these days, they still exist. I went to one while visiting my folks in Florida a few years ago. It was a drive-in megaplex, like 8 screens. People were just hanging out talking outside of their cars. WTF? Actually, I nearly got into a brawl with a woman in an indoor cinema upstate once for CHATTING ON HER PHONE DURING THE MOVIE. Man, people are friggin rude.
So, back to the topic. Here are some of the remaining drive-ins in the New York area. The norm for admission seems to be eight bucks for a double feature.
Delsea claims to be the only remaining drive-in theater in New Jersey, the place where drive-ins were invented in 1933.
Fair Oaks in Middletown, NY
Overlook in Poughkeepsie
Hyde Park Drive-In. This was one of the reasons I was interested in that Hyde Park house I looked at. Did I mention that there's also a retro roller skating rink in Hyde Park?
Hi-way Drive-In, Coxsackie
We visited one of the oldest houses in Brooklyn yesterday. The late 1700′s Lefferts House is located in Prospect Park, but did you know that the original location was six blocks away on Flatbush and Maple? And did you know that the 1783 structure was the second Lefferts home to be built after the original 1687 homestead was burned down during the British invasion of 1776?
It's all good now. The home was donated to the city back before it was moved and has been a museum ever since. It's a small house by today's standards so if you visit, don't expect a full day trip. Bring the kiddies as the Prospect Park Zoo and Carousel are within spittin' distance.
Suggested admission is a mere $3 for adults.
Bedford Stuyvesant is a huge area broken up into a few neighborhoods such as Stuyvesant Heights, Weeksville, Ocean Hill and Bedford.  No, Bedford Corners Historic District is not some new name the realtors just came up with. This part of Bed Stuy exhibits some of the finest architecture in the city but it does need to be preserved.
The Landmarks Preservation Commission will be answering questions and discussing the landmarking process of Bedford Corners Historic District this Wednesday, March 21st. This meeting is said to be the deciding factor as to whether or not the area will be receive landmark designation. The community is urged to come out and show it's support.
If you live in the south west end of Bed Stuy, please join us at the meeting on Wednesday at Restoration Plaza, 1368 Fulton Street, lower level. 6:30pm.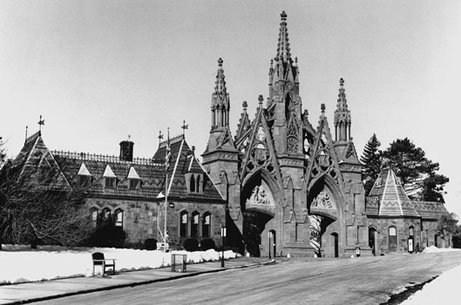 Still searching for that perfect gift for the person in your life who loves New York? If you've been listening to WNYC, you know about The Landmarks of New York coffee table book. It documents 1,276 individual landmarks and 102 historic districts within the city.
Also, give a listen to Leonard Lopate's November 11th interview with Kenneth T. Jackson, Professor in History and the Social Sciences at Columbia University and Lisa Keller, Associate Professor of History at SUNY Purchase, both editors of The Encyclopedia of New York City, second edition. A few fun trivia facts come up…like the Hudson River's original name was "North River" and Wall Street was named that because, obviously, there was a wall down there.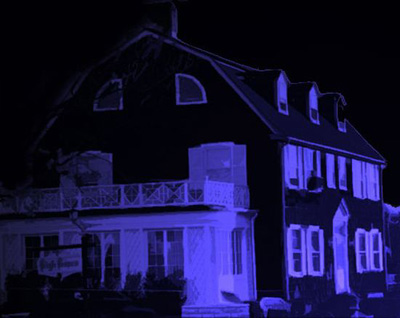 Get oooouuuuttttt!!! So, guy kills his family in this Long Island home and the Lutzes move in. True story. Was it really haunted as they claim? The magic eight ball says no.
Click on the movie titles for some fun posts I linked to!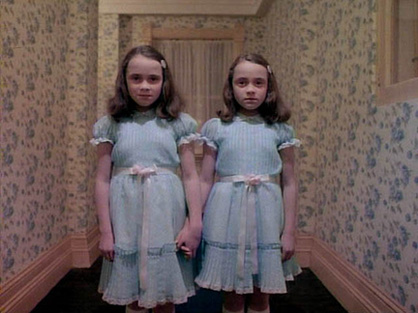 The Stanley Hotel in Colorado was the inspiration for Kubrick's Overlook. Heeerreee's Johnny!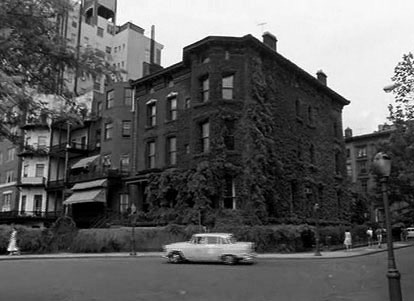 This movie scared the bejesus out of me when I saw it as a kid. The lovely corner row house is located right off Brooklyn Heights' Promenade. Minus the climbing ivy these days.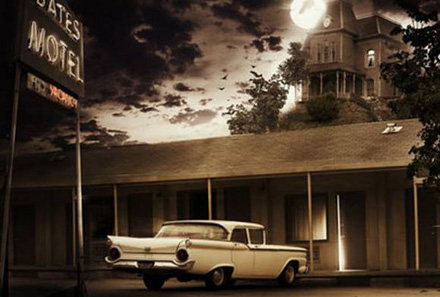 Bates Motel my tuchas. It's that creepy (and gorgeous) building in the back that everyone remembers. Actually, just a set at Universal Studios. What's that, Mother? No really, just a set.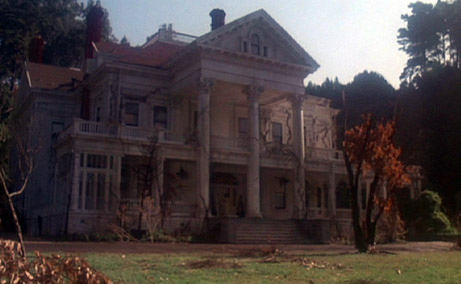 Do you remember this movie? If you don't or if you've never seen it, ya gotta rent it! As if Karen Black is not scary enough, the entire movie is a creepfest!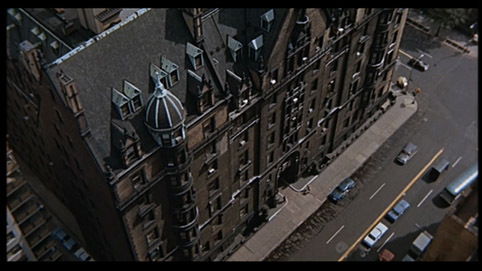 Yeah, yeah. I know The Dakota is one of the most desirable buildings in NYC. But when I was a kid, it was the Rosemary's Baby building. Then it because the John Lennon Was Shot Here building. Can't catch a break.
Pretty sure this movie made me lose sleep too. May I wow you with my trivial pop culture nonsense? This is from memory…I did not look it up, I swear! Actress Zohra Lampert, who played Jessica was the Goya Bean woman! Are you impressed?
Interiors still need to be stained.
After months of research, planning and estimates on replacement windows, we finally had them installed in July. Any window that's worth a damn is not cheap. (*Worth a damn=NOT vinyl replacements!!) At the end of the day we came in just shy of $30k for 14 windows. The front is custom wood as we have some odd shapes going on and the rear is fiberglass with wood veneer interior. They are historic windows even though this area is not yet landmarked.
So, here's how it went down.
For the front of the house, we wanted brick to brick as opposed to replacement. Meaning…everything comes out so they can insulate behind the frame. That's often where the drafts come in, not from the windows themselves. There are less air pockets in the rear of the house, so we got away with replacements there.
(more…)
Me and The Moms took a trip upstate for a couple of days last week. We drove the Old 17 Route so we could pass the Red Apple Rest Stop. The Red Apple was THE place to stop before the NY Thruway was built. Back when it took 5 hours to get to Sullivan County. It was still open up until 2007 when it became condemned.
While we stopped to get pictures, there was someone else swinging by to have a look, remembering the place from his childhood. I wonder how many people go out of their way to check out the old rest stop. Could be a great restoration project and business venture.
The number is on the "For Sale" sign below. Just sayin'.