Got some time to spare tomorrow, January 15th? Well, then come on down to the Landmarks Preservation hearing at One Centre Street in Manhattan. The meeting is to be held on the 9th floor from 10:30-12:00.
It should prove to be interesting as preacher Johnny Ray Youngblood is set to protest. Word around the neighborhood is that he'll be busing people in who do not live in Bed Stuy, just to make his voice heard.
Why protest something that is in the best interest of the neighborhood and the city? Money. There are some old timers who are under the impression that having to go by Landmarks rules and doing things in a historically correct manner will be unaffordable. Yeah, there are grants to be had from Landmarks. No, they don't force you to spend money you don't have. Perhaps these folks will actually listen to the truth at the meeting. Or perhaps they just want to stir the pot.
Anyway, Team Landmark can use your help. No, you do not have to live in Bed Stuy to show your support. If Johnny Ray can bring people in from other areas, we only want to keep it fair by doing the same.
So, see you tomorrow?
New York has lost a bunch of history over the past 20 years but the sad news about Life Cafe is a particularly tough one.
Just nine months after losing their East Village location due to greedy landlords, now the owners must close their doors in Bushwick for the same reason. Kathy and her husband David John will not seek to open up again in another area as they plan on semi-retiring.
I frequented Life Cafe on 10th and B in the 80′s and the only reason I ever find myself in Bushwick is if I'm craving Life's scrambled tofu for brunch. Always preferred the less cramped 10th Street space.
It should be noted that both locations opened in those neighborhoods pre-gentrification. Kathy was a pioneer on the business scene when others wouldn't take risks in those areas.
The risk paid off both times. Unfortunately, nothing lasts forever. Thank you for bringing us Life, Kathy. You will be missed.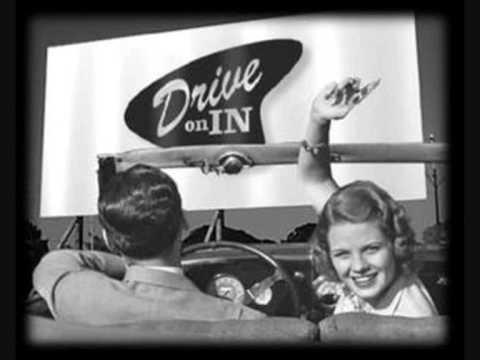 Check out the Google today. It's the anniversary of the drive-in theater! Raise your hand if you're old enough to remember going to drive-ins. Yeah, my hand is raised.
Although drive-ins are few are far between these days, they still exist. I went to one while visiting my folks in Florida a few years ago. It was a drive-in megaplex, like 8 screens. People were just hanging out talking outside of their cars. WTF? Actually, I nearly got into a brawl with a woman in an indoor cinema upstate once for CHATTING ON HER PHONE DURING THE MOVIE. Man, people are friggin rude.
So, back to the topic. Here are some of the remaining drive-ins in the New York area. The norm for admission seems to be eight bucks for a double feature.
Delsea claims to be the only remaining drive-in theater in New Jersey, the place where drive-ins were invented in 1933.
Fair Oaks in Middletown, NY
Overlook in Poughkeepsie
Hyde Park Drive-In. This was one of the reasons I was interested in that Hyde Park house I looked at. Did I mention that there's also a retro roller skating rink in Hyde Park?
Hi-way Drive-In, Coxsackie
We visited one of the oldest houses in Brooklyn yesterday. The late 1700′s Lefferts House is located in Prospect Park, but did you know that the original location was six blocks away on Flatbush and Maple? And did you know that the 1783 structure was the second Lefferts home to be built after the original 1687 homestead was burned down during the British invasion of 1776?
It's all good now. The home was donated to the city back before it was moved and has been a museum ever since. It's a small house by today's standards so if you visit, don't expect a full day trip. Bring the kiddies as the Prospect Park Zoo and Carousel are within spittin' distance.
Suggested admission is a mere $3 for adults.
Bedford Stuyvesant is a huge area broken up into a few neighborhoods such as Stuyvesant Heights, Weeksville, Ocean Hill and Bedford.  No, Bedford Corners Historic District is not some new name the realtors just came up with. This part of Bed Stuy exhibits some of the finest architecture in the city but it does need to be preserved.
The Landmarks Preservation Commission will be answering questions and discussing the landmarking process of Bedford Corners Historic District this Wednesday, March 21st. This meeting is said to be the deciding factor as to whether or not the area will be receive landmark designation. The community is urged to come out and show it's support.
If you live in the south west end of Bed Stuy, please join us at the meeting on Wednesday at Restoration Plaza, 1368 Fulton Street, lower level. 6:30pm.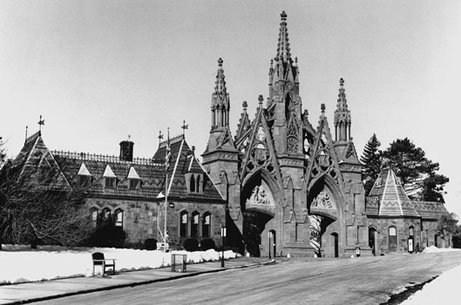 Still searching for that perfect gift for the person in your life who loves New York? If you've been listening to WNYC, you know about The Landmarks of New York coffee table book. It documents 1,276 individual landmarks and 102 historic districts within the city.
Also, give a listen to Leonard Lopate's November 11th interview with Kenneth T. Jackson, Professor in History and the Social Sciences at Columbia University and Lisa Keller, Associate Professor of History at SUNY Purchase, both editors of The Encyclopedia of New York City, second edition. A few fun trivia facts come up…like the Hudson River's original name was "North River" and Wall Street was named that because, obviously, there was a wall down there.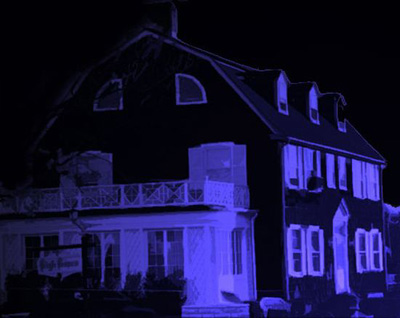 Get oooouuuuttttt!!! So, guy kills his family in this Long Island home and the Lutzes move in. True story. Was it really haunted as they claim? The magic eight ball says no.
Click on the movie titles for some fun posts I linked to!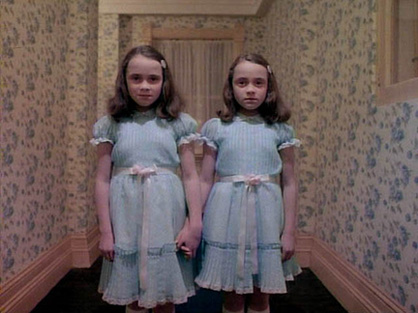 The Stanley Hotel in Colorado was the inspiration for Kubrick's Overlook. Heeerreee's Johnny!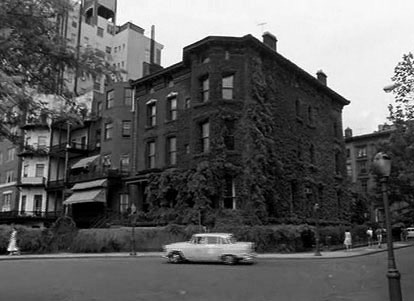 This movie scared the bejesus out of me when I saw it as a kid. The lovely corner row house is located right off Brooklyn Heights' Promenade. Minus the climbing ivy these days.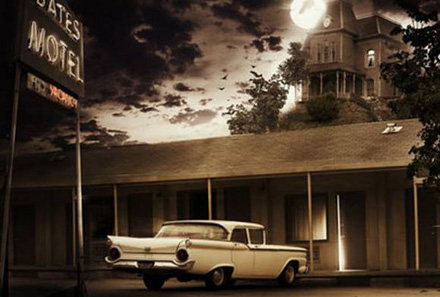 Bates Motel my tuchas. It's that creepy (and gorgeous) building in the back that everyone remembers. Actually, just a set at Universal Studios. What's that, Mother? No really, just a set.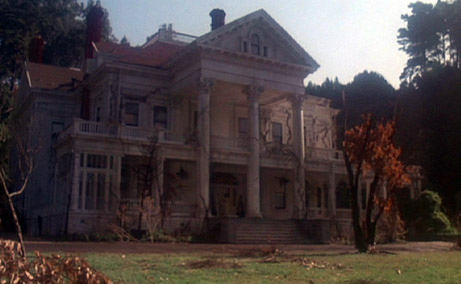 Do you remember this movie? If you don't or if you've never seen it, ya gotta rent it! As if Karen Black is not scary enough, the entire movie is a creepfest!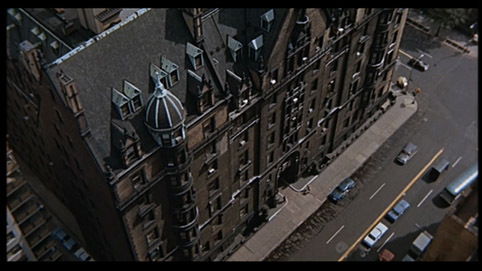 Yeah, yeah. I know The Dakota is one of the most desirable buildings in NYC. But when I was a kid, it was the Rosemary's Baby building. Then it because the John Lennon Was Shot Here building. Can't catch a break.
Pretty sure this movie made me lose sleep too. May I wow you with my trivial pop culture nonsense? This is from memory…I did not look it up, I swear! Actress Zohra Lampert, who played Jessica was the Goya Bean woman! Are you impressed?
Interiors still need to be stained.
After months of research, planning and estimates on replacement windows, we finally had them installed in July. Any window that's worth a damn is not cheap. (*Worth a damn=NOT vinyl replacements!!) At the end of the day we came in just shy of $30k for 14 windows. The front is custom wood as we have some odd shapes going on and the rear is fiberglass with wood veneer interior. They are historic windows even though this area is not yet landmarked.
So, here's how it went down.
For the front of the house, we wanted brick to brick as opposed to replacement. Meaning…everything comes out so they can insulate behind the frame. That's often where the drafts come in, not from the windows themselves. There are less air pockets in the rear of the house, so we got away with replacements there.
(more…)
Me and The Moms took a trip upstate for a couple of days last week. We drove the Old 17 Route so we could pass the Red Apple Rest Stop. The Red Apple was THE place to stop before the NY Thruway was built. Back when it took 5 hours to get to Sullivan County. It was still open up until 2007 when it became condemned.
While we stopped to get pictures, there was someone else swinging by to have a look, remembering the place from his childhood. I wonder how many people go out of their way to check out the old rest stop. Could be a great restoration project and business venture.
The number is on the "For Sale" sign below. Just sayin'.
My mother is visiting for two weeks, so you may be seeing some odd "Brooklyn From Memory" posts. On Saturday we drove around East Flatbush and Flatbush were I spent my early childhood. The movie theaters were most recognizable because some still had marquees, but also…movie houses tend to stick in one's mind, don't they?
The Loew's Kings Theater was is the only one we found that was still intact as a theater, as run down as it was. Upon further research, we found out that restoration is in progress and the plan is to re-open as a performing arts center by 2014. A happy ending for this one!
The Albemarle on Albemarle Road near Flatbush. Closed in 1984 after fire.
The Brook Theater on Flatlands just off of Flatbush is now an office building.
My long term memory must be pretty awesome because this Church Avenue theater became The RKO Keith in the early 70′s, but I remember it as The Kenmore. I was five in 1970.
We were one building off on Utica Avenue's Rugby Theater. It was actually the structure to the left of the T-Mobile store.
More from Flatbush.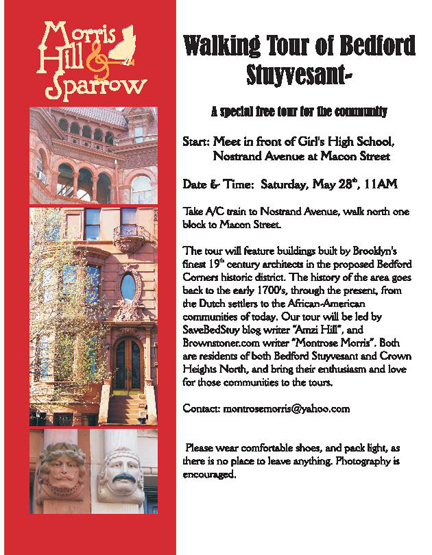 Spending your Memorial weekend in NYC and thinking of things to do? Free tour of Bed Stuy's historic Bedford Corners district, led by "Montrose Morris" and "Amzi Hill" will take place on Saturday.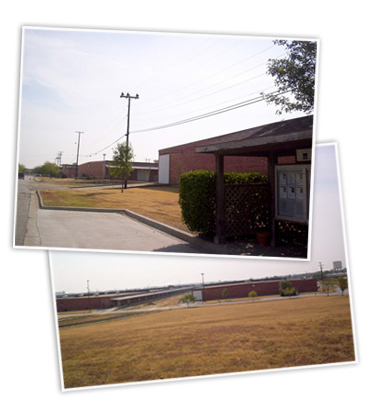 Back when NYC was run down during my youth, I heard stories about abandoned buildings that could be bought for one dollar. I remember thinking that I wanted to do it, but I was like twelve. Well, FYI, there are still abandoned government properties and they are ready to deal!
It's doubtful these properties are the greatest bargain ever, but there may be a good buy in there somewhere. Plus, purchasing one of these places helps pay off the national debt. The map lists industrial structures, monuments, office buildings and land across the United States. Most of the local properties are in the Gateway National Recreation Area. Seems like a good idea for factories or artist cooperatives.
No prices. You must inquire for more details.
Via NPR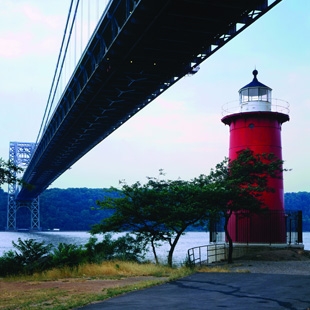 Looking for something to do now that the weather is willing to cooperate? Hey kids, here's an idea that's fun and productive! Visit an old house museum. Get your inspiration from historic homes on a Saturday and start ripping into your house on the Sunday. (Some of these places are only open on weekdays, so you'll have to call in sick.)
In Manhattan. FYI, did you know you can take a tour of Gracie Mansion? I never even considered that. Shipping merchant Archibald Gracie built this "country home" in 1799. It went through a few incarnations, including the Museum of the City of New York, until 1942. Fiorello La Guardia was the first mayor to move into Gracie Mansion.
Also, check out Manhattan's only remaining lighthouse!
In Brooklyn. The Lefferts House has been right under my nose all these years and yet I've never been inside. This is one of the few remaining farmhouses in Brooklyn. The period rooms reflect daily life in the 1820′s and what finer backyard than Prospect Park?
In Queens. King Manor Museum was home to Rufus King, one of the first senators from New York. The house opened as a museum in 1900 and today, programs focus on King's role in the antislavery movement.
In The Bronx. The Edgar Allan Poe Cottage is currently closed for restoration, but I'm including it here anyway because Poe is too cool to pass up. Poe spent the later years of his life in the 1812 cottage. He wrote such poems here as "Annabel Lee" and his wife Virginia actually died in the cottage.
In Staten Island. The Alice Austen House Museum is a Victorian Gothic cottage overlooking the water near on Verrazano Narrows. Austen was one of the first female photographers in America. The museum features Austen's images as well as those of contemporary photographers. Plus, it's a great old house.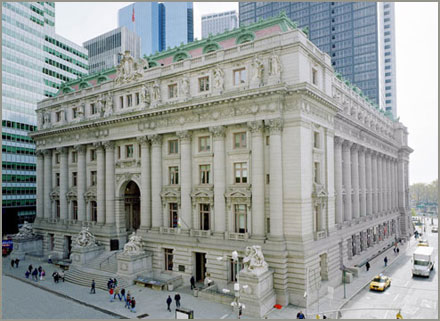 Having grown up in NYC, I take many things for granted. Architecture is one of them. 45 years of seeing the same buildings. Why would I stop and look now?
Well, over the weekend I visited the Museum of the American Indian for the first time in the downtown location. Walked into the building and was blown away by the interior. Seriously, blown away.
The Alexander Hamilton U.S. Custom House, listed on the National Register of Historic Places, is one of the finest examples of Beaux Arts buildings in the city. The winding staircase! The rotunda with the huge skylight (it was leaking)! The marble everywhere! I'd be beyond thrilled to have a living room as nice as the ladies room.
Go visit. The museum is free because it's a government building. Good museum too!
And look at all these other beautiful government buildings. I just pass them all the time. Maybe now I'll stop and say hello.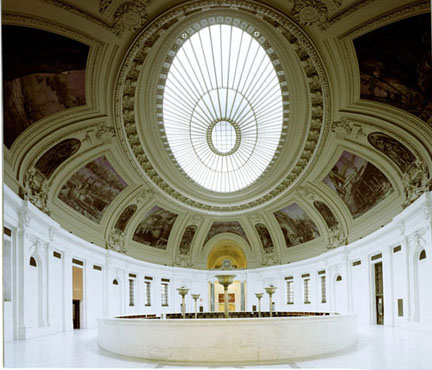 If you live in the south/west part of Bed Stuy, you better come to this meeting. Or else. Yeah, that's a threat. It's kinda important.