Our final stop on the Irish castle tour was Fitzpatrick Castle in Dublin. After thinking each hotel got better as the trip when on, we went backwards with this one.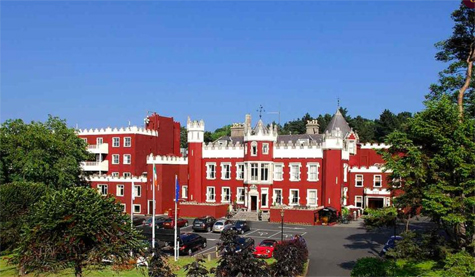 Fitzpatrick was probably once a grand hotel but it's my impression that it's seen better days. My thought is that Dublin has more competition that the other areas we stayed, so Fitzpatrick may have lost some business to the modern boutique hotels. That being said, they still do get business. It just seems like they are trying to save money.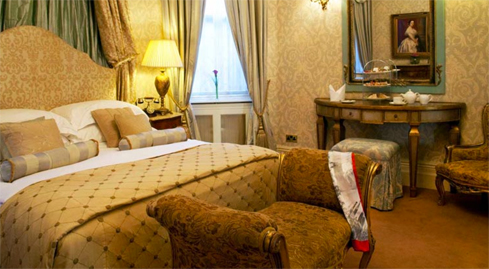 Our room was a bit run down. Nothing like the website photo above. More like something out of the 1980's rather than 1880's. My husband thought it was an old school hotel box room without any flow. He also insisted that this was the kind of place that Dublin businessmen used for affairs. Not sure if he meant a "by the hour" hotel as much as an impressive place to have a shag with one's mistress.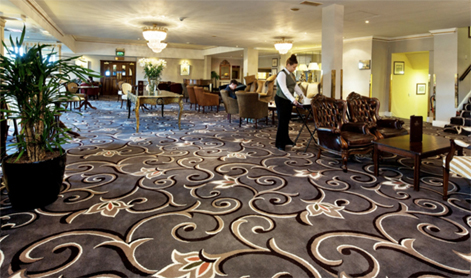 We were supplied coffee (yeah, instant) and tea in the room but we suspected that the "bottled" water was tap as it was refillable bottles. What's the point when we could go to the sink and fill a glass ourselves? No hair conditioner or moisturizer. I also had gotten used to the robes and slippers in the other hotels and was bummed to have to walk around butt naked until I had enough coffee to dress myself. There were crazy passwords and codes on the free wifi. Who do they think is going to come and steal their bandwidth?? Electrical U.S. adapters, supplied for free at other hotels, were being sold, but they were out of them at the time. The pool required a bathing cap that had to be purchased if you didn't have one.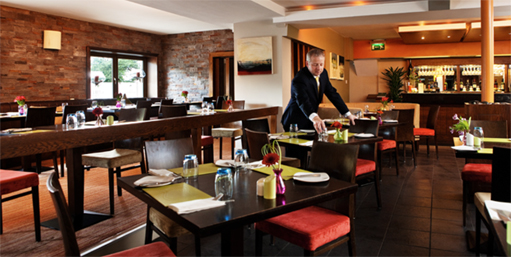 After being spoiled in EVERY hotel along our journey, the staff at this one couldn't be bothered. The dinner and breakfast servers kept us waiting to a point that we wondered if we should walk out. It was the only time I felt right about this non-tipping culture in Ireland. The chamber maid grunted when we said "Good morning". Hey, at least she didn't ignore us. We moved our own bags around without being asked if we needed help…which was fine for me! The front desk clerk was nice enough.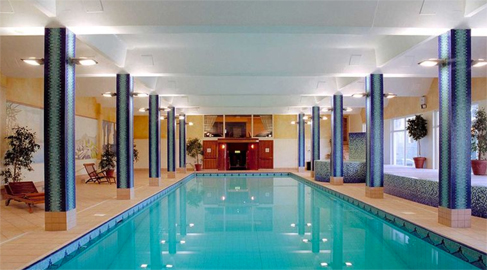 With exception of the first Shining photo that I took, all of these photos, like those of the other accommodations, are from the hotel's website. Looks like we got stuck with the only shoddy room in this joint. We didn't get to use the spa facilities so I can't comment on that. Looked nice from the window overlooking the pool.
Here's why Fitzpatrick can get away with it: Unlike the other castle hotels, this is located in a city where you wouldn't be hanging around the hotel anyway. We used it as a place to crash, that's all. It's located in one of the better "suburban" neighborhoods in Dublin, right next to a wonderful park where we hiked up the hill to get a fabulous view of the city. The Dart (train) is within walking distance to get into city center and explore Dublin. Taxis are about €30 to get to center so make sure to catch the last bus or train back or it can be pricey.
Here's my rundown of the entire Irish castle package tour: Would have been better if we flew directly to Shannon and skipped Dunboyne. Two nights at Glenlo, 2 nights in Dromoland, two nights somewhere else in city center of Dublin. You can't use the rental car in the city. Worse than Manhattan. Fly home from Dublin. Maybe I'll become a travel agent in my next life.