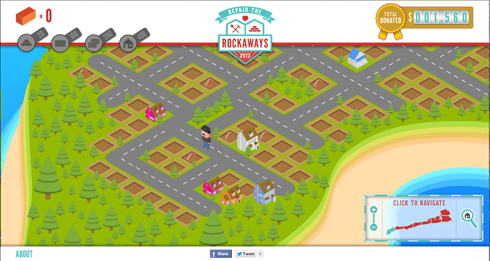 Forget Angry Birds. Here's your opportunity to waste time playing interactive games online while doing some good for society. Repair the Rockaways allows you to purchase virtual bricks for building virtual houses. The donations are real and go to Respond and Rebuild, a volunteer group helping with supplies, education and labor.
Via Mother New York.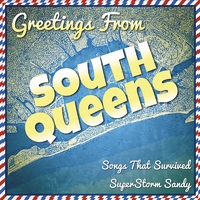 Listen to some great Indie rock tunes while helping Queens Sandy survivors. Bands from Howard Beach, Ozone Park, Broad Channel and Rockaway Beach put together a compilation album to benefit those who are still struggling in the hard hit areas. Check it out and/or purchase on CD Baby.
Call for submissions from artists, designers and architects to put Rockaway back together again. MOMA PS1 started work on the temporary Rockaway dome that will house proposal exhibitions. Dome is set to open to the public in April. Progress, peeps!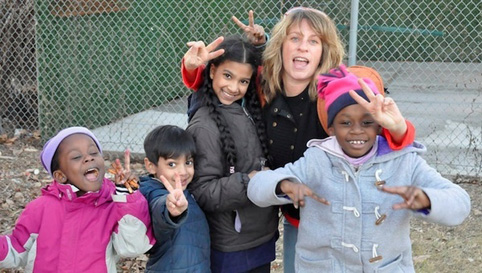 Please check out the IndieGogo campaign raising funds for Sandy victims through Children's Movement for Creative Education. The one year projects helps the youngins of Far Rockaway, Gerritsen Beach, Coney Island and Red Hook heal through artistic expression.
What do to:
1. Watch video.
2. Give money.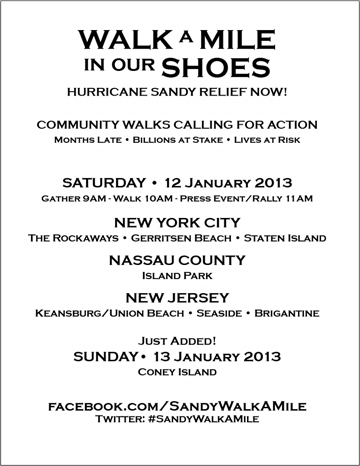 There's a big Sandy relief walk going down this weekend all around the boroughs and on Long Island and New Jersey. "Walk a Mile in Our Shoes". Join in! So much info that it was easiest to just copy the press release. Please click on neighborhood links for walk info.
From the press release:
ROCKAWAY BEACH, New York (January 09, 2013) – Coastal communities devastated by Hurricane Sandy will gather this Saturday, 12 January 2013, in a day of action to call upon elected officials and government agency leaders to "walk a mile in our shoes." The goal of these community walks is to show solidarity and urge immediate passage of a comprehensive Hurricane Sandy relief package by Congress. Once any relief package is passed, Sandy-affected communities call for swift and effective follow-through by Federal, state and local government agencies to deliver desperately needed funds into hard-hit neighborhoods.
"It is a crime that Congress will have failed to act until 78 days after Superstorm Sandy in providing the desperately needed funding to jumpstart this recovery," says Michael Sciaraffo, co-founder of the "Walk a Mile" community events and founder of The Sandy Claus Foundation. "People are suffering and lives are at stake. Funding for Katrina victims was passed within 10 days after the storm. Why are we any different?"
After Hurricane Sandy slammed into the east coast in October 2012, millions of affected Americans expected swift federal government action would be taken. Yet the 112th Congress came and went without passing a comprehensive relief package.
Originally Governors Cuomo, Christie and Malloy had asked for a combined $83 billion in aid, but only $60 billion was ever proposed as a relief package by Congress. The new 113th Congress passed an initial $9 billion to replenish the FEMA Flood Relief Insurance fund, but then adjourned without further action. Now, the House is reportedly poised to hold a vote for Sandy disaster relief on 15 January 2013 — 78 days after the initial disaster. And the Senate will only get the bill a week later. Meanwhile, the prospects for disaster relief passage is not certain; hurdles and challenges remain. Even if Congress passes the anticipated package of $51 billion in aid, it is far short of the original governors' combined request, and it could take months, or a year or more to deliver funding on a local level.
Sandy-impacted communities are concerned they are being forgotten. Neighborhoods, towns, and whole counties along the New York and New Jersey coast still bear the scars of shattered homes and shuttered businesses. While much of the disaster's impact is immediately obvious — with swaths of communities washed away or burned to the ground — other aspects of the disaster are not readily apparent. Gutted and mold-ridden homes conceal their damage on the inside. Emptied savings accounts, bankruptcies and unemployment cannot be seen from a casual street view.
"It is like these neighborhoods are suffering from a kidney punch. There's a terrible amount of internal hemorrhaging. A relief bill would be life-saving to these communities," says "Walk a Mile" co-founder Peter Corless. "Much needed Community Development Block Grants could stabilize local economies and save jobs and households. Shorelines are dangerously compromised in the face of future storms. Billions in promised aid could directly lead to smart rebuilding, sand replenishment and flood mitigation projects."
In the long run, once the day of action passes, "Walk a Mile in Our Shoes" will lead to a program of "Walk a Mile Ambassadors" from each of the Sandy-affected areas. These volunteers have offered to guide future visits by leaders from government, volunteer agencies or businesses who wish to see for themselves the damage that Sandy wrought, and to understand how best to direct aid where it is needed most. Volunteer recruitment will occur at each community walk.
To learn more about the "Walk a Mile in Our Shoes" Sandy Recovery Community Events, see: https://www.facebook.com/SandyWalkAMile. Links for additional information for community-specific events is provided below.
Currently events are planned for eight communities throughout New York and New Jersey. All except Coney Island will be held Saturday 12 January 2013, starting at 9 am. The Coney Island event will be held on Sunday 13 January at 1:30 pm. Event organizers are interested in hearing from other Sandy-affected communities to coordinate similar efforts in the future.
NEW YORK CITY
NASSAU COUNTY
NEW JERSEY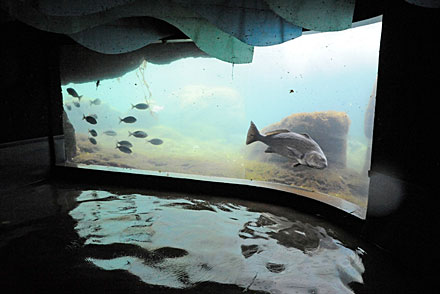 With many NYC residents still living in the cold and dark, the damaged businesses are not on our minds as much. But did your realize that we have temporarily lost some solid historic establishments?
The New York Aquarium got flooded in the storm. Everyone is ok, thanks to the staff who stayed on to protect them. The aquarium is closed until further notice while they clean out and get back on track. They are asking for donations to help move things along as the animals do need to get back to normalcy.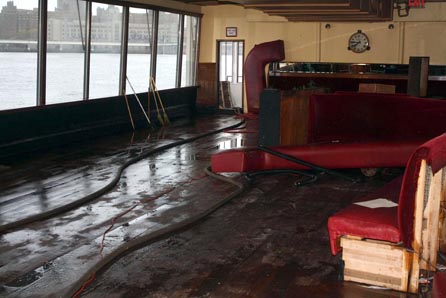 The River Cafe  sustained multiple millions worth of damage. They will remain closed until further notice.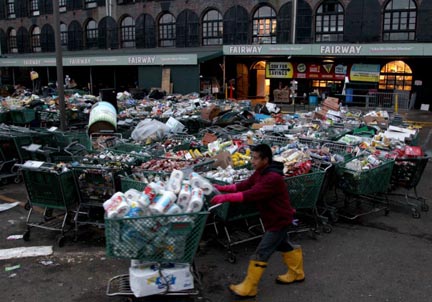 Fairway in Red Hook put out all of their flooded food for people to take and gutted the building. They promise to be back better than ever.
The original Nathans on Surf Avenue will not reopen soon according to their Facebook page. It doesn't mean they won't reopen. They just have lots of work to do. The boardwalk Nathans sustained less damage.
There are so many businesses that have been around for years that will struggle to make it back in all of the boroughs. Actually, if The Bronx got hit at all, I haven't heard anything about it.
Currently closed:
El Greco Diner in Sheepshead Bay
Sheepshead Bay Yacht Club
Cross Bay Diner, Howard Beach
South Street Seaport Museum, NYC
Rockaway Taco and Veggie Island are being used as volunteer staging grounds but they are closed for business.
Apologies to Staten Island and New Jersey for not knowing the areas well enough to report on them.
Six Restoration "One Stop" Centers now open
NYC Restore helps New Yorkers in the areas most affected by Hurricane Sandy get access to important information and services to help them recover. NYC Restoration Centers provide the following types of assistance:
http://www.nyc.gov/html/misc/html/2012/dasc.html
NYC Rapid Repairs*
Food and Nutrition Assistance
Temporary Housing Information
Health and Medical Benefits
Business Restoration
Counseling Services
Financial Assistance
Personal Records and Information
*NYC Rapid Repairs is a new program to send teams of contractors and City inspectors to neighborhoods affected by Hurricane Sandy to quickly repair damaged homes.
NYC Restoration Centers are open from 8 AM – 8 PM daily
NYC Restoration Centers are located at these addresses:
Coney Island*
Our Lady of Solace
2866 W. 19th St.
Brooklyn, 11224
*Note: the Coney Island location will be closing after 5 pm on Friday.
Red Hook
Coffey Park
85 Richards Street
Brooklyn, 11231
Gravesend
SSA Building
10 Bouck Ct.
Brooklyn, 11223
Fort Tilden
321 Rockaway Point Blvd
Queens, 11697
Far Rockaway
10-01 Beach 20th St.
Queens, 11691
Staten Island
1976 Hylan Boulevard
Staten Island, 10306
Congregation Beth Elohim Volunteer Opps:  With the advent of some great websites like Recovers.org and VolunteerSignup.com  organizations and individuals are creating a vast network to coordinate needs and volunteers ( in this particular disaster as well as others).
Congregation Beth Elohim in Park Slope
(http://congregationbethelohim.org/content/about-us)
is doing some excellent work on the ground; going to Rockaway, organizing donations for the Armory in Park Slope and more.
(http://congregationbethelohim.org/content/hurrican-sandy-update)
They have an online volunteer sign up that reaches out already through next weekend:
Food Prep, Field work in Rockaway, Supply Sorting…
Sign up here: http://www.volunteersignup.org/FE3BF
http://www.volunteersignup.org/FE3BF
Another list of volunteer opportunities for this weekend from Bill de Blasio. If you live in a neighborhood that was not hit by the storm, it seems like everything is hunky dory. But it's not. There are New Yorkers still living without heat and lights. They can't do laundry, they can't get food, they can't get gas to go shopping, even if their cars weren't destroyed. They rely on volunteers like you!
STATEN ISLAND
Join Councilman James Oddo to help clean-up and distribute supplies to residents.
599 Father Capadono Boulevard
Friday, November 9th, 9am-5pm.
Saturday, November 10th, 9am-5pm.
Sunday, November 11th, 9am-5pm.
Join Rebuild Staten Island for its 3-day "Mega Cleanup"
780 Olympia Boulevard
Friday, November 9 to Sunday, November 11, 9am-7pm: RSVP here
BROOKLYN
Help the Red Hook Initiative deliver hot meals to residents.
767 Hicks Street
Friday, November 9th, 10am-6:30pm: RSVP here
Friends of Firefighters needs volunteers to help do physical labor at individual homes as well as volunteers to help sort and distribute donations.
South Brooklyn
Friday, November 9th, 10am-3pm.
Saturday, November 10th, 10am-3pm.
Sunday, November 11th, 10am-3pm.
Occupy Sandy needs experienced construction workers are needed to help large scale community construction and clean-up projects.
Church of St. Luke and St. Matthew, 520 Clinton Avenue
Saturday, November 10, 7:30-10:30am: RSVP here
Occupy Sandy needs volunteers to prepare and serve meals, sort and distribute donations, and conduct outreach.
St Jacobi Lutheran Church, 5406 4th Avenue
Friday, November 9th, 10am-3pm.
Saturday, November 10th, 10am-3pm.
Sunday, November 11th, 10am-3pm:.
The Jewish Association Serving the Aging needs volunteers are needed in Brighton Beach to check on residents and help walk hot meals to elderly residents on high floors. Russian speaking volunteers would be greatly appreciated.
Brighton Beach
Friday, November 10th, 10am-3pm: RSVP here
The Brooklyn YWCA needs volunteers are needed to bring meals up and down stairs to homebound residents in Gowanus.
420 Baltic Street
Friday, November 9, 3pm – 4pm: RSVP here
The Brooklyn YWCA needs one car needed to transport food from downtown Brooklyn to Gowanus.
30 Third Avenue
Friday, November 9, 2:30pm-3pm: RSVP here
FilmoreCares needs volunteers to sort and deliver supplies, assist with clean-ups, and assess community needs.
2990 Avenue U
Friday, November 9th, 10am-6pm.
Saturday, November 10th, 10am-6pm.
Sunday, November 11th, 10am-6pm.
QUEENS
Councilman James Sanders needs volunteers are needed to help conduct a massive clean-up of Far Rockaway.
1526 Central Avenue, Far Rockaway
Saturday, November 10th, 10am.
Sunday, November 11th, 10am.
MANHATTAN
Holy Apostles needs volunteers to help operate its soup kitchen, which serves over 1,200 meals daily.
296 Ninth Avenue (at 28th Street)
Friday, November 9, 9:30am-1pm: RSVP here
Good Old Lower East Side (GOLES) needs volunteers to help sort and load donations.
169 171 Avenue B
Friday, November 9th, 12pm-6pm: RSVP here
Saturday, November 10th, 12pm-6pm: RSVP here
Congregation Ohab Zedek will take a bus of volunteers from uptown to the Rockaways to help with clean-up.
118 West 95th Street
Sunday, November 11, 10am.
RSVP for Manhattan events above.
Volunteers are needed to help restore the Manhattan Youth Community Center in lower Manhattan.
120 Warren Street
RSVP here.
Sunday, November 11, 11:30am-1:30pm: RSVP here
Manhattan Borough President Scott M. Stringer,
Public Advocate Bill de Blasio
and Comptroller John C. Liu
Food Drive at the Municipal Building benefiting victims of Hurricane Sandy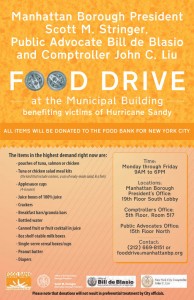 All items will be donated to the Food Bank For New York City
The items in the highest demand right now are:
- pouches of tuna, salmon or chicken
- Tuna or chicken salad meal kits (the kind that include crackers, a can of ready-made salad, & a fork)
- Applesauce cups (4-6 ounce)
- Juice boxes of 100% juice
- Crackers
- Breakfast bars/granola bars
- Bottled water
- Canned fruit or fruit cocktail in juice
- 8oz shelf-stable milk boxes
- Single-serve cereal boxes/cups
- Peanut butter
- Diapers
Time:
Monday through Friday
9AM to 6PM
Locations:
Manhattan Borough President's Office:
19th Floor South Lobby
Comptroller's Office:
5th Floor, Room 517
Public Advocate's Office:
15th Floor North
Contact:
(212) 669-8151 or
fooddrive@manhattanbp.org
Always with their good works ( I know first hand from working there a few years back – DRG) The Coalition Against Hunger is mobilizing.
Right now ( as in today) they need help distributing 20,000 blankets!
New York City Coalition Against Hunger
https://www.nyccah.org/hurricanesandyvolunteer
We are in need of a lot of volunteers at the Shorefront Y today. We are expecting a truck to arrive around 1:30 filled with a donation of 20,000 blankets. Help is needed to unload the truck, as well as distributing the blankets, along with food & water to homebound seniors throughout the neighborhood.
Please share this status with your friends!
Support Hurricane Sandy Relief Efforts!
Volunteer
We've been posting all available volunteer opportunities on our Facebook page, so please visit our Facebook page to see how you can volunteer in Sandy relief efforts.
To contact our volunteer staff, please email NYCCAHvolunteer@gmail.com.
Donate
https://www.nyccah.org/civicrm/contribute/transact?reset=1&id=25
NYCCAH staff is working to ensure that food is being properly distributed as well as ensuring that systems are in place to provide replacement and disaster SNAP (food stamps) benefits.
Click here to make a tax-deductible donation. Your contribution will support both short-term, direct relief to Hurricane Sandy victims and long-term assistance for low-income New Yorkers.
DRG
All Hands is launching a volunteer project in response to Hurricane Sandy – Hear one resident's story from All Hands Volunteers on Vimeo.