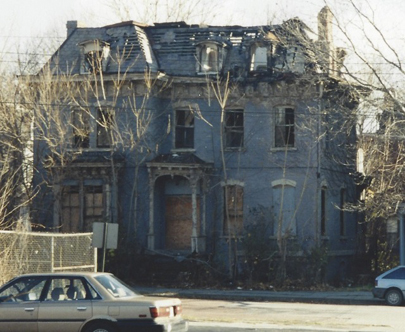 This is an impressive resurrection of a Calvert Vaux Beaux Arts home as reported by Newburgh Restoration. Work was completed by architect Drew Kartiganer back in 2002.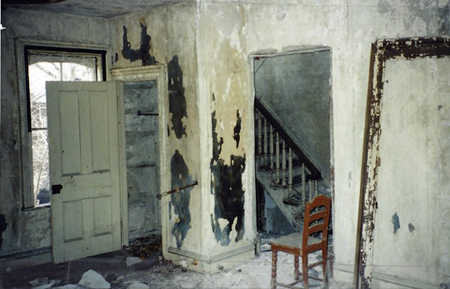 Are you ready for the after shot?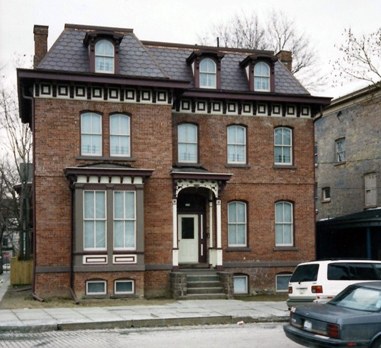 Unfortunately, the interior is not all that impressive, but one can't complain when the house was brought back to life. Check out the work shots and interiors at Newburgh Restoration.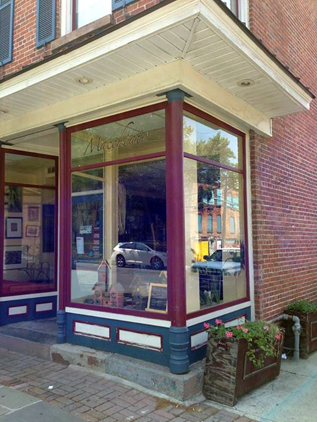 Two of my favorite restaurants north of the city are changing hands. That's a helluva lot better than closing their doors.
Caffe Macchiato in Newburgh is under new ownership as the original owners, Barbara and Edwine are starting up a farm in Haiti. Kalite Farm is an "Eco Agritourism" endeavor that the couple has been planning for the past few years. It's now in the process of being built.
Macchiato's new owner is Claudio Pantoja and it sounds like he's swinging into action big time on the cafe. The restaurant will be opening early for breakfast and serving dinner as soon as they get their act together and -get this!- there will be more vegan options on the menu according to Newburgh Restoration.
Tivoli's vegetarian Luna 61 (formerly in Red Hook) is also under new ownership. Original owners Deb and Peter have opened what sounds like an equally fabulous place in Burlington, Vermont, called Revolution Kitchen. Luna will be reopening for lunch in mid September and they should have their dinner schedule up and running by the end of September.
The $200k house challenge is proving to be quite difficult. And you know what else? Buying a property strictly for investment is way harder than finding a place to live. Never in my life did I care so much about what others thought until this property search, because I've gotta think about who's going to buy it versus what I like.
So what do I like? Ok, as usual, I'm posting pictures without links so I'm not advertising homes I might want for myself.
I fell love with the Accord farm house above. In love! Three acres on a corner lot for $125k. The catch? The work it needs is not merely cosmetic. That is fine, but this city girl gets intimidated by wells and septic. Don't know the first thing about them. In this case, there's a well located INSIDE the house. Anyone know if that's a big deal? I called the listing agent to tell her that I may be interested but wanted to know what she knew about that well. She didn't return my call which bought me some more time to look at homes that needed less work.
This farm house is a case of "If it was for me, I'd grab it." but a flip? It would probably take the better part of a year for a proper restoration and before I even get in there to do my stuff, the mechanics would need to be worked out.
I'm keeping it in the back of my mind but continuing to look.
Jon, my broker, has done a million successful flips. He keeps telling me that I should be looking for a quick and easy "FLIP" that only needs cosmetics, not a restoration project. I see his point. I do! And I'm trying, but it's tough to wrap my head around a vinyl sided house….
This vinyl ranch is actually a possibility according the Flip Gospel of Jon. There's not much to do on it. I can bring back the 1950′s look from the decade it was built. If I get it for the right price, I can make a profit, but not really if I have to pay the $199k asking price.
The location is what I love most. Right between High Falls and Rosendale where some of my favorite restaurants are located. Nuts, right? I'm thinking about what I can eat while working on the house! But in my defense, those areas are desirable for folks who would appreciate my kooky style of renovation. In other words, I don't have to go conservative.
Just when I thought I had narrowed it down, I ran into a friend on the subway. He mentioned that some of his gay friends have homes in Sullivan County. I'm like "Invest in a gay area? I'm there!" Sooo, I'll finally be looking at Sullivan County next week after putting it off because I'm just not familiar with the area.
Then this morning another friend forwarded a listing in Brooklyn that might be doable. Brooklyn? That's where I wanted to do this in the first place. The only reason I'm looking upstate is because I thought I couldn't afford down here. Yeah, I got into the idea of having a place to go for the summer, but work is work. I can do the 9-5 in Brooklyn and rent a place upstate. Sheeeeet.
I need professional help. Not from a broker and not from a therapist (ok, maybe a therapist). If anyone knows a good psychic, post it in the comments.
While driving around down 209 in Ulster County last week, I spotted all of these Nevele signs. I was all like "What? The Nevele is back?" Not so fast. There was a meeting on April 12th to talk about plans to convert the resort into a casino. Don't know what happened at that meeting but the signs were not put there by residents of the area, rather developers and business owners who want to see this happen.
Although I don't wish for The Catskills to look like Atlantic City, the old Borscht Belt has hit rock bottom and there's nowhere to go but up. Yeah, gambling is bad habit, but casinos will bring jobs and tourists to the area. And let's face it. As much as I loved my 1970′s Catskills growing up, it wasn't the classiest place in the world anyway. I mean, really, have you ever seen a bunch of Jews at an all you can eat meal? My family would pass around the Mylanta after dinner. That is not a joke. So, what I'm saying is, the people these casinos would bring in can't be any worse than my family.
Speaking of Catskill resorts, the fire at Grandview Palace looks pretty bad. It's been nice to think these places still exist and they just need to be rediscovered but the finality of the fires and tear downs rips away at our childhood.
But there is hope! Right?
Who knew it would be more difficult to find an investment property than to find a place for oneself? I'm lovin' a whole lotta things that I see, but unfortunately, when I do the math on them, they don't make financial sense.
The house above is on Wittenberg Road just outside of Woodstock in Bearsville. There is not one but two homes on the property. I thought that this was The One until I got home and reread the MLS sheet. It's apparent that both structures need work but what's not visible to the eye is that the bungalow isn't on the well and septic. That would put me over my own budget, but it's still a good investment. Stay in one house and rent out the other.
The exterior siding needs some work and the top floor shows some leaks but the main room looks in really decent shape.
How cute is this kitchen? The same wonderful vintage wallpaper is in the bungalow too.
The property is listed at $115k and sits on .68 of an acre.
This 1910 stone house is also on .68 of an acre. It's located on Maverick Road and sits a wee back from the road. It's adorable but you can't get away with a $124,900 price tag in Woodstock without needing to do work. There is some settlement on the house to an extent where the slant made me dizzy when I walked in. This is stuff that can be resolved with a decent structural engineer.
The "slanty" room is in otherwise good shape. I would a)resolve the sag problem in the basement first, then b) carefully take up that wood floor to level the joists and put that same floor back.
The kitchen is located in the basement. Gotta love the log beams.
The problem with a small house with a basement bathroom is that it shares the space with the mechanics. Actually, they look to be in decent shape and surely they can be hidden.
This house was on Sawkill Road, which is a busyish road, but the house is set back far enough for it to seem private.
The home needs a total update but it's not a scary amount of work like some of the other places I've seen. What do you expect for $110k on .5 of an acre?
The most impressive thing about the house? This sink. I'd buy the house just for that sink which is hidden in the basement.
Ok, I lied. Not all under $200k. This sweet red house on nearly 4 acres in a great area is a whooping $219,500. The difference is this is ready to move in. We're not talking high end materials, but it's clean and ready to go. If you don't want to worry about renovations, here is an affordable house in Woodstock.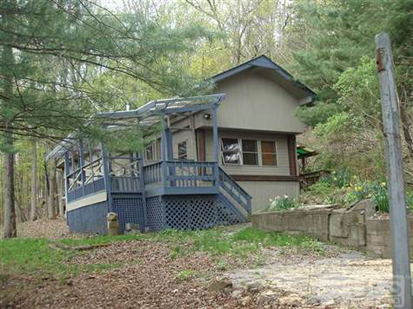 I'm doing a marathon home search of Ulster County today. A 2.5 hour drive up, look at nine houses and drive back. All by my little self. It took me most of the day yesterday to sort out the listings, map out and schedule my day and make appointments. Last time I looked for a house in the country, the realtor did that for me AND took me out to lunch. Now I have a license and I can save a few bucks on the purchase by doing it myself. But ya gotta hand it to agents outside of the city. They work twice as hard and earn less than half as much.
Anyway, where was I? Oh yeah, I came across this house in High Falls and was briefly interested until I realized that it's a trailer with extensions. At least that's what I think it is. My husband thinks it's a modular home. In any case, that is one funky high rise for $50k.
Not sure if it's still available. I found it outside of the MLS.
I drove for countless hours yesterday just to look at three properties. I'd like to share two of them with you because I'm passing on them. The third one is a possibility so that I'm keeping to myself for now.
The Staatsburg 1940 cottage (above) is listed at $74,500. It's well worth it. The listing says it needs work but honestly, I don't see it needing anything more than some updating and a paint job. If you're unfamiliar with Staatsburg, that's the area north of Hyde Park and south of Rhinebeck. Not bad, huh?
So why am I passing on it? Well, the 2 bedroom, 1 bath bungalow is only 691 square feet. Although I did want a small, easy project to work on, I don't believe that I can make a killing on this house as an investment because of the size and location. It's more local than weekender, not that there's anything wrong with that.
If I lived in the area and didn't have to drive 2 hours to work on the house and if I had cash that I wasn't going to miss while I'm waiting to sell, it would be worth doing.
Anyway, as you can see, it's a cute little house. For $74,500, how can you go wrong? Especially with that awesome wallpaper!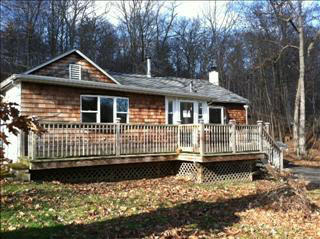 This bank owned Red Hook house is listed at $84,500. It's on a not-so-busy road across the street from a lake. There are some trailers and multiple-pick-up-trucks-in-the-driveway households nearby. Yeah, so I'm a city snob. So be it.
That didn't bother me so much. One problem is the flip job. The guy lost his house due to some bad decisions (I got some background from a neighbor up the road.) so I don't want to add insult to injury by knocking his renovation, but some flip jobs just scream Home Depot and this is one of them. The house was built in 1912. Personally, I'd rather restore a beat up 1912 home.
Don't know if you can see from the photo but this is new parquet tile over what looks like a decent oak floor.
Since I'm a recycling maven, I reaalllly hate to renovate an already renovated property. I'm sure this stuff can be donated, but it bothers me to rip out new work. So that's why this is a pass.
Well, there is one more thing. After seeing this, I left without going down to the basement. I don't know what it's from but I didn't want to encounter it in the house so I ran out. I did look in the basement and saw mold and a water line on the wall.
Don't know how/if the water problem can be remedied, but hey, the house is $84,500 and the upstairs is clean and livable.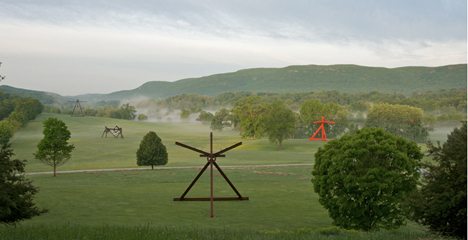 Orange County covers a fairly large area. There is definitely an assortment of homes that can be had not only for under $200k, but even under $100k. Think Newburgh and Middletown for those extremely affordable houses.
Before you run up there to find your inexpensive dream home, a few things…
Taxes are pretty high in Orange County. Like as high as New Jersey high. The fact is, taxes are always higher in the burbs than in the city, but from what I've seen, Orange is worse than Dutchess and Ulster.
The good news is that Metro North does run on the west side of the Hudson. There are limited stops to Port Jervis, but it will still take you nearly 2 hours to get from Penn Station to Middletown. An every day commute can set you back about $300 per month.
Although there are plenty of second homes in Orange, it seems to be more of a commuter community. Lots of cops and firefighters living up there so it's a pretty safe place to be.
The homes that I looked at this week were in Cornwall on Hudson. Really pretty area near Storm King. The town is cute but not much was going on the day I went up. I should let you know that there were also affordable listings in Highland Falls which is right near West Point.
The house above is listed at $150k. It needs work and plenty of it, but location, location, location! It's more of a suburban area than private country location, but it's within walking distance to town and has killer views of the river on the block. Should I go ahead and assume that the 1922 structure was a barn or horse stalls at one point? It looks like it.
There are wide plank floors throughout but the wavy gravy walls and ceilings need to go. (The house isn't leaning, I was too lazy to fix my lens distortion.)
This one is interesting. Listed at $199,734. It sits on over 2 acres of private land. Really close to 9W but you wouldn't know it. The thing with this house is that it's an unfinished renovation. Everything has been roughed in, but at over 2000 square feet, materials will be too costly for my budget. How about you? Could be worth it. Taxes are $13k. Told ya.
Check out this too-good-to-be-true place in Warwick. Of course the $75k asking price has people bidding against each other. It's not a short sale and when I looked at it, there was nothing apparent to the eye that was a deal breaker. It just needs some work to finish up the renovation that someone started. Nice location and decent property.
When I called the list agent to find out what the deal is, I found out that it may not be such a deal after all. Or maybe it is, but delving into the problems would be uncharted territory for me.
The home currently has no running water. The seller tells the agent that it's a broken pipe but let's assume the worst and figure on drilling a whole new well. Just in case. Furthermore, the septic system is a mess. Worst case scenario, let's say it needs a new one. The owner also thought he would save on the price of oil, so he installed a coal heating system. Coal? Who does that?
Ok, so those are the big issues. I was almost tempted to check out prices on those items but as of last week there were seven offers on the table, above ask, so I just didn't bother.
Nice house though. Someone who knows a thing or two about something other than city sewer and water is gonna steal this baby for a song.
I'm about three weeks into the home search now. Guess what I've discovered? It's not really a buyer's market. Don't let anyone tell you otherwise. Yes, prices are lower than pre-burst and the rates are low. It's still a good time to buy, but be prepared for some competition.
The Hyde Park house above is the one that got away. Well, that's the Hudson River view from the house. Little did I know that it was all but gone when I looked at it. It had been on the market for a looonnng time, starting out at $325k and going down to $199k. It was taken off the market for awhile. My bet was that it wasn't mortgageable with some extra apartments in the basement and attic and some perhaps illegal extensions.
Well, fast forward to me seeing it listed as "continue to show" and calling the list agent to find out how serious the offer is. Turns out it was the original deal that fell through and contracts are already drawn up. Ack, it was too good to be true for me anyway, that I find an awesome house after such a short time.
The house is right on the water and around the corner from the Vanderbilt Mansion. I pulled up two comps that weren't exact comps because they were larger properties in better shape, but the prices were in the $600k's and over $1m. Well, at least the people who got the place aren't greedy investors like me. They intend on living there. I'm putting in a back up offer just in case the deal goes south again. Hey, ya never know. Gotta be in it to win it.
Then there was the ranch that smelled like dog shit within walking distance to the Village of Rhinebeck but still a very private country setting. This is something I still may consider. Obviously, it will need to be renovated. The problem is that it's a short sale and that could drag on forever. In fact, I'm trying not to look at the short sales because I want to be working on something this summer, but there are a lot out there.
Looked at a bunch of other places in Rhinebeck. Mostly ranches in need of updating. One place for $140k in Red Hook/Milan that was a bit too far from civilization. The others were all too close to busy roads.
This Cold Spring short sale seemed perfect. A great farmhouse on 3 acres. What could be wrong? Right next to the recycling center which is on the premises of the old dump. That means on Saturdays and Sundays, half the town lines up to get rid of their bottles and cans.
The bargains are out there, my friends. You just can't be so fussy like I am.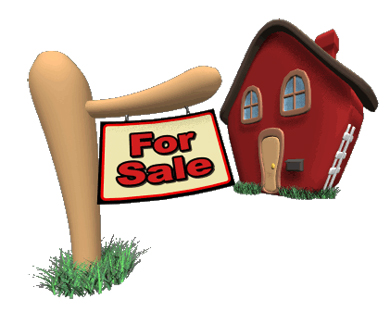 You have $200k to spend on a home within 2 hours of NYC, including renovations. Where would you look?
As mentioned before, I'm in search of a flip. I could put myself into debt for a year and not be able to afford pet food or even human food but I'd rather not, so I'm sticking to a budget of $200k. Yeah, I know. It ain't gonna be in Brooklyn. Not even split with a partner. Not even a one bedroom apartment in a fringe neighborhood.
After searching for about a month, here's what I've learned…
You want to own a home in the boroughs for $200k? It's possible. There are homes in crappy parts of Bushwick, Jamaica and East New York. Actually, pretty difficult to come by houses for under $300k, but short sales exist. If you're purchasing a short sale, be prepared to have it drag on for close to a year.
Saw a couple of listings out on The Island. Riverhead and Central Islip. A friend from The Island wasn't too impressed with those locations. Saw quite a few listings in Jersey City and Newark, especially Newark. No, the JC listings were not prime JC.
So, what's the best bet for finding a home for under $200k (Oh, did I mention that INCLUDES renovations?)? Upstate. Whether it be commuter location or second home, the houses exist. Saw a bunch in Rhinebeck and one in Hyde Park that I may put an offer on, but it will only be back up as someone got to it first. Bastards.
Today I'm heading up to Warwick. That's a commuter area and there are about 4-5 listings to look at. It's promising.
So, you want a house on a small budget? You can do it. As long as you're not a whiny douche like this guy.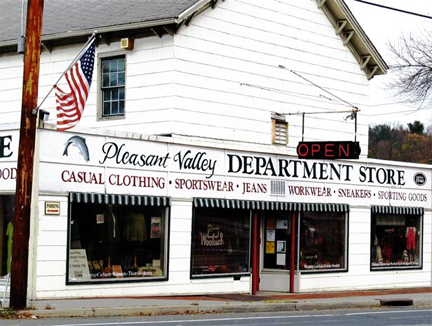 Pleasant Valley is located about 8 miles from Millbrook and 7 miles from Poughkeepsie along Route 44 in Dutchess County. The quiet suburural town was formed in 1821. Like any quaint town, it's got it's department store, it's purple restaurant and it's ladies consignment shop. There are also some lovely parks for reflection and hiking.
But let's talk real estate. Link to all listings here.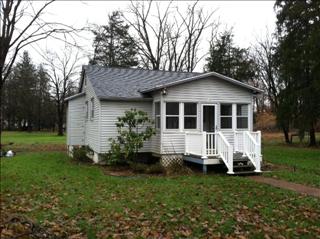 This three bedroom ranch is less than 1000 square feet and needs work. The asking price is $45k.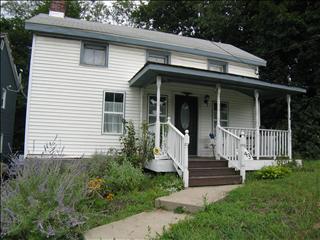 $105k will buy you a renovated cape right on Main Street.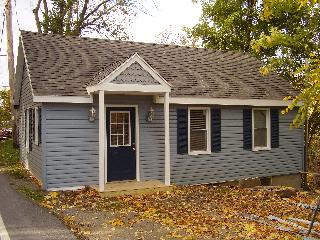 Updated 1920 two bedroom cottage on 1/2 acre overlooking Wappingers Creek. $164,500.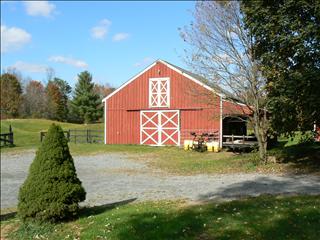 There's a house that goes with this barn. A 2500 square foot antique house that sits on 12.75 acres. It's quite charming too! Price? $419k.
Even though The Catskills were severely damaged by Hurricane Irene last year, some parts will bounce back. Areas like Woodstock and Phoenicia are year round vibrant communities that have always remained popular destinations for tourists. But exploring Sullivan County this week was rather shocking.
The Borscht Belt towns have seen more financial devastation and decay than any hurricane could have caused. This isn't news. I've blogged numerous times on photographers capturing images of the old resorts and bungalows, but I had to see it with my own eyes to consider the scope of it.
Main Streets died out with the advent of the malls and the resorts and colonies started losing popularity with the arrival of air travel. The Catskills as my generation knew it still existed well into the 1980′s, but it's a shell of it's former self these days.
There may be hope of a revitalization. Post baby boomers like myself have been very excited about the opening of Kutsher's Restaurant in Tribeca and the preview of the Kutsher's documentary film was sold out almost instantly. The newish Upstater blog is waxing nostalgic about the area and they've proven to be quite popular.
Does this mean The Catskills are coming back? Not quite. It just means there is hope. I'm not the only one whom has had the idea to bring back a modern day bungalow colony for this generation.
Kutsher's still exists, although it was closed the day we were there. I heard rumors that it's for sale, but cannot find any news on the current status.
I'll be posting some colonies that are on the market in the upcoming weeks. They are in bad disrepair, but prices are negotiable. Come on. Let's do it. Let's bring back The Catskills!
Spent a romantic Valentine's evening at the Woodstock Sanctuary B&B, not with my husband but with my friend Deb. We went upstate to look at some properties and although we didn't get to spend too much time at the sanctuary, we got to see what it was all about.
The B&B is a fairly new addition to the sanctuary. Because of it's non-profit status, you have to be a member to book a room. The profits go to the care of the rescued farm animals, so go early and go often! Membership benefits include discounts to some serious vegetarian restaurants both upstate and in the city.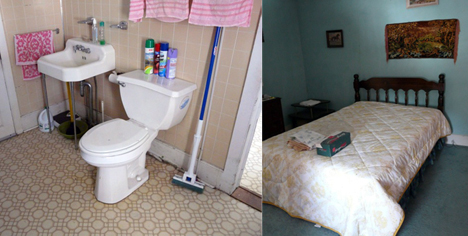 Before renovations
The farmhouse is a lovely restored pre-Civil War home. Because of the newness of it, I was afraid to touch anything, but it was definitely comfy and homey. Images of the farm animals hang from the walls and even the claws on the tub are painted like a rooster.
Two of the rooms share the two hallway bathrooms and there is one room that is en-suite. We're talking about $120 for a room but it was higher for Valentine's. The vegan breakfast served in the morning gives you a selection of bagels, muffins and cereal with fresh fruit and non-dairy options. There's a newly updated DVD collection, some books and of course, wifi.
The sanctuary asks that you remain respectful of their cause and refrain from bringing in any animal bi-products. This means leave your fur coat and Ugg boots at home. And don't bring your McDonald's in for lunch and say you couldn't go a day without meat. Not that people staying here would do that, but you get my drift.
The owners live in this gawgeous home. Wins my award for "Best New Construction Evah".
The sanctuary is located just off of Rt 212, somewhere between Woodstock and Phoenicia. We had dinner in Bearsville and made it back in one piece within ohh, maybe 15 minutes?
Great guest house but of course it's all about the animals! We got to visit them and meet the farm staff the following morning. We hung out in the goat pen a bit and we were greeted by the pigs in their pen. We got to meet Dylan the giant grown up veal calf and the chickens and roosters.
So, if you're looking for that perfect B&B in the country and you happen to be an animal lover, this is THE place. I'll be back for sure. Perhaps I'll even bring my husband for a real romantic evening.
And now….meet the animals! (Full set on Flickr)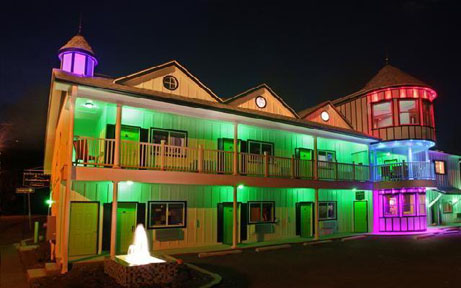 What's more fun that staying in a theme hotel room? Maybe creating an entire theme hotel. But ok, staying in one is cool enough for now. The Roxbury Motel opened it's doors in 2004 when two Manhattanites bought the run down structure after it sat on the market for six years.
Located in the heart of the beautiful Catskills (as opposed to the "eh" Catskills….believe me, there's a difference), The Roxbury is anything but "forgotten Catskills". It's hip. It's now. It's happening, baby.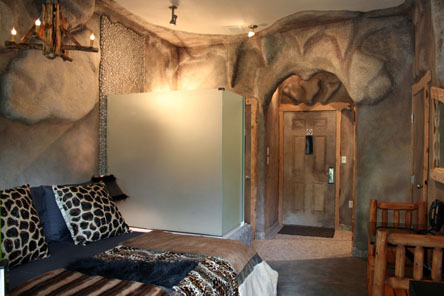 There's a Flintstone room, a Partridge room, a Genie room and a Bewitched room for those of us old enough to appreciate them. Of course, there is a Shagadelic and a Miss Kitty room for the younger-than-middle-aged crowd. As if that's not enough, The Roxbury has a spa on the premises and a cocktail lounge/restaurant right across the street.
Disclosure: I haven't been to The Roxbury Motel. I just got a bit carried away looking at the website. Groovy, baby.