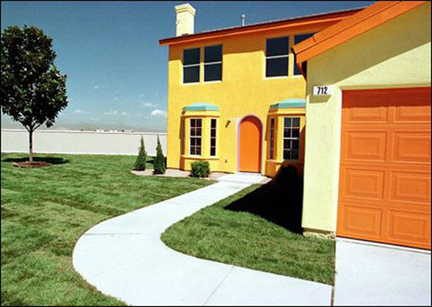 Can't say the thought hasn't crossed my mind to do a house in "Flintstones" style. But "The Simpsons"? Never considered the house to be anything special…until seeing it in real life. Now I totally want a cartoon house!
Via Gizmodo.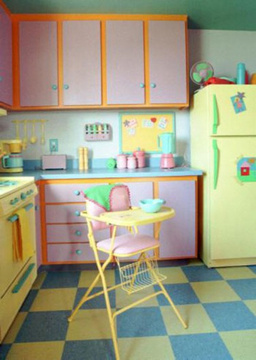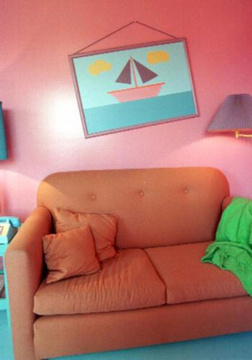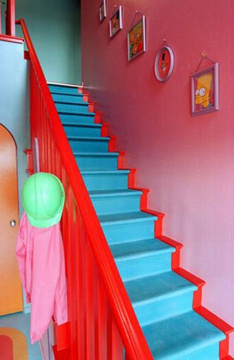 Got some time to spare tomorrow, January 15th? Well, then come on down to the Landmarks Preservation hearing at One Centre Street in Manhattan. The meeting is to be held on the 9th floor from 10:30-12:00.
It should prove to be interesting as preacher Johnny Ray Youngblood is set to protest. Word around the neighborhood is that he'll be busing people in who do not live in Bed Stuy, just to make his voice heard.
Why protest something that is in the best interest of the neighborhood and the city? Money. There are some old timers who are under the impression that having to go by Landmarks rules and doing things in a historically correct manner will be unaffordable. Yeah, there are grants to be had from Landmarks. No, they don't force you to spend money you don't have. Perhaps these folks will actually listen to the truth at the meeting. Or perhaps they just want to stir the pot.
Anyway, Team Landmark can use your help. No, you do not have to live in Bed Stuy to show your support. If Johnny Ray can bring people in from other areas, we only want to keep it fair by doing the same.
So, see you tomorrow?
I didn't come up with the name "Reclaimed Home" for nothing. I love salvaging old materials and restoring neglected homes that were once full of life. Yesterday I was reminded why I torture myself with endless renovations.
You may look at the photo above and say "Meh, it's a rotten old sign." Indeed, you would be correct, but this find had me jumping up and down. I discovered it as I took up the rotten bathroom floor. (We'll chat more about that later.) The previous owners or someone before them used it as subflooring. The writing was not facing up so I didn't know it was there until I actually started taking up the floor.
Unfortunately, the sign is in bad shape as the bathtub and toilet were leaking for years causing rot all the way through to the joists. Yes, the hole in the second photo was what the bathroom fixtures were sitting on. At any given time, someone could have ended up in the kitchen below while bathing or taking a dump. BTW, this is NOT the first old house I found such rot. Live in an old home? Pray they did the right thing when "renovating" as they often just cover things up. Enjoy your bath.
Anyway, back to the cool find. It seems to be more than one sign because I see "Library" and I also see "Club". Actually, I'm guessing that perhaps they were the destination signs on the boardwalk? Anyone have a clue?
Whatever the case, even though they crumble in my hands, they will most definitely stay with the house as part of the reclaiming process. Right now, I'm thinking of embedding the edges in a plaster or concrete wall.
But it was nice to see that folks were reusing salvaged material even back then!
Similar:
We all know that The Catskills have their fair share of bungalows, but what about right here in our fair city? Do you know which New York City neighborhoods still have bungalow communities?
The cute block of bungalows above is Shaler Street in Sheepshead Bay, Brooklyn.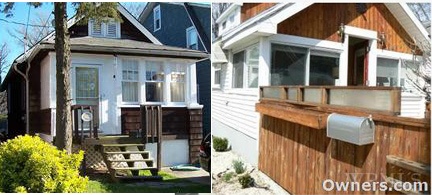 City Island in The Bronx is more like a quaint seaside village than a Big Apple neighborhood. The two bungalows shown above are for sale. The one on the left is listed with Weichert for $289k and the one on the right is for sale by owner at $355k.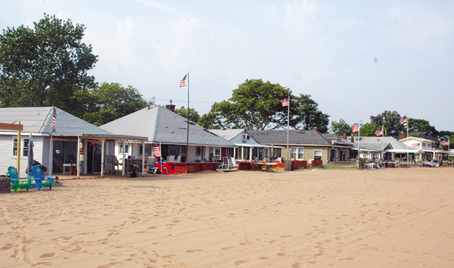 Well, Staten Island HAD an adorable bungalow colony right on the beach, but sadly Cedar Grove has been demolished. Out with the historic old, in with the tacky new…
The bungalows of The Rockaways are probably the best known in the city.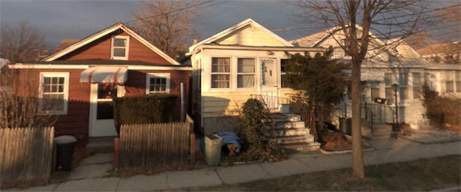 It's hard to believe, but Manhattan actually has some small single family homes left. I found these Inwood bungalows on Google satellite and was surprised to learn that they are priced under $300k when they go up for sale. Hello next project!
Correction: I confused Inwood, Queens Long Island with Inwood, NYC.

Bedford Stuyvesant is a huge area broken up into a few neighborhoods such as Stuyvesant Heights, Weeksville, Ocean Hill and Bedford.  No, Bedford Corners Historic District is not some new name the realtors just came up with. This part of Bed Stuy exhibits some of the finest architecture in the city but it does need to be preserved.
The Landmarks Preservation Commission will be answering questions and discussing the landmarking process of Bedford Corners Historic District this Wednesday, March 21st. This meeting is said to be the deciding factor as to whether or not the area will be receive landmark designation. The community is urged to come out and show it's support.
If you live in the south west end of Bed Stuy, please join us at the meeting on Wednesday at Restoration Plaza, 1368 Fulton Street, lower level. 6:30pm.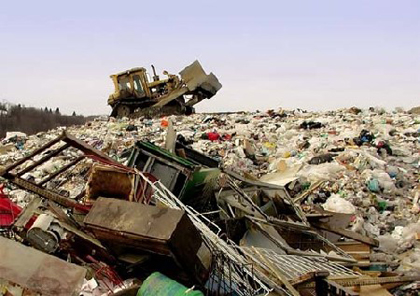 Reclaimed Home is going back to its roots! After moving back to Brooklyn, where space is an issue, we stopped collecting larger salvaged items for reuse. Well, it's time to expand again.
Starting a tiny home based business was a breeze. Starting a small business with a team is a bit more challenging. But you know what? It's important that we do this now for a variety of reasons.
Saving building materials from the landfills. Mother Earth is screaming for help. Tons of demolition rubbish goes into dumpsters every day.
Presenting restoration options for folks of all income levels. We're going through some rough economic times. Why shouldn't everyone have the same access to beautiful architectural details and furnishings for their dwellings?
Preserve our history! Old homes are being torn down to make way for new construction. Historic details are discarded of during renovations. The skilled craftspeople who created these materials are long gone. Let's give their work a second life.
Here's what you can do to help us achieve our goals. If it can be recycled, please don't throw it out! We'll take reusable materials off your hands. If you're doing a renovation or know of someone who is, contact us before you allow your contractor to destroy house parts and throw them in the dumpster. We'll carefully remove the items for you so someone else can make use of them.
It will save you demolition fees. It will save you disposal rates. Most importantly, it will save our planet from overflowing landfills.
You can email us by hitting the "contact" link at the top of the middle column. We thank you and Momma Earth thanks you.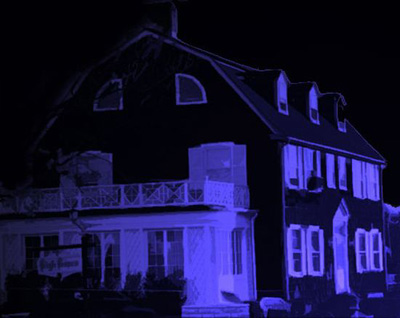 Get oooouuuuttttt!!! So, guy kills his family in this Long Island home and the Lutzes move in. True story. Was it really haunted as they claim? The magic eight ball says no.
Click on the movie titles for some fun posts I linked to!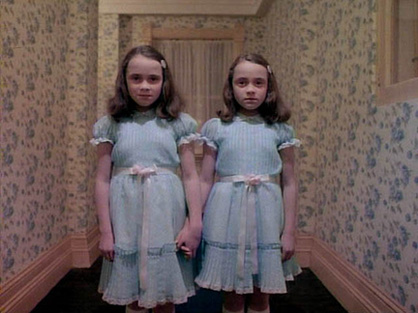 The Stanley Hotel in Colorado was the inspiration for Kubrick's Overlook. Heeerreee's Johnny!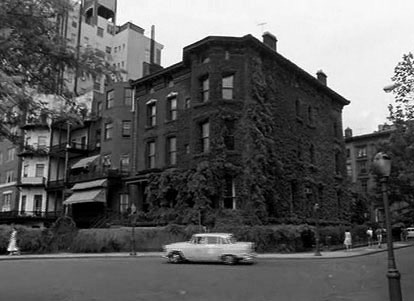 This movie scared the bejesus out of me when I saw it as a kid. The lovely corner row house is located right off Brooklyn Heights' Promenade. Minus the climbing ivy these days.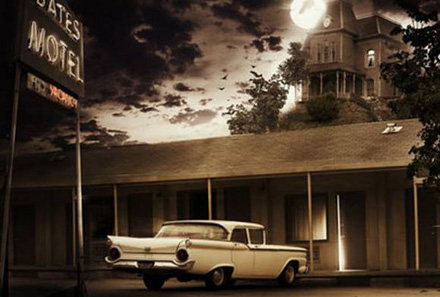 Bates Motel my tuchas. It's that creepy (and gorgeous) building in the back that everyone remembers. Actually, just a set at Universal Studios. What's that, Mother? No really, just a set.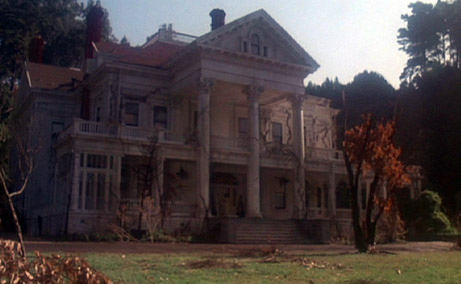 Do you remember this movie? If you don't or if you've never seen it, ya gotta rent it! As if Karen Black is not scary enough, the entire movie is a creepfest!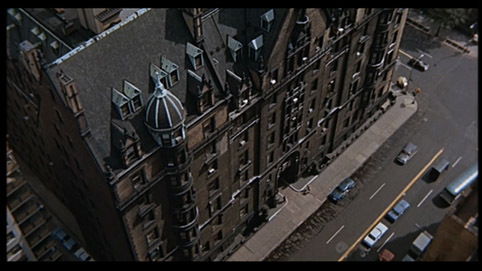 Yeah, yeah. I know The Dakota is one of the most desirable buildings in NYC. But when I was a kid, it was the Rosemary's Baby building. Then it because the John Lennon Was Shot Here building. Can't catch a break.
Pretty sure this movie made me lose sleep too. May I wow you with my trivial pop culture nonsense? This is from memory…I did not look it up, I swear! Actress Zohra Lampert, who played Jessica was the Goya Bean woman! Are you impressed?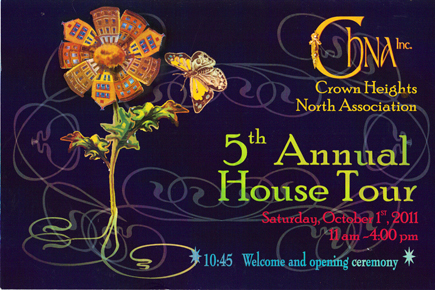 What's better than looking at internet house porn? Participating in house porn! Yes, all you house whores, it's time for the 5th Annual Crown Heights North House Tour!
When? Saturday, October 1. 11am-4pm
Where? The kick off ceremony and breakfast starts at 10:45 at St. Gregory the Great Catholic Church. Brooklyn Avenue and St. John's Place.
What? A self guided tour of nine homes, one church, one community garden and a nonprofit location.
Tix? $20 in advance, available at Barbara's Flowers, 615 Nostrand Avenue and Yanatiba,714 Washington Avenue or on-line from Crown Heights North Association. Tickets can be purchased for $25 at door on October 1st.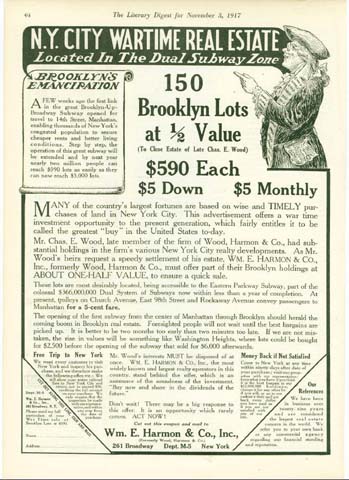 If past-life me knew then what I know now. $590 for a Brooklyn lot. Five bucks down and five bucks per month. Bet that was a lot of money back then. The only thing affordable about these vintage properties now are the ads. Click on the images to purchase or gain more info.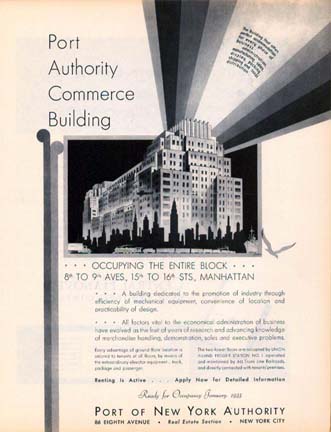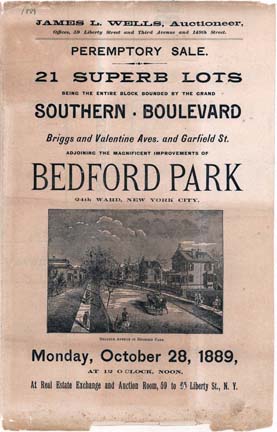 Me and The Moms took a trip upstate for a couple of days last week. We drove the Old 17 Route so we could pass the Red Apple Rest Stop. The Red Apple was THE place to stop before the NY Thruway was built. Back when it took 5 hours to get to Sullivan County. It was still open up until 2007 when it became condemned.
While we stopped to get pictures, there was someone else swinging by to have a look, remembering the place from his childhood. I wonder how many people go out of their way to check out the old rest stop. Could be a great restoration project and business venture.
The number is on the "For Sale" sign below. Just sayin'.
I was just looking back on some old Flickr photos of my Bed Stuy renovation and realized that I never blogged about my fabulous parlor floor hallway. (Nor various other little projects)
That's the before shot you see above. The previous owners "renovated" the house. Oh please, don't get me started. Everything in the hallway was painted a glossy shit brown…the bannister, the newel post, the doors and the molding.
We took the double doors down and stripped and repaired them. They were in pretty bad shape and needed some fill in material. The back door with that badly home made transom was switched out for an antique door that actually fit into the frame.
Ah, but my pride and joy is that newel post! The one that was there when we bought the house consisted of four pieces of plywood boxed together with a Home Depot doodad on top. We found a gorgeous salvaged newel post that would have been original to a brownstone of this era and replaced it with that. The post was stripped and stained to match everything else.
The Victorian light fixture and ornate radiator were also salvaged finds.
This stuff doesn't really take much design skill. It's kind of just like putting back what was taken out.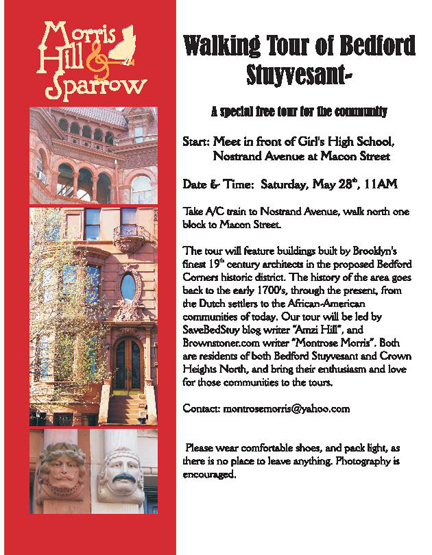 Spending your Memorial weekend in NYC and thinking of things to do? Free tour of Bed Stuy's historic Bedford Corners district, led by "Montrose Morris" and "Amzi Hill" will take place on Saturday.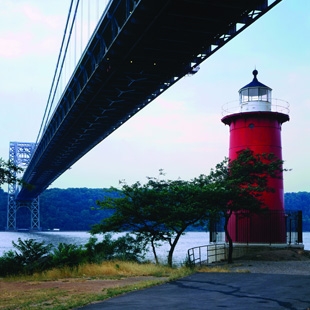 Looking for something to do now that the weather is willing to cooperate? Hey kids, here's an idea that's fun and productive! Visit an old house museum. Get your inspiration from historic homes on a Saturday and start ripping into your house on the Sunday. (Some of these places are only open on weekdays, so you'll have to call in sick.)
In Manhattan. FYI, did you know you can take a tour of Gracie Mansion? I never even considered that. Shipping merchant Archibald Gracie built this "country home" in 1799. It went through a few incarnations, including the Museum of the City of New York, until 1942. Fiorello La Guardia was the first mayor to move into Gracie Mansion.
Also, check out Manhattan's only remaining lighthouse!
In Brooklyn. The Lefferts House has been right under my nose all these years and yet I've never been inside. This is one of the few remaining farmhouses in Brooklyn. The period rooms reflect daily life in the 1820′s and what finer backyard than Prospect Park?
In Queens. King Manor Museum was home to Rufus King, one of the first senators from New York. The house opened as a museum in 1900 and today, programs focus on King's role in the antislavery movement.
In The Bronx. The Edgar Allan Poe Cottage is currently closed for restoration, but I'm including it here anyway because Poe is too cool to pass up. Poe spent the later years of his life in the 1812 cottage. He wrote such poems here as "Annabel Lee" and his wife Virginia actually died in the cottage.
In Staten Island. The Alice Austen House Museum is a Victorian Gothic cottage overlooking the water near on Verrazano Narrows. Austen was one of the first female photographers in America. The museum features Austen's images as well as those of contemporary photographers. Plus, it's a great old house.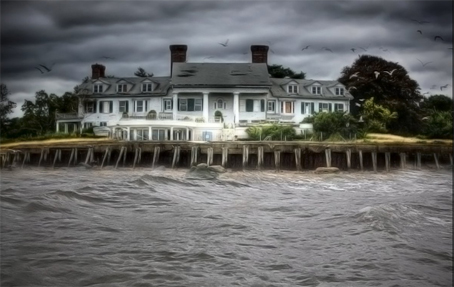 "They were careless people — they smashed up things and creatures and then retreated back into their money."
F. Scott Fitzgerald wrote that about Tom and Daisy back in 1925, but the same can be said about today's throwaway society. The rumored Gatsby mansion is being demolished, just like many of the other Gold Coast homes of the past.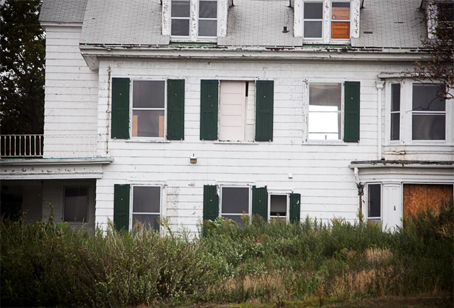 Developers will tear the house down to build a new McMansion. Because who wants the piece of history that inspired one of the greatest Amercian novels when you can have a brand new super sized tacky house?
Clearly Long Island needs to do something about their landmarks and preservation. This just isn't right.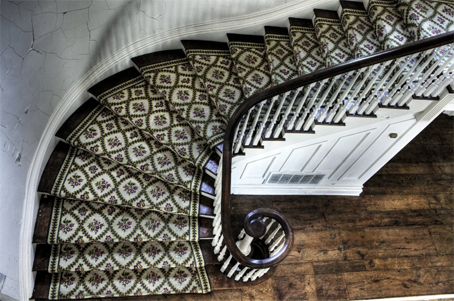 Unfortunately, it's too late for Land's End. The original fixtures have already been removed. Demolition is under way.
Hundreds of Gold Coast historic mansions have been torn down. Perhaps it's a good idea to visit the remaining few before it all becomes a valley of ashes.
Via NY Times
All photos by Jen Ross.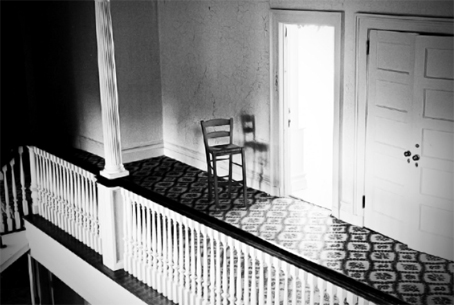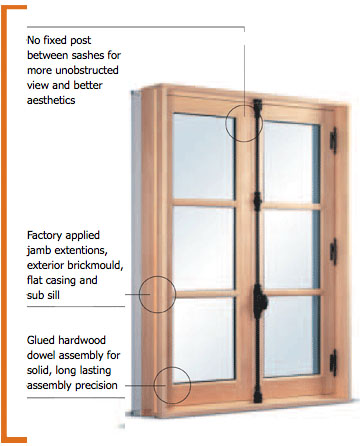 Oy, we knew window replacements would be a pricey pain the arse, but we thought we would get away with 2 quotes tops and be on our way to setting up the next project.
The windows in our brownstone are those horrible 1980′s vinyl type. This winter felt like we left them wide open. They are DRAFT-TEE!
Ok, so here's what we learned about historic-but-not-landmarked windows.
There are two ways to install new windows: Replacement or Brick to Brick. Now, replacement (which is what the vinyl are) would be dead easy and really inexpensive, but there's no point replacing crap with crap.
Brick to brick is the way to go. Why? Because the installer takes out the entire frame and insulates the empty pockets where the window workings once were. Right now, that is what is creating the draft more than the actual windows. An added bonus is that the window will be a few inches larger and look much nicer. More window, less clad.
Fine. Unfortunately, our windows aren't straight rectangles. They have a lovely eyebrow at the top. Yes, it's lovely. But it also means we need custom windows if we want to go back to the original look. Which we do. They will be wood and they will cost anywhere from $2000-$5000 apiece depending on the window location (they vary in size) and who's doing the quote. That is x 7 not including the rear windows.
The rear windows are pretty straightforward and there are no shutter pockets, so it looks like we can get away with replacements. Aluminum or fiberglass is better than vinyl. They can be made with a wood veneer interior to match the front windows.
And what about window manufacturers? Marvin is top of the line and pretty much one of the only companies we can use because of our silly-shaped historic windows.
Kolbe supposedly makes a nice product, not as expensive as Marvin. People seem to poo-poo Pella and Anderson. Pella has a more modern look to them anyway.
The window guy who's coming to do a quote later today was talking about LePage Windows. The Canadian company does custom windows that are less expensive than Marvin. Website looks promising and I'm especially loving the French casement design (pictured above) that won't work in a brownstone.
Finally, the installation matters as much as or more than the windows. You can have the finest quality window in the world. But it ain't gonna keep you warm if it's not tight in the frame.
So, there's your Windows 101. More to follow when we actually buy and install said windows.