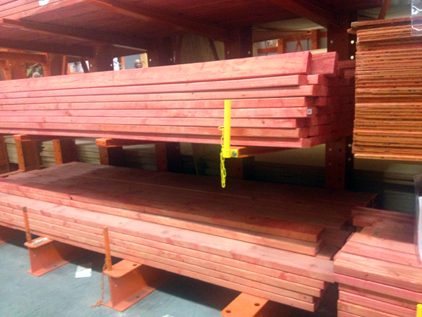 So, I walk into Home Depot the other day looking for pressure treated wood and see all of this red colored wood in it's place. I sez "Wah? It's red!" Turns out this is the new eco friendly alternative to pressure treated lumber. Yes, Home Depot still sells toxic pressure treated. It was just moved elsewhere in this particular store.
The Eco Red lumber is said to be moisture, mold, fire and insect resistant, all without the use of those hazardous chemicals that have made pressure treated the lumber of choice for certain projects. It's also supposedly lighter. Have you ever filled your van with a bunch of pressure treated 4×4's? I have. They are heavy!
After checking out the website, I'm still not really sure what that red coating is, but the company is Greenguard Gold certified for low chemical emissions. Furthermore, the product is made in America. Again, slightly confused as to whether or not it's actually grown here. The site does say that the lumber is sustainable because it lasts longer, but doesn't fill us in on the growth process. It's all a bit vague or perhaps it's just over my head.
In any case, this seems like a better choice than good ole' pressure treated. Also costs a bit less!