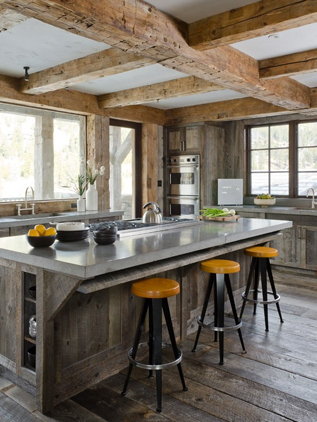 Sometimes a kitchen island is the working hub of the cook's room, including stove and sink, but sometimes it's just a bit of extra counter space. Islands are a great option for kitchens that aren't quite big enough to be eat-in. Stick some stools under that counter and call it a day!
I pulled some pretty pictures for y'all. Ok, for me. I'm thinking of putting in an island. To dish out my restaurant deliveries.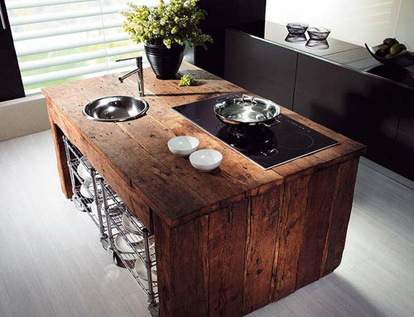 Build it from scratch with some reclaimed lumber.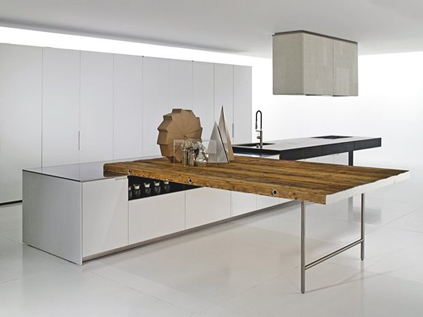 Looks as if the wood counter legs can be tucked away and perhaps counter can swivel on top of other?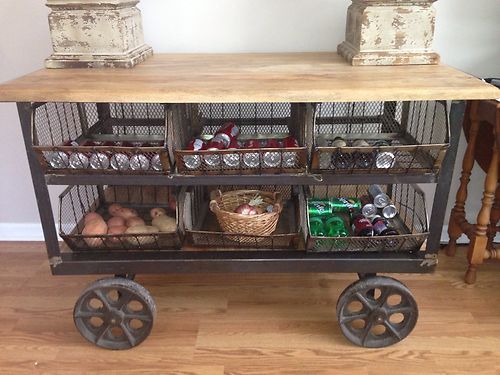 Awesome and way too easy. Of course, it need not be an island.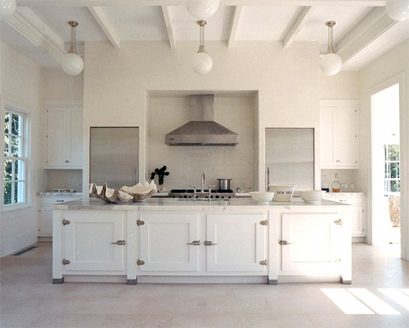 Yes, those are antique iceboxes being used as the base. Yes, that kitchen is massive.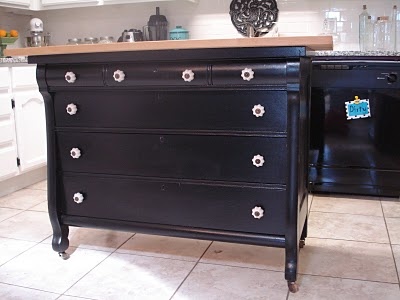 Lookit. ANYBODY can do this. You don't need skills. M'kay? And it's a friggin' fantastic idea.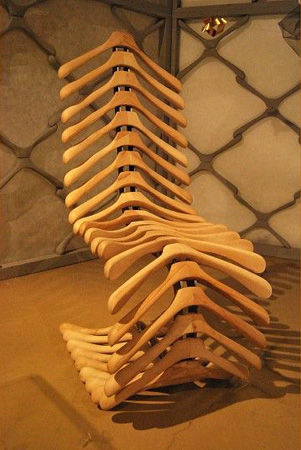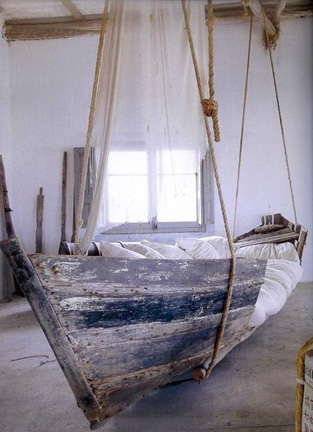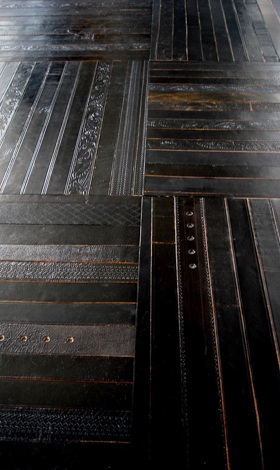 After seeing Big Ang's awesome pink disco kitchen (Yes, I sometimes catch Mob Wives. Don't judge.) I told my husband that I'd love to create some kind of retro funky disco looking basement in Rockaway. He was all like "Leave the damn basement as is." But then I walk into Build it Green Gowanus yesterday and fell deeply in love with this couch thingy. 300 bucks. Easy choice if it was my house that I'm going to live in, but an investment property that is already beyond my budget?
It's just so friggin awesome. Quick! Someone give me a room to design around this thing!
We usually try to stick to local reclaimed wood resources but new advertiser Reclaimed Lumber (see link on the sidebar) has a warehouse in Pennsylvania. That's local enough. Plus, they do ship nationwide.
The wide plank pine shown in the above photo is $5.95 per square foot. That's not bad! The website says that shipping should cost less than $250.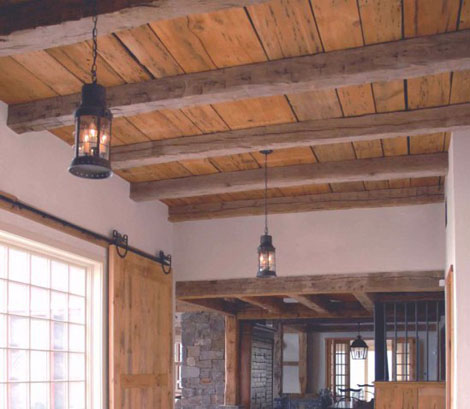 One can get lost on the site. There's all sorts of reclaimed flooring, including pine and oak from barns and wine barrels. But flooring is just the start. There's paneling that's not your grandma's 1970′s wall paneling. Ceiling panels, reclaimed wood furniture, beams, frames and slabs. It's the go-to source for reclaimed wood in any form.
You can buy and sell barns on the site. No sh*t! And old log cabins!
Kind of makes me wish I was restoring an old country home.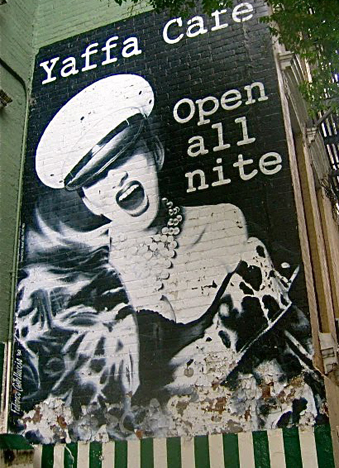 Yaffa Cafe! An old haunt. Vanishing New York
DIY Couch Fix. Brick City Love
The Wedding Planner of Crown Heights. City Room
Rest in Fleece. Wool Coffins. Time
Salvage Worth the Trip to Philly. Casa Cara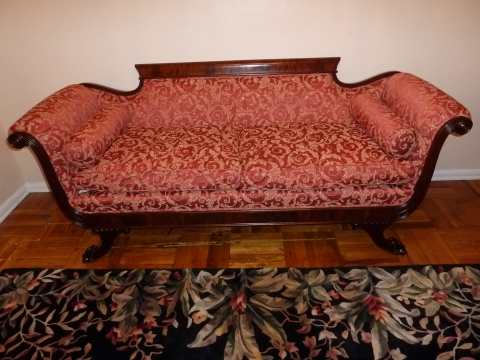 My Blue Sofa is a new online marketplace for anything home related. In fact, it's so new that it's still in beta.
The website is easy to work with and pleasing to the eye. Images spring up along with the categorized listings. It's more like shopping with Etsy than Craigslist. You can even pay via PayPal and get info on the seller if they supply it.  So really, it's not like Craigs at all. I should stop with the comparisons now.
These are a few of the listings I spotted.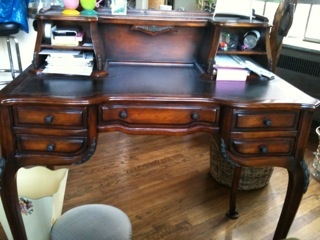 Theodore Alexander desk. $2000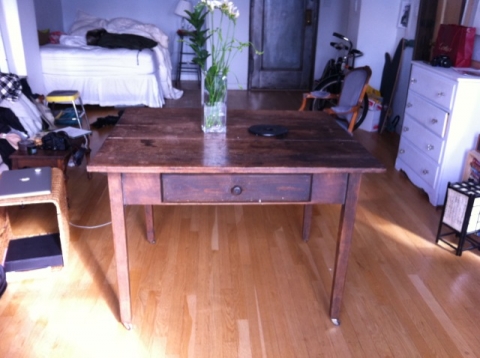 Early 1900′s Farm Table. $275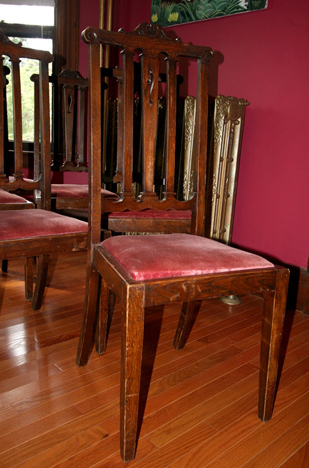 Oh, look at that! How did those chairs get in there? Yeah, they're mine. They never really matched my Eastlake dining room table, so I'd like to get rid of them. 1800′s from Britain. I'm asking $600 for the set of 6 but will take best offer. Come on Monty, let's make a deal!
Top photo is a fully restored Empire Duncan sofa for $3500.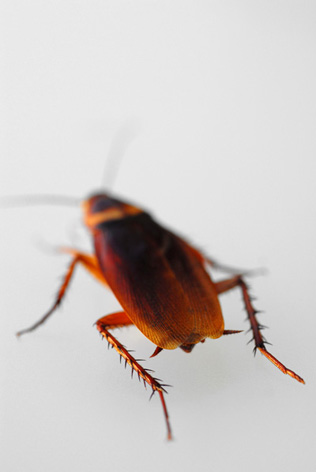 What happens when a photographer/design consultant teams up with a furniture designer and reclaimed timber expert? "Made of New York" furniture happens.
John-Michael Ekeblad is the photographer. He builds the frames around the images as well. His work is snippets of NYC life. The cockroach is kind of our mascot, isn't it?
The reclaimed wood furniture is pretty awesome. Prices aren't crazy for the quality of work and materials.  Just check out some of the stuff for yourself!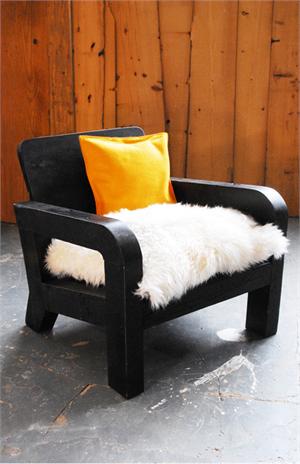 Black armchair: $1150.
Dining O-Stool: $290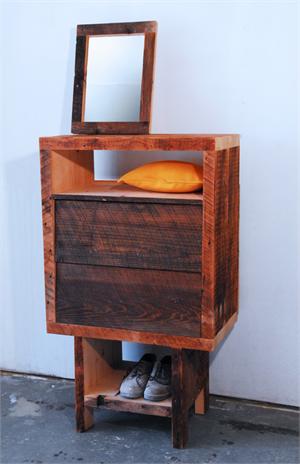 Dresser: $990.
Via Cool Hunting.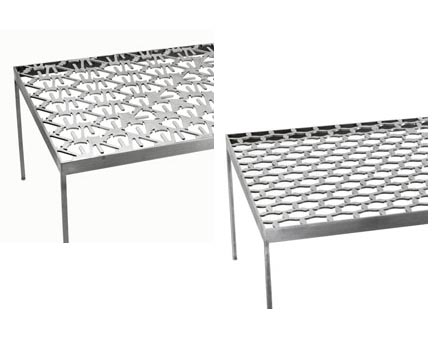 I actually hauled my tuchus back to the Brooklyn Flea to hawk my wares last Saturday. I did get a chance to wander away from my own booth for a few minutes to check out some other vendors.
My "Wow, that's impressive!" award this week goes to Scott Behr of TMRnyc. TMR is a metal work company. They do design, welding, machining, laser cutting….everything metal. And yes, much of it is recycled!
The "Swarf" tables above are re-purposed industrial scrap. At $2360 they are out of my price range, but if you have the bucks to spare, consider this: An elephant could sit on those tables and not break them (maybe).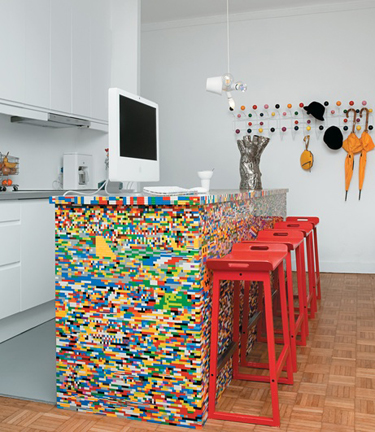 When I was in DC last weekend, I visited the National Building Museum. Very cool place, but my favorite thing was the Lego exhibit. I was all like "Wow, I want to build Lego furniture!" So here are some images I found when searching for ideas.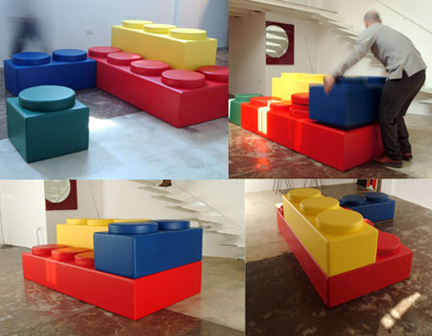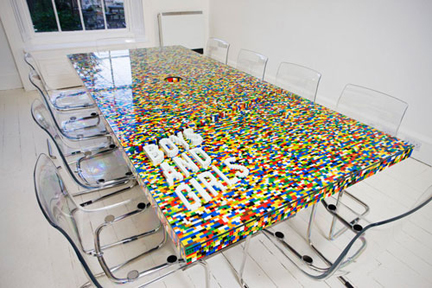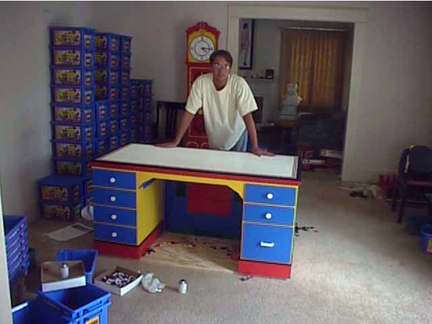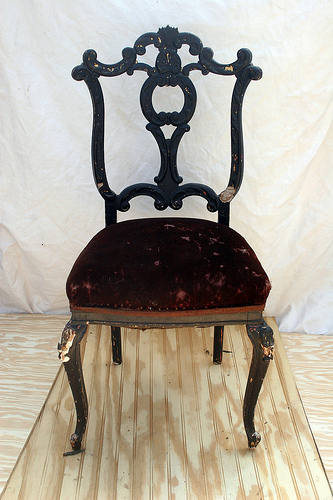 Over the weekend I started pulling furniture out of my garage to get ready for the yard sale. I set up a little makeshift outdoor "studio" to shoot the merch.
It's kind of cool how the chairs almost seem lifelike as they sit waiting for some tlc. All of them are old and raggedy and have seen better days. The chippy paint and cracks are like human wrinkles that tell the story of life's experiences.
Yeah, I know it's a load of crap. I'm just too tired to write anything else.
So….The Beacon 2 BK Moving Sale is this Saturday, April 10th. 10-5pm. Sure, come early, but that means we're putting you to work hauling things. Don't think you're gonna come early to shop, bee-atches!
Address: 1189 North Avenue. That's Rt. 9-D, south side. Park around the corner as there is no street parking and this is a driveway sale. The house is walking distance from Metro North and we may just be open to delivery.