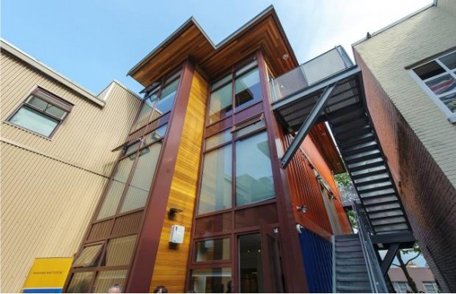 Housing in New York has become so expensive that it's time to think of some outside-the-box options. Being an old home lover, it's always been my ambition to rescue broken abodes. But what if it's too far gone? What if it's actually a tear down? What if building on an empty lot is more affordable?
The building or even renovation process in NY requires going through a lot of red tape. Although I haven't researched local specifications for pre-fab homes, I know that even developers are going modular. Shipping containers? Might not be to code right here in NYC but they are worth looking into.
The photo above, via Jetson Green, is actually an affordable housing development in Canada. It would not look too out of place right here in brownstone Brooklyn. Definitely better than some of those other new builds.
Each unit costs $82,500 and the entire process took about 8 months to complete. This building, as with many other shipping containers, exceeds the code requirements for insulation. You were asking yourself about the insulation, amIright?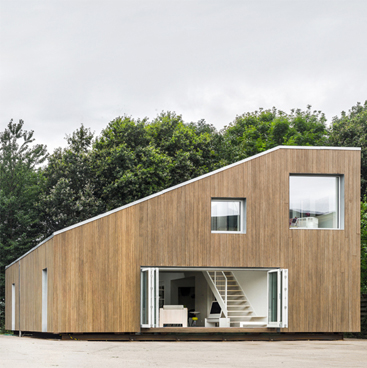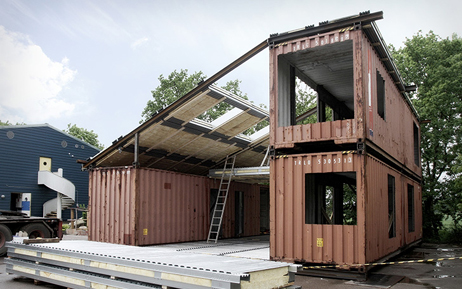 Yes, my friends, the house above is a shipping container home. It's actually three shipping containers located in China designed by Arcgency for World Flex Home. Be sure to hit that link and check out the interior shots.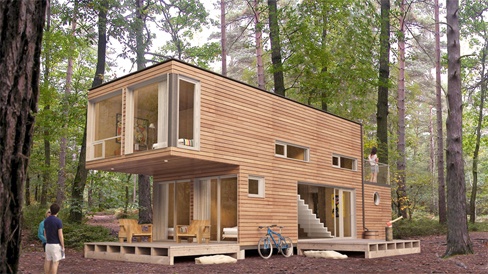 You can purchase the "Hela 1280″ Meka modular house right online for $189,200. This is the largest and priciest of their homes at 1280 square feet. A 320 square foot home goes for $52,500.  The website says it takes 7 days to assemble and that includes everything except city water lines, electrical current and foundation. Of course, it does not include dealing with the DOB. Let's also not forget that shipping the shipping container may cost as much as the actual house. The company ships worldwide with the headquarters being in Canada.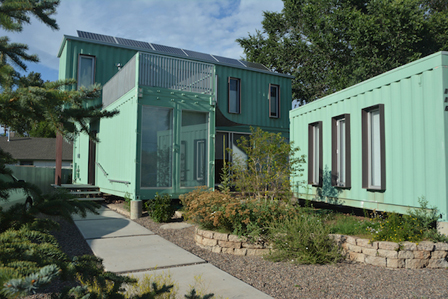 If you're saying "None of these look like shipping containers." well, here's one that does. The six container home was actually designed by students (friggin' exceptional kids who aren't drinking their youth away) and took two years to build (Ok, not THAT exceptional). The home boasts concrete floors, a roof deck and some exposed container interiors. Do check out the other pics, especially the exposed steel beams and support columns. It's industrial looking yet totally homey and warm.
Ugh…and now I think I just found a new obsession.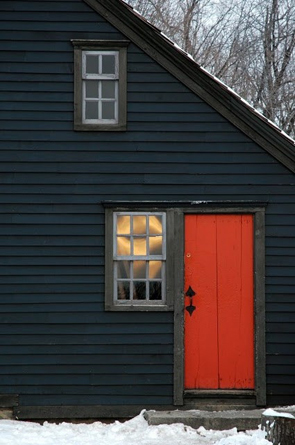 Black. Orange. Black and Orange. It works any time of year. Happy Halloween! Boo!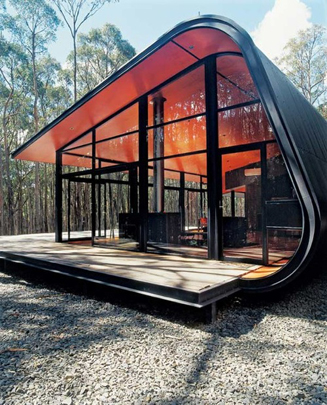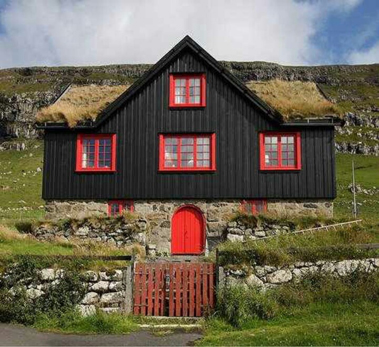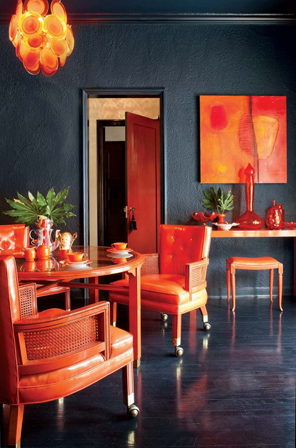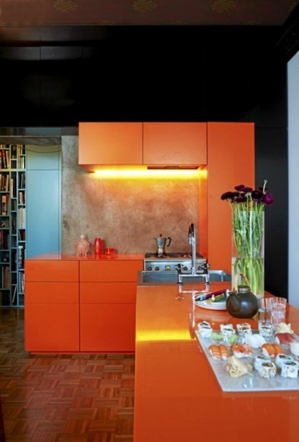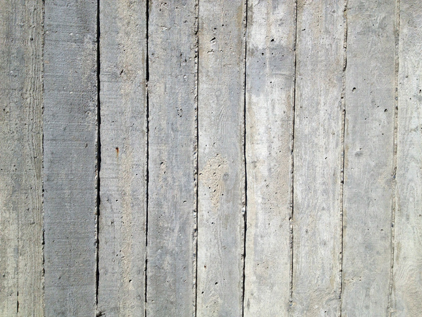 Wood is the esthetic building material of choice when it comes to fencing, floors and decking. The problem with wood is that it starts to wear down after time. Longer lasting options would be Trex, laminate or PVC fencing to name a few. It just feels wrong to replace a natural material with plastic. *It should be noted that Trex is mostly made up of recycled materials.*
We don't always think of concrete as an alternative to wood, but it's stronger and lasts a lot longer all while looking more tasteful than other synthetic options. Think of polished concrete countertops and floors.
Unpolished concrete is easier to DIY for the less skilled laborer and can end up looking just as fabulous. As with any concrete job, the form would have to be built, concrete poured and form removed when dry. The "wooden fence" above was created by such a technique. The bad news is that it's the double the amount of work as installing a wood fence. You basically have to construct two fences and pour the concrete in the middle. If only one side is to be seen, you can cheat with a sheet of plywood on the hidden side. When the wood is removed, voilà, you have a "wooden fence" made out of a material that will last a lifetime.
Concrete can be tinted and let's not forgot that it's a fairly inexpensive material. Although controversial for the sake of nostalgia, many wooden boardwalks are now being replaced by concrete.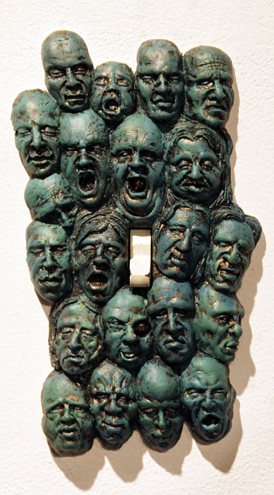 Every now and then you come across some real talent on Etsy rather than someone who's handy with Mod Podge. Case in point is this sculptural switchplate above. $30 buys you a functional piece of art from Rusty Ventures.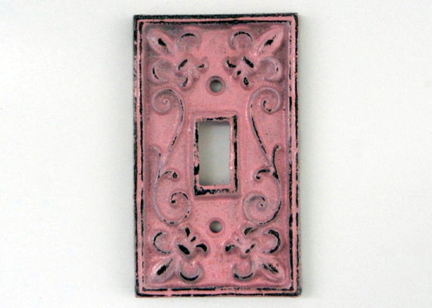 Pretty in pink hand painted, distressed and protected cast iron plate. Ten bucks from Juxtapositionsc.
$15 from Vermont Slate Art. This toggle switch is made from recycled slate roof tile. They also have marble and granite, but IMHO, this is the nicest.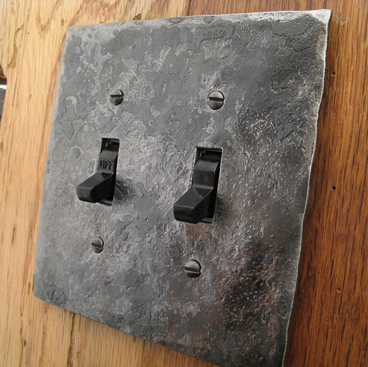 Hammer textured hot forged steel from Black Turtle Metals. This plate will last a lifetime for merely $20.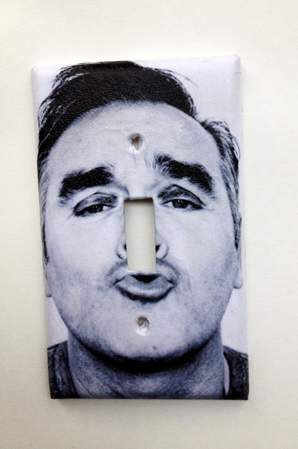 And what switchplate collection would be complete without Morrissey? I tend to shy away from the glued image plates because they start to look raggedy after a while, but you can't go wrong for eight bucks. You probably paid as much for your beer last night. From Gingersnap Press.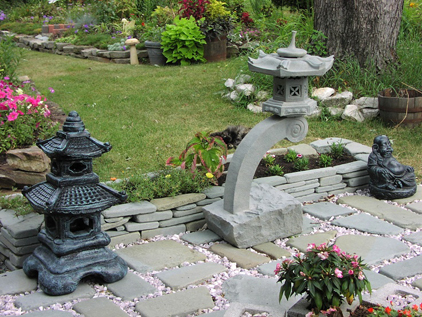 The Rockaway house has been finished and occupied for a few months now, but there's still some important items that I've been ignoring while I take a much needed break from renovations.
The most pressing issue is the lack of drainage in the backyard. Since Sandy, everybody's drains have been backing up due to all of the sand and debris that got down there. With each heavy rain, we get the added bonus of a swimming pool in the backyard. When we opened the grate to clear the blockage, we discovered that it is not a drain after all. It's just a pit. A clogged pit at that.
The options are to either connect a drainage system to the sewer line or install a sump pump. Both options would mean digging a trench and would require some lite plumbing. Furthermore, the pump would need electric or an underwater battery back up to work, so if there is another massive storm, it would be useless.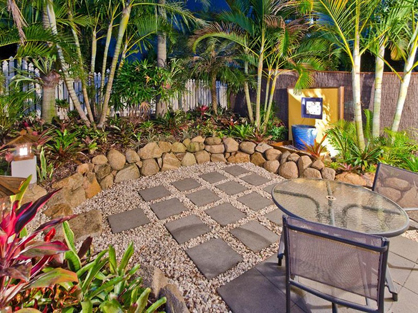 I'm no flood specialist, but I came up with a third solution that feeds two birds with one scone. It's sort of french drainish but covers much of the yard. The yard is butt ugly right now, covered in crumbling, chippy painted concrete. The pitch leads to a small "drain" in the middle and as I mentioned, the water has nowhere to go. It's just a pit.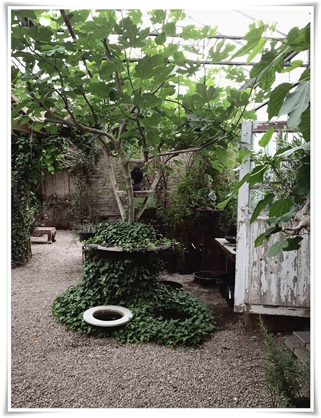 So, my solution would be to break up the fugly concrete and make a much larger pit. Sand below pebbles or stones. It doesn't have to take up the entire area, but a 4′x4′ pit would be better than a 4″x4″. I even have some leftover blue stone in my Brooklyn backyard, so I can purdy it up with that a bit.
It may not be the correct thing to do, but it's gotta be a helluva lot better than what's there now. Photos are just inspirational design ideas.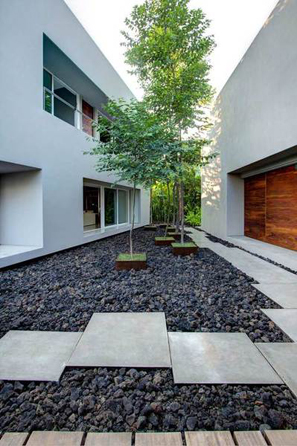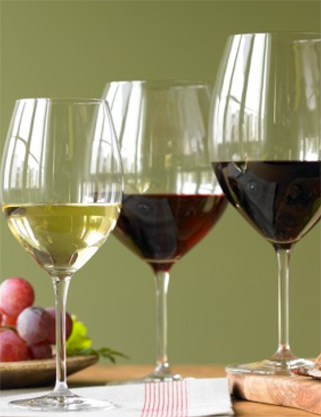 This household does not have a good history of retaining wine glasses. In fact, we go through them as if they are disposable. Luckily, a six pack of Ikea wine glasses cost only a bit more than a grande latte, so it hasn't put us in the poor house just yet.
But let's face it, breaking glass is not only annoying, but going through so many glasses is not eco-friendly. So, I'm thinking of foregoing the Ikea and investing in proper unbreakable glasses. When I say proper, I don't mean plastic. And when I say plastic, I don't mean party glasses you get by the package at Costco. They do make high end shatter proof wine glasses out of plastic that look gorgeous online, but I just can't.
So, glass. Not many options, but I did come across a couple.
Hercuglass claims to be five times more shatter resistant than regular glass. Notice that nobody is saying "unbreakable". The glass making process is related to that used to strengthen aircraft windshields and iPhone covers. Prices are not bad at all. Well under ten bucks per glass. I can live with that. Plus, many of the styles are made in the USA.
The Korin Ion Strong wine glasses are manufactured in Japan and meet European standards. There is only one distributor in the US which is probably why a set of six will set you back $150. Still, if they last a good many years and offer prevention of slitting your big toe on a piece of broken glass, perhaps it's worth the splurge.
Priced right down the middle is the Schott Zwiesel series of wine glasses. This Tritan lead free "crystal" design uses titanium in the strengthening process. This is a German based brand and let's face it, those Germans know how to make a good product. Priced at $60 for a set of 6 online, they also sell for slightly more dough at retail outlets such as William Sonoma and Pottery Barn. The wine tumblers are under $50 and they will probably last twice for those clumsy folks who knock over the stemware.
Check out this Dr. Vino article for some more options and reviews.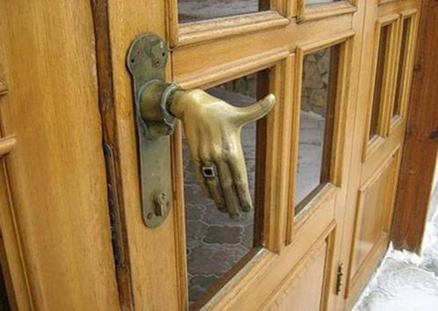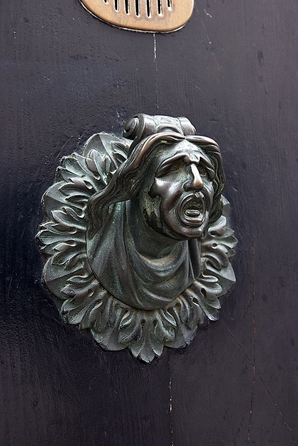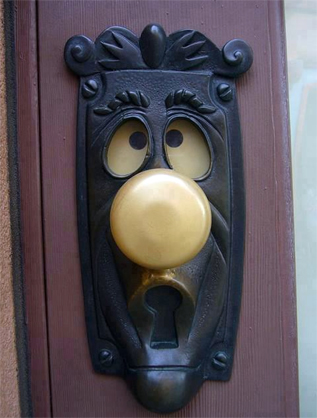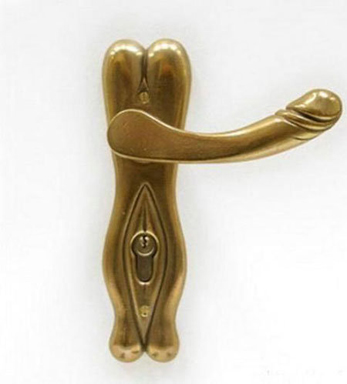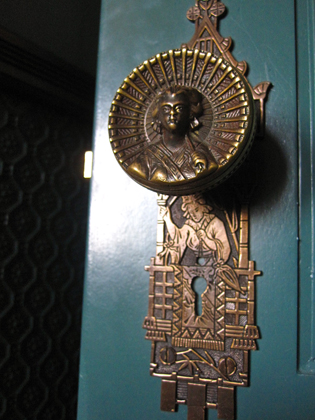 Always bring your phone or camera into the public restroom with you. You never know what you might find. This is the ladies' room at Chavella's. Love the use of old shutters and the fountain sink with penis-looking faucet.
Happy Indie Weekend, y'all! Does everyone have a nice long weekend planned? Yeah, enjoy. I'll be working.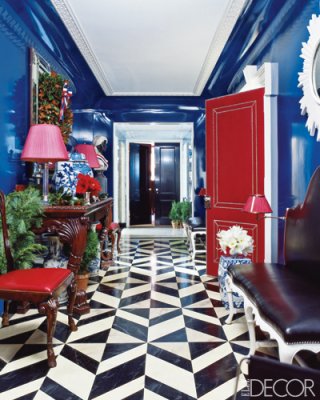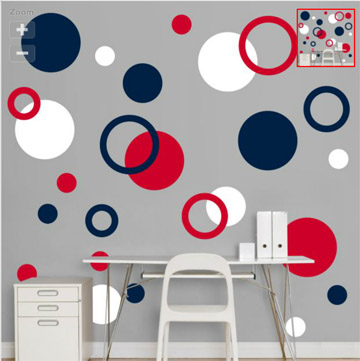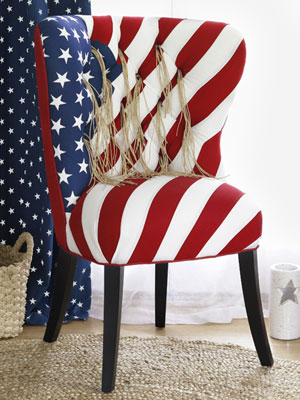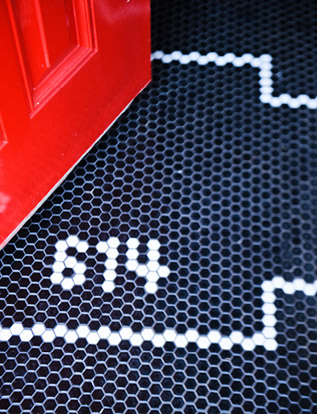 The kitchen cabinets that remained in place during the entire renovation got a fresh coat of paint on the outside. But ah, the interiors were still nasty. They were skimcoated and primed but that still wasn't doing the trick.
Why yellow gloss? I had it in the house. It looks soooo much for fabulous than boring ole' white. And it totally goes with my Mexican theme.
Oddly enough, I came home last night after painting and prepared fajitas for dinner.
The Rockaway upstairs apartment is now ready for it's (not so) close up! The original goal was to start showing by the end of May. (The original original goal was to have the house sold by the end of 2012, but we all know how that worked out.) Ok, so this new deadline was somewhat delayed due to the fact that I mistakenly decided to have a life and go away for Memorial Day weekend. But whatev. I'm back up to speed.
I wish every room could be as interesting as doing a bathroom or kitchen. Remember my original pink bathroom that I was determined to keep? Well, it has been resurrected! Still on the to do list: vanity pulls, scrape paint off door glass, lock set, stain saddle and a few other things that don't show up in the photo.
The decision to do a Mexican kitchen was born when I found the ceramic "terracotta" tiles at a Habitat Restore. The upper cabinets were there when I bought the house. Because of my not-so-great planning skills, the fridge, which was originally for the downstairs kitchen, was moved up here because it was too wide. It was meant to go on the opposite wall but proved too big for that also. I ended up tearing down some more cabinets to fit it in that corner. It works so much better there, but now I have to move an outlet. To do list: Move outlet, cabinet pulls, replace broken stove knob, switch plates.
This is the living room. I stuck the chair in the photo because it looked so empty, but now it looks even more sad. To do list: Hang crystals from light fixture, re-coat window trim and inner white, switch plates.
This is actually the small front room, but it looks bigger than the living room in this photo. It can be a second junior bedroom, an office or child's room.
The main bedroom is Manhattan sized also, but it has a room off of it with a closet that can act as a dressing room. Nothing at all interesting about this corner photo. I just wanted to show off yet another vintage light fixture.
Related: Apartment One
Here are some "before" shots…
Front Room
Living Room
Kitchen
Pink Bathroom
The Mexican kitchen in apartment #2 is coming together! Backsplash by eBay. $60 including shipping.
I decided to go Mexican when I found fake terracotta (ceramic) floor tiles at a Habitat for Humanity. FYI, 25 bucks. But then I ran out of them. Oops. Anyway, that set the theme for the entire kitchen.
The eBay tiles are mismatched, as you can see. Included in the box of 100, there were about 3-4 design repeats. Some are meant to be patterns that make up a single design but that design can't be completed. Because they are handmade, none of them are the same size, which makes for uneven grout lines.
If consistency and perfection is your thang, these tiles ain't for you. If you likey, just punch in a "Mexican tile" search on eBay and you'll have a nice selection to choose from.
There are also these Mexican tile resources from an earlier post.
The same pink bathroom that sold me on this house was the very thing I had to say goodbye to during demolition. I vowed that I would keep that bathroom pink by any means necessary and I'm keeping my promise.
As you can see from the photo, the tub has been saved. It was touch and go for awhile because I wanted to move the shower body over to the far side of the toilet, getting rid of a wall that blocked the window. That means the drain is on the opposite end of the faucet. Since one side of the tub is against the wall, there was no turning the tub around. I started to search for right side (or is it left side?) pink tubs but then I said "Fek it. So the drain is on the wrong side." That cast iron is too heavy.
The only pink floor tiles I found were pink and white and since I wanted a pink and black bathroom, I decided to pick up these Home Depot black and white mosaics which will make the pink pop. BTW, Weisman's Home Outlets carries retro pink and white floor tiles as well as 4×4 wall tiles.
I cleaned Build it Green out of their pink 4×4 vintage wall tiles. Got about 300+ tiles and still have about 250+ more to go. Astoria and Gowanus tiles have slight color variations so I'ma gonna have to mix and match. Now I can't buy new pink or black to match because of the thickness.
The pink toilet that was salvaged from this bathroom will be installed once the grout is applied.
Looking for a vintage dresser today to act as the sink vanity. This bathroom will be screaming 1950′s when I'm done. A far cry from the Victorian bathroom downstairs. The one that has been too messy to take pics because it's actually in use.
Why didn't I stencil that clawfoot tub I put in the bathroom? It's not too late. Love these!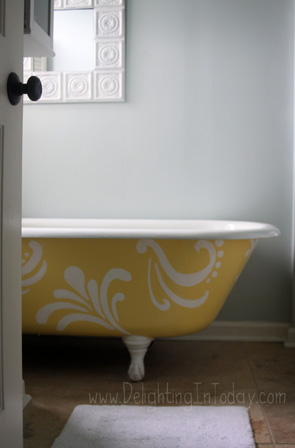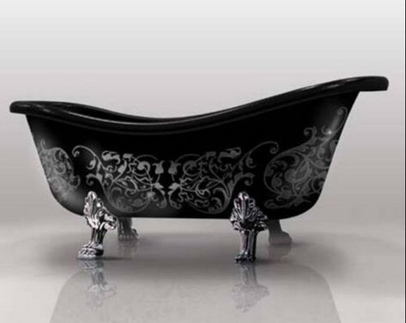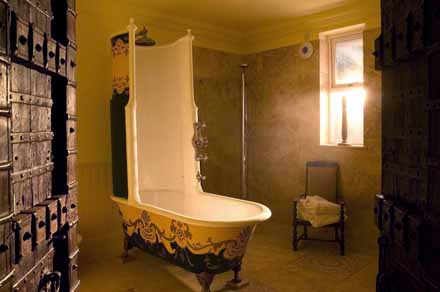 Before there were Ikeas and Targets in NYC, National Wholesale Liquidators was the place to go for inexpensive home goods. Right there on Broadway just a touch north of Soho ("Noho" my ass) was a three level megastore of savings.
NWL still exists in three boroughs and out in the suburbs. Hey, it's the type of place where a car comes in handy to schlep all that merch anyway.
Although not quite as stylish as Ikea, it's a great place to hit if decorating on a budget. They carry a decent selection of table linens, bath accessories, curtains, rugs and bedding.  They also stock kitchenware and small appliances as well as large furniture.
Don't need home goods? The New Jersey store even has a full supermarket and wine shop.