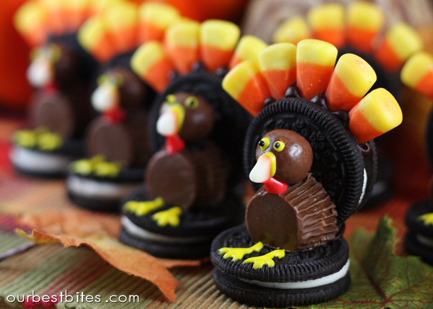 Hey kids! Here's some fun, edible goofiness just in time for Thanksgiving. These desserts, place settings and center pieces are all tasty and cruelty free. Some are even good fer ya! Click on each image for the source and how-to, but remember not to go nuts with directions. They are all easy enough to recreate with your own special touch.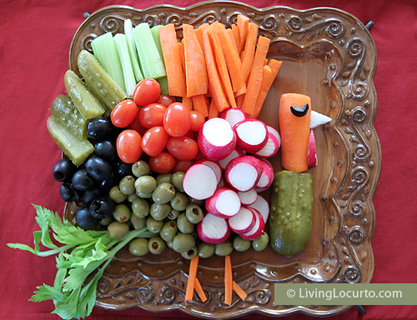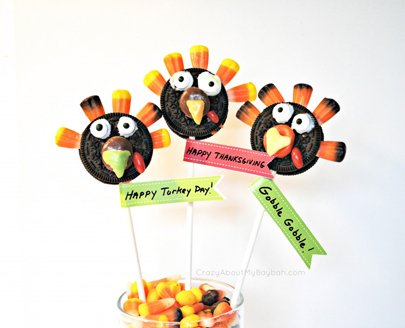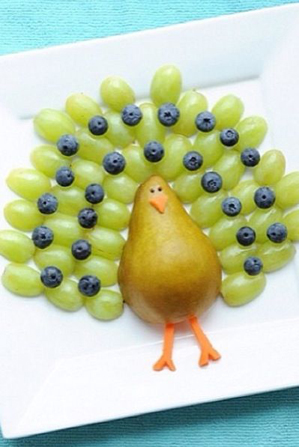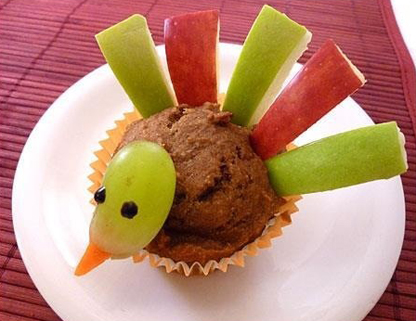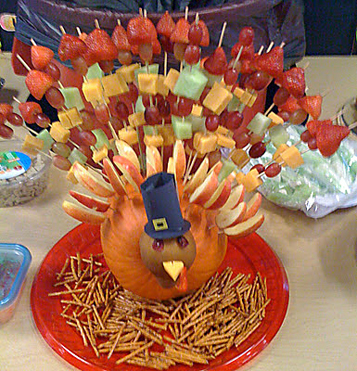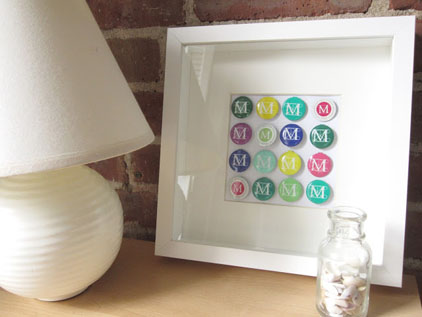 The Metropolitan Museum is giving up on their iconic admission tags. When I worked at The Met for whole three years of my life, I saved all of my buttons if I didn't give them away to visitors as a form of recycling. Admission to The Met is now, as it has always been, "suggested" so you can give a penny and get in. Lots of people don't realize and pay the full amount. Not that there's anything wrong with that, it's a great institution that should be supported if the money is there to give. I just happen to believe that art should be available to everyone and I wish that every museum would have a sliding scale. Hear that MOMA?
So, the tags. This post was meant to be about all the lovely museum admission button art created by folks over the years. Surely if I was making earrings and bracelets out of them (it was the 80′s), everyone else is doing the same. Not so much.
I only found a handful of creations online. Very disappointing. WTF, people?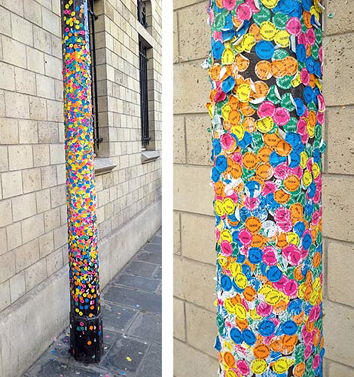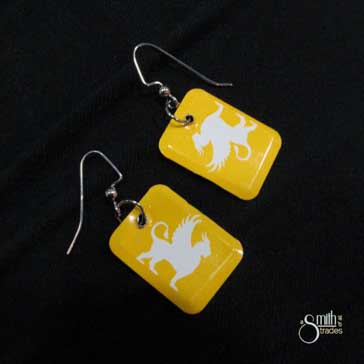 With a tight budget and desire to recycle building materials, I actually wanted to keep the hollow Home Depot doors that came with the house. Only a handful of them are still in good enough shape, but I thought it would be nice to think of them as blank canvases and make each one into a work of art (or some kind of crafty process).
The closet door above was the first one to get all gussied up. The chipping paint revealed some beautiful turquoise that must have been there since the 40′s or 50′s. That was a keeper. What to do with that? I thought of those signs I found in the bathroom floor during demolition and decided to recreate that.
The paint was chipping off in big chunks, so scraping was a breeze.
DIY is pretty simple. Just get some tape and stencils. Oh, and paint.
As someone without patience, I didn't use a straight edge or pencil lines. It's recommended though. I also hand-held the stencil letters and went along to the next one without waiting for them to dry. Yeah, it smears. Don't take DIY tips from me.
Didn't have arrow stencil so the arrows were brought to you by the letter "I" and some tape for the point.
Funny story. This particular door faces East/West and the bay and beach are North/South, but I didn't want to do up and down arrows.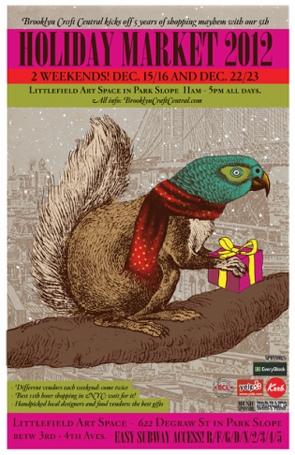 Looks like this apocalypse thing ain't gonna happen so that means you're still on the hook for gifts. What's better than a locally hand-crafted one of a kind gift? The fact that you're supporting local indie vendors.
If you only have time to hit one craft market, you can't go wrong with Brooklyn Craft Central's Holiday Market 2012. Curator and promoter Deb Klein works her ass off to make sure these shows run smooth as butta for both shoppers and vendors. I know because I was one of those vendors back before I gave it all up to work on big projects.
Brooklyn Craft Central will showcase about 70 vendors this Saturday and Sunday at Littlefield Art Space in Gowanus.
Williamsburg's Artists and Fleas has a pop-up shop running at the Chelsea Market in Manhattan. They are open daily through the end of the month, minus Christmas Day. The Williamsburg location will also be open this weekend.
Also in Chelsea Market is the Jingle Holiday Pop-Up Shop.
Over in Queens, there's Astoria Market's Last Minute Shopping Extravaganza at Bohemian Hall and Beer Garden.
Then there are always the old standbys such as Union Square, Brooklyn Flea, Grand Central and more. For a full list, visit Markets of New York.
Happy shopping!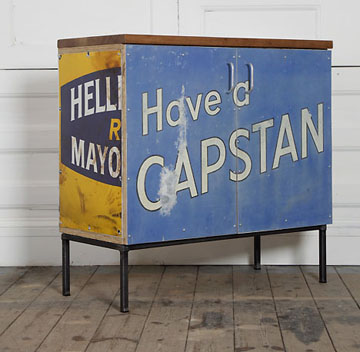 Hey kids! Here are more ways to save those pieces of furniture from the landfills. Plus, your friends will envy you for your kick-ass creations!
Idea #1: Plaster some vintage signs on that sh*t.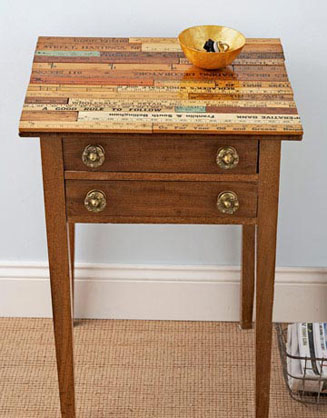 Idea #2: Old rulers and yard sticks! I've made frames and small pieces from rulers but never thought to do an entire surface. Pretty cool.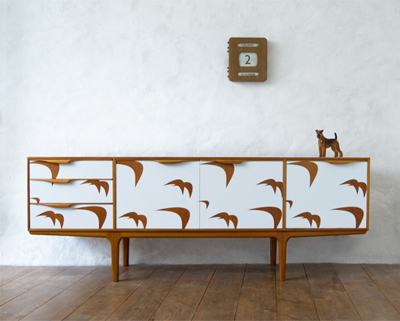 Idea #3: Laminate. Gorgeous laminate. I wouldn't even know where to find stuff like that.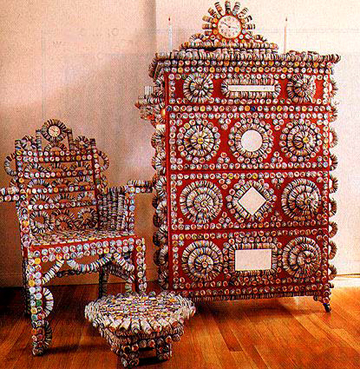 Idea #4: Got time on your hands? Bottle cap it.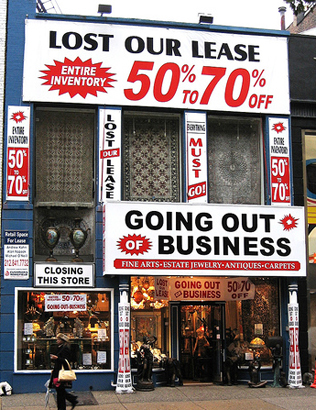 Since I'll be graduating from reinventing small items to entire houses, the Reclaimed Home Etsy shop is getting phased out. You won't see me at fleas or crafts fairs either, not that you have in a long while.
So, listen up. I'm having a "Movin' On Up" Etsy sale. Everything is 40% off. If you're local and want to rummage through my handmade merch and vintage goodies, I may prefer that to packing hundreds of boxes filled with $5.00 items. Load a box of goodies and get it for a steal.
For other vendors, there are also crafting and upcycling supplies, packing materials and event supplies like a usable but broken tent and some tables, etc.
The original plan was to have a big stoop sale at the end of June. I'll probably still do that but I thought a smaller, invite-only thing would be a nice lazy start. Say, next weekendish? Drop me a line or leave a comment and I'll see if I can open house for a few people at one go.
This past weekend I participated in Build it Green's Crafted at the Canal in Gowanus. 'Twas really nice to take part in a show where all of the goods were made out of recycled materials. Not only that, but it was my first time in BIG's new Brooklyn location. OMG, it is huge! I'd say that have it only about 30% filled with used building merch as they only moved in about a month ago.
Anyway, back to the craft show, which will be happening again this weekend: Dec. 17th & 18th. 10am-5pm.
WoodKnot Design is a couple of extremely talented guys who know how to work old wood. It's obvious the photos depict items made out of antique shutters and doors, but the medicine cabinet above was once an old swing set. Always impressive to hear about the past lives of objects.
Bespoke Glass Tile gets a percentage of it's glass through a commercial recycling resources, including Build it Green. They are a green company, right down to their shipping supplies and web host. Ellen and Lesley create beautiful glass tiles for backsplashes and house projects, but I love their gifty tile creations made out of cabinet doors and sewing machine drawers.
I was severely crushing on these recycled t-shirt pillows by Tura Lura. This talented chick does gaw-geous crocheted and embroidered jewelry too, but she had me at hello with the old shirts. Darth Vader? Awesome. Superman? Who doesn't want a Superman pillow?
So, y'all should swing by this weekend to support these and many other upcycled vendors (including myself). Need more persuading? Check out what Build it Green has on hand….
There are only 53 days left until Christmas! And Hannukah starts even before that! Here are some lovely upcycled Etsy pieces for the home.
The garden faucet wine stopper from All Things Reconsidered is less than 15 bucks ($14.99 to be exact).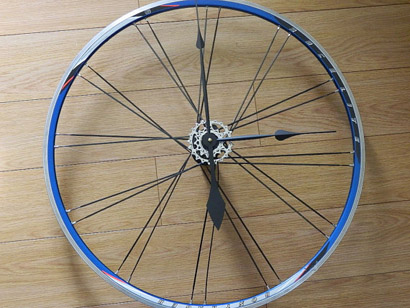 Howzabout a wall clock for that cyclist in your life? $149.99 from Upcycled Bicycle. Say that 10 times fast.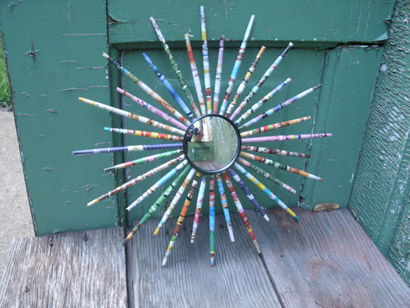 Swimming Deep created this starburst mirror out of recycled magazines. $25.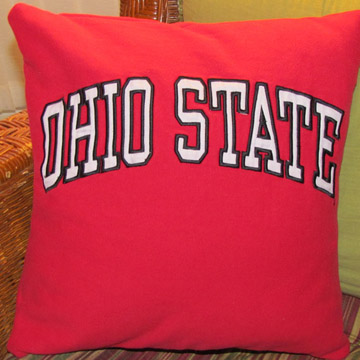 Chic Retro makes pillows out of old sweatshirts. You can send her your favorite old shirt and voila…a pillow! $19.99
Yes, I'm a ho for Plastics Make it Possible. Those dudes along with Ogilvy PR sent me down to the Solar Decathlon and the inspiration I got from these kids in the competition is the gift that keeps on giving.
Ok, so check out the light fixture used in the Purdue University home, which BTW, took second place. Not too shabby. I don't know how much they did from scratch, but if they started with 4 pendants and built the lucite shade, then they would have built the frame and drilled holes in the lucite to attach the bolts. I'll bet you can find something similar with a clear shade. The beauty of this is the sand. Yes, that's just sand.
All you have to do to make one of these babies is tape the edges and find a clear, non yellowing adhesive. I'm guessing a spray adhesive would work brilliantly. But here's the thing. Why stick with beige? You can do any color sand. Make it a red light, Roxanne. Or!! You don't even have to stick with sand. What about recycled glass? Recycled multi-colored plastic bottles and such on the outside of the lucite? Or recycled crazy straws? That's crazy fun! Use heavier glue for these. Are you getting the picture?
The LED backlit panels used by Appalachian's Solar Homestead rocked my world. They weren't the only ones to use these acrylic sheets to set mood lighting, but they were the only ones I got a picture of. Seems an easy enough project. Run your lights and cover them with translucent plastic sheets. Get creative with it by framing and hanging "light boxes" instead of covering the entire wall.
The back splash above was in the City College of New York Solar Roof Pod. (Woot! Woot!) To be honest, I didn't catch what the materials are. I'm going to guess that it's Corian or another acrylic solid surface material with glass inlays. Easier and less expensive than buying a sheet of Corian would be to make a resin backdrop and set in the accents instead of cutting into the piece. Remember that you can work on a horizontal surface and hang it once dry. If you're going with resin, the possibilities are endless. I happen to love the clean look of this one, but remember my resin countertop? It could easily be a backsplash.
So, there ya go. Tomorrow I'll show you some fun wood projects. But just one more word on plastic. I could not have made it through the rainy weekend without the following two items keeping my feet and pants dry. So, thank you again, plastics, for making it possible to stay comfortable on the nastiest of nasty days.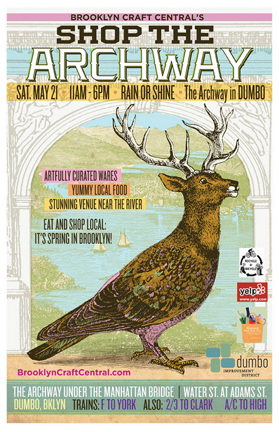 Brooklyn Craft Central is holding their first ever outdoor market. The curated fair will play out tomorrow under the arch in Dumbo, hence the name "Shop the Archway". There will be something for everyone and I swear I'm not just saying that.
Shopaholics!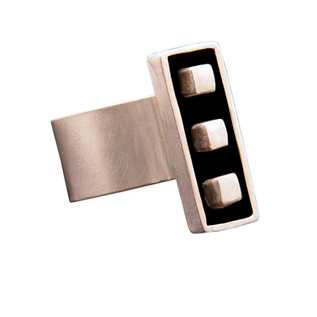 Gawgeous handmade jewelry by Victoria Stevens . That Lego ring is ta die for!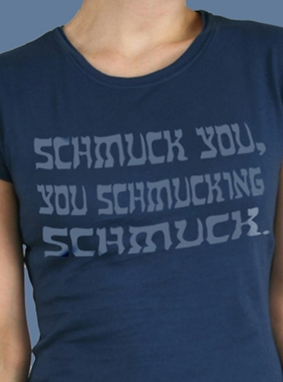 Witty witticisms by our favorite t-shirt gal, Miss Wit. She'll be set up right next to us (oh yeah, Reclaimed Home will be on the job) and we'll entertain you if you stop by. Promise.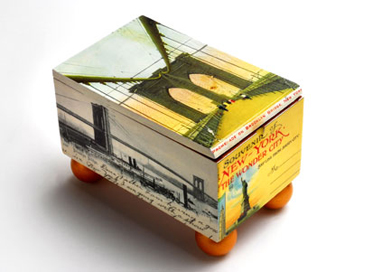 Marlene's Lost and Found will have their decoupaged antique postcard boxes on hand. Love.
Animal Peeps!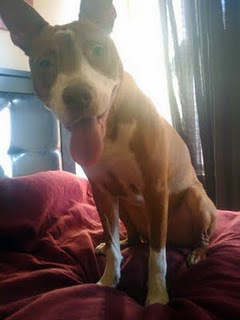 Money raised selling raffles to win items donated by vendors will go to Ready for Rescue, an organization that helps pets in kill shelters.
Foodies!
Yeah, don't worry. They've got you covered. How does lunch by Hermelinda of Puebla sound? Followed by chocolate truffles from The Chocolate Swirl? Mmm, chawcolate!
Music Lovers!
Bands will be holding acoustic performances throughout the day to help promote the upcoming Brooklyn Indie Music Fest in September.
Kids!
A crafting table will be set up for the little ones to enjoy their day while you're eating your food, bopping to your music and buying yourself little gifts. Kiddie crafts brought to you by the fine folks at Poloppo.
All this fabulousness takes place on May 21st from 11-6, rain or shine.

So. Tomorrow. Dumbo. Arch. Be there.
Did you know there is an Upcycle Magazine? I do now. The site goes over how-to's, products and ideas. It is a tad heavy on the Etsy crafty stuff, but there are some great ideas for the home and garden. "Bigger projects" as I like to call them.
Looks as if the site launched in 2009 but the content in the archives isn't too overwhelming. In fact, I wish there was more.
Well, since a picture is worth a thousand words, I'll shut up now and show you. As always, click on the image link to learn more.
Via Best Green Blogs.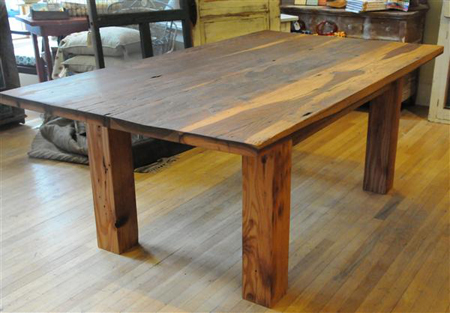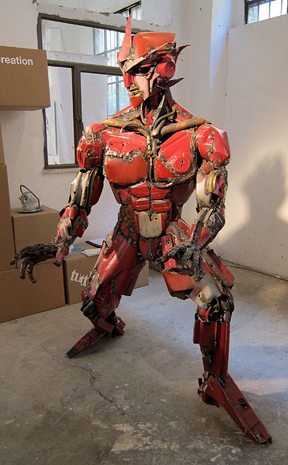 Between the house renovations and the sprained ankle, I did manage to bang out a few new pieces for the online shop and upcoming craft shows.
Booby Hooks is my favorite. The hooks are strong enough for hats, leashes and light jackets. Or bras. They're real wood and they're spectacular. $45
Ok, I kind of like this sweet boy too. He's seen better days, but who needs arms when you can have scissor wings? That's a note clip on the bottom there, in case ya didn't realize. $35
When I told my mom I was working with dolls, she said "You hated dolls when you were a kid!" Well, there's something to that. I used to pull them apart and abuse them. I must say, I took great pleasure out of ripping off Barbie's head for this piece. Hang earrings or rings from her "arms". $30
A little cherub love. This antique sewing machine drawer can be hung as art or can be used as an earring holder. Just hook the earrings through the chicken wire. The kissy blower sitting on the edge can hold some necklaces too. $60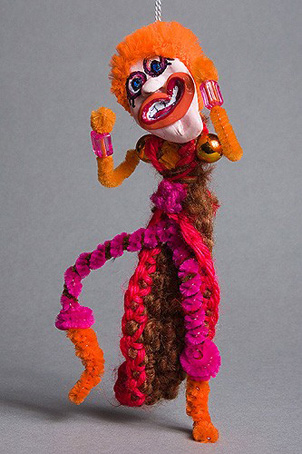 "Madam Xene" from Tiger LaRue. Keep this by your bed at night to prevent sweet dreams. 20 bucks makes a nice gag gift for that person you hate.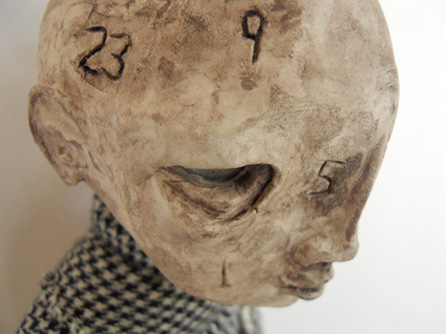 "Becoming obsessed with numbers and formulaic systems through years of research, Algorithm is constantly searching for numerical systems in nature. His relationship with numbers has become so intense that he has carved them into his skin becoming what he covets most."
WTF? It's like that dude from the movie Pi (Yeah, I can't figure out how to do the symbol on my computer). $100.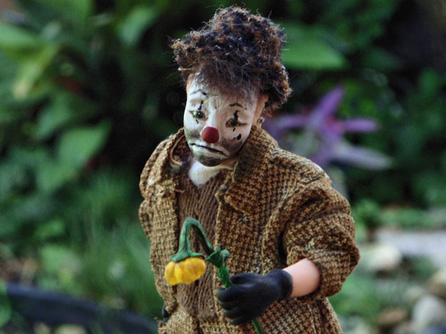 Sad Clown=Creepy Clown. Actually, ANY clown is creepy. Am I wrong? Who doesn't hate clowns? Why do they exist? This guy is sad that his flower died. He'll probably go all John Wayne Gacy on us now. $76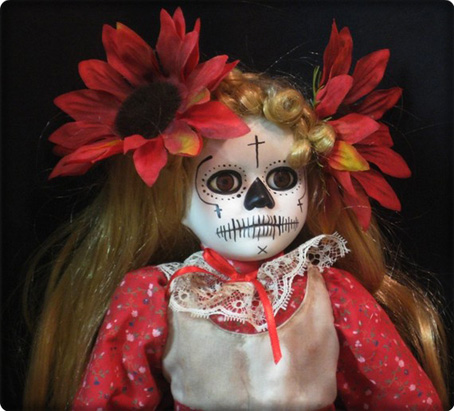 The company that makes this Day of the Dead Flower Girl is called Creepy Dolls. Now me, I prefer something that is not as obviously creepy, but I'm not hatin'. This doll was my favorite from this shop because she reminds me of "What Ever Happened to Baby Jane". $80.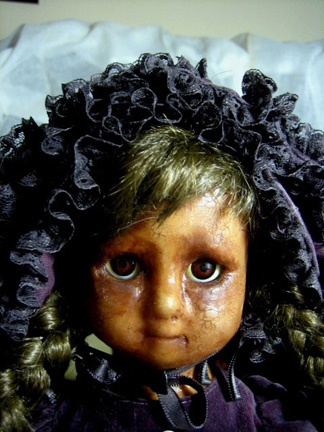 Yeah, now that's what I'm talking about! No blood or scars. It's all in the eyes. $70.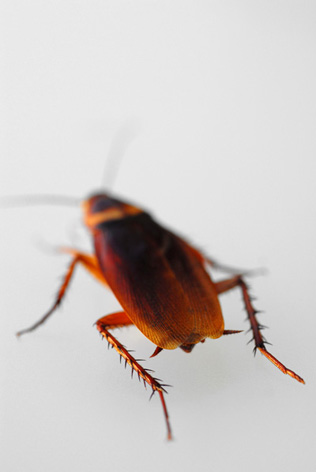 What happens when a photographer/design consultant teams up with a furniture designer and reclaimed timber expert? "Made of New York" furniture happens.
John-Michael Ekeblad is the photographer. He builds the frames around the images as well. His work is snippets of NYC life. The cockroach is kind of our mascot, isn't it?
The reclaimed wood furniture is pretty awesome. Prices aren't crazy for the quality of work and materials.  Just check out some of the stuff for yourself!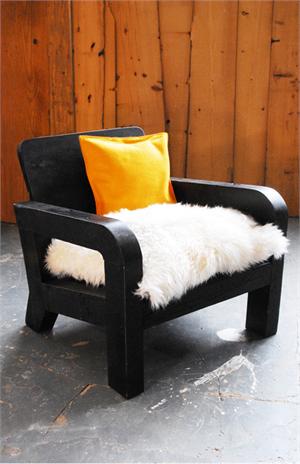 Black armchair: $1150.
Dining O-Stool: $290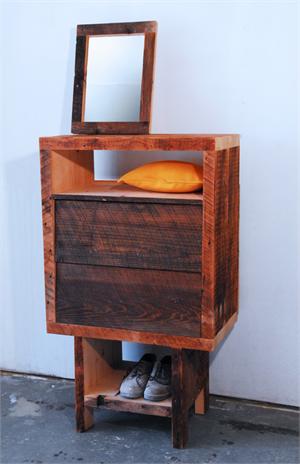 Dresser: $990.
Via Cool Hunting.
No small feet! Antique shoemaker's wooden child foot model. It's mounted to a base and has a hole in the top. What is it? A pen holder!
Smiles, everyone, smiles! Vintage doll face mounted to a fan blade. Kind of cute for a kid's room, no?
That's so hot! Yeah, it's a scarf, leash or hat hook.
I'm turning Japanese, I really think so! This was a fugly 1970′s cedar jewelry box with decoupage flowers. Trust me, it was dated and tacky.
These pieces will be uploaded to the store only if they don't sell this weekend at the craft show. Tha's why no prices.