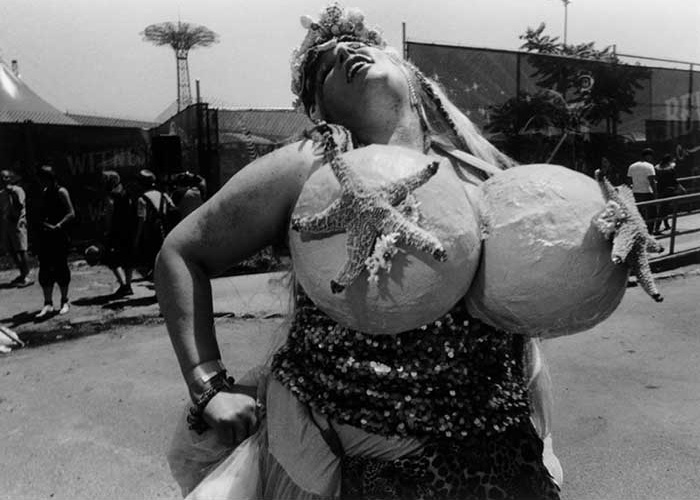 The annual Coney Island Mermaid Parade has morphed into a huge event since the first stroll down Surf Avenue in 1983. Now personally, having lived on Surf Avenue back in '83, I thought the small freak and geek fest was awesome. These days, it seems like everyone in Brooklyn shows up and it's too crowded for my grumpy middle aged ass.
But anyhoo, that doesn't mean the show shouldn't go on. The mermaids are in danger this year, my friends. Yeah, Sandy. After spending over $100k to restore their headquarters, they need to raise some clams to pay for cops and toilets for Coney's unofficial start of summer.
Here, let the Kickstarter video speak for itself.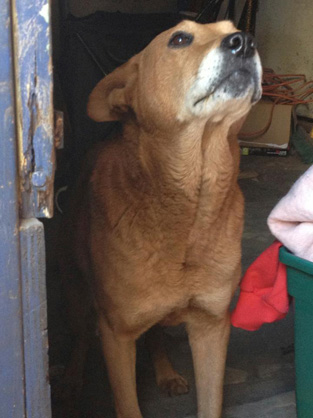 This is Simba. He lived in the most famous building in Clinton Hill, Arthur Hill's Broken Angel. The 84 year old Arthur was evicted after years of struggling to hang onto his house-as-art project. Now Arthur needs to find a new place and Simba needs fostering. Can you help? If so, please contact shannonkernerATgmailDOTcom.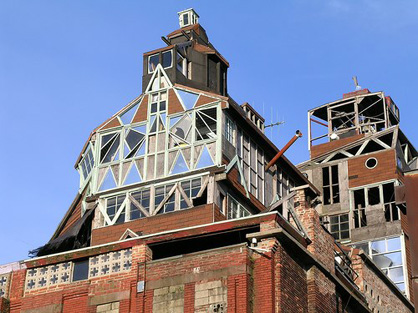 Perhaps you can meet Simba and Arthur at the Broken Angel Block Party on March 15th. If it looks familiar, yes, it was the backdrop of Dave Chappelle's Block Party. The event takes place all day and night, so stop on by, y'all!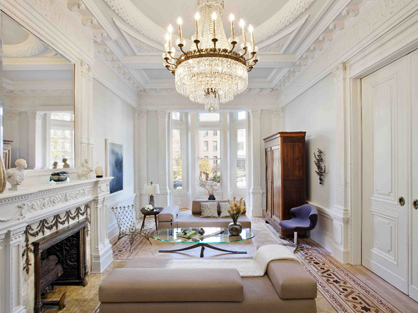 280 Washington
Happy Valentine's, y'all! Doing anything special? Very exciting morning over here in the Reclaimed residence. Hubby went to work reeeealllyyyy early (the usual time) before his romantic date with jury duty. I'm doing something a bit more in tune with the holiday. I shall be looking into a couple of places to hold our 25th anniversary party this year. The 8/8/88 date was lucky enough after all.
When we got married, all I really wanted was a big ole' loft party. Gosh, that was back when even Soho had unfinished loft spaces. My mother said the relatives wouldn't appreciate my beer keg wedding so we compromised on an over the top kitsch Russian restaurant called Primorski in Brighton Beach. The friends loved it. Free flowing vodka and a heavily accented Russian band singing top 40. What's not to love? I think the relatives didn't quite understand the kitsch factor and just thought we were tacky.
Oh well. Fast forward 25 years and now I'm gonna have the non-wedding I've always wanted. Actually, I've graduated from the loft space to something with an outdoor area as well. So, what is a person to do when they want a completely laid back alternative party space with absolutely no structure?
My first thoughts were to rent a huge house upstate and have folks stay the weekend. The best wedding I ever shot as a photographer was on Fire Island. Couple rented a house on the beach for the week and held a lovely, casual "hang-out" wedding. They danced. They swam. They kayaked. They picnicked on the beach. Doesn't that sound so much better than a party at a wedding factory? But alas, I was outvoted on an out-of-town party.
Anyhoo, enough rambling. Here's what I found: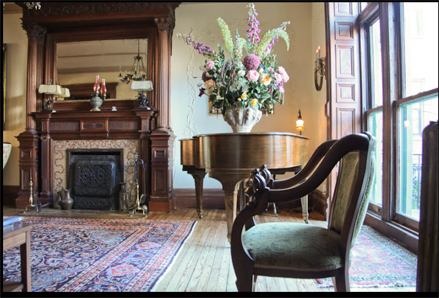 The Moran Victorian Mansion is actually a residence. A beautifully restored detached brownstone mansion with a garden and even a bar. If you scroll back a few days to the post about a contractor looking for a work/housing exchange, this is the very same place! What I love about this place is 1. It's gorgeous. 2. It's right around the corner from my house. and 3. The price isn't cray-cray. Basically, it's $500 per hour for the event.
The Akwaaba Mansion is also located in Bed Stuy. Prices are lower than The Moran, coming in at $400 per hour including the courtyard but if you factor in the mandatory gratuity plus the fact that you must rent all guest rooms for evening events, it comes out to more. The room rentals may be a plus for moi if people come from out of town, but then there's the added chore of getting them to pay for their own rooms.
280 Washington (photo at top) in Clinton Hill is a great deal for smaller parties. Jessica got back to me immediately but informed me that the party limit is 50 people and since I just want to casually invite people off the street to pretend I have friends, this wasn't a good match. She was extremely helpful though, pointing me in the direction of other venues and caterers. The rates are about $200 per hour plus insurance. All of the guest rooms can be rented.
Then there's Shell's loft space. A 5000 square foot, four bedroom in Clinton Hill that can be rented overnight for $1200. Guests can stay for the entire weekend for the price of one of the other places that has outdoor space. It's everything I wanted for my own wedding but I'm stuck on that damn outdoor space these days!
Here's a list of awesome venues that were out of my budget. We're talking $6000-10000 for space rental alone. Worth it for a wedding but not an anniversary.
Coney Island Museum and Sideshow would have been my number one choice but if it's a weekend party, you have to compensate for their lack of performance tickets as well so it would have gotten pricey. Besides, I'm sure there will be enough freaks at my party. Who needs to hire more? Currently undergoing renovation due to Sandy but will be ready by June.
TBD in Greenpoint has a great indoor/outdoor party space. A beer garden with picnic tables? Can't get more casual than that.
There were also some amazing places in Manhattan and Queens. Shout out to Gary's Loft, Queen's County Farm Museum and The Foundry.
regarding relief efforts at Gowanus Houses, please call 347-806-6435. Contributions can be delivered to
Gowanus Community Center, 420 Baltic Street in Brooklyn and will be accepted until 6 p.m.
::: GOWANUS HOUSES SUPPORT – WED. 11/7 :::
Today, we're expecting heavy rains and high winds. The NYC alerts we've received tell us to stay home or to find a nearest shelter.
The families in the Gowanus Houses buildings, especially seniors, the ill and the homebound that are STILL WITHOUT POWER, HEAT AND HOT WATER have no choice but to stay home. These are the people who rely on relief efforts to get food, water, blankets.
Since the City of New York is doing virtually NOTHING to help Gowanus residents, the family of donors, volunteers, community organizations and faith based organizations have become their life line.
Yesterday, we struggled greatly to provide relief to Gowanus residents who are angry, hurt and frustrated that they are not getting the support or communications needed by city, state and federal agencies about further disaster assistance.
On day five, we can not stay in our warm homes, with access to refrigerated food and the ability to come and go as we please…or as we need.
On day five, we will practice self-determination and community-building. We will practice movement building.
Our goals:
1. Get families enough food, water and other supplies to last three days
2. Make sure that sick residents have enough medication and see medical personnel by the end of the day
3. Get residents connected to the appropriate agencies that can provide further disaster relief.
:::VOLUNTEER:::
We need about 20 volunteers for door-knocking, distribute food and complete food/water/supply deliveries to our families as well as make assessments of the medical needs of elders, sick and home-bound residents.
Volunteers are being asked to meet at the center (see address below) at 12 p.m. If you are interested in serving as an outreach coordinator and if you can help bring in donations and package bags of food for families, please come at 11 a.m.
Outreach and distribution will go on until 6 p.m., weather permitting.
We also need help in the evening, when we tend to have less volunteers, to deliver hot food to home-bound residents between 6 p.m. to 8:30 p.m. We would need 10 volunteers to get this done. If you can do evening hours, please check this page or FUREE's web page for an update.
:::DONATE:::
We need food! We need supplies! We need your help!
Please donate as much as you can; no donation is ever too small! Please give only what is on the list so we don't have an excess of food and supplies that we can't move:
- Baby food (vegetarian, with meat/chicken, fruit, cereal stages 1, 2, 3)
- Water
- Evaporated, powdered and regular milk (1/2 gal. or smaller)
- Soy milk
- Pediasure
- Ensure
- Glucerna
- Ready made formula (with iron, regular/soy/sensitive)
- Canned goods (beans, vegetables, tomato sauce, soups, tuna fish, sardines, vienna sausages)
- Protein/granola/cereal/fruit bars
- Apple Sauce
- Diapers (newborn, sizes 1, 4 and 6)
- Toddler training pants (sizes 4+)
- Flashlights
- Batteries (especially C and D)
- Candles/Flashlights
- Peanut butter
- Sliced bread
- Fruit (apples, oranges, bananas, etc)
- Disposable hand warmers
- Gloves
- Socks
- Dry Ice (we have none and already, some residents' insulin have gone bad.)
Goods can be delivered between 11 a.m. and 5 p.m. to the address listed below.
Please DO NOT BRING clothing and blankets.
We also need cash contributions so we can purchase what is needed and to support this relief work at Gowanus Houses.
To donate online, visit http://furee.org/donate or make checks payable to FUREE. Indicate if you are donating for relief efforts or to support FUREE's overall work in the memo/notes sections.
::: CONNECT RESIDENTS TO SERVICES :::
Our friends from South Brooklyn Legal Services will be on site and visiting residents to apply for FEMA assistance and other assistance.
We will also have medical personnel from the NYU Medical Center to check in on the sick and homebound and to make sure that residents have their needed medication.
Volunteers are needed to alert residents of these FREE services and to help pick up prescriptions from local pharmacies to deliver to residents.
LOCATION:
Gowanus Community Center, 420 Baltic Street in Brooklyn
To sign up, please send e-mail to valery[at]furee[dot]org or lucas[at]furee.org
Again, thank you all for support!
Tony Danza raps about Brooklyn peeps. Didn't know Carl Sagan was from the Borough of Kings. See? We have some smart people.
Block party season is here. This usually means I complain about people barricading an entire street for a few kids to play. If I'm around when it's my own block, I go inside to my A/C and kvetch about the loud music.
But this year I decided to join in the fun. And guess what? I had a good time!
I grew up in apartment buildings on busy streets, so there were no parties on my block when I was young. I do remember going to my best friend's block parties on E. 28th Street back when the neighborhood had lots of children of the non-Hasidic persuasion. There were rides and bouncy houses and entertainment. They don't seem to go all out like that these days.
This block party reminded me that I live in a "neighborhood" of which I'm part of . Although I am friendly with my neighbors and often stop to schmooze with them, I never fully participated in the whole "block" experience.
Now they are not just my friendly neighbors. They are friends.
So, the next time there's another dumb block party on your block, join in! You might actually enjoy it.
Oh great! A new French creperie just opened on Nostrand and Macon, right on the way to my gym. Now I can grab some pastries to nosh on while on the elliptical.
I stopped into Le Paris Dakar after my work out this morning. Keeping fit is overrated anyway.
Yes, the owner is really French! You know what that means? Great croissants! Not that Balthazar crap you find in every cafe in the city. They have plain, almond, chocolate and raisin. I inhaled my plain but I did pick up on the awesomeness of it while doing so.
Disclosure: I only tried the croissant and was too gross and sweaty to do a real interview with owner Mouna, so any info I give you from here on in, I stole from articles in Bed Stuy Patch and Bed Stuy Gateway.
Le Paris has made to order crepes and yummy looking pastries. You can pretty much have breakfast, lunch, dinner and dessert here. They offer sweet and savory crepes (with a vegetarian section!), omelette crepes, salads and sandwiches. The "Dakar" comes in to play with the refreshing drinks. The menu also states that they will occasionally serve Senegalese specials. Mouna is of Senegalese ancestry.
The website is still under construction but you can follow them on Twitter and Facebook for updates. They are certainly open for business right now and will really get rocking by September.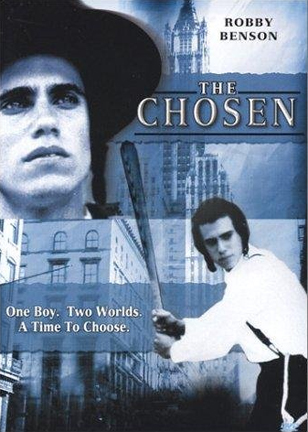 Seeing Saturday Night Fever the other night just gave me a warm fuzzy feeling about Brooklyn. So fuzzy that I had to come up with an entire list of movies filmed in my favorite boro. Check out my NYC list of films here.
By the way, this isn't in any particular order. That would take too much effort. It's what comes into my mind first. I tried to pull up some under-the-radar films that aren't necessarily the best, but at least you won't see them on every other list.
1. Saturday Night Fever. A classic. I refused to see it for about 15 years after it came out because I cringed at those type of guys. Oddly enough, I kind of miss them now that they're not so prevalent. Great Bensonhurst/Bay Ridge memories. And yes, I'm old enough to have danced on that 2001 floor.
2. The Warriors. Come out to play-ay? What more can I say-ay? Only that my friend's dad wrote the novel. And it features Coney Island.
3. Do The Right Thing. This summer, as hot as it is here in Bed Stuy, I keep saying I'm gonna throw a garbage can through Saraghina's window. If you don't get the reference, you need to rent your ass this movie. Actually, most of Spike Lee's movies celebrate Brooklyn, but this one is my favorite.
4. Laws of Gravity. A little known 1992 indie film. Was it great? That's to be debated, but it could be a great cult classic. Filmed in Greenpoint and my high school buddy Arabella was in it, so it gets the friend plug.
5. Dog Day Afternoon. "Attica! Attica! Attica!" Pacino at his finest right there on Prospect Park West in Windsor Terrace.
6. Moonstruck. An ode to Carroll Gardens. And the moon. Cher is awesome. Norman Jewison, the same guy who did Fiddler on the Roof, directed this movie, proving that there's no difference between Jews and Italians. We're all loud and like to eat.
7. The Sentinel. Horror movie that scared the bejesus out of me back in 1977. Mostly filmed indoors, but the sentinel looks out over the Brooklyn Heights Promenade.
8. Requiem for a Dream. Another Coney Island backdrop! And a shout out to another fellow Murrow HS alum Darren Aronofsky.
9. Last Exit to Brooklyn. A disturbing look at the seedy side of 1950′s Red Hook. But a great film!
10. Boardwalk. Gosh, I only saw this movie once and I really don't remember it. I do remember seeing Ruth Gordon and Lee Strasberg filming it on the boardwalk back in the late 70′s when I was a young-un. Oh, how I loved Ruth Gordon.
11. Over the Brooklyn Bridge. Oh boy, I pulled this one out of my you know what. Don't remember if it was any good. Was Margaux Hemingway IN anything good? Elliot Gould, a Jewish deli owner in Brooklyn. Shelly Winters, Sid Caesear, Carol Kane…ring a bell? I think I have to rent it.
12. The Chosen. Never heard of it? Two words. Robby Benson. Six words. Robby Benson plays a Hasidic Jew. Nuff said.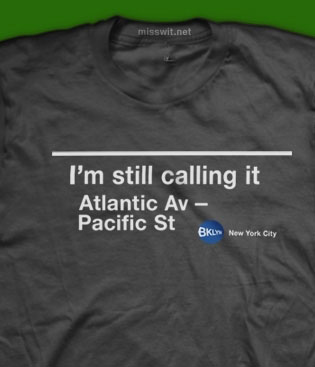 I'm a bad friend. My BFF, t-shirt designer Deb, made these statement tees and I never gave her a plug. Oh, but everyone else did! Nah, I'm not in the dog house, but I'm the last kid in town to feature these Brooklyn activist shirts on my blog.
Remember the whole Atlantic Yards fiasco? Eminent domain? Promises of low income housing and jobs that never materialized? Protests from the community? Yeah well, what's done is done. What's done can't be undone.
But that doesn't mean Deb…or anyone else…has to stop bitching about it.
The story is that Barclays Bank bought the subway station name rights and now the Atlantic/Pacific stop is called "Barclays Center". First of all, as much as New Yorkers accept change, we are creatures of habit. Anyone calling The Triboro "RFK Bridge"? How about the Queensboro "Ed Koch Bridge"? Hell's Kitchen?
You get my point. But to add insult to injury, the name "Barclays Center" wasn't something that was earned. It was bought (kind of like our current elections). Popped on a project that many people are unhappy about.
Looking at the half full glass, one can always say that it could have been worse. Could have been called "Forest City Ratner Station".
Get yer t-shirts here.
Related Deb interviews at DNA and Prospect Heights Patch.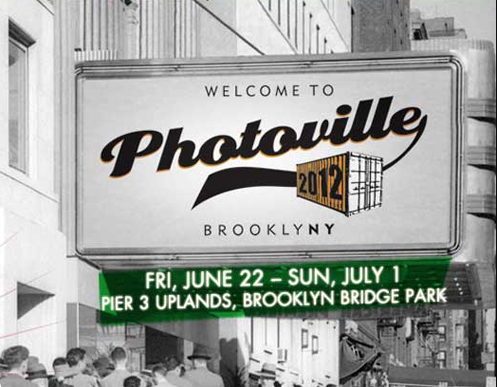 What could be better than an emerging photographers' photo exhibit? An entire photography town! Dumbo's Brooklyn Bridge Park transforms into Photoville this weekend for all of us lovers of captured moments.
Of course there will be exhibits around "town" but that's not all, folks! Photoville features workshops, a greenhouse, a beer garden and even a dog run!
Thirty plus shipping containers will act as galleries showing the works of world photographers, with big wigs such as Magnum and Photo District News getting in on the action.
The event runs until July 1st. Check out the weekend schedule here.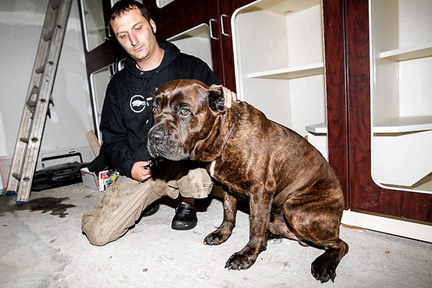 It was many and many a year ago in a kingdom by the park that a dog there lived whom you may know…. Ah, I'm talking about Brooklyn the Ghost Dog. A big, scary looking dark dog. Many dog walkers have encountered him. I've looked upon him with my very own eyes a number of times. He would just sit and stare. Sometimes he took interest in the other dogs. Sometimes he would just vanish. He was always behind the fence in the woods. Untouchable.
Legend has it that Brooklyn the Dog had been living in those park woods for years. He was reported to rescuers as early as 2008 but they had never been able to catch him. The mysterious canine looked well fed and happy enough. I liked to think that he had human companionship somewhere. Perhaps the owner was as elusive as him.
This is a true story and guess what? There's a happy ending! Local rescuer Sean Casey was finally able to capture Brooklyn last week. The massive Cane Corso was limping and had slowed down enough for people to get close to him. He's healing now and there's already a line of people waiting to adopt him. He also has Lyme Disease. Yes, from Prospect Park.
I'm looking forward to seeing Brooklyn in the park with his new family soon! On the other side of the fence.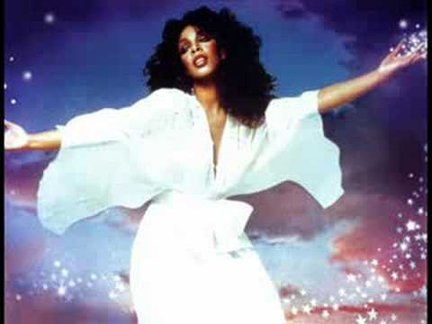 * First, a fun fact. Donna Summer's daughter's name is Brooklyn.
The passing of Donna Summer has stirred up some fond childhood memories. I was in junior high when Donna reigned as the Queen of Disco. Too young to go to "discotheques" like Studio 54 but old enough to appreciate a talent when I heard it.
It wasn't until my adult life when I first heard that the whole disco backlash was possibly racially motivated. My husband who grew up in Ireland was the one who mentioned it. Since then I've also read that it may have also been anti-gay. I don't know how the "Rock vs. Disco" war played out in other parts of the world but here in Tony Manero land, it was pretty much in your face. Racial maybe, only here in Brooklyn it wasn't a push against the black artists creating the music. Sorry, but in my 12 year old mind, it was anti-Italian. I won't use the G word, but let's just say that Jersey Shore had nothing on Brooklyn back in 1977. Can I use the C word? Cugine?
Cugines and disco went hand in hand. The hair. The gold chains. The pointy white sneakers and leather jackets. Viceroy and Jordache jeans! Oh, I wore them too. They got a bad rap for the way they dressed and talked but most of them were sweet when it came down to it.
Brooklyn and Disco were synonymous back in the 70′s. From "Last Dance" at every barmitzvah to our pride in Donna Summer's relationship with "that Brooklyn Dreams guy". Do I even have to mention "Saturday Night Fever"? It took me about five years after the release of that movie to finally watch it because it hit too close to home and I didn't even hang out with "those types".
By the early 80′s when disco was dying off, I finally got to dance on that Saturday Night Fever 2001 Space Odyssey dance floor. It was the size of a postage stamp.
But disco will never die, not even with Donna. Don't believe me? Go put on some disco music and just try not to shake your groove thang.
We visited one of the oldest houses in Brooklyn yesterday. The late 1700′s Lefferts House is located in Prospect Park, but did you know that the original location was six blocks away on Flatbush and Maple? And did you know that the 1783 structure was the second Lefferts home to be built after the original 1687 homestead was burned down during the British invasion of 1776?
It's all good now. The home was donated to the city back before it was moved and has been a museum ever since. It's a small house by today's standards so if you visit, don't expect a full day trip. Bring the kiddies as the Prospect Park Zoo and Carousel are within spittin' distance.
Suggested admission is a mere $3 for adults.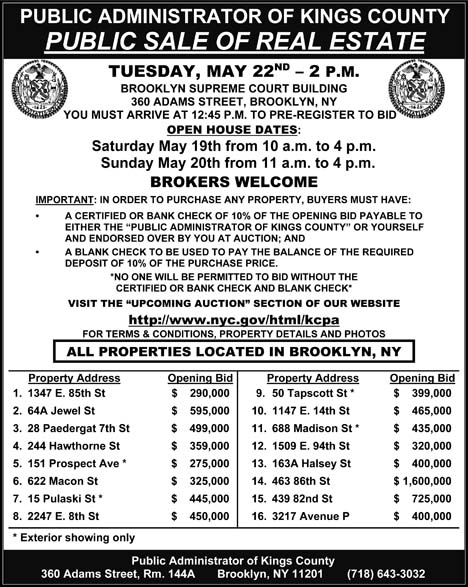 The Kings County public real estate auction is coming up this month. To be clear, there are auctions every Thursday but the annual one is a bit less risky, IMHO. The opening bid prices are listed on the government site and you can preview the properties prior to the auction. Download the flyer from their site for pictures and more info on each home.
163A Halsey is up for auction again. It sold for $400k last year with a starting bid of $325k. Obviously, there were multiple bidders. Wonder what happened?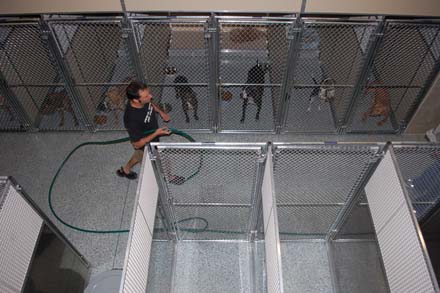 Sean Casey Animal Rescue acquired a 5000 square foot space in Sunset Park over a year ago and it's finally ready to house homeless pets. The grand opening should be announced in June.
Sean Casey is the go-to guy for pet adoption in central Brooklyn. Check out the hundreds of dogs in Prospect Park during off leash hours on a weekend and ask where these people got their dogs from. Sean Casey is Da Man.
The original Kensington storefront will remain open for adoptions and the Sunset location will shelter pets as they come in off the street or from kill shelters. The space can comfortably house up to 42 dogs and 50 cats with state of the art kennel cleaning facilities that I wish I had in my own house.
Casey would like to open a shelter like this in every borough and I have no doubt that he'll make it happen.
Check out the video below. Timmy is up for adoption. TIMMMMAAYYYY!!!!!!!