Ah, it was only a few weeks ago that I was saying it wasn't worth it to schlep for miles to shop for salvage. Well, then I lost a bunch of stuff due to the storm. Now that I have to shop all over again, I seem to have forgotten my own advice.
And so I was off to southern NJ and Philadelphia yesterday.
My first stop was Recycling the Past in Barnegat, NJ. The town is chock full of antique shops and when I pulled up to this particular architectural salvage oasis, it did not disappoint. It was like being a kid in a candy shop (see photos)! Only when I found out the prices I realized that mommy didn't give me enough money to buy any candy. That's not to say they are overpriced, but their prices are more on par with some of the larger Manhattan places rather than the salvage guys I'm used to in Brooklyn.
Light fixtures were in the $200′s-$1000′s. Some were really beautiful and well worth it, but when you're working with a negative $15k budget, you ain't buying thousand dollar light fixtures. Not that I do anyway because I am a bargain diva. Claw foot tubs in bad shape were $400. You can get one for half that at Vaccaro's and even less at Eddie's.
So why do I travel? Because those guys don't have some of the newer crap that I need. Tiles and molding in semi decent shape. Kitchen cabinets. I have yet to luck out at Build it Green on those items. BTW, I'm not too impressed with BIG Gowanus prices, so I usually stick to Astoria.
In Philly, I went to a ReStore and the Urban Artifacts Warehouse which looked closed. I walked in and a couple of guys moving furniture said I probably shouldn't be there. I didn't argue since I realized it was one of the higher priced salvage shops anyway.
It was actually the Bucks County Restore where I hit the kitchen cabinet jackpot. Well, as much of a jackpot that I could fit into my Rav 4. So, all in all, I came back with 2 base cabinets for $55 and spent about $65 in gas and tolls.
You do the math. Yeah, I know.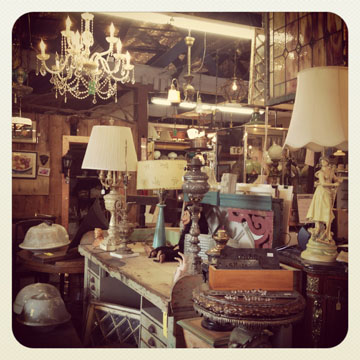 A few years ago when I lived upstate, I would take frequent salvage trips up to Albany. It was the motherload salvage. Three huge places in Albany proper plus some great shops in Ravena, Coxsackie and Troy.
Having some difficulty getting everything I need locally, I thought it would be worth the 3 hour drive to load up my car with some awesome inexpensive materials.
The first stop was Silver Fox, a massive building that you can get lost in. Not only does Silver Fox have salvage and antiques but they do a decent business making tables and furniture out of reclaimed wood, upcycling light fixtures and such.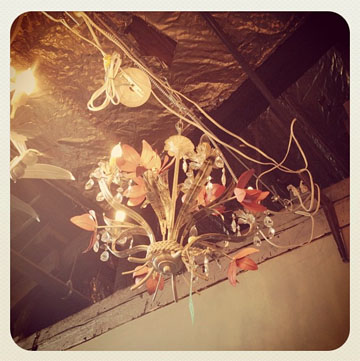 Alas, because of my very tight budget, I only walked away with one light fixture. It IS perfect for a retro beachy house though.
Next up was the Re-Store. It looked like it had been picked clean. They had materials, but it was all cheesy stuff. Worth going if you need windows, electrical and plumbing or building as opposed to finishing materials.
Last stop in Albany was the Architectural Parts Warehouse, a place I remembered being completely fabulous. Oh, it was fabulous alright, but they didn't have anything for me. And I could swear they raised their prices. I don't know if everyone has raised their prices or it's that everything seems so expensive to me now that my budget is crazy-tight.
The Ravena Barn Flea Market proved unsuccessful. If you need dishes, glasses or old adding machines, this is the place to go.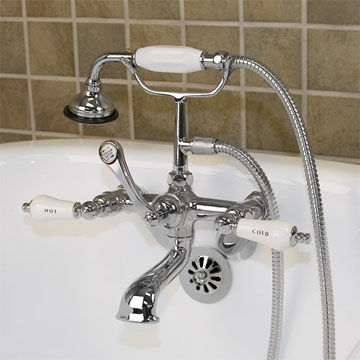 Finally, a bit of success at the Coxsackie Antiques Center where I picked up an English telephone faucet for 48 bucks. They had some great stuff and the prices were good but unfortunately, I was shopping for the renovation and not my own house.
With only two purchases and mega gas and toll expenses, I wanted to hightail it to Zaborski's in Kingston. Guess what? That didn't happen when I got pulled over for speeding.
So all in all, my day was fun but a negative drain on the finances.
I met Sal a few years ago as a fellow Brooklyn Flea vendor. We stayed in touch via the Interwebs and I kept meaning to visit his shop in Callicoon, NY. Sal is now in the process of moving Tin Can Trading Post to a multi-dealer store up the road. What finally got me up there to see the store was his massive moving sale.
Because I was focused on house materials, I only made out with three lights (four if you count the pair of sconces as two). But oh, how I wished I was there shopping for myself! Scary dolls and clown paintings, old wicker subway seats, a dessert cart from Grossingers. Grossingers!! It would make a fabulous kitchen island.
Sal closed up his shop for a bit to give us a tour of his home that's on the market for $189k in nearby Cochecton. What a treat for an old home lover! The restoration reveals layers of history. Original wallpaper was cleaned with wonder bread. Did you know about that technique? I did not. The plaster in some areas was left unpainted. You know how much people pay to faux this look? Here, it's the real deal.
Worth the trip up to Sullivan County. Check out the shop. Buy the house. Turn it into a B&B so I can stay there in the future.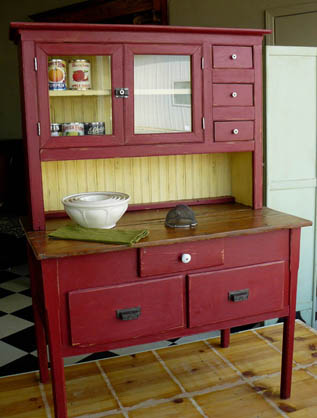 There's no need to spend $3000 on cheapo Home Depot cabinets or $20000 for nicer ones that still look like dreck. Get yourself to an antiques shop or flea market and buy some mismatched pieces of history for your kitchen!
Can't you see an entire red-cabinet kitchen to match the single painted piece above? Or how about multiple colors? You can have similar styles co-exist with just a few coats of paint and some matching hardware. Tip: Make sure it's a durable paint or seal it with poly as this is for everyday kitchen use.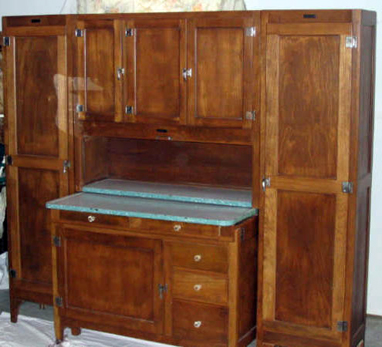 Ok, so this one isn't dirt cheap flea market price, but it's not easy to find a Hoosier with matching side cupboards. It retails for $3975 at an online antiques shop.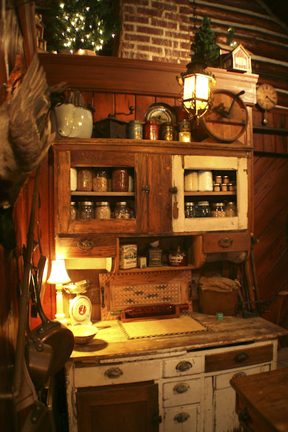 There's a whole story behind this old hutch. You can read about how it was saved from certain death at Bearfort Lodge.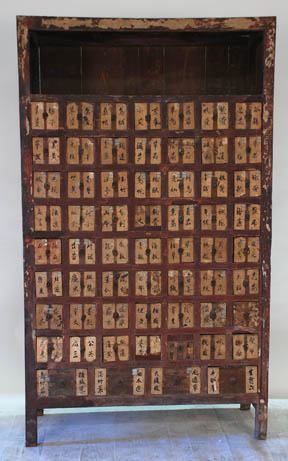 Need some spice storage? This antique Chinese apothecary doesn't come cheap at $4500 but it will surely be the centerpiece of you kitchen. A less expensive and almost-as-cool alternative for spices might be a library card catalog that can be picked up for a few hundred bucks.
Keep in mind that vintage mid century cabinetry is pretty awesome and you can pick up entire sets, but this post is about ANTIQUE, not vintage. Just so you know.
I was just looking back on some old Flickr photos of my Bed Stuy renovation and realized that I never blogged about my fabulous parlor floor hallway. (Nor various other little projects)
That's the before shot you see above. The previous owners "renovated" the house. Oh please, don't get me started. Everything in the hallway was painted a glossy shit brown…the bannister, the newel post, the doors and the molding.
We took the double doors down and stripped and repaired them. They were in pretty bad shape and needed some fill in material. The back door with that badly home made transom was switched out for an antique door that actually fit into the frame.
Ah, but my pride and joy is that newel post! The one that was there when we bought the house consisted of four pieces of plywood boxed together with a Home Depot doodad on top. We found a gorgeous salvaged newel post that would have been original to a brownstone of this era and replaced it with that. The post was stripped and stained to match everything else.
The Victorian light fixture and ornate radiator were also salvaged finds.
This stuff doesn't really take much design skill. It's kind of just like putting back what was taken out.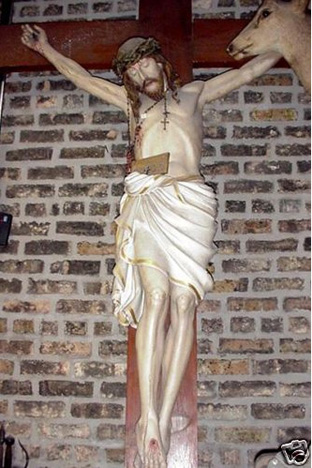 What's creepier (to this Jew) than a dead Jesus on a cross? That dead deer next to him is giving him some competition. Starting bid on this larger than life guy is $180k or you can buy it now for $1.3 mil. Read the description. That is priceless.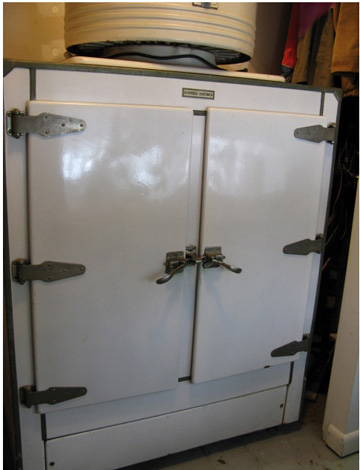 Whose kitchen is big enough for this? Not mine. But it sure is cool (no pun intended). Located somewhere in Pennsylvania.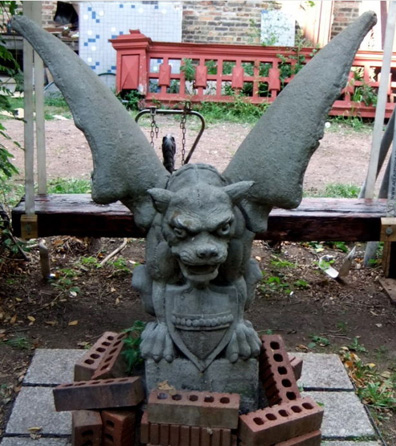 Ok, so this gargoyle is $3125 and you'll have to schlep it back from Chicago. That doesn't make it any less awesome. Standing at 55″ high and born in the early 20th century, it's the real deal.
Remember the clown-water-balloon game at Coney Island? Well, this clown head is from that game.
All photos are linked to the items so you can buy them for me.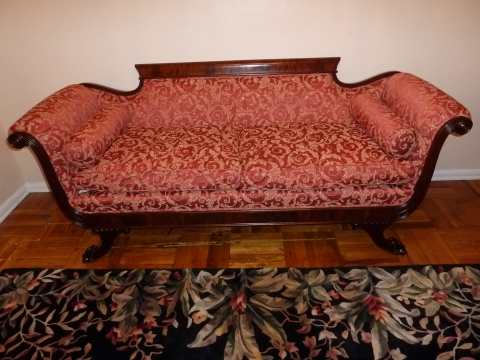 My Blue Sofa is a new online marketplace for anything home related. In fact, it's so new that it's still in beta.
The website is easy to work with and pleasing to the eye. Images spring up along with the categorized listings. It's more like shopping with Etsy than Craigslist. You can even pay via PayPal and get info on the seller if they supply it.  So really, it's not like Craigs at all. I should stop with the comparisons now.
These are a few of the listings I spotted.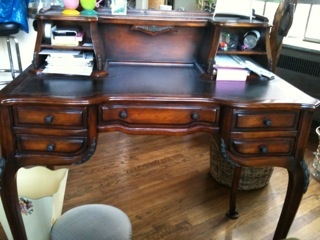 Theodore Alexander desk. $2000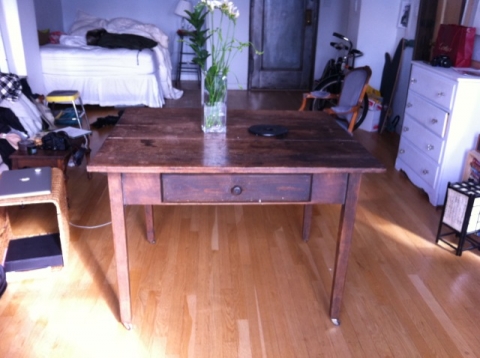 Early 1900′s Farm Table. $275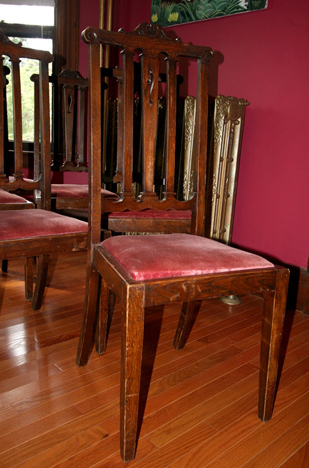 Oh, look at that! How did those chairs get in there? Yeah, they're mine. They never really matched my Eastlake dining room table, so I'd like to get rid of them. 1800′s from Britain. I'm asking $600 for the set of 6 but will take best offer. Come on Monty, let's make a deal!
Top photo is a fully restored Empire Duncan sofa for $3500.
Ah, the end of the outdoor flea season is upon us. This Saturday will be the last outdoor flea in Ft. Greene. Starting the weekend after Thanksgiving, the Brooklyn Flea continues through the winter at 1 Hanson on Saturdays and Sundays. And don't forget the Gifted market!
Me? I'm still trying to get rid of the larger pieces I brought back from the Beacon house. Oh, how I do miss the large space.
I'm just kind of putting together some pieces, but not painting/finishing them as I don't have time and it's hard to get the price for the work involved these days. I'll have suggested prices on the furniture, but it's "make me an offer day"!
The desk above is an old tool box sitting on top of porch balusters. We bought a bunch of salvaged balusters when we were redoing our porch, but decided to keep the original shingle design. I'm thinking $90 OBO.
Hey, whaddayaknow? More balusters! This antique sled makes a fab bench or low table. $85 OBO. Keep an eye out for baluster candlesticks and baluster frames this holiday season.
Other leftover stuff I need to purge:
This sweet mid century repainted coffee table has been sitting in the attic for a year. $75 marked down from $90 or best offer.
Ooh, I forgot I had one of these school chairs left. They were selling for $55 last year. Um…$40?
I have 3 matching marble/cherub tables I got from my cousin. I don't have room for all 3. This side table…$95. Ask about the other side table or fabulous 8 cherub coffee table if interested. All Italian marble, circa 1950′s/60′s.
I'm on the fence about selling these two gals. They looked great in my Beacon house and they seem a little out of place in the Bed Stuy home, but I still love them. I'd part with them for about $150 apiece, but maybe not much less.
Come visit the flea! I'm usually on the Clermont fence.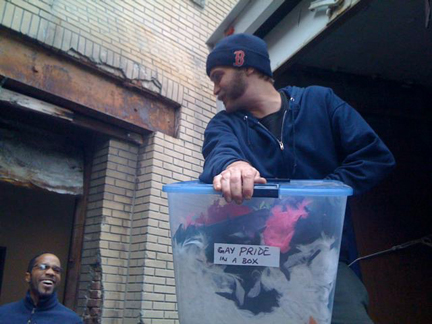 Awesome news for County of Kings thrift junkies! Film Biz Recycling is moving to Gowanus! If you want to hit the Long Island City space one last time, they are having a name-your-price clearance sale starting today until the end of the month.
Grand opening at 540 President Street will be on or around December 1st.
If you've never been, the massive shop is chock full of used TV and movie props. Everything from vintage dish sets to clean linens to artwork.  It. is. awesome. And it will be ours! F.U. Queens where I was never able to find parking.
Also! The new space will stock building materials and paints. So again, Brooklynites won't have to schlep to Build it Green in Queens for these items.
It's a win/win for everyone. (Except Queens)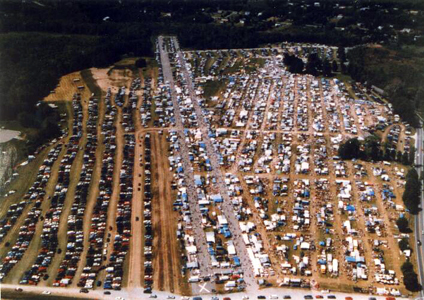 The Stormville Airport Antique Show and Flea Market in Dutchess County takes place on holiday weekends during the warmer months. Since next Monday is Columbus Day, the fair is on this Saturday and Sunday, October 9th and 10th.
There are usually a couple of hundred antiques vendors (that's a guess) and an area set up near the entrance for new stuff. Admission and parking are free. Vendor's prices are pretty fair. The only thing I would suggest is getting there way early (like 6:30am) as there is only one road leading to the show and it gets backed up.
It took us moving out of the area to participate, but Reclaimed Home has a booth this weekend. Look for us in site #10, driveway 3. We'll be emptying out our Beacon house and trying to cram everything into our Brooklyn home of half the size. Much of the furniture for sale is from our own private "estate" (I'm gonna add an LOL here just so you know that's tongue in cheek).
The flea market inventory we're bringing is stuff we never want to see again, so prices will be good, especially by the end of the second day. In fact, if you're a vendor or just some hoarder who wants a bunch of crap, come see us on Sunday afternoon and we'll make a deal for everything that's left over.
Here's what we have…(Bear with me. The only images I have of our personal items are real estate shots.)
That red couch is probably 1920′s/30′s. We bought it in Brooklyn reupholstered. After moving it to Kingston then Beacon and living with it for 6 plus years, the fabric isn't brand new anymore. Good but not excellent condition. $300
Bought this Eastlake rocker at a shop in Beacon. Paid $350 and would like to get as close as possible. It is comfy!
See that bed? That was our guest room bed. We no longer need it since we don't have a guest room. Deco. Decent condition. Full. If you're not paranoid about bed bugs (there aren't any) we can throw in the mattress and box spring. $110. We also have some twin frames and a Mid Century Queen headboard.
We're asking $150 for the enamel table. See those chairs in the picture? We have 6 of them. They were our dining room chairs that we bought at Stormville when we first moved into the Beacon house. They never really matched our dining room table (which we're keeping). Anyhoo, we paid $750 for the set of 6 and will take best offer. They're English, 1800′s. Disclosure: Our dog chewed a corner of one of them.
Speaking of chairs, we have 4 painted brown ones that would match the table if repainted white. We'll sell them with table for $200, entire set if ya want.

Antique wood burning stove from Beacon farm house. Needs a good sandblasting or wire brushing and some spray paint. $250
Mid Century reproduction lamps. A guy. A gal. And a whole lotta kitsch. This was actually from my cousin's house and I have to do right by them. $175 for the pair.
So, you should come to the show. But if there's anything you're interested in, let us know and we won't schlep it to Stormville for nothing.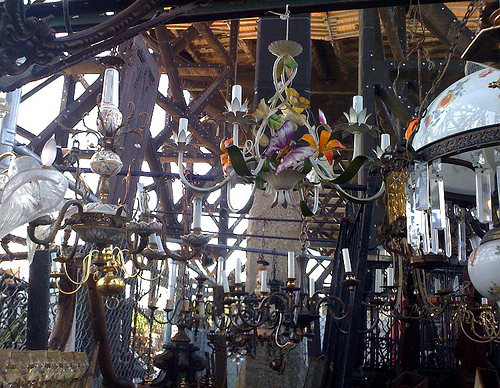 See, this is why I shouldn't leave the house. I go out looking for some restoration materials and I come back with a light fixture that I don't need.
Roy Vaccaro has lots of iron work and other goodies at his outdoor spot near Gowanus Lowe's. I went looking for some marble for my window sills (Eddie Hibbert, if you're reading this, you never called me back!) and ended up falling in love.
Check out that baby below! It's big and heavy and has griffins and lions. How could I not buy it? The husband says it may be too heavy for our ceiling and I said "You make it work." Cue whip sound.
Roy had many cute lights, but I had to close my eyes and keep moving.
So, what do you think I paid for it? Huh? Huh? It's about 2 feet tall and is missing one dangly piece. Of course it needs rewiring.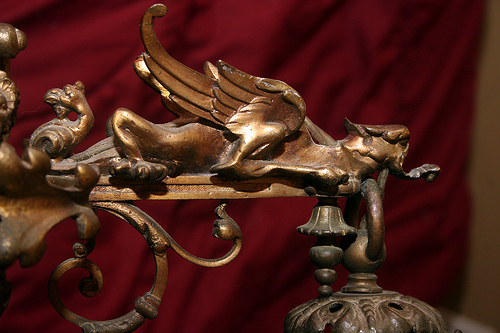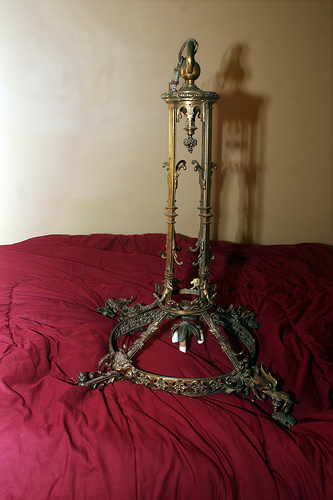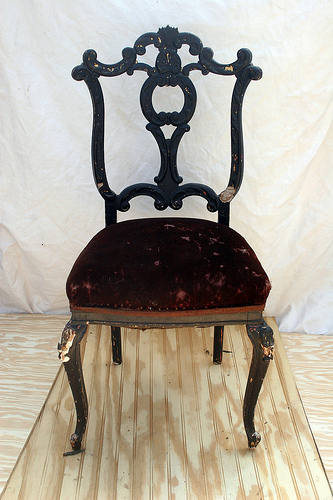 Over the weekend I started pulling furniture out of my garage to get ready for the yard sale. I set up a little makeshift outdoor "studio" to shoot the merch.
It's kind of cool how the chairs almost seem lifelike as they sit waiting for some tlc. All of them are old and raggedy and have seen better days. The chippy paint and cracks are like human wrinkles that tell the story of life's experiences.
Yeah, I know it's a load of crap. I'm just too tired to write anything else.
So….The Beacon 2 BK Moving Sale is this Saturday, April 10th. 10-5pm. Sure, come early, but that means we're putting you to work hauling things. Don't think you're gonna come early to shop, bee-atches!
Address: 1189 North Avenue. That's Rt. 9-D, south side. Park around the corner as there is no street parking and this is a driveway sale. The house is walking distance from Metro North and we may just be open to delivery.