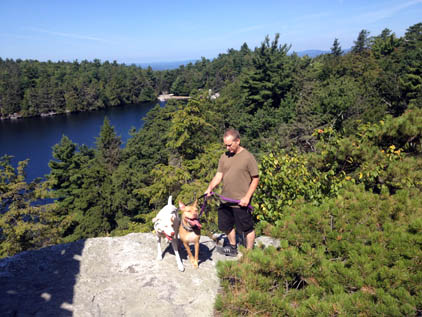 Hubby and I are creatures of habit.  There are three vacations we take every year.  Visit his mom in Ireland. Visit my mom in Florida.  And take an upstate vacation with the dogs.  This year was no different.  We found our dog friendly rental in Woodstock, complete with fenced in yard and the dogs were in heaven.
The rentals are easy enough to find.  Just filter your VRBO or Air BnB search for places that accept pets.  If your dogs are well behaved, you have a choice of properties with lots of land.  For neurotic moms like me, there are a handful of fenced in properties so we don't have to worry about our babies getting lost chasing deer, getting eaten by bears or running into the road.
But it's not all about the house.  We wanted our dogs to be able to spend entire days with us. And that they did!  From the early morning hikes to patio lunches, they were welcome.  Although there are plenty of places in NYC where you can sit with your furry friend in the outdoor area, it's never as pleasant.  Don't even get me started on sidewalk cafes in NYC.  This isn't Europe with its charming squares…NYC has dirty, busy sidewalks!  I said "Don't get me started".
Anyway, since upstate is less crowded and you usually don't have to walk through the restaurants to get to the patio areas, there are plenty of really pleasant dog friendly restaurants where they bring water to dogs before humans. Without further adieu, here are some of our favorites….
1. Sweet Sue's, Phoenicia.  Go with our without the pooch.  It's one of the best restaurants around, full stop. Although they are known for their pancakes, I always get the pistachio encrusted tofu.  Always.  Front porch dining.  Our family of four (2 humans, 2 dogs) sat next to a couple with their black Lab.
2. Rosendale Cafe. Great vegetarian dining in the cutest Ulster County town around.  Backyard patio is enclosed using reclaimed windows and iron work.  Just thought I'd add that.  Very private for those of you with dogs who bark at every passing stranger.
3. Luna 61. Sadly, we didn't get here this time around.  They are only open for dinner now and we drove to Tivoli looking forward to a great lunch with the pooches.  Food is excellent and they did welcome our dogs in the past.
4. Two Boots, Bard.  On the way from Tivoli to Red Hook in search of lunch, we came across a Two Boots.  We ate there.  Who knew there was a Two Boots up there?  Not us.
5. Terrapin, Rhinebeck. Didn't make it over to Terrapin this time around, but they do have an outdoor area where we've been with the pooches. Great food, full stop.
Don't quote me on this, but it seems that any restaurant with an outdoor dining area will allow the dogs as long as they are well behaved.  Our two are not well behaved and we weren't asked to leave, so there's good news for bad dogs too. So, go on…take your dogs on vacation with you and do what you normally do!