Reclaimed Home was born somewhere back in 2007. DIY Diva and fourth generation Brooklynite Phyllis Bobb started the blog and online salvage/upcycled crafts shop because she couldn't afford to purchase another house to fix up for herself.
By 2012, Reclaimed Home finally evolved into what it was meant to be! The first investment flip property was purchased after four near-gut personal restorations. The fifth house is located in an up and coming (hipsterfication) part of Rockaway Beach. Oops.  It was all going so well until Superstorm Sandy hit. Luckily, it was just basement damage and only cost some time and money. The two family home is now rented out until the market bounces back.
So, it's back to the salvage life! A storefront seems like a good idea for 2014. Why not? We are currently renovating a space in Crown Heights on Carroll Street near the untrendy part of Franklin.
Phyllis' first "day job" was professional photography. Portraits the specialty. She also holds a New York State real estate license because one can never have too many careers.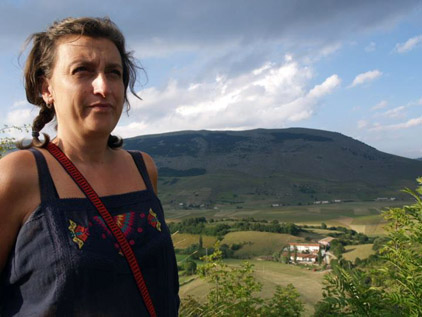 Emilia DeVitis arrived in NYC in 1968 with her family from Abruzzo, Italy and grew up in Astoria, Queens. She received her BFA from The School of Visual Arts and has been active in the arts field for over 25 years.
Over the course of these years, Emilia has taught painting, both privately and at after school programs, sold work at galleries, art fairs, retail shops and in front of The Metropolitan Museum of Art where she and Phyllis met as employees some 28 years ago. She has been commissioned for murals, faux and decorative techniques and original paintings for various restaurants, bars and private clientele.
Emilia has worked for the past 10 years as an Art Director/Studio Manager for an art production studio in NYC where she managed the staff and the production of paintings, sculptures, murals and installations for hotels and corporate environments nationwide. This position has expanded her knowledge of art techniques and the use of many different mediums.
Now she is joining forces with her longtime friend Phyllis at the new Reclaimed Home shop in Brooklyn.