About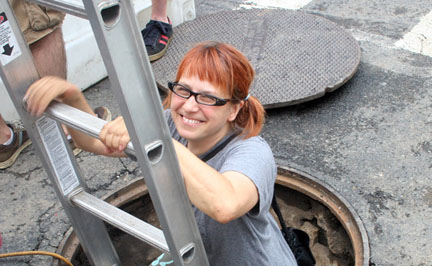 Reclaimed Home was born somewhere back in 2007. DIY Diva, Phyllis Bobb started the blog and online salvage/upcycled crafts  shop because she couldn't afford to purchase another house to fix up for herself.
By 2012, Reclaimed Home finally evolved to what it was meant to be. The first investment property was purchased! The house is located in an up and coming (hipsterfication) part of Rockaway Beach. Oops.  It was all going so well until Superstorm Sandy hit. Lucky for us, it was just basement damage and only cost some time and money. The two family home is now rented out until the market bounces back. In the meantime, Phyllis is planning the next project, albeit minus the house-flip funds.
So, some more background….
Fourth generation Brooklynite Phyllis Bobb grew up in apartment buildings where repairing something meant calling the super. She purchased her first home in Park Slope for $198k in 1994 with her handy husband and has become fairly skilled herself.
It was somewhere between the third and forth home restoration that Phyllis discovered the joys of architectural salvage. She became so inspired by preserving old house details that she gave up her day job as a photographer and devoted her career to upcycling antique items.
Phyllis is a licensed real estate agent with an eye for interior design and furniture reincarnation. When she is not buying, restoring, staging and selling her own homes, she keeps busy by blogging about it.
The Reclaimed Home blog is meant to teach folks about the joys of DIY, whether it be real estate, sustainable living or renovations. We cover the Tri-State area, but our main focus is NYC and Upstate since that's what we know.