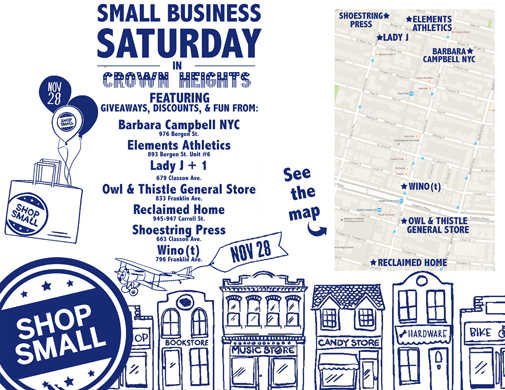 Stuck in Brooklyn for Thanksgiving weekend? By Saturday (November 28), you'll have had enough of the family and leftovers. It's time to get out and get in on those sales! What sales, you ask? Well, we shop owners in Crown Heights are brewing up a little shindig for you.
Reclaimed Home is excited to be a part of Small Business Saturday in Crown Heights again this year. Last year we did it on a smaller scale, but for 2015, we've teamed up with a bunch of business on BOTH sides of Eastern Parkway.
Every participating business will feature an event. It may be a sale or a DIY workshop or a tasting or all of the above. Follow the Facebook page for updates and shop links.
The fun at Reclaimed Home starts as soon as we open the doors at 11am on the 28th. Here's what we'll be up to:
10% discount on all merch
Silent auction (10% does not apply)
Make an offer sale (10% does not apply)
DIY crafting table
Free booze
Hope to see you there!