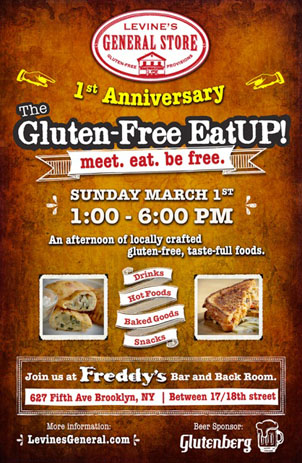 Mark your calendars! Our buddies at Levine's General are having a gluten free anniversary on March 1st at Freddy's Bar and Back Room.
Come check out the awesome vendors so they can continue to spread their gluten free love!
·      Levine's General Store Savory Yum Pieempanadas, Grilled KimCheese on  bread from
       The Gluten Free Bakery of Chatham NY, Kickin'Mac-n-Cheese made with imported Italian pasta from our Pasta Sponsor Taste Up Foods.
·      Kimcheelicious Tangy small batch vegan kimchi – almost as good as a Korean grandma's.
·      Gone Pie All matter of vegan baked goods, chocolate treats…and, you guessed it, pie!
·      Krumville Bakeshop Focaccia, amaretti cookies and classic baked goods from this Italian influenced baker.
·      Polvilho Bakery Crunch into a taste of Brazil with YuPuffs, artisanal, baked and naturally gluten-free snacks. Addictive!
·      Smart Snack Bites Decadent confections and truffles with Indian spiced influences.
·      This Pie is Nuts Individual squares of Certified Paleo and vegan pie with luxurious fillings, key lime to chocolate mousse.
·      Sans Bakery Donuts and ginger cookies to weep for and other baked goods from this trailblazing bakery.
·      Cali Girl Bakes New on the scene, this Harlem based baking company is crafting classic treats like biscotti, lemon pound cake, cookies and more.
·      Brooklyn Porridge Co. Now in its second year, this pop-up is branching out with granola and other new on the go snacks.
·      Kulushkat Stepping out from their Brooklyn restaurant to serve up their kosher, and gluten-free Israeli salads and cuisine.