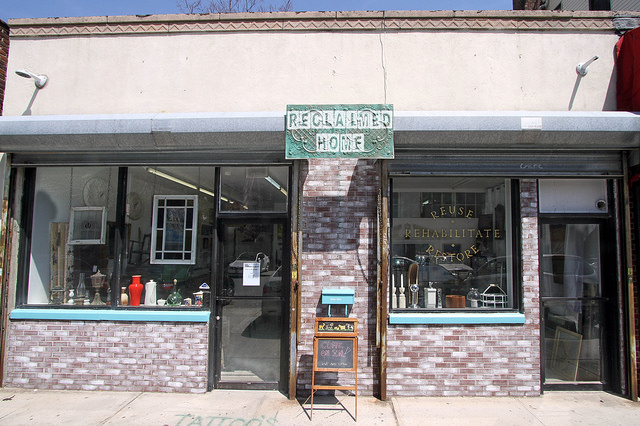 We let a milestone pass by without acknowledgement last week because it's post holiday vacation time. January 9th marked the one year anniversary of obtaining the lease on the brick and mortar storefront. Although the Reclaimed Home offline shop didn't officially open until April, we started to sell some pieces while doing the renovations. So, Happy Anniversary to Reclaimed Home!
Ah, let us reflect on the year past as we look forward to some changes for 2015….
Mistakes. We made a few, but then again, too few to mention. All in all, it wasn't a bad first year in business. There is one more year on the lease and at this time, we're thinking that we don't need a store front. It would be nice to have more space and less obligation to sit there waiting for people to come in. So, perhaps 2016 will bring a bigger and better space…by appointment only.
But let's not jump that far ahead.
We found that unpainted furniture sold quicker than our fab painted creations. Perhaps partly because of price but also perhaps, people are more conservation when it comes to furniture. So, fewer fully painted pieces and more as-is or restored wood merch coming up. Custom orders make more sense in this area.
We want to expand on our services. That's a no brainer. The location jobs we had last year worked out really well. The plan was to cater to everyone with this business and we succeeded in that. The shop consisted of mostly very affordable furniture for those on a tight budget while we were able to provide top quality artistic services to clients who were able to pay us for said speciality services. We LOVE the service aspect of the business!
Events and classes. Yeah, only had a few events. We didn't get around to the classes. The space is kind of small, so we're still trying to figure that out. Gotta work on that DIY coaching idea though!
So, about this sale…. Some pieces of furniture have been with us from day one and need to go. We're going to drastically cut prices by this weekend and keep them down until the shop is emptied of older merchandise. Since we're closed until Wednesday, we're not doing cuts until then, but if you've been eyeing something all this time, feel free to make an offer now.