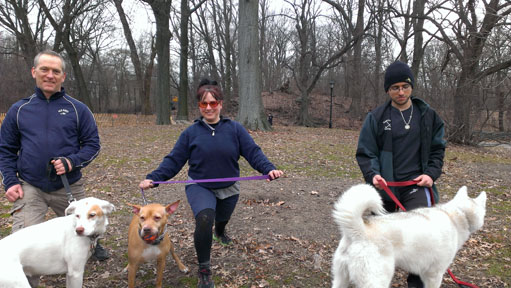 Hey! Welcome back to Life After Holidays. Like everyone else, I'm trying to start the new year off right by getting into shape. Since I'd rather be sitting on my ass than exercising, it's tough to come up with a compelling fitness plan.
Enter Go Fetch Run. An exercise class with your dog? Yep. Hubby and I gave it a trial run on Saturday, each with mutt in hand, and whaddya know? We signed up for the season!
So, what's the class like? It's a mix of boot camp and interval training. The only difference is that you get to exercise your dog right by your side. There's some jogging, burpees, jumping jacks, push ups…the usual dreadful stuff, only it makes it more fun with a dog trying to pull you away. Resistance workout for the arms.
The classes are in Prospect Park and Central Park. Winter schedule is only once a week on Saturday mornings. It costs 5 bucks to give it a shot for the first time. After that, the choice is $20 per class or various packages that would be as low as $10 per class if you actually go all the time.
Don't have a dog? Borrow one!