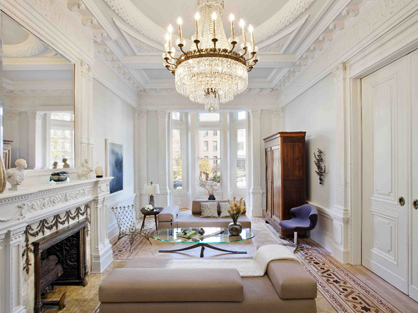 280 Washington
Happy Valentine's, y'all! Doing anything special? Very exciting morning over here in the Reclaimed residence. Hubby went to work reeeealllyyyy early (the usual time) before his romantic date with jury duty. I'm doing something a bit more in tune with the holiday. I shall be looking into a couple of places to hold our 25th anniversary party this year. The 8/8/88 date was lucky enough after all.
When we got married, all I really wanted was a big ole' loft party. Gosh, that was back when even Soho had unfinished loft spaces. My mother said the relatives wouldn't appreciate my beer keg wedding so we compromised on an over the top kitsch Russian restaurant called Primorski in Brighton Beach. The friends loved it. Free flowing vodka and a heavily accented Russian band singing top 40. What's not to love? I think the relatives didn't quite understand the kitsch factor and just thought we were tacky.
Oh well. Fast forward 25 years and now I'm gonna have the non-wedding I've always wanted. Actually, I've graduated from the loft space to something with an outdoor area as well. So, what is a person to do when they want a completely laid back alternative party space with absolutely no structure?
My first thoughts were to rent a huge house upstate and have folks stay the weekend. The best wedding I ever shot as a photographer was on Fire Island. Couple rented a house on the beach for the week and held a lovely, casual "hang-out" wedding. They danced. They swam. They kayaked. They picnicked on the beach. Doesn't that sound so much better than a party at a wedding factory? But alas, I was outvoted on an out-of-town party.
Anyhoo, enough rambling. Here's what I found: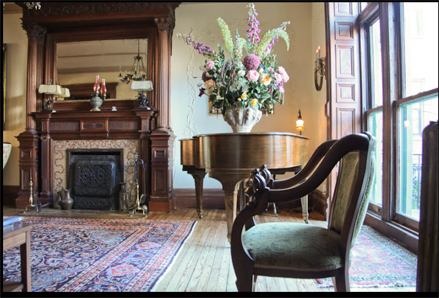 The Moran Victorian Mansion is actually a residence. A beautifully restored detached brownstone mansion with a garden and even a bar. If you scroll back a few days to the post about a contractor looking for a work/housing exchange, this is the very same place! What I love about this place is 1. It's gorgeous. 2. It's right around the corner from my house. and 3. The price isn't cray-cray. Basically, it's $500 per hour for the event.
The Akwaaba Mansion is also located in Bed Stuy. Prices are lower than The Moran, coming in at $400 per hour including the courtyard but if you factor in the mandatory gratuity plus the fact that you must rent all guest rooms for evening events, it comes out to more. The room rentals may be a plus for moi if people come from out of town, but then there's the added chore of getting them to pay for their own rooms.
280 Washington (photo at top) in Clinton Hill is a great deal for smaller parties. Jessica got back to me immediately but informed me that the party limit is 50 people and since I just want to casually invite people off the street to pretend I have friends, this wasn't a good match. She was extremely helpful though, pointing me in the direction of other venues and caterers. The rates are about $200 per hour plus insurance. All of the guest rooms can be rented.
Then there's Shell's loft space. A 5000 square foot, four bedroom in Clinton Hill that can be rented overnight for $1200. Guests can stay for the entire weekend for the price of one of the other places that has outdoor space. It's everything I wanted for my own wedding but I'm stuck on that damn outdoor space these days!
Here's a list of awesome venues that were out of my budget. We're talking $6000-10000 for space rental alone. Worth it for a wedding but not an anniversary.
Coney Island Museum and Sideshow would have been my number one choice but if it's a weekend party, you have to compensate for their lack of performance tickets as well so it would have gotten pricey. Besides, I'm sure there will be enough freaks at my party. Who needs to hire more? Currently undergoing renovation due to Sandy but will be ready by June.
TBD in Greenpoint has a great indoor/outdoor party space. A beer garden with picnic tables? Can't get more casual than that.
There were also some amazing places in Manhattan and Queens. Shout out to Gary's Loft, Queen's County Farm Museum and The Foundry.