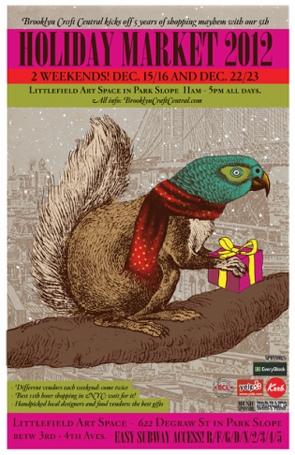 Looks like this apocalypse thing ain't gonna happen so that means you're still on the hook for gifts. What's better than a locally hand-crafted one of a kind gift? The fact that you're supporting local indie vendors.
If you only have time to hit one craft market, you can't go wrong with Brooklyn Craft Central's Holiday Market 2012. Curator and promoter Deb Klein works her ass off to make sure these shows run smooth as butta for both shoppers and vendors. I know because I was one of those vendors back before I gave it all up to work on big projects.
Brooklyn Craft Central will showcase about 70 vendors this Saturday and Sunday at Littlefield Art Space in Gowanus.
Williamsburg's Artists and Fleas has a pop-up shop running at the Chelsea Market in Manhattan. They are open daily through the end of the month, minus Christmas Day. The Williamsburg location will also be open this weekend.
Also in Chelsea Market is the Jingle Holiday Pop-Up Shop.
Over in Queens, there's Astoria Market's Last Minute Shopping Extravaganza at Bohemian Hall and Beer Garden.
Then there are always the old standbys such as Union Square, Brooklyn Flea, Grand Central and more. For a full list, visit Markets of New York.
Happy shopping!