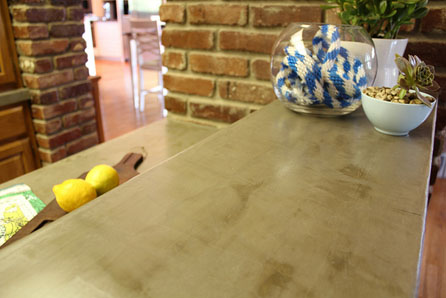 I tend to go with tile countertops because they are inexpensive and easy to do but sometimes one needs a change in life. So, I'm researching. You can stick just about anything in resin but the problem with that is that heat will melt the epoxy. So what's a DIY gal to do? I've always wanted to try a concrete countertop. Hell, why not? I've done concrete floors.
Then I came across Kara Paslay Designs' blog post on a DIY concrete counter that you don't have to pour. Duh! Why didn't I think of that? I could never be bothered with pouring a countertop because you have to build a mold for the pour first and let's be honest…Who wants to do that?
So all's ya gotta do is skimcoat any roughed up and prepared surface with Kara's recommended product called Ardex Feather Finish. A few coats, sand and seal.
Sounds too easy. I'll let you know if it's idiot proof since I'm pretty sure this idiot will give it a shot pretty soon.