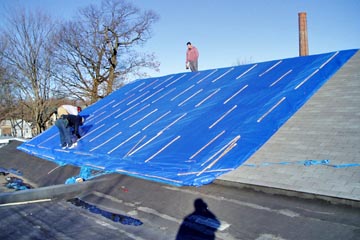 In the weeks since Hurricane Sandy pummeled the East Coast, American Custom Contractors in Northern Virginia and Maryland has been helping homeowners in the Washington D.C. Metro with roof repairs and other storm damage repairs. They stopped by Reclaimed Home to offer tips on what to do after hurricane damage and how to avoid shady contractors.
When Hurricane Sandy barreled through the Mid-Atlantic this week, she left a trail of damage from North Carolina to New England. For homeowners whose homes were damaged by Hurricane Sandy, the long road to recovery is just beginning.
The biggest source of home damage during a hurricane is often roof failure. First, there's the cost of a roof repair or roof replacement. Falling trees, branches, and debris can punch a hole in a roof. Uplift from hurricane wind can rip the roof from its frame. Wind can also tear shingles from the roof.
After a roof fails, subsequent wind and water damage to the home's interior – as well as damage to personal property inside the home – can result in tens or hundreds of thousands of dollars in damage.
What to Do If Hurricane Sandy Damaged Your Home
Let's face it: Repairing storm damage to your home is no picnic. From getting emergency shelter and choosing a repair contractor to dealing with the insurance company and paying the bills, an emergency home repair can be stressful.
If your home has been damaged by Hurricane Sandy, your first call may be to a contractor who will provide emergency repairs so you have adequate shelter. A good contractor will be with you at every step in the home repair.
Here are steps your contractor should take along the way:
• Complete emergency services such as roof tarping, installing a temporary roof, or emergency board-up of your damaged roof.
• Conduct a thorough damage assessment
• Assist you with submitting a claim to your insurance company.
• Provide a full written report detailing the extent of the damage to your home and property and the emergency services provided.
• Work with the insurance claims adjuster assigned to your case to settle the claim.
• Undertake the restoration process to repair or reconstruct significant damages to your home.
Questions to Ask When Choosing a Storm Damage Repair Contractor
Although hurricane damage to your home can be distressing, hiring the wrong contractor because you're in a hurry or in a state of distress will only hurt you down the road. Take time to choose a reputable contractor who will repair your home correctly, promptly, and without taking advantage of you.
Here are questions you should ask when choosing a contractor:
1. What is the full name and address of the company?
Especially after a hurricane or large storm, fly-by-night contractors will pop up to offer services. Be very wary of a contractor who cannot provide a name and address for the company. Verify that the name and address provided are valid.
2. How much insurance does the company carry?
Avoid any contractor that cannot provide you with Insurance Certificates for Liability and Worker's Compensation. Call the contractor's insurance companies to verify coverage. Your homeowner's policy probably will not cover injuries to the contractor or their employees.
3. Is the company a licensed contractor?
Maryland, Virginia and Washington DC laws require contractors to be licensed in order to perform home improvements. New York, New Jersey and other Mid-Atlantic states have their own contractor license laws. Ask for license numbers and check with home improvement licensing agencies to confirm the license hasn't been suspended, revoked, or expired.
4. How long has the contractor been in business?
Use extreme caution when considering a contractor who has only been in business for less than five years. A more experienced contractor who has demonstrated a commitment to the profession will be better equipped to repair and restore your home than a contractor with less experience.
5. Does the company offer a workmanship warranty?
Your contractor should offer a reasonable warranty to the quality of their workmanship. Don't assume a longer warranty is a better warranty. A warranty is only as good as what it covers. A lifetime warranty may be too good to be true, and getting a contractor to honor that warranty may be extremely difficult.
Check out these pictures of Hurricane Sandy damage in Maryland and Virginia on the American Custom Contractors blog.