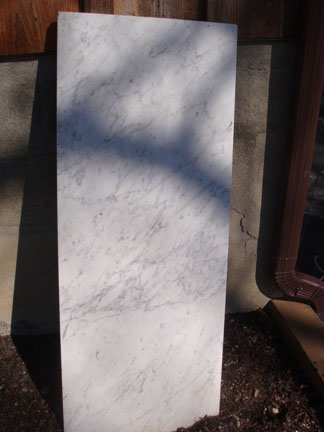 Never underestimate the value of Craigslist when it comes to renovating your home. You can find anything from free studs to $1 Italian ceramic tile to reclaimed flooring at half the cost of outlets.
People often have leftover material from projects or they recycle the stuff they rip out. A short list of things I found on Craigs include…
1. Claw foot tub. Free
2. Glass mosaic tile counter and backsplash. $50
3. Finished walnut flooring for BR and hallway. $400
4. Like new cherry kitchen cabinets for entire kitchen. $500
How much does a marble kitchen countertop cost? $2000-$3000? $125 bucks for that 18×48 slab above. Yeah, you still have to cut it, but if you want a marble counter and it's beyond your budget, this is one way to do it. I may actually give them a call as I'm looking for marble to use as window sills.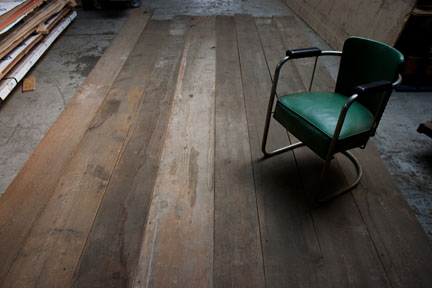 Reclaimed 1700's pine wide plank flooring. No price and it looks to be a factory or lumber yard, so don't know if it's a bargain. Retailers charge $6 and up (way up) per square foot for this stuff. I think we paid around $10 many years ago, plus shipping.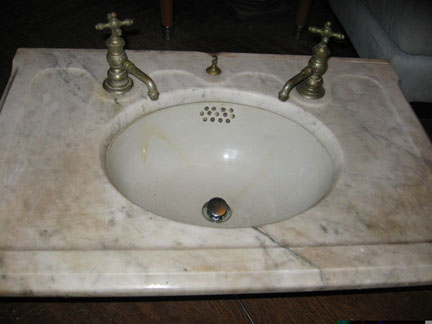 This antique sink top includes the faucets and undermount sink for $200. Is that a fabulous bargain? Eh. But it's one stop shopping since you don't have to go out and find the fittings for the counter. You can sit it on top of an old dresser or antique wrought iron sewing machine base, as I've done in the past.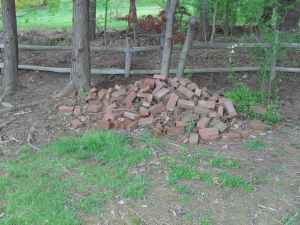 Retailers will charge something like $.65-$2.00 per used brick, but you can always find someone giving 'em up for nothing. This pile of used bricks is located in Poughkeepsie, NY. There are 250-300 of them. Sometimes you have to travel a bit to get something for nothing, so make sure it's a whole bunch of something!