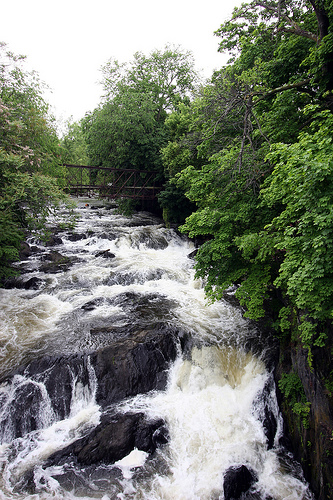 It's been a long time since I wrote one of these location posts, simply because I ran out of places to review. My original Beacon post was in 2007, so it's time to update since I'm working on a web page for my house.
Obvious disclosure here: I have to remain positive about Beacon since I want to sell my house! But I'll be truthful. I promise.
In fact, let's start with the negatives. Why are we leaving after six years? I'm not sure this has anything to do with Beacon itself as much as the fact that we're just crotchety old city folk and small town living really isn't for us. Most people we've met in Beacon love it there! They are really happy, whereas we never felt 100% at home.
The following factors could be positives depending on what you want out of life, but we just found it depressing. It's too quiet. You can walk down Main Street and not run into another person for a couple of blocks. On the other hand, you can encounter the same 5 people wherever you go. See what I mean? If it's a quiet lifestyle you want, then Beacon is your place!
Wanna hear crickets and see stars at night? Go for it! I need the horns, sirens and rumbling subway to sleep at night.
Obviously, there are people and places I'll miss. My dinner preparation has always consisted of going through menus and making a phone call. No such beast in Beacon. Ok, maybe 1 or 2 restaurants deliver. Beacon Natural has been my own personal chef. The deli counter has a great variety of daily specials made from local, organic produce. The chef is a Millenium alumni and the food is not that pricey. The menu is emailed to me daily and I even get a phone call if they think they'll run out of my favorite dishes. Owner Kitty has been my health consultant for years since I'm scared of doctors and her husband LT has even helped us work on our house.
I'll also miss the local wine shop, Artisan Wine. Ok, so food and drink mean more to me than anything else. Is there a problem with that? Tim and Mae are city transplants who moved upstate to open said shop. It's really laid back and lacks the snobbery of some of the city places. There are tastings every Friday and Saturday for bottles less than $15.
Beacon is an awesome location for people who are attracted to the great outdoors. It's right on The Hudson. There are riverside trails and kayak and sailing docks. Even a river pool. The town is also home to some fabulous mountains. Being sandwiched between the mountain and the river…can't find a flaw with that! Mountain Tops offers some great hiking and kayaking trips.
And now I'm bored of writing. It's time for some lists!
PROS
1. The River. The Mountain. See above.
2. Small town living.  Again, not for some people (like me). But most people find this charming and quaint. Yes, the town is charming and quaint. As charming and quaint as any small town can get. Plus, it's got the hipness factor going for it.
3. Beacon is still moving forward. In the past 6 months, since we've made the decision to leave, a few new interesting places have popped up on Main Street. There's a raw cafe and The School of Jellyfish, which…well, I really don't know what it is, but they have good hot chocolate and vegan food.
4. Metro North. Makes Beacon commutable and leave-able when you need to get away.
5. DIA. Without DIA, none of you would know where Beacon is. Admit it. That's all I get. Me: "I live in Beacon." Everyone else: "Oh, I know where that is! I've been to DIA."
6. The Art Scene. If you're into "the scene", it's a pretty cool place to get your name out there and hang with like-minded artists.
7. Good for farmy, foodie types. There are plenty of farm shares and farmer's markets around for those who like to cook. Although Beacon is known as a haven for artists, the nutritionists and greenie people are abundant.
CONS
1. Restaurants. As in, lack of. As in, the few that there are ain't much to write home about.
2. Main Street shop owners are screwy! I wish they would take their businesses seriously and open up decent hours, 7 days per week. The hardware store closes at 3pm on Saturday and isn't open on Sunday. Paint store: closed on Sunday. Hello, Home Depot and big box stores! Thankfully, they are less than 10 minutes away.
3. Sidewalks. It's the weirdest thing. On some side streets, the sidewalk just ends. It reminds me that people don't walk much here. Forget bike lanes.
4. Art scene. Ok, did you get from my "pros" that I'm not exactly thrilled with the art scene? As much as I love the artists that the galleries show, they need to mix it up a bit. Seeing the work of the same 5 artists at every show is a bit like masturbation.
5. Mellow energy. Again, many might see this as a positive. Do your yoga, have a stress free day. These days for me, I only feel alive when I'm arguing with cabbies.
LINKS
City of Beacon website
Wanna know what the citizens think?
Rent or own in Beacon? Use this Beacon realtor!