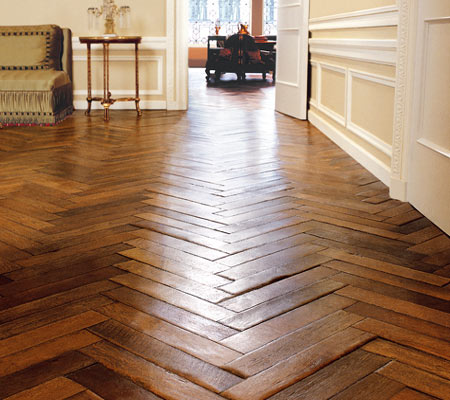 My antique oak floors aren't in terrible shape (not my house above!) and they are not in high traffic areas, so they don't need that hard shell of plastic covering them. I'm thinking of going with a poly alternative. Probably just a maintenance waxing will do the trick. But in researching waxes, I did come up with a few green heavier duty options.
These are better for the environment than polyurethane. Some of them do contain solvents and other nasty stuff, but they are more natural than poly.
Natural oils seep into the wood instead of sitting on top so the grain isn't hidden. Have you ever seen an antique floor that has been refinished so it looks like laminate? Yuck!
Here are three poly alternatives to start:
1. Waterlox. This is a tung oil and resin mix. Pure tung oil wouldn't hold up too well on a floor. On the plus side, there's no need to sand the floor between coats and it's possible to "patch" a worn area to blend in with the rest of the floor. This can also be tinted. Down side, for me anyway, is that even the satin finish is pretty glossy. Personally, I HATE gloss!
2. Bioshield Hard Oil. This is a low VOC product made up of linseed, tung and castor stand oils mixed with resin and some other funky stuff. It's said to enhance the grain of the wood while being durable and water resistant.
3. Eco House Hardwood Floor Oil. Linseed, Chinese wood oil, citrus thinner and resin are the ingredients in this Canadian product. It has a honey tone and it is tintable.