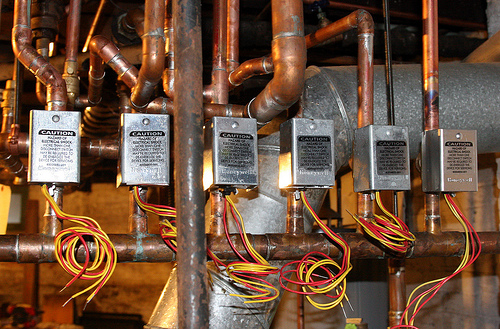 He says it's a zoned heating system. He's been potchkerring around down in the basement for months now. I don't know from plumbing, so I have no clue what's going on. If he's trying to kill me and collect insurance money from the house burning down, a bomb would be the way to go. Right?
Well, let's say I'm just being paranoid. So, here's what we've got….Beacon house. Six zones on a 3 BR, 2600 square foot house. Overkill? Our bills are $250 per month. We only use half the house and the rest is for "guests" whom we never invite over. Call it trying to save money. Call it saving the planet, but it's silly to heat rooms that don't see use.
Materials cost us $1000 to date and that doesn't include the 6 thermostats we'll need or the hours of labor. I can't wait to see if there's a difference in our bills.
Has anybody done this before? I'm curious to know what plumbers charge.