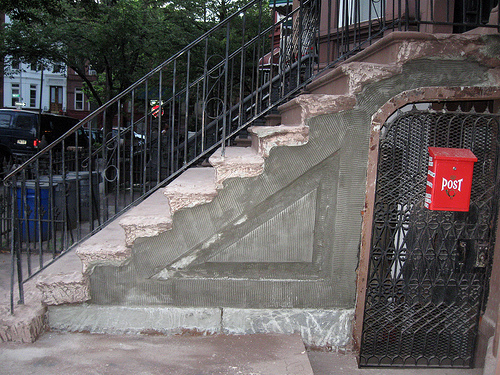 So, our brownstone stoop was collapsing and we couldn't put it off any longer. Yes, we are DIY maniacs, but detailed masonry is not our forte. Unfortunately, I didn't take before shots, but that side detail was a big bulge, "fixed" by the previous owners over the years. The gate was coming away from the frame, making it mighty difficult to open.
There were a bunch of recommendations for Z. Abedin on the Brownstoner forum. That's the guy we went with. Licensed, responsible (like he actually shows up when he says he will!) and not as pricey as some of the other brownstone guys.
Could we have gotten this for less? Absolutely. The people up the street are getting their facade done. It's a total mess and the scaffolding looks dangerous. I'll bet they would've done our stoop for less than half the price. But sorry, it looks like they don't know what they're doing. I feel bad for my neighbor.
Something I didn't know….the longer the scratch coat cures before applying the brown coat, the better it will "take". It should be a minimum of 2 weeks, but Z suggested even months. That's fine with me, since we're paying him in installments. The only thing is, we're going to have a gray stoop for awhile.
More progress updates tomorrow.
Related: Holes and Wet Stoops