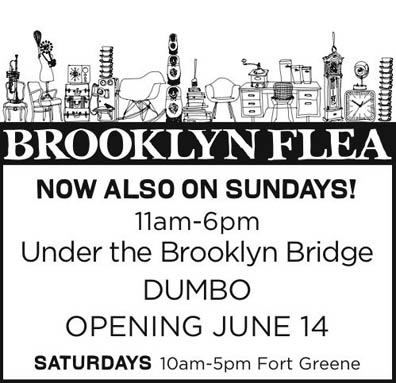 Brooklyn Flea is launching their newest location this Sunday in DUBB (down under the Brooklyn Bridge). The Dumbo winter market has closed shop for the hot weather and they are moving it outdoors, right on the waterfront.
The market will feature many of the same great vendors, plus some new "nicer" merchandise. "Nicer"=more expensive?
Fort Greene is still there on Saturdays until the winter holidays and Dumbo will be on Sundays.
Ms. Reclaimed Home is cutting out for the summer months and returning in September full force. I didn't do July and August last year because the gal can't take the heat. I'm not not doing the remaining June weekends due to scheduling conflicts (completely disorganized life). I should have some supercalifragilisticexpialidocious inventory when I return in the fall.