It's been slow going on our Bed Stuy living room. Hubby has been repointing bricks and adding new joists for an eternity now. He's supposed to be working on it about three nights per week after work, but I call him about 7pm and he's always just leaving work, so not much is really getting done.
There have been some baby steps made since I last posted about it before the New Year. Most of the pointing is done and he's got some new joists in. There's still plenty of work to do around the windows. All of the wood was pretty rotted from past water damage. Once he s-l-o-w-l-y finishes this and gets it closed in, we'll have the floor guy replace the tongue and groove and finish the floor. Everything else is a piece of cake. Really, just painting from there.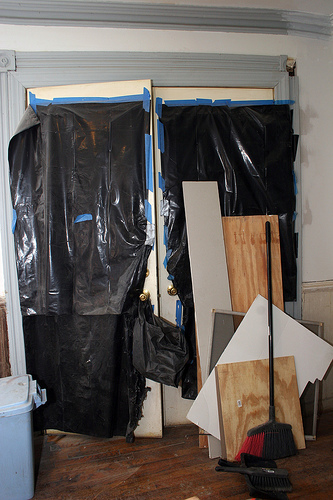 I headed over to Eddie's on Saturday to look for front doors to our apartment. The previous owner had exterior French doors which we covered with plastic bags since tenants moved in 3 years ago. It matches our window curtains. We'll use those glass doors in the hallway to let some light in, but we prefer privacy when sitting around the living room in our jammies. When we have a living room, that is.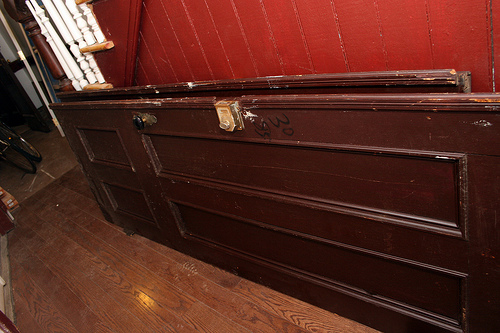 The double mahogany doors cost $100 including the original hardware. It looks like I'll only need to strip one coat of paint and I don't even think it's primed. Might be just shellac. The doors will sit in the hallway for another 3 months at least, but it made me feel like I accomplished something by getting them.
Hey, we're on a roll, huh? Is there anyone who works slower than us??