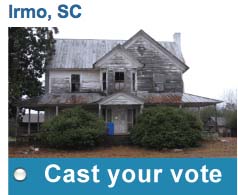 Back in October I posted a contest held by the Paint Quality Institute. Of course my lazy ass didn't get around to writing an essay to enter. Now I'm glad I didn't. Looking over the top 20 finalists made me feel very fortunate about my life. There are some real sad stories out there!
The institute is asking people to vote on the finalists. The house in the above photo had me immediately. But in the end I had to cast my vote for the pet rescuers. They have all these pets, then the husband was deployed to Iraq and suffered injuries….Oy!
Then there's the one with the trailer and the fire and the brain surgeries.
So yeah, my own house is looking rather haunted these days and who knows when I'll get to paint it? But you know what? These people need it a hell of a lot more than I do! Cast your vote!