**Archive. Originally posted October 2, 2007.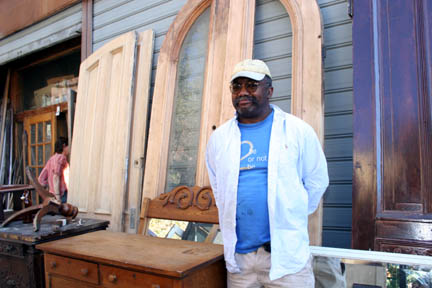 His prices are insane!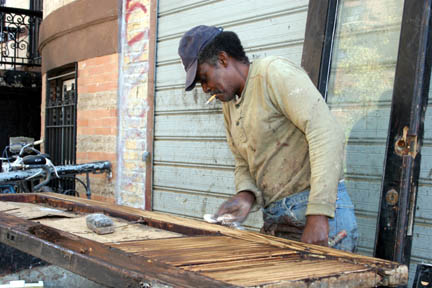 Stripping Paint
Eddie Hibbert is famous in Brooklyn. At least amongst those of us struggling to restore our 100 year old homes. Located on Greene and Grande in Clinton Hill, Eddie doesn't have a website. He doesn't answer his phone. He opens at noon and is closed on Sundays and Mondays. And yet…he can't handle all the business he gets.
An ex firefighter and member of the Vulcan Society, Eddie found his way into the salvage business some 30 years ago while living in Harlem. A guy who was salvaging brownstone details told him that the artisans who built these fine homes wouldn't be around forever and the value was bound to go up. Eddie listened. He studied up on antiques and volunteered to help "mentors". He started out by selling to the antique shops on Atlantic Avenue. His 2 original stores were on Myrtle Avenue.
Apart from the usual Brownstoner crowd, Eddie's customers range from Williamsburg artists to folks looking for unique headboards such as doors or mantles. He gives work to guys who need it, but has to be careful about whom he takes with him into people's homes. A long time customer who was there the day I was interviewing Eddie chimed in "He's too kind hearted for his own good!" Eddie just says "I'm a simple guy."
What you'll find: Everything. Dig for it or ask. Doors, Mantles, Fireplace Inserts, Shutters, Newell Posts, Fretwork, Stained Glass…..if it came out of a brownstone, it's here.