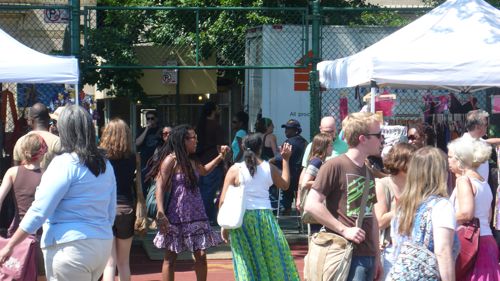 What happened to Brooklyn? It used to be so cool when it was uncool. Now it's full of a bunch of grumpy NIMBY whiners. Apparently, a flea market is an unwelcome occurrence.
People are bitching about the Brooklyn Flea already, 3 months into the endeavor. It seems that the nearby church is peeved that the vendors are taking their double parking rights on a Sunday morning. I don't think that was said outright, but come on, what else could it be? On top of that, there are some neighborhood people complaining about….actually, I don't know what their gripe is. But this is Fort Greene. It usen't to be so….complainy.
The market sustains over 150 vendors per week (including moi).
The market generates income for the school.
The market employs 15 people part time.
The market is economic stimulus for Fort Greene.
And this is bad, how?
You know what? Screw you, Ft Greene! We'd love to have the flea in Bed Stuy! We could use the economic stimulus.
Councilwoman Letitia James is trying to save the flea and you can too.
A town hall meeting will be held Thursday, July 24, at 7 p.m. at the Queen of All Saints' Roman Catholic Church, 300 Vanderbilt near Lafayette.
Via Daily Intel