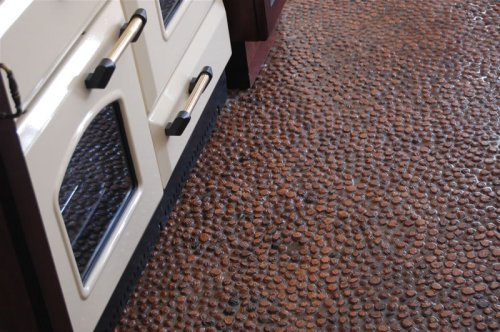 Alla le Roux came across his first peach pit (or "pip" as they say in South Africa) floor at the age of six when his parents took him to Klein Zoar in Cape Town.
When Alla purchased an 1860 home years later, he remembered those floors. After much trial and error, he successfully laid his flooring. He registered the design in 2007.
The home in Paarl is now an art gallery called The Orange Mill. The floors were so popular that Alla and his partner Liz entered it as a business concept in the FNB Enablis Business Plan
Competition. They were finalists.
The floor consists of peach pits that are packed by hand onto a glued surface and filled
with a silica sand and resin mix, then sealed with a twin pack urethane. Sharp edges are ground down exposing the red hue. Design and color can be customized.
I'm not sure if you can order this in the states yet, but if you enjoy your peaches and you feel like taking on a project, go for it!
Via Inhabitat