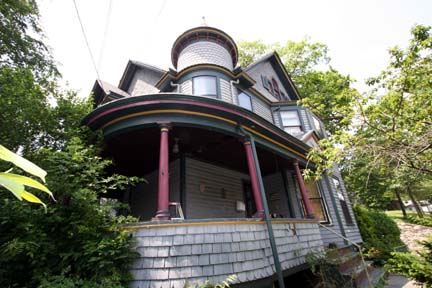 Our $385k house
Hey, don't look at me. I didn't say it. The NY Post did. As if this is news all of the sudden that starving artists are leaving NYC for more affordable digs upstate.
"Meet the suburban pioneers – folks who've migrated to edgy, diverse towns in the Hudson Valley where you can nab a house for less than $350,000." Pioneers? People lived here before we did. I hate that word "pioneer"! Edgy? Who wrote this? Someone living in the mid west? I'll give you this….Beacon is edgier than…umm…..Marine Park.
Don't get me wrong. I'm a big advocate for buying a $350k house in a walkable town right near the train. It's just that the media tends to hype things a bit much. Even I'm guilty of calling Beacon an artsy fartsy crunchy granola paradise. We checked Beacon out because of the buzz. We weren't fooled by all of the NY Times articles, but we saw for ourselves that the area was in transition and that's what we like about it. It still has a ways to go. Our neighbors' rainbow flag was just stolen from the front of their home. On the plus side, at least you can say we have neighbors with a rainbow flag.
Oh yeah, back to the Post article. The three towns they site are Beacon, Peekskill and Haverstraw. They compare these places to Soho "in it's day". Thankfully, I'm not old enough to remember Soho before it was discovered. I'm more of the East Village era myself.
The Beacon and Peekskill couples moved from Park Slope and the Haverstraw couple, from Astoria. Here's the beautiful thing: All three couples purchased their homes for less than $300k. They all love living in the Hudson Valley.