Weburbanist came up with "7 More Abandoned Wonders" last month. The original 7 can be seen here.
Some local sites made the list, including North Brother Island in the Bronx and Staten Island's Augustinian Academy.
North Brother Island has a bit of a sad history. In the late 1800's Riverside Hospital was home to typhus, TB, cholera, yellow fever and smallpox patients. From 1915 until her death in 1938, it was also home to Typhoid Mary. By 1963, Riverside was receiving heroin addicts. It was abandoned shorty after.
On June 15, 1904 the island became the site of the worst loss of life disaster in NYC's history when the General Slocum steamship caught fire and burned, killing 1000 people. Ninety seven years later, the site of the World Trade Center would unfortunately steal that title.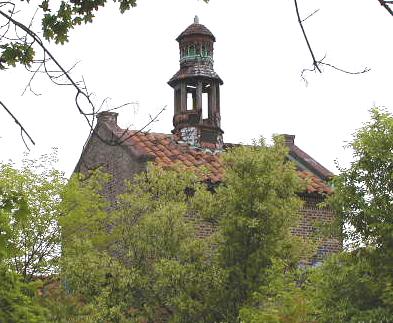 Augustinian Academy was built as a private school for boys in the 1920's. By 1970, the school closed down and the building was converted into a retreat house. Developers purchased the structure in 1985, but did nothing with it. It is now owned by Wagner College and they are said to be protecting the property from development.
But here's where the story gets interesting. St. Augustine was a holding ground for priests, nuns and monks in training during the 1800's. One monk went crazy and killed everyone around. It is said that his spirit haunts the monastery to this day. The abandoned structure also attracts Satan worshipers.