Our trip to Florida last week was strictly for visiting purposes. But in between installing ceiling fans for my mother and meeting the Jack Klompus of The Greens of Tamarac, we did get a chance to surprise our friend Liz at the Aqua Art Fair in Miami.
Aqua Art Miami is part of a week long contemporary art fair in which various hotels in Miami Beach transform themselves into galleries. The main event, Art Basel Miami Beach, sister event of Switzerland's Art Basel, is now the most important art show in the United States.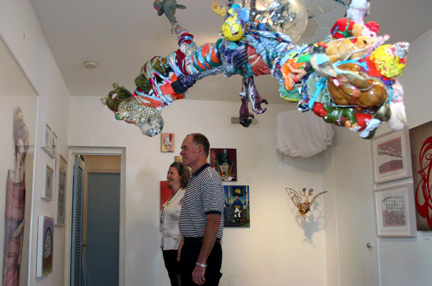 Liz in her temporary hotel room gallery in Miami
Liz has been a gallery director and private art dealer for years. In 2006, she finally realized her dream of opening her own gallery. Heskin Contemporary on W. 37th Street, has been doing quite well. Liz has managed to round up an impressive assemblage of emerging and established artists to represent.
Julie Peppito is one of those artists. We had the pleasure of meeting Julie at the show, a former Park Slope resident who left for the greener pastures of Kensington. She briefly considered Beacon until some artist friends of hers told her it can be a bit isolating.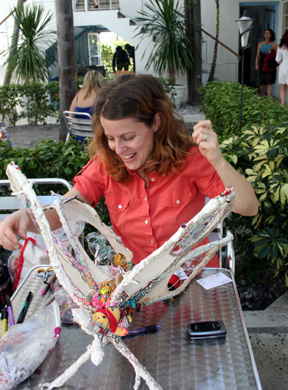 Julie at work
Julie's work is made up mostly of recycled material. Directly from her artist statement:

"I transform trinkets, trash, and the residue of Americana into paintings, statuettes, collages and installations. By bundling, layering and stitching together the waste around me, I confront the mass of consumer goods that tugs at my wallet and overflows the Earth.
By decorating the debris with carefully painted and embroidered textures and stories I redirect its message and attempt to eclipse its damage. I want to make the awful and corrupt delicious again."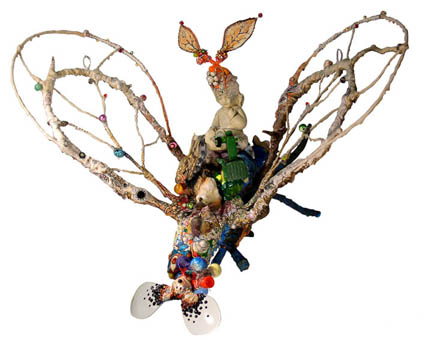 Works on paper start at $1250 and sculptures range from $2000-$7500.