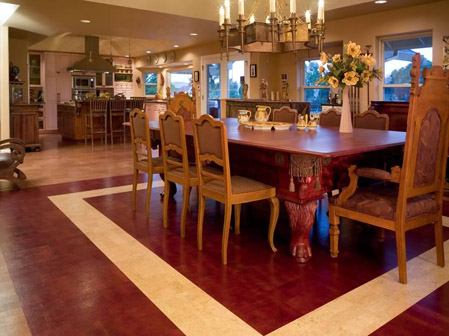 I haven't explored cork flooring yet because it reminds me too much of the 70's. I still have nightmares about cork walls (my friend did his entire room in brown cork) and cork wedge heels. Hold on…I just had another memory! Does anyone remember Azuma on W. 8th Street? They had lots of cork.
Maybe here's where I need to say "Cork has come a long way." Actually, it was around long before the 70's. It's a sustainable, resilient material now being used in homes of people with taste (unlike the 70's when nobody had taste).
Pros
Cork is from the bark of the tree. If harvested correctly, the tree is unharmed and the bark will regenerate.
Easy DIY. Cork often comes in 12″ squares for easy installation.
It comes in colors! Not just brown.
Cons

Don't expect it to last longer than 10 years.
Tends to yellow and fade in the sun.
It does need to be sealed.
Green Living
Cork Floor
Duro Design