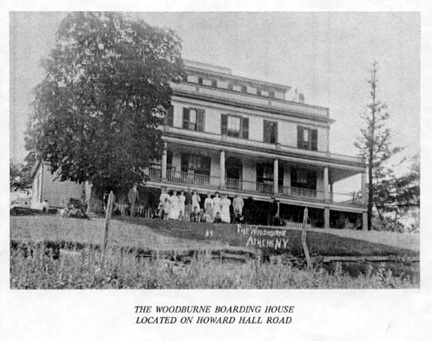 Jean over at I Love Upstate hooked me up with Howard Hall Farm. I had never heard of them, but what a great find!
My husband doesn't realize how easy he has it with our tiny home renovations! In 2005, Nora and Reggie purchased the 1780's stone house overlooking the Hudson in Athens, NY on a whim. The home was in terrible disrepair due to years of neglect.
Howard Hall Farm is not just a restoration project. The Federal style home has become a vehicle for educating people on sustainable restoration techniques. Classes and workshops are taught on site (Really….are they just trying to get people to help work on their house?) and a TV may be in the works.
And for anyone doubting living through their own renovations, here's a positive take on things from Reggie… "We sometimes struggle with the amount of work, living among the dirt and workers, chaos and squalor, but imagine someday we will too be past this phase with a beautiful restoration to show for it, and another slice of important Hudson river history preserved for posterity."