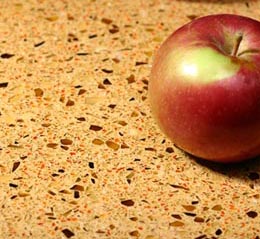 Icestone
Of the three larger companies fabricating recycled glass composite countertops, Icestone, the best known, is also the only local one. The product, made from 100% recycled glass mixed with concrete, is manufactured in a day lit factory in Brooklyn. The chemical composition is benign and 99.5% inorganic. Icestone comes in a variety of 23 colors. Local showrooms include Chelsea Arts Tile and AK Tile Studio.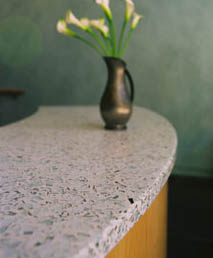 Vetrazzo
Vetrazzo is composed of 85% recycled glass with a binder of cement, additives, pigments and other recycled materials such as fly ash – a waste by-product of coal burning power plants. They do not utilize synthetic, petroleum-based resin binders. The product comes in 16 colors and is manufactured in California.
EnviroGlas
EnviroGlas Slabs are made of 75% post-consumer and post-industrial recycled glass and 25% binder by volume. They do use resin in the process. There are 22 standard resin colors or you can formulate your own design. The company is based in Texas.