Design by Craig and Ebay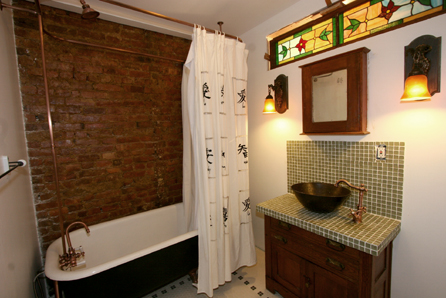 After restoring 3 floors of our house, there was no money left for the 4th level. The bathroom had to be put in from scratch and we didn't have time to DIY it. Not that we would've spent a cent more on materials if we had it, but we were REALLY on the lookout for bargains this time.
How do you think we did? Is this high or low compared to others? Our big ticket item was the shower enclosure.
Clawfoot Tub: Free. Craigslist
Sink Vanity: $ 40. Craigslist
Glass Counter/Backsplash: $ 50. Craigslist
Sconces: $ 220. Ebay
Stained Glass: $ 250. Ebay
Copper Sink: $ 110. Ebay (Mexicopper)
Vessel Faucet: $ 92. Ebay
Medicine Cabinet: $ 50. Water St Market, New Paltz
Octagon Floor Tiles: $ 250. Bergen Tile
Mariner Toilet: $ 180. Lowes
Shower Enclosure $ 660. Clawfoot Supply
Hunter Exhaust Fan: $ 98. Lowes
Towel/Toilet Holders: $ 16. Ikea
Door: $ 20. Eddie's Salvage (Greene and Grand, Brooklyn)
Doorknob: Free Came with house
TOTAL: $ 2036
PS:We still need molding, but we can probably come up with enough scrap from our basement.