Tools I Can't Live Without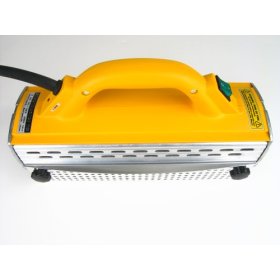 A friend turned me on to the Silent Paint Remover only after I finished stripping 3 floors of my brownstone. With a whole room of wainscoting to go, it was still worth it for me to give it a shot.
Unlike a heat gun, the SPR heats a 5″x12″ area at once, so it goes lickety-split. You'll still need the heat gun or chemicals for small corners and clean up, but I'd highly recommend this tool to get through large areas with multiple coats of paint. It can save days, maybe weeks, on large projects.
If you're working on a flat surface, you can move it along to heat the next area while you continue to scrape. For vertical surfaces, I invested in the hands free kit, which saves my arms, but isn't much faster as it is inconvenient to make adjustments each time you move along.
Although it's more environmentally friendly than harsh chemicals, you still need to wear a mask and gloves if you are working with lead paint. You must be mindful of your wood with this tool. Don't leave it in place too long. It WILL burn your surface! When you see smoke, it's time to remove it.
For more details and where to purchase, see following links.
House in Progress
Silent Paint Remover
Air Nailers
Eco Strip