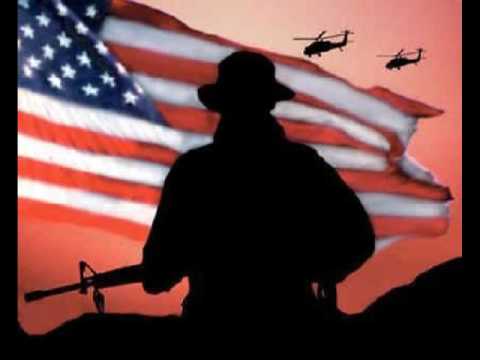 Heading up to Woodstock for the long weekend with the pups for some fun in the cold overcast weather.  Enjoy your start to Summer of 2013!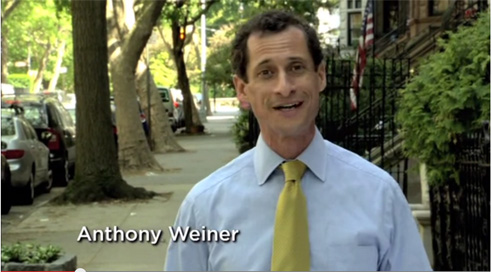 My favorite Brooklyn loudmouth Jew (besides myself) has reemerged with a campaign ad. Anthony Weiner is back!
Hate the bullshit ad. It's a snoozefest. This is NYC. He should just be himself and say "Yeah, I fucked up. Fuhgetaboutit."
But whattcha think? I'd vote for him! Absoeffinlutely! I'm pumped! Not as pumped as he was in those pictures. Badabing!
The city is working 24/7 to get the Rockaway beaches ready for the summer. Trains should be running by the end of this month. But if they build it, will they come?
Rockaway Taco reopened earlier this month. The few times I was there for lunch, business seemed good. This being before summer, on weekdays, without trains. Veggie Island opened their doors as well but I was there the very first day when all they had ready was some coffee and muffins. Full menu or not, folks came in to support the business.
Still. Crime is up. Residents are nervous about not having beach protection. The mood of some Rockaway natives is fairly negative. They worry that they remain unsafe while the concentration is put on tourism.
But Rockaway needs the tourism. Businesses were crushed. Some folks are still not back to their homes. Some will never return. This winter has been downright depressing in an area that's already depressed.
Business advocates are working to lure commercial investors, but in my opinion, there aren't enough residents to support these shops at the moment. Personally, I think Rockaway needs to offer incentives for newcomers such as artist live/work spaces. Non-residents need a reason to visit Rockaway year round: A huge surf school, a museum (perhaps a surfing museum?), a concert venue. Something along the lines of the DIA Museum that transformed the city of Beacon, NY.
One step at a time. Let's see how this summer goes.
The Mexican kitchen in apartment #2 is coming together! Backsplash by eBay. $60 including shipping.
I decided to go Mexican when I found fake terracotta (ceramic) floor tiles at a Habitat for Humanity. FYI, 25 bucks. But then I ran out of them. Oops. Anyway, that set the theme for the entire kitchen.
The eBay tiles are mismatched, as you can see. Included in the box of 100, there were about 3-4 design repeats. Some are meant to be patterns that make up a single design but that design can't be completed. Because they are handmade, none of them are the same size, which makes for uneven grout lines.
If consistency and perfection is your thang, these tiles ain't for you. If you likey, just punch in a "Mexican tile" search on eBay and you'll have a nice selection to choose from.
There are also these Mexican tile resources from an earlier post.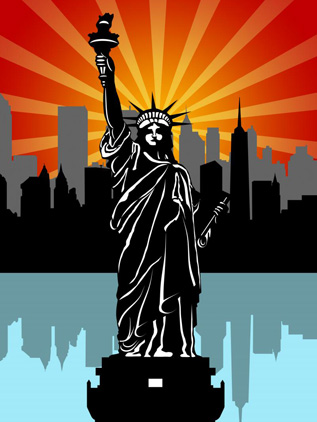 Who needs to deal with the insanity at Googa Mooga when there are other great festivals going on this weekend?
The Ninth Avenue International Food Festival has been going on for 40 years. By now, they have their act together, unlike some other overly hyped bullcrap artisinal festival that shall not be named here (except above). May 18th and 19th from 47th-57th Streets down ….you guessed it….9th Avenue.
The Big Bay Fest claims to be Brooklyn's largest waterfront celebration. The Sheepshead Bay fair not only offers food and performances but will have Sandy recovery info on hand. Sheepshead was hit hard during the hurricane so you should go and support them! Sunday, May 19th: noon-6pm.
Party like a Gypsy at the Bohemian Festival in Ridgewood, Queens. May 17th-19th and you can even camp out! Apart from the performances, there will be body painting, a belly dancing competition and workshops.
Dance Fest and Parade is Saturday, May 18th. The parade starts at 1pm at 21st and Broadway and ends up in Tompkins Square Park where the festival begins at 3pm. Three stages with performances plus dance lessons.
Just some pics of the renovation process. Although the downstairs apartment is ready to show, I've decided to wait until upstairs is finished before inviting the public over to have a look. Now I'm pushing the date back to AFTER Memorial Day weekend. And no, I will not be working that 3 day weekend.
The door to the bathroom (above) was under $40 (maybe even $20?) and came with multiple layers of paint. I should have realized because of the weight of the thing that it was a decent wood, but I was delighted to find whatever-species-this-is when I stripped it down.
Please refer to the paint stripping post for DIY tips!
Antique marble was originally used for the baseboard in the upstairs bathroom. It didn't really match the new tiles that were installed so I cut this piece down to use as a saddle for the downstairs bathroom.
Same downstairs bathroom. After months of keeping roisin paper on the window, I finally discovered frosted window film. What a concept!
Picked this up at a vintage shop in Newburgh for 25 bucks. Forgot the name of the place, but it's owned by Barbara of Caffe Macchiato on Liberty Street.
The piece is currently undergoing transformation to make it into a sink vanity for the pink bathroom upstairs. This is 2 coats of paint. Will need one more at least.
This chunky old wood will be the countertop for the "Mexican" kitchen upstairs. That's a before and after sanding shot, in case you haven't guessed. Love the grain!
And that's it. Can't wait to show the finished pictures! All in good time, my friends. All in good time.
With a tight budget and desire to recycle building materials, I actually wanted to keep the hollow Home Depot doors that came with the house. Only a handful of them are still in good enough shape, but I thought it would be nice to think of them as blank canvases and make each one into a work of art (or some kind of crafty process).
The closet door above was the first one to get all gussied up. The chipping paint revealed some beautiful turquoise that must have been there since the 40′s or 50′s. That was a keeper. What to do with that? I thought of those signs I found in the bathroom floor during demolition and decided to recreate that.
The paint was chipping off in big chunks, so scraping was a breeze.
DIY is pretty simple. Just get some tape and stencils. Oh, and paint.
As someone without patience, I didn't use a straight edge or pencil lines. It's recommended though. I also hand-held the stencil letters and went along to the next one without waiting for them to dry. Yeah, it smears. Don't take DIY tips from me.
Didn't have arrow stencil so the arrows were brought to you by the letter "I" and some tape for the point.
Funny story. This particular door faces East/West and the bay and beach are North/South, but I didn't want to do up and down arrows.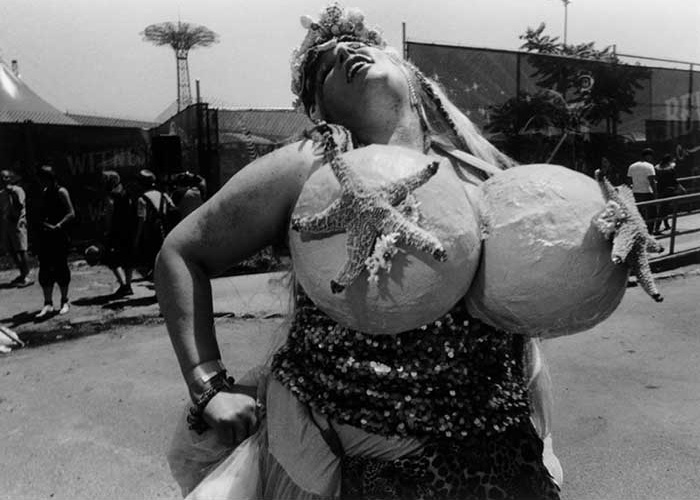 The annual Coney Island Mermaid Parade has morphed into a huge event since the first stroll down Surf Avenue in 1983. Now personally, having lived on Surf Avenue back in '83, I thought the small freak and geek fest was awesome. These days, it seems like everyone in Brooklyn shows up and it's too crowded for my grumpy middle aged ass.
But anyhoo, that doesn't mean the show shouldn't go on. The mermaids are in danger this year, my friends. Yeah, Sandy. After spending over $100k to restore their headquarters, they need to raise some clams to pay for cops and toilets for Coney's unofficial start of summer.
Here, let the Kickstarter video speak for itself.
Open living/dining/kitchen area.
One half of the two family Rockaway house will be liveable by June 1st! As in liveable for normal people, not someone like me who no longer notices lack of switchplates and doorknobs. The self imposed deadline was set for this weekend to take some pictures and start spreading the word. Although it's ready for it's close-up, it's a few days from being ready to show. Show by next weekend? Yeah, probably!!
The entire house will be for sale or rent by the end of this month. I call it a two story bungalow. It's a cozy (that means small in realtor speak) 2 BR over 1BR, just under 1000 square feet for the whole house. Gotta do some comps and math to come up with prices. The website will get started (but not finished) today.
I'm on a roll baby and it feels good!
Yeah, that toe kick needs to be painted and stove needs backsplash.
The old singer sewing machine base trick. A favorite of mine.
Long, narrow bedroom in the back of the house. I want to work a little magic on those plain, white doors if I get the time.
Kitchen area before.
Living room during demo.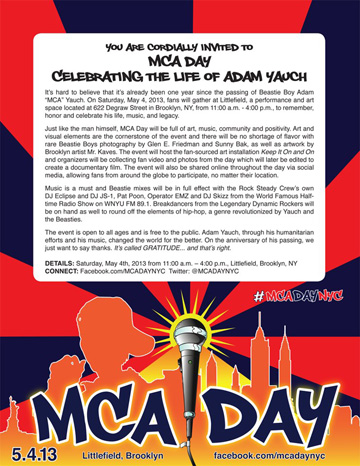 May 4th marks a year that Beastie Boy Adam Yauch left this world. The activist and musician's life will be celebrated with at Littlefield in Gowanus this Saturday from 11am-4pm. All ages welcome. Swing by MCA Day to show some love!
Six months ago parts of New York and New Jersey literally came crashing down around us. Hurricane Sandy hit us pretty hard, but we're still here, aren't we? Many are still homeless and undergoing major renovations, some businesses never reopened, but progress is being made.
Can't speak of what's going on in every hard-hit neighborhood because I've been trapped working on the Rockaway house everyday. I do know that people are working 24/7 to get the area ready for summer.
The A train still isn't running out to Rockaway. Last I heard, it should be back in service by June.
Parts of the boardwalk are being rebuilt. There will be boardwalk "islands".
Concession stands are under renovation and will return.
Sand is being replenished.
Rockaway Taco reopens by the end of this week.
Bungalow Bar has reopened after having $10k worth of materials looted during the renovation.
Thai Rock opens their deck in early May.
The first wine bar ever in Rockaway plans to open by Memorial Day.
Rockabus will be starting up on Memorial Day weekend.
And come hell or high water (no pun intended), my friggin house will be ready to show by mid-May.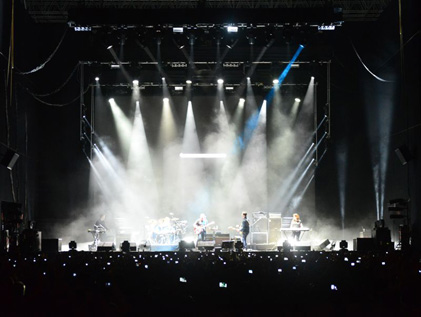 It ain't summer until they announce the Coney Island free concerts series, so it ain't summer yet but here's a taste of some shows at various other venues this season…
The Shins, May 26
New Order, July 24
Cake, August 10
Jane's Addiction, August 17
@ Brooklyn Bridge Park
Old School Funk and Hip Hop Dance Party, May 23
@ Prospect Park
Belle & Sebastian/Yo La Tengo, July 11
Barenaked Ladies/Ben Folds Five,  July 30
Sublime, July 14
Dylan/Wilco/My Morning Jacket, July 27
Depeche Mode, September 8
Sinatra in the Park (various artists), June 11
After having spent a couple of thou on molding for the entire house, my favorite trim was a result of righting a mistake and the cost was only 20 bucks.
This is the downstairs bathroom. Long story short, I had intended to do wainscoting on the lower wall and when I couldn't find reclaimed I decided to do a faux effect instead (photo below). I don't love it but that's beside the point. Anyway, for some reason I was too lazy to continue the design all the way to the door, figuring that molding would cover it up.
Well, I don't know what I was thinking. Your basic molding isn't a foot wide. So, I'd either have to match the swirly design or get some wide ass molding.
I went with the wide ass molding. Found these side panels at Build it Green. Now the problem would be finding a top piece. After weeks of searching to no avail (You wonder why this reno is taking so long?), I had to put a piece of 2×6 in there and figure out how to make it look nice.
The horse was left over from my crafting days. The black horse didn't pop on the dark colored molding so I added the copper "frame". Still looked boring, so I added the stenciling on each side. Now the sides looked lost. Shit, I just want to finish this renovation but I'm a sucker for the details! Soooo, I had to embellish the panels with some copper too.
This door is currently my favorite part of the house. Probably because it's the only thing I've actually finished (and not even…I still have to caulk).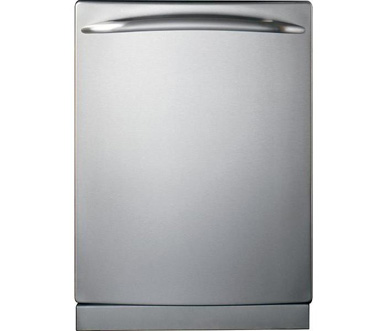 A few months ago when I was doing my weekly Build it Green visit, I had the opportunity to make a decision between two available dishwashers. One was a Kitchen Aide stainless interior in perfect condition for $200. It retails new for $900. The other dishwasher was an old piece of crap for 25 bucks.
Guess which one this cheap bitch chose.
My husband doesn't call me "Penny Wise Pound Foolish" for nothing.
So, with the dishwasher already installed, I notice that the door springs are shot and the seal is corroded. Something I should have looked at before purchasing, you say? Well, guess what? A new seal costs about $40. Yeah, more than I paid for the dishwasher. I didn't price the springs because I wouldn't even know how to fix them.
So guess what I did? I went looking for another dishwasher. And I found one for $200! It's a GE Profile that retails for $800. Yeah, basically, I could have just paid the $200 for a better dishwasher to begin with.
But I'll never learn.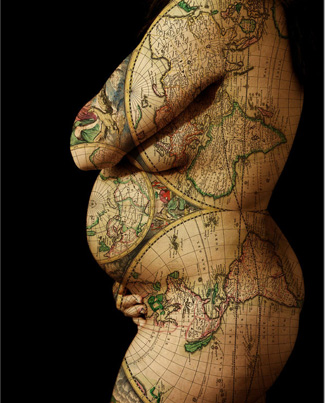 Earth Day is just another day to anyone who cares about the environment the other 364 days of the year. The truth is, today should be no different. Here are 10 things you should be doing all the time to help your Mother Earth. They are so obvious that it's nuts anyone needs to be reminded. Yeah, I mean you!
1. Turn off lights when not in the room
2. Shut off water while brushing your teeth. Water should be left on for rinsing only.
3. Same goes with washing dishes.
4. Laundry and dish washers should only be run with a full load.
5. Recycle! Recycle! Recycle!
6. Vintage clothing is way cooler than that new made-in-China crap. Second hand thrift shopping is the way to go.
7. Unplug electric "vampires" that suck power even when electronics are off. That means all battery chargers, TV's, power strips and pretty much anything else that's plugged in.
8. Take public transit instead of your car.
9. Stop overlooking the impact of your meat based diet. You don't want to think about how animals are tortured and killed everyday? Do you realize the natural resources that go into producing that bloody hamburger? Grains and water for feed crops, land and deforestation, methane gas produced by animals and fuel for production and transport. Yes, all that is needed for vegetable crops too, but research how many people can be fed on the resources it takes to feed one single cow.
10. End the paper trail! Does anyone still get paper bills that they pay by check? If so, you're a total dinosaur. It's 2013. Everything is online, man.